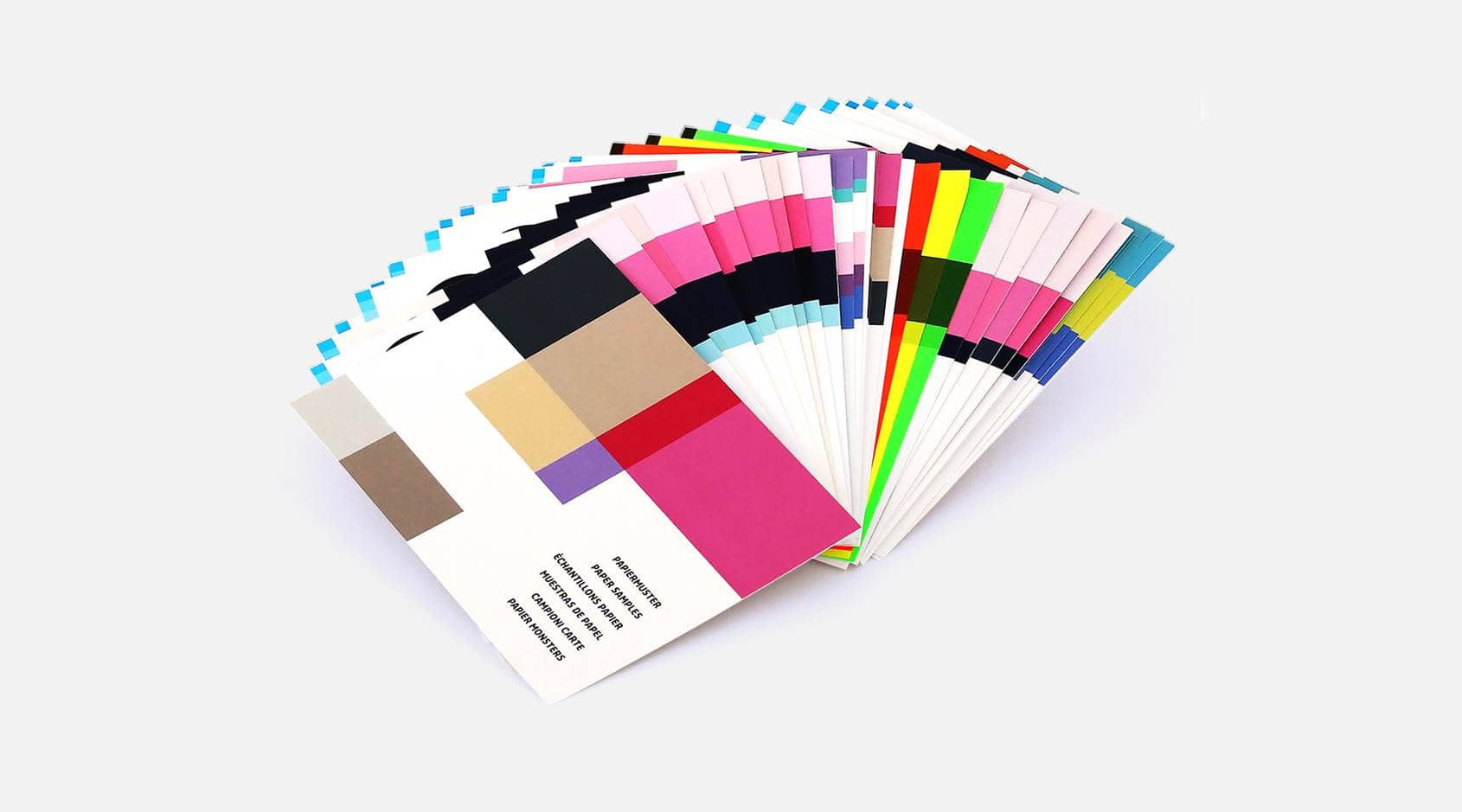 Paper Samples and Product Catalogue
With our Paper Samples Brochure, you receive an overview of all materials and finishing options. Feel the difference between offset, finish and special papers and get to know the appeal of effective UV coating and lamination.
Order Paper Samples
Business Materials for a Multitude of Purposes
Many stationery products play a surprisingly large, subconscious, role in positive contact with customers and business partners, e.g. business cards, presentation folders or envelopes. Having these materials printed professionally with your logo is, therefore, very important. With the broad spectrum of products we offer at our online print shop, you can equip your entire office with important work and marketing materials – from business cards to desk pads in A2 format. In addition to an excellent cost-benefit ratio, free print sample brochures, professional service and a detailed artwork guide are only some of the many extras you can expect from SAXOPRINT.
The SAXOPRINT selection for your business
Our printing service offers you not only envelopes, letterheads and sticky notes. You can order an entire, professional business image package that will inspire trust in both customers and business partners. Advertising and business materials that are perfectly co-ordinated leave a clean, orderly and well-structured impression that also has a positive effect on how your products or services are perceived.
SAXOPRINT offers you a large selection of sizes, formats, paper and finishing options for your custom printed note pads, letters, documents, binders and folders. Due to our precise processing and the ability to provide you with business materials exactly suited to your company, you receive the perfect foundation for professional corporate communication.
The large selection of business materials we offer cover a multitude of purposes. Here just a few examples:
Business correspondence (letterheads, envelopes)
Prints with your corporate design (letterheads, packing envelopes, boxes)
Training materials (presentation folders, binders)
Personal notes and note-taking at meetings (notepads, writing pads)
Giveaways for customers, applicants, business partners (calendars, sticky notes)
Compilation of informational material (presentation folders, brochures)
Workplace outfitting (binders, desk pads, note pads)
Business stationery also plays a large role at trade shows and exhibitions – to publicise your business; to further establish or improve its image or brand. Sticky notes, writing pads or calendars are popular giveaways at business and sales meeting and are a must at any event.
Tips for designing business stationery
As previously mentioned, a large selection of our office materials go above and beyond standard letterheads and envelopes: we have various formats and finishing options to choose from. For example, we can complement your business cards with UV coating or lamination. We even offer sticky notes in softcover and hardcover versions, and of course in the conventional standard format without cover. Our layout templates help you to design your prints. SAXOPRINT's free print templates are available for each and all business material products. You simply choose the product you need, e.g. letterheads or sticky notes, select from the products options available in our easy-to-use dropdown menus, e.g. format and finishing options. The correct print template is then generated to make sure you have all of the information you need to comply with printing requirements.
Custom-printed office materials from SAXOPRINT – the ordering process
Our free paper samples brochure offers you an overview of our entire printable paper types to give you an impression of our excellent print quality and finishing options. The sample brochure enables you to familiarise yourself with both the visual and tactile characteristics of our materials.
Once you have decided upon the materials and further finishing options for your finished layout, simply log in or register for your customer account and place your product into the shopping cart. Finally, you enter a delivery address and send off your order! After placing your order, simply upload the print files for your business cards, writing pads or your selected office materials product.
In addition to our free standard artwork check to make sure your files meet our technical requirements for printing, we also offer further proofing options that go into greater detail. In any case, we send you both an e-mail and a message to your customer account to let you know if anything needs correction. We also inform you about the progress of your order every step of the way.
Represent your company professionally and individually
Corporate image is one of the pillars of a successful business. The consistent implementation of your corporate design throughout all areas of your business sends out a message that conveys professionalism, trustworthiness and reliability. SAXOPRINT makes it easy for you to unify your entire business communication to present your company in a straightforward, clearly structured manner – and with a distinctive personality.