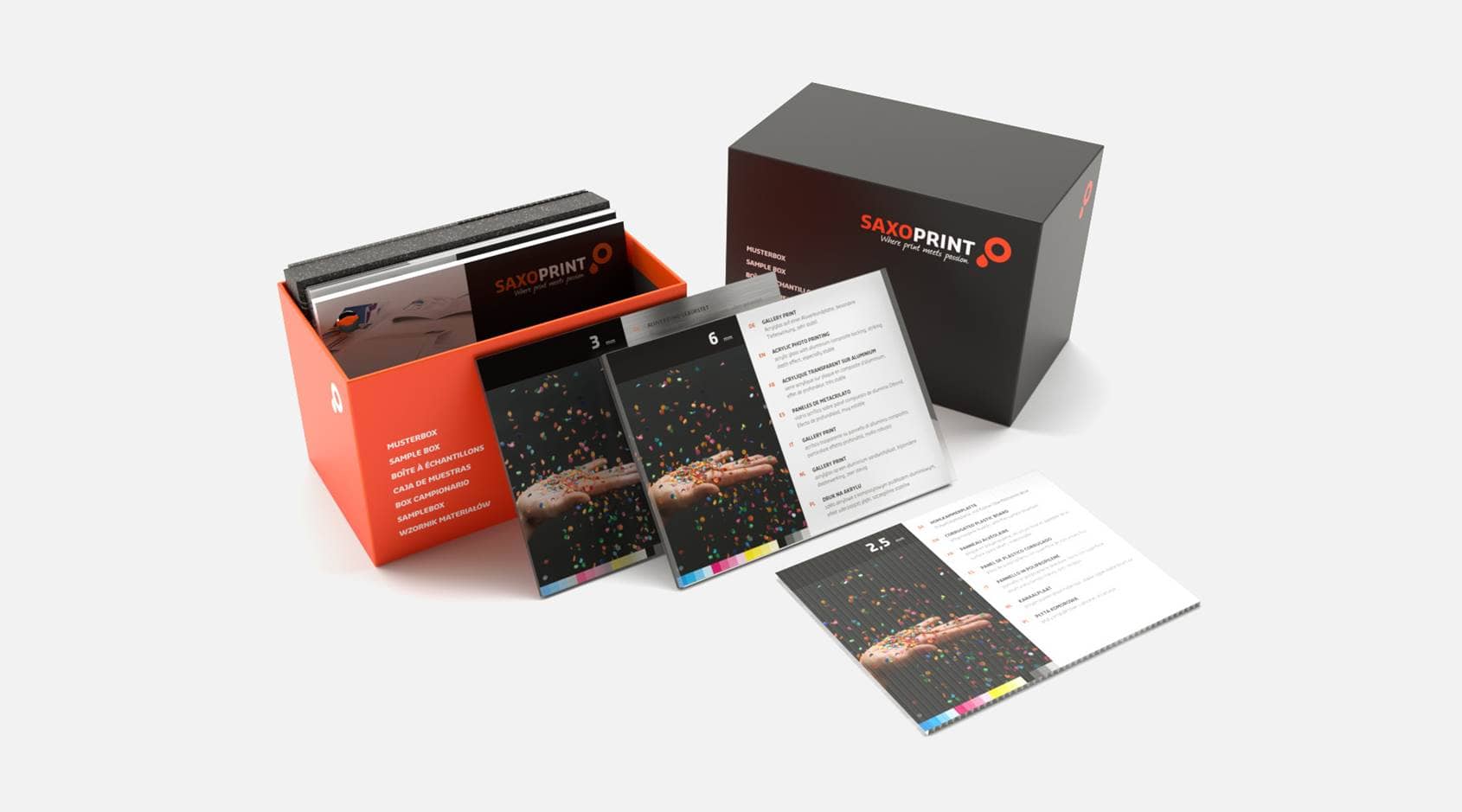 Material Sample Box & Paper Samples Brochure
Convince yourself of the print quality of the materials and finishing options we have to offer. The Sample Box contains all the materials for our Advertising Technology products, as well as the Paper Sample Brochure, Sticker Sample Set and Packaging Sample Set.

The Sample Box is also available in a neutral version.
Order now
Your exhibition stand - a visitor magnet
Show the world who you are. In order to strengthen the way your company is perceived by the outside world, an effective presentation at exhibitions is important. Our products make sure that you are guaranteed an exhibition stand that gets attention. Visitors and customers simply pass by boring stands. We are here to make your exhibition stand a customer magnet.
We have everything you need for brilliant presentations at exhibitions and trade shows or events. Order all of your printed exhibition materials at one stop – SAXOPRINT online print shop. Our large range of products, professional service and a personal contact person are only some of the benefits you can take advantage of. We are always happy to provide you with expert advice about any questions or ideas you have regarding your exhibition stand. As an online print shop with many years of experience, our employees are knowledgeable printers who are proud to share their expertise with you.
A broad spectrum of marketing products and technology for your exhibition stands
With our large portfolio of advertising materials and technology, there is nothing standing in the way of your impressive exhibition presentation. Every detail on your trade show stand is a building block for successful performance. From stand walls to business cards and everything in between, every component plays the role of an image-maker. A unified stand concept should reflect your high standards of quality and represent your company's professionalism and reliability.
Our high-performance online print shop supports you by custom printing marketing products to represent your company with pride and set you apart from the competition. We offer you the following products to ensure that your stand concept is harmonious and successful:
Exhibition stand walls
Exhibition counters
Pop-up tents
Beach flags
Roller banners
X and L banners
Textile banners
Custom signs
High quality marketing and advertising products for a successful exhibition
Let your exhibition stand speak for itself. SAXOPRINT offers you any and all advertising materials necessary for a successful show – affordable, one-stop online shopping. Each and every product can be individually configured to your specifications. It takes only a few clicks to select the materials, colours and many other options that are right for you. If you wish, many products can also be refined with glossy or matt lamination. This type of finishing makes your printed advertising surfaces water resistant, stain resistant and able to stand up to the busy exhibition you anticipate.
Mobile exhibition systems - the foundation for your stand
Every company has its own identity, and it should be evident in your presentation – from stand walls to stand counter. In order to put together an appealing exhibition stand that gets the attention of your customers, the stand walls and counter represent the foundation of your concept. Exhibition stand walls and displays are available in both textile and PVC versions in two different sizes.
For outdoor areas especially, we recommend using individually printed pop-up tents. They not only provide protection from wind and rain, they are also a striking way to broadcast your name and brand. We can custom print these exhibition accessories with your own logo and design. Bespoke beach flags, banners and roller banners are also a great way to upgrade your trade show stand. All of these important tools for your exciting exhibition stand are space saving, easy to transport, and easy to set up. That makes us the ideal outfitters for your marketing activities at trade shows, events, exhibitions and promotions – both indoors and outdoors.
Flyers, business cards and brochures – place your company in the hands of your customers
Even after your customers have left the exhibition, you want them to remember you for a long time. That is why you should hand out eye-catching marketing materials to prospective customers. With advertising materials such as brochures, folders and flyers, you have the tools to leave your clients with a long lasting impression of your products, services and the company itself. Business cards are indispensible for a professional show. They bring your company to mind every time they are taken to hand and provide contact information in an appealing manner. To support your campaign in the best possible way, our products are subject to high quality standards. We use state-of-the-art machinery and superior materials when we print products for your exhibition and trade show stands.
Stress-free to the perfect exhibition
As a high performance online print shop, we not only ensure the quality of our products. We never lose sight of customer satisfaction. Especially for trade shows, it is imperative that you receive all of your marketing materials on time. Unplanned delays only create additional stress and worry. You can rely upon SAXOPRINT to print your exhibition stands, displays, flyers and all of our other products with expertise and dependability. No matter how many orders we have, we guarantee you reliable delivery.
You won't be confronted with any unexpected additional costs at SAXOPRINT. The price you see on our product configuration calculator already includes all costs, even shipping, handling and VAT. We provide you with transparency in both pricing and production. You also benefit from our standard artwork check: We make sure your files conform to the printing requirements - and the standard artwork check is free. Diverse sources of error are recognised in time and corrected. We also offer extra services, such as reseller benefits, the choice of CO2 neutral printing, a personal contact, and various payment options. Purchasing your exhibition stand from SAXOPRINT is a stress free and enjoyable experience.
Perfectly outfitted exhibition stands for an impressive and expressive company presentation
The quality and visual effect of your exhibition stand determine the success of your presentation. After all, the whole purpose of an exhibition is to get noticed and make a positive impression. A professionally printed promotion stand is the best way to acquire new customers and build up trust. Purchasing your exhibition stands and accessories from SAXOPRINT guarantees you high quality, impressive stand components – from business cards to walls. SAXOPRINT stands for first class products at fair prices, superior quality and reliable delivery.