Bespoke Dimensions (from 20 × 20 cm)
i
Please note that all signs wider than 180cm have to be sent in several separate pieces. We will do this automatically and at no extra cost to you; your sign will be split into pieces in a way which best suits the design.
Product Information for Signs
Signs in Overview
Size
Fixed Sizes:
30 × 20 cm
40 × 20 cm
40 × 30 cm
45 × 30 cm
50 × 50 cm
60 × 20 cm
60 × 30 cm
60 × 40 cm
60 × 50 cm
70 × 50 cm
75 × 50 cm
80 × 20 cm
80 × 60 cm
90 × 60 cm
100 × 50 cm
100 × 70 cm
100 × 75 cm
100 × 100 cm
120 × 30 cm
120 × 40 cm
120 × 60 cm
120 × 80 cm
140 × 105 cm
150 × 50 cm
150 × 70 cm
150 × 100 cm
180 × 120 cm
Standard Sizes:
DIN A0
DIN A1
DIN A2
DIN A3
Bespoke Dimensions
Width
min. 20 cm | max. 300 cm
Height
min. 20 cm | max. 120 cm
Printing Options
without white underprint
white underprint
white underprint behind colour area
Material
3 mm
aluminium composite
2.5 mm
corrugated plastic board
3 | 5 | 10 mm
hard foam board
5 mm
transparent acrylic
5 | 10 mm
lightweight foam board
3 mm
brushed aluminium
6 mm
acrylic photo printing
3,8 mm
DISPA® paper board
Processing
cutting
cutting, drilled holes in corners
cutting, multiple drilled holes
cutting, drilled holes in top corners
Equipment
Self-adhesive hanging plates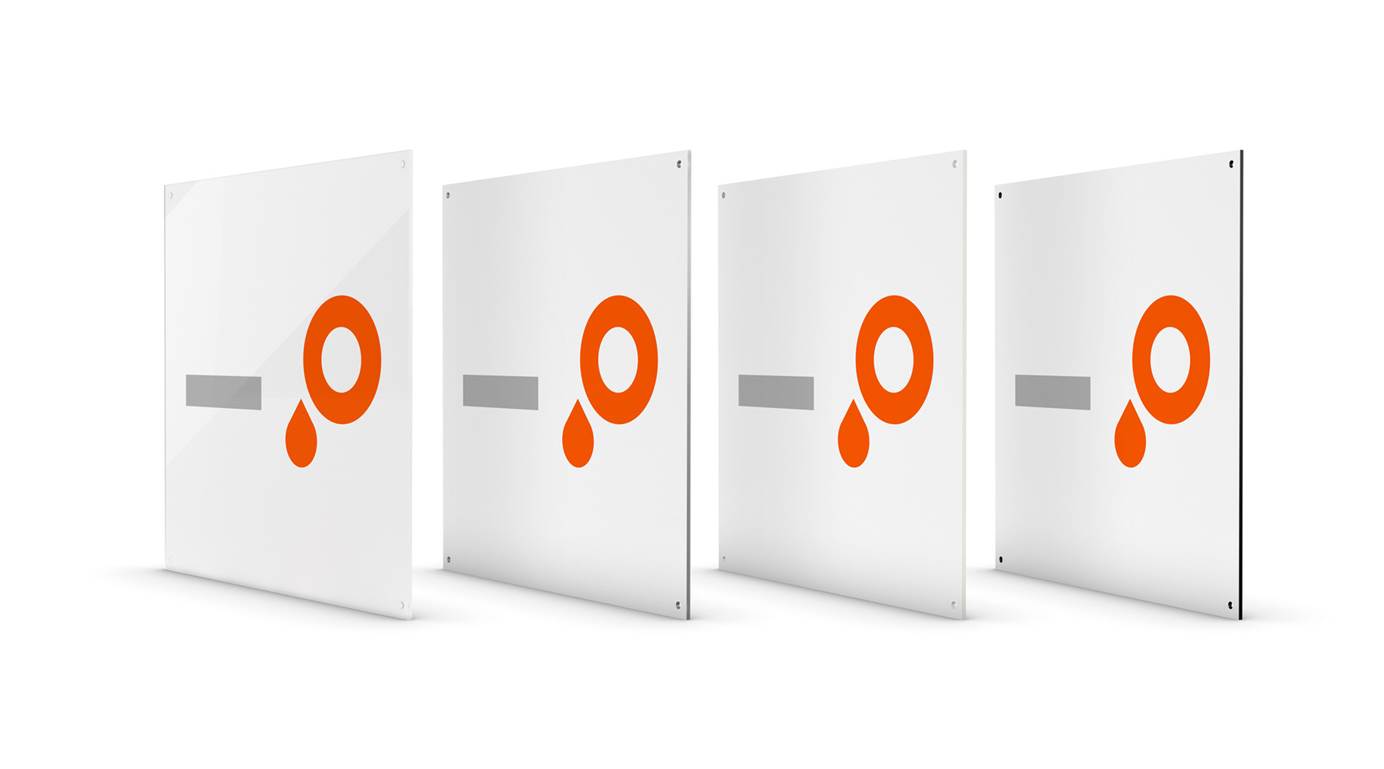 Used for:
Marking company locations
Marking sales locations
Orientation maps
Displaying information about products
Informational boards
Aluminium Composite Signs - With White Surface
Aluminium offers a stable surface for your signs that are perfect for both indoor and outdoor use. These signs consist of two aluminium panels with a white satin finish connected by a polyethylene core in the middle. They are resistant to UV-rays as well as breaking and can easily withstand temperatures between -50°C and 80°C. The aluminium not only provides stability; it's also lightweight, strong and offers an exceptional print for your designs.
Hard Foam Board Signs - PVC Forex in 3, 5 and 10 mm
These are made from hardened foam (PVC forex), creating a sign that is lightweight and break-proof. The material is B1-certified, flame-retardant and relatively light. The board is also waterproof and the print has a silk-matt appearance, thanks to the low-glare surface. This creates a particularly high-quality look. We can also include optional drill holes in all four corners of your sign for mounting. Additionally, you can order our spacers as an accessory, making it even easier to mount the sign.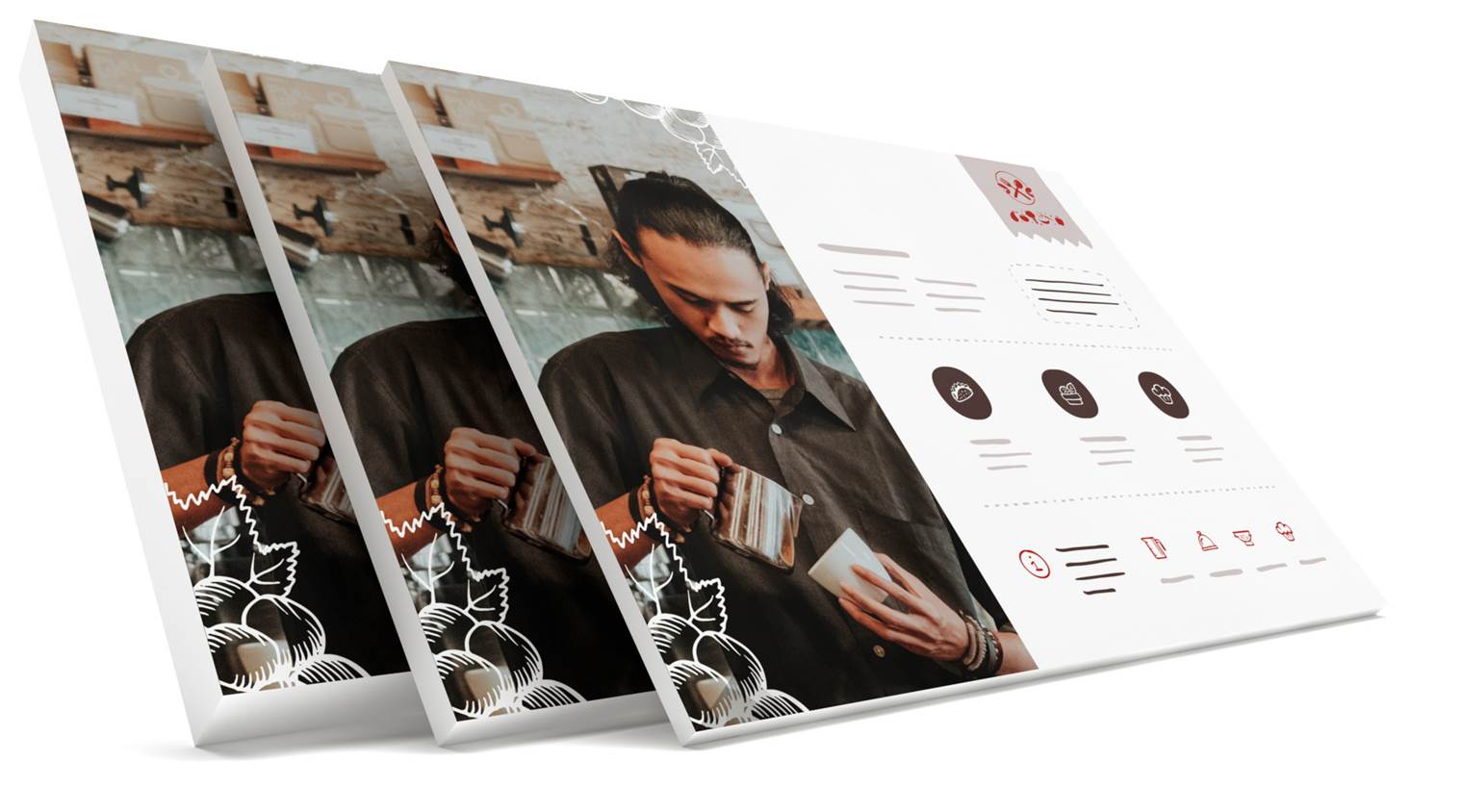 Acrylic Glass Signs
Acrylic glass signs are unique and high-quality, making your design a real eye-catcher. With their depth effect and high gloss, acrylic glass draws the eye to the sign's motifs. You can choose between transparent or white underprint. Transparent signs allow the wall colour to become part of the motif, provided enough space was afforded in the design. We recommend white underprint if the wall colour is distracting or does not match the motif.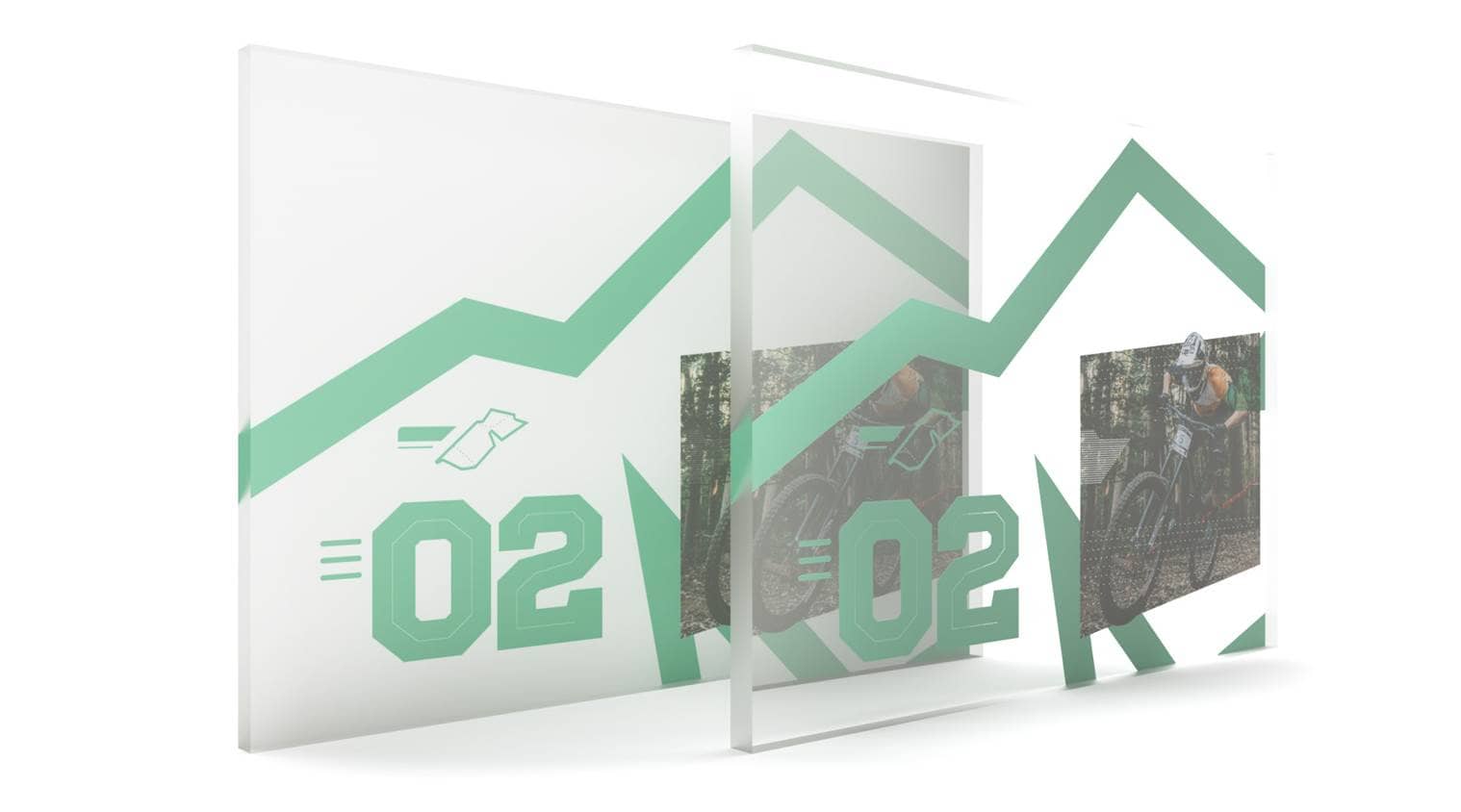 Brushed Aluminium Signs - Silver Surface
Brushed aluminium signs have the same properties as our aluminium composite signs: they are just as lightweight and durable. The main difference is the print. Brushed aluminium signs have a textured, silver surface and this is also visible in the print. The result is a high-quality, textured sign that is suitable for both indoor and outdoor use.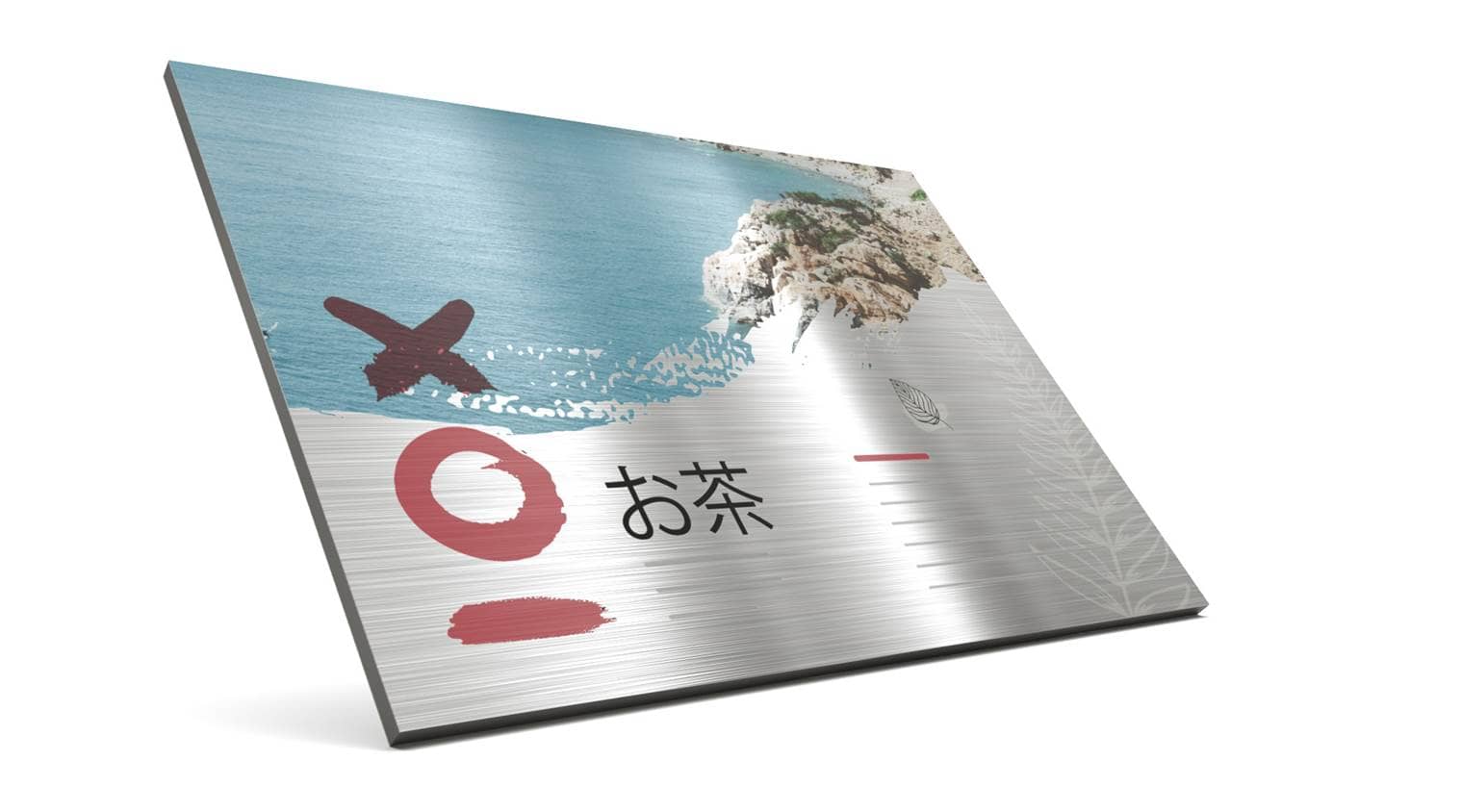 Corrugated Plastic Board - For All Weather Types
These signs are made from polypropylene which makes them extremely durable. They're also easy to install, so they are easy to use outdoors. A high UV and weather resistance makes our corrugated plastic signs perfect for outdoor use. Thanks to the corrugated twin wall sheets, they are exceptionally light and stable. You can transport these signs in large quantities without any problems.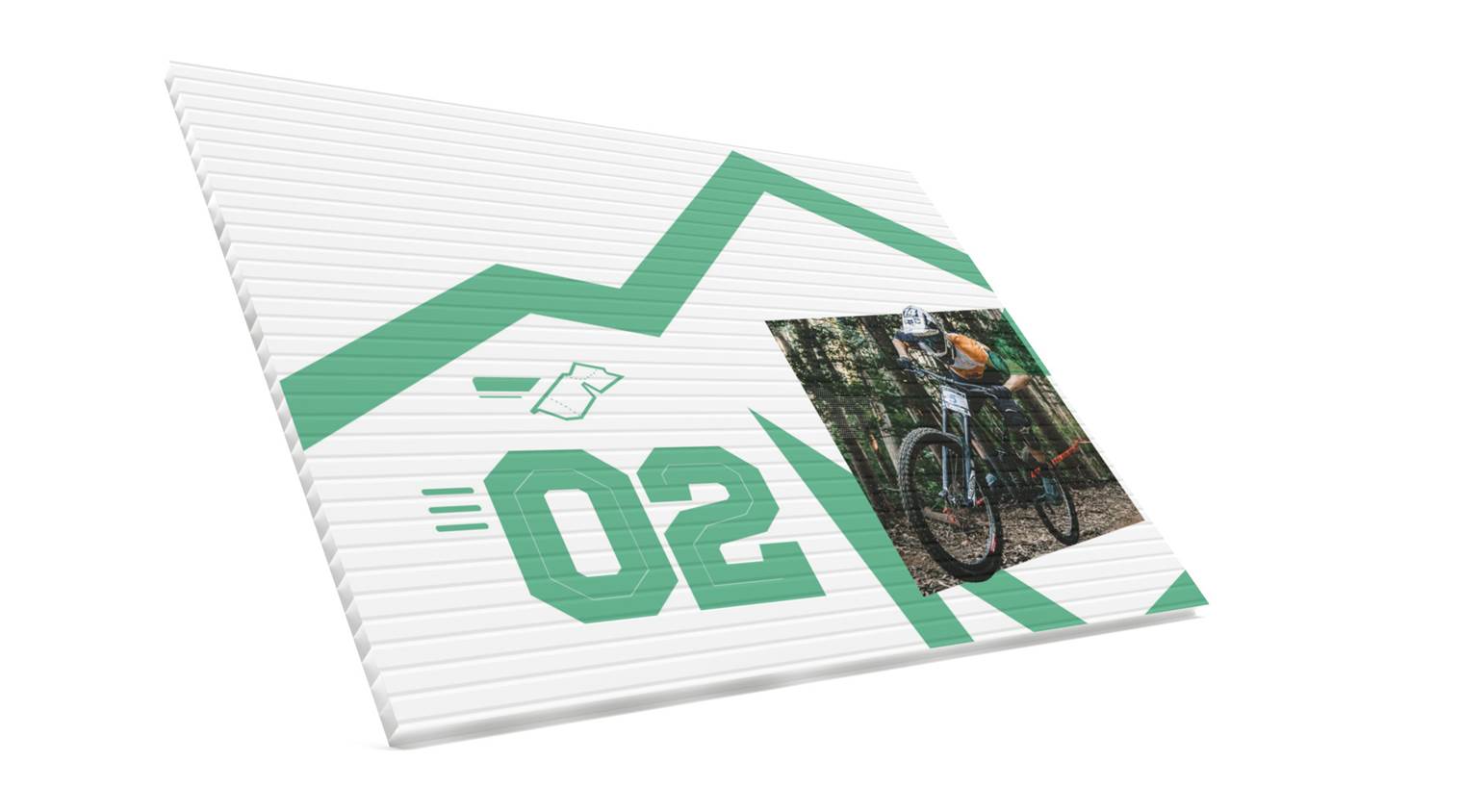 Lightweight Foam Boards - In 5 and 10 mm
These are ideal for indoor use. Because they weigh so little, lightweight foam board signs are suitable for hanging from a ceiling. They consist of a polyurethane foam core that is plastic-coated on both sides. In addition to their lightness, these foam board signs ensure an optimum print image for your signs. Make your stand into a real eye-catcher at your next exhibition or trade fair with lightweight foam board signs.
Acrylic Photo Printing - Aluminium Composite Backing and Acrylic Glass
Acrylic photo print signs are particularly striking. The combination of aluminium composite backing and acrylic glass creates a sense of depth that makes every motif look elegant. During production, the image is printed on the back of acrylic glass and then attached to an aluminium composite panel. This not only makes these signs stable, above all it provides an upmarket look that turns every design into a work of art.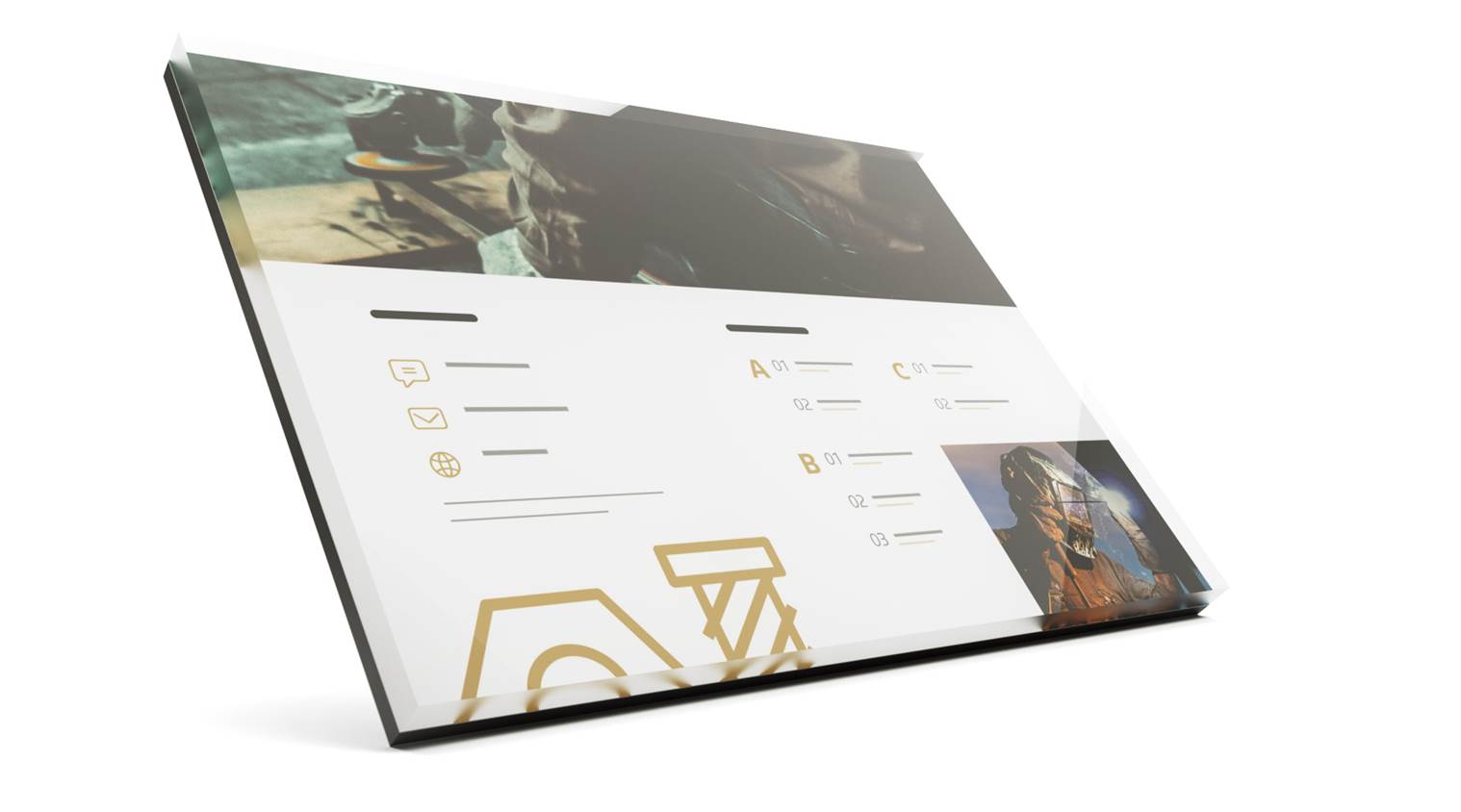 DISPA® paper board - 100% recyclable
Thanks to their special structure, our environmentally friendly DISPA® paper plates are dimensionally stable and extremely light. They are 100% recyclable, meaning that this material is perfect for your sustainable business presentation. For mounting, we can supply the DISPA® paper panels with holes drilled in the corners. The spacers are also suitable for this material, but note that the spacers are not recyclable.
We recommend using paper panels indoors only.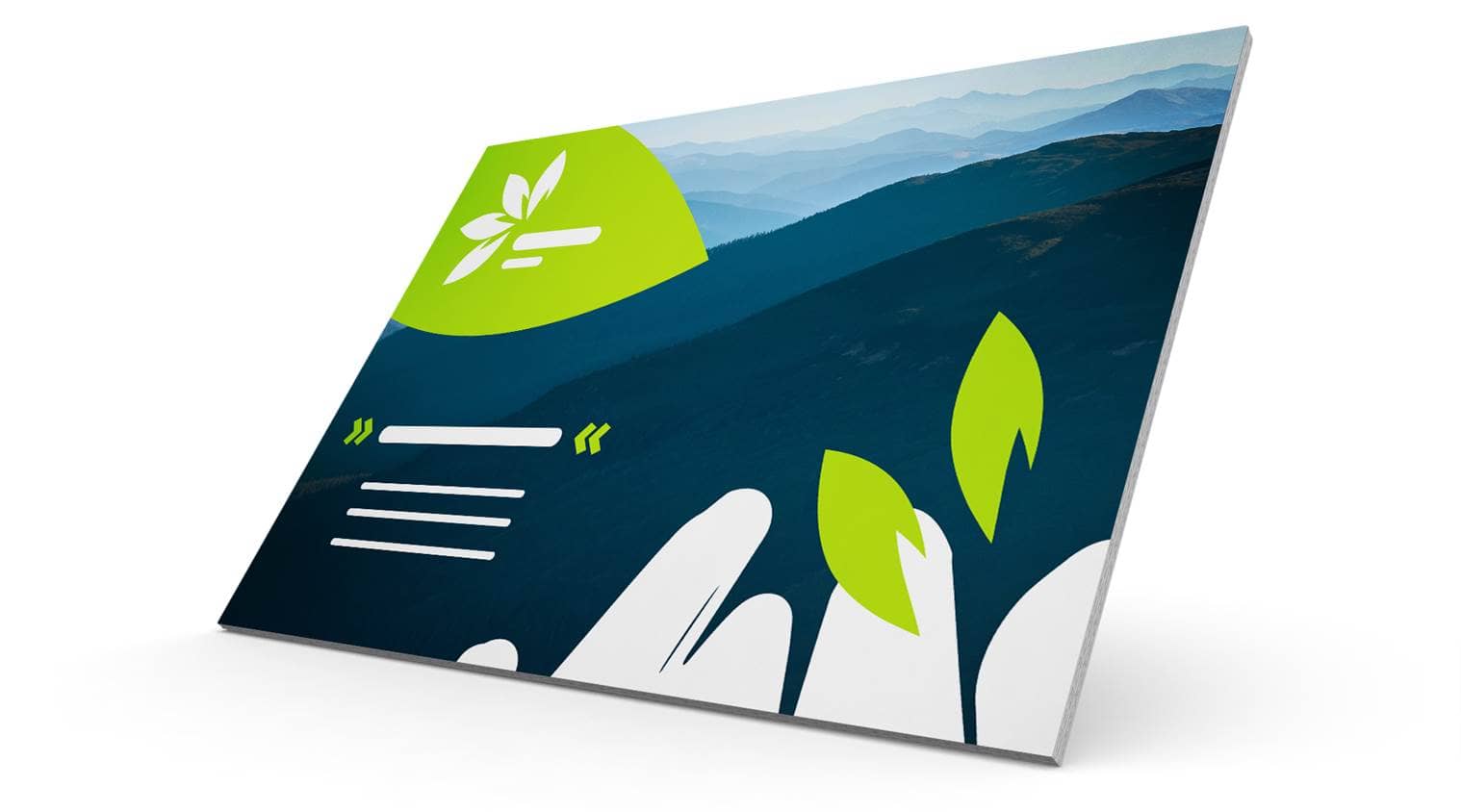 Your sign will always be cut to the size you need. We offer several fastening options:
Drilled Holes
Hole drilling enables you to effortlessly hang your sign. Depending on what you need, the holes are placed in all corners or only in the upper corners. You can also select holes every 50 cm around the sign, depending on the format you order. We recommend this option for large formats.
For neat and uniform mounting, we recommend spacers. These are made of chrome-plated stainless steel and are screwed to the wall through holes drilled in the sign. The distance to the wall with spacers is 20 mm (12 mm diameter) or 25 mm (16 mm diameter). We recommend using spacers on a rugged wall sufaces to improve the overall look of the sign.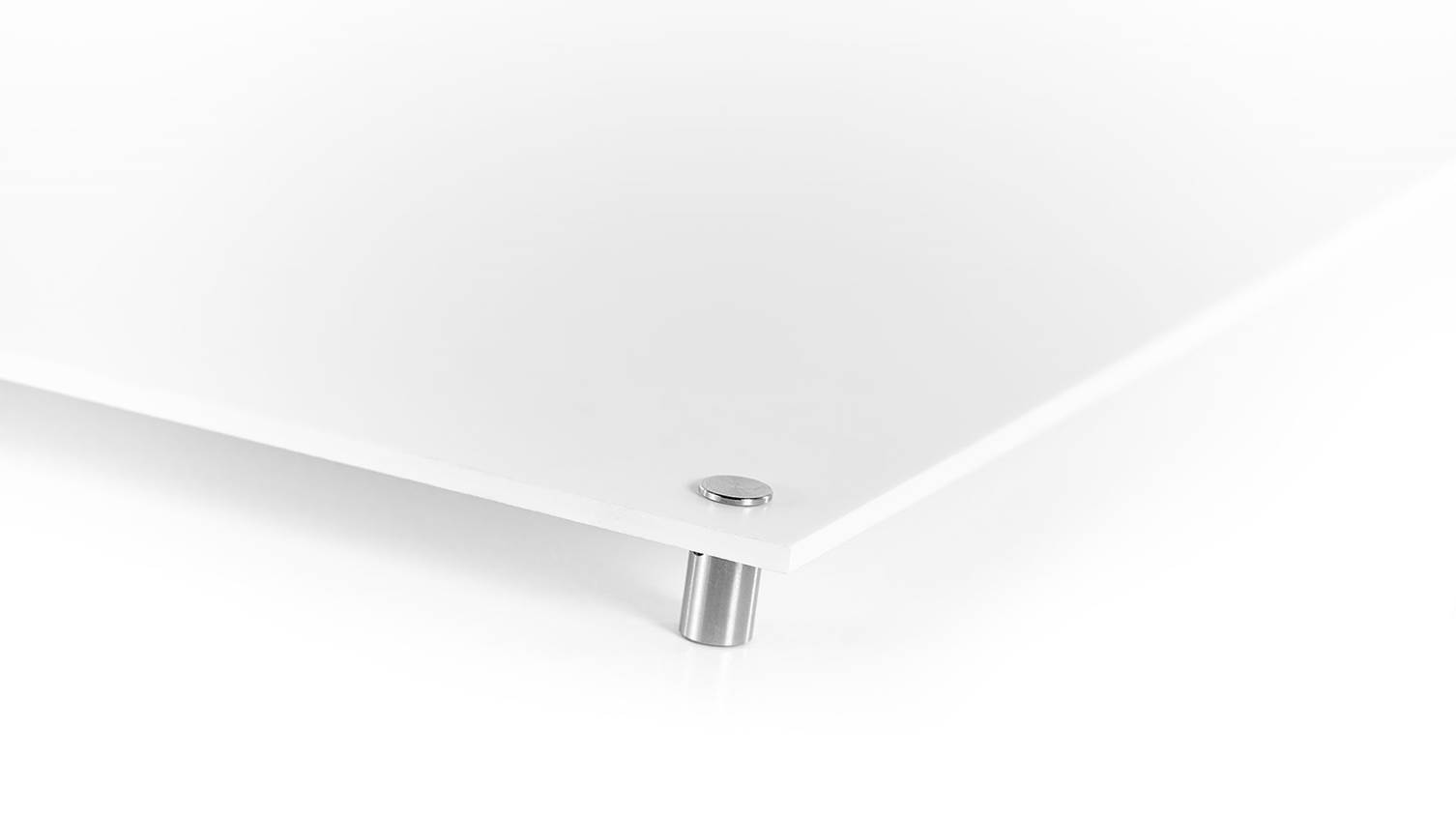 Hanging Plates - For Signs Without Drilled Holes
You can affix signs to walls without drilled holes with the help of our self-adhesive hanging plates. You can affix these to the back of your sign. The overall effect is an untouched printed image that seems to float on the wall. A set of self-adhesive hanging plates consists of two hanging plates (load capactiy of approx. 4 kg per piece) and two transparent spacers.
Please note: To order hanging plates, please select 'cutting' as your type of processing in the configuration page. Please note hanging plates are not available for transparent acrylic signs.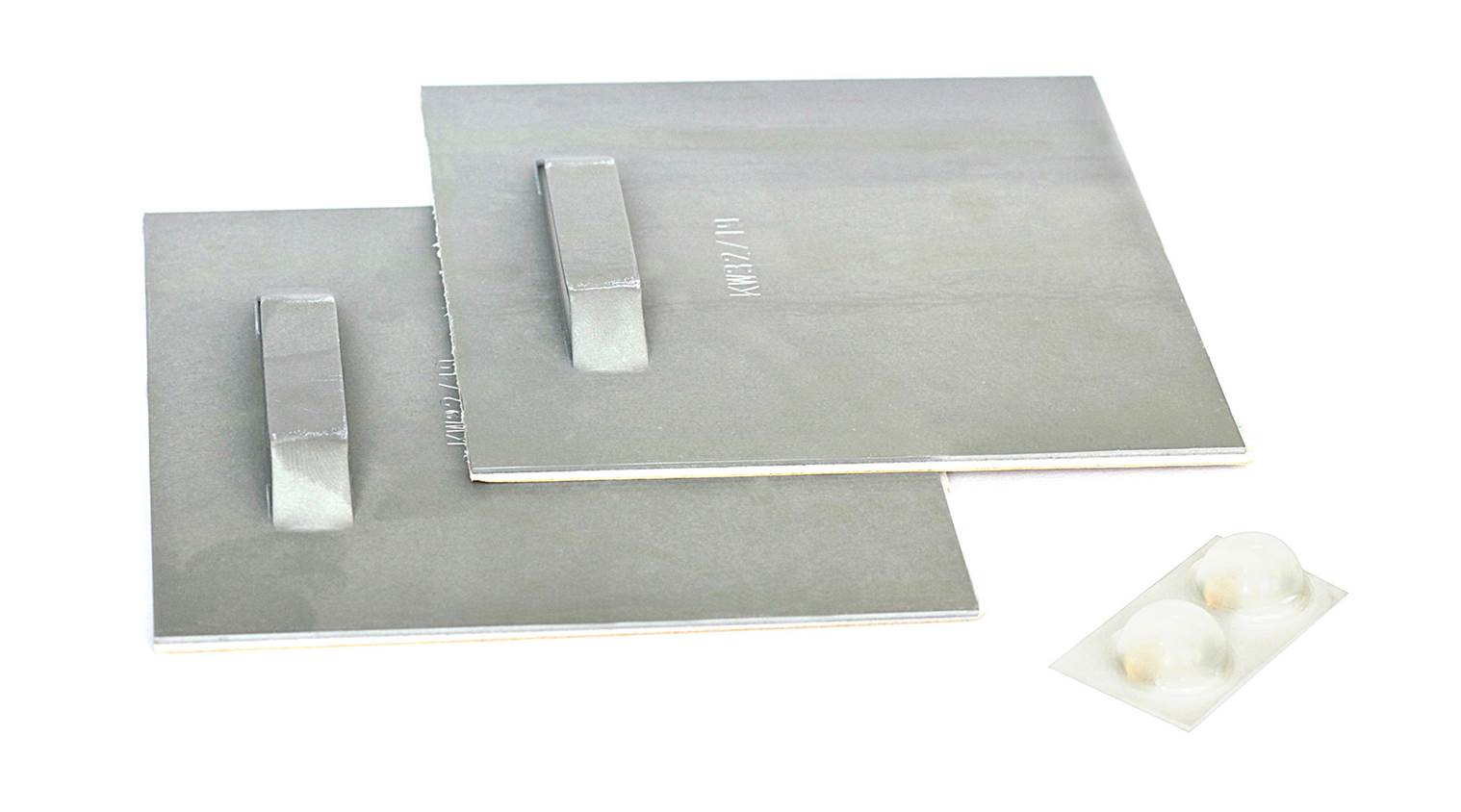 White Underprint for Acrylic Signs
We print your artwork on the back of transparent signs. With a white underprint, we print an additional white coating behind all printed areas of your sign. This creates a better ink coverage. We recommend a full white underprint if your acrylic sign will be affixed to coloured walls which do not match your sign design.
Please note that transparent vinyl is not completely opaque and the wall behind the printed sign may be visible.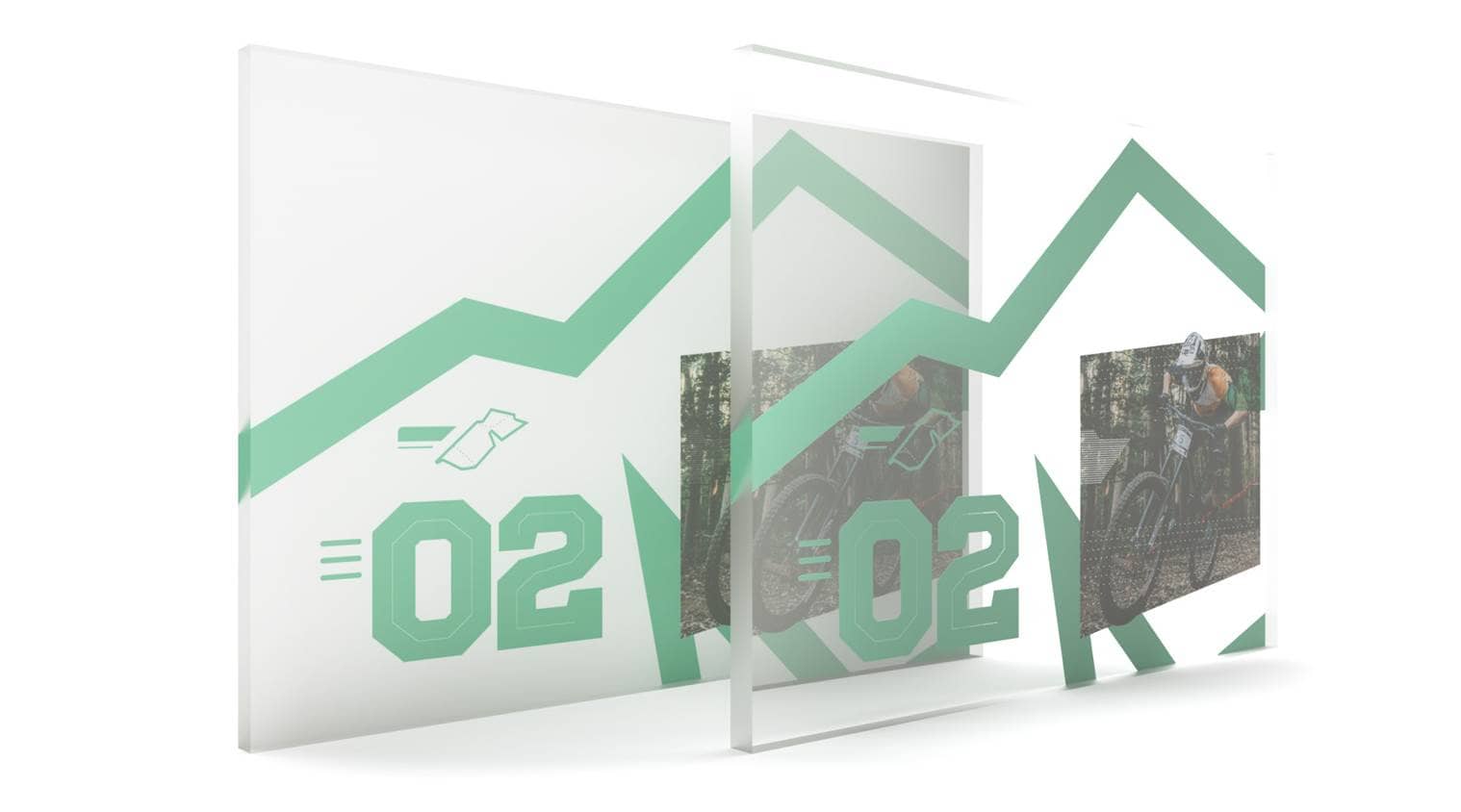 FAQ's for Signs
Can I use my sign outside?
All of our signs are suitable for use outside except lightweight foam board and DISPA® paper board.
What are the diameters of the drilled holes?
Depending on the options selected, the hole diameters are as follows:
6 mm without spacers
8 mm with 12 mm spacers
10 mm with 16 mm spacers
What is the distance between the edge of the sign and the centre of the drilled hole?
How long can the colours survive for when exposed to the sun?
Depending on solar radiation, the colours can last for up to 3 years.
High-Quality Sign Printing to Generate Awareness
Beautiful and clearly visible signs can be used in a wide range of areas. Depending on the material used in the signs, they can serve different purposes and create different visual impressions. At SAXOPRINT, we offer our customers a wide range of sizes and materials when it comes to sign printing. Because of our variety, we can print signs exactly as you need them.
Sign printing for every occasion
Modern advertising signs are extremely versatile. At exhibitions, in addition to serving as orientation guides, signs are often used as advertisements at exhibition stands or to showcase products. In business premises, signs can mark out directions inside and outside the building and highlight the corporate design of the business when printed and presented in the right way. Doctor's office signs, on the other hand, are commonly used in medical practices and primarily provide information regarding opening hours and contact details.
Our online print shop provides sign printing in a wide range of sizes, so the right size you are looking for is available, whatever your objective. We provide the following sizes:
4 standard sizes A0, A1, A2, A3
27 special sizes from 30 to 180 cm and from 20 to 120 cm
Available in portrait or landscape mode
Size is not the only factor that affects the impression and appearance of advertising signs: the materials used are also a factor to consider. Accordingly, as an experienced online printer, we offer a large selection of suitable, high-quality materials for sign printing.
We offer the most convenient, beautiful and versatile signs for your business.
Printing your own sign – customised sign printing and board printing
Regardless of the material you select, your first step is to create your own individual print data for our online print shop. With our board printing procedure, we can comfortably print your advertising signs or company signs and promise you quick, outstanding results.
To simplify the print process, we give you the option of using our print templates for your artwork. We also offer a special service, where we check your print data based on our specifications, to ensure it is suitable for printing. If something isn't quite right in your artwork files, you will automatically receive an email with an error report from out prepress. If you have any questions, our customer service team will be happy to help you.