*Ad Posters starting at £12.02 (net price for 25 ad posters, A3, 1/0-coloured, 90gsm silk finish paper).
Go to offer
Product Information for Ad Posters
Ad Posters in Overview
Print Run
from 1 to 99 units (small print run)
from 100 to 200,000 units (large print run)
Material
115gsm
affiche paper

80gsm
fluorescent paper
90 | 115 | 135 | 170
250 | 300 gsm
silk/gloss finish paper
Type of Fold
flat (unfolded)
A2 to A3 | A3 to A4
A2 to A4 | A3 to A5
Finishing
UV coating matt | gloss
lamination matt | gloss
i
Do you need double-sided posters printed for display windows? We suggest a paper grammage of at least 170gsm. This significantly reduces the chances of images from one side showing through to the other.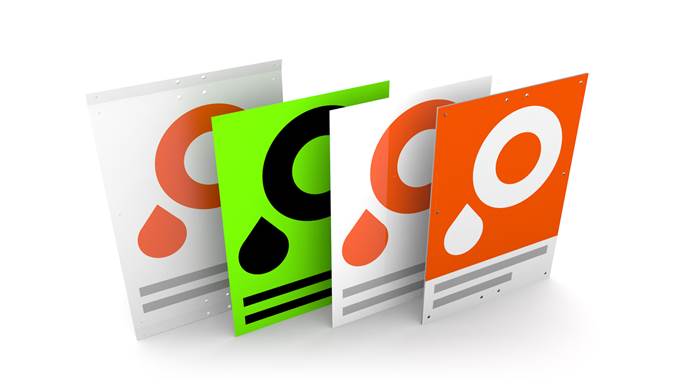 Used for:
Advertising events
Prominent product presentations
Large-format promotions
Guidance system to important places
Overviews of current offers
Corrugated Plastic Posters
Corrugated Plastic Posters
Don't compromise on visibility - with our light and weather-resistant corrugated plastic posters:
Corrugated Plastic Posters
Corrugated plastic posters or PP plastic posters are a good alternative to our standard posters if strong wind, frequent wet weather, or extreme sun exposure are likely to influence the durability or colouring of your posters for the worse. The corrugated plastic strips ensure stability and the surface is UV-resistant, so these posters are often used for long-term campaigns such as election campaign posters. Corrugated plastic posters are made of synthetic plastic polypropylene, which can be wiped clean with mild cleaning solutions and must be disposed of with care.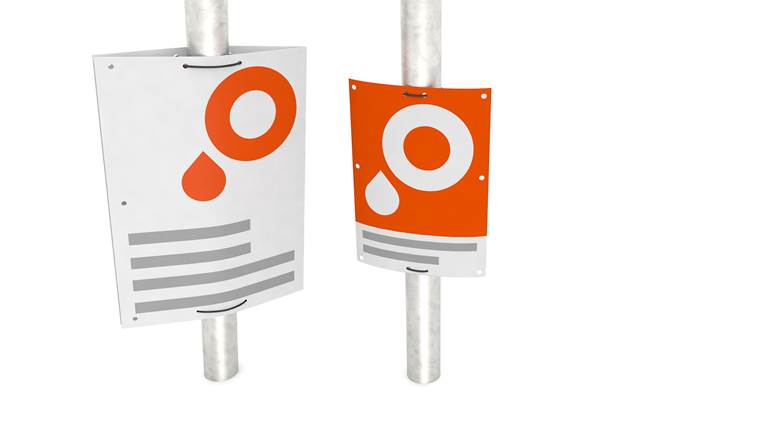 Corrugated Plastic Posters in Overview
Material
2,5 mm
corrugated plastic
Processing
multiple holes
Affiche Paper
115gsm
Affiche paper is woodfree and is blue on the reverse to prevent show-through. The 115gsm paper is weatherproof which makes it perfect for outdoor promotions.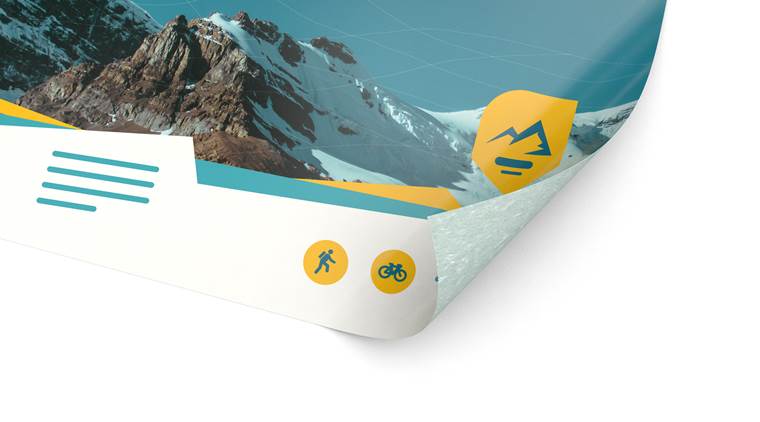 Silk/Gloss Finish Paper
90 | 135 | 170 | 250 | 300gsm
This paper is finished with a synthetic silk or gloss coating. This creates a more finished, smoother and stronger surface, enabling high reproduction and better print quality, particularly in the case of pictures and contours.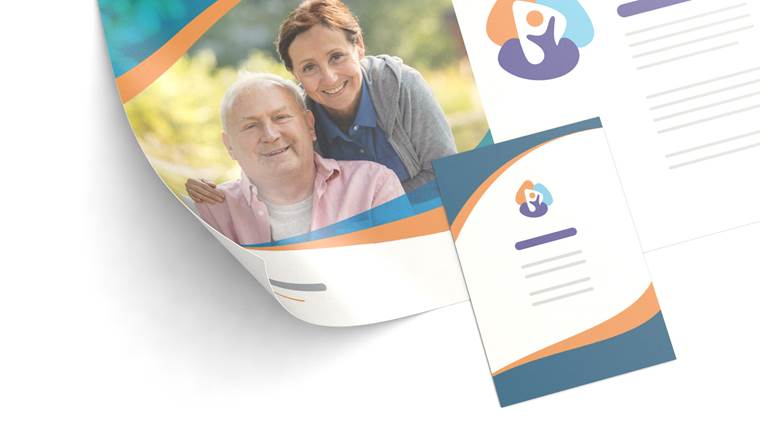 Fluorescent Paper
80gsm
Fluorescent paper is coloured one side and weatherproof. The 80gsm paper is available in yellow, green and red. These vibrant colours show off their advantage even in badly-lit conditions. Fluorescent paper can only be printed with one colour black.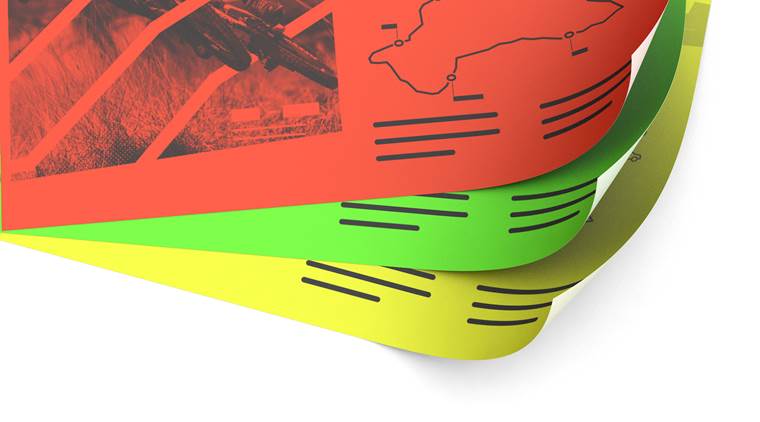 Corrugated Plastic
Corrugated plastic posters are 2.5 mm thick and are especially good for outdoor use. They are made of polypropylene (PP) and are light and weather-resistant. Double sided posters are printed on the front and reverse side once folded over.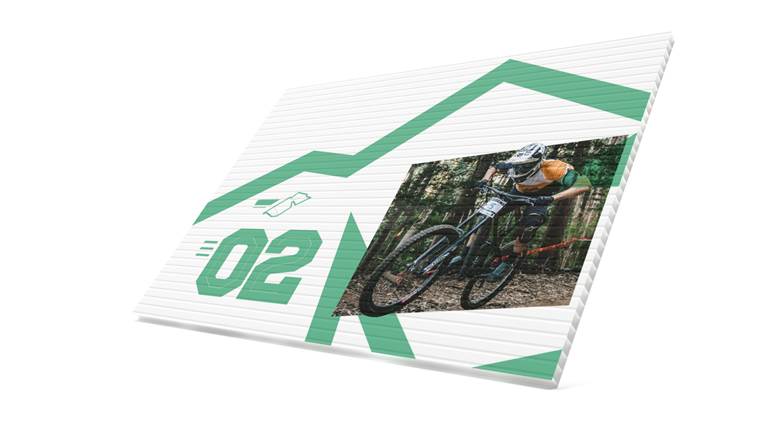 i
For sandwich boards, an A1 final format is standard. To increase stability when inserting the poster into the board, we recommend a paper weight of 115 or 135gsm. Outdoor poster stands should be weather-resistant to protect posters from the elements.
Increasing Colour Sharpness and Longevity with Finishings
Our matt or shiny UV coating is applied over the entire surface immediately after printing and dried with UV light; the binding agent is solvent-free and good for the environment. In contrast to its shiny counterpart, the matt UV finish does not have as good a contrast effect due to light scattering, but the sharp quality that it gives to poster images is a plus point. Because UV coating aims to harden the poster, the surface will be better protected from corrosion and will last longer.
With lamination, we coat the paper with a wafer-thin film to increase tear resistance. This gives the poster a light shine, makes it pleasing to the touch, and improves the colour effect. This looks even better if you use finish printing papers.
UV Coating
gloss finish | matt finish
Enrich your printed products with UV lacquer and give your order a high-quality touch. Thanks to modern finishing methods, your product is highly resilient and resistant to external influences.
Lamination
matt finish | gloss finish | soft touch
Give your product an elegant look and high-quality feel. Emphasise your quality standards with lamination. It enhances the colours and protects the product against external influences.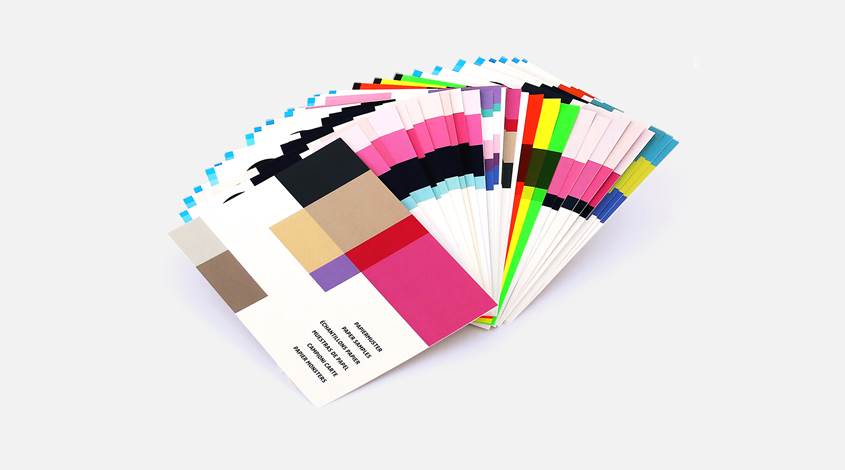 Paper Samples and Product Catalogue
With our Paper Samples Brochure, you receive an overview of all materials and finishing options. Feel the difference between offset, finish and special papers and get to know the appeal of effective UV coating and lamination.
Order Paper Samples
Posters - Small Print Runs with Huge Impact
Posters in Overview
Material
190 | 240gsm
gloss finish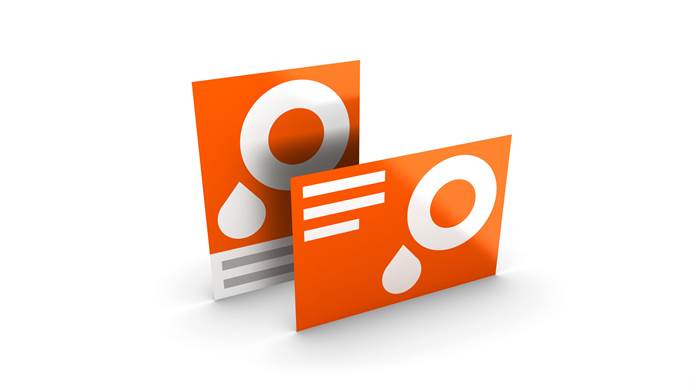 Used for:
Advertising events
Prominent product presentations
Large-format promotions
Guidance system to important places
Overviews of current offers
Photo Printing Papers
Are good alternatives to finish papers for decorating indoor areas with posters. Our shiny photo printing papers work especially well with colour-intensive shots of forests or sunsets and are great for reproducing graphics or close-up shots flawlessly, as the shiny coating emphasises rich colours and contrasts well. These posters fit easily into picture frames as they come in standard page sizes. To present company logos effectively, we recommend our acrylic glass signs with depth effect.
We print outdoor papers using a digital printing process which enables high colour resolution as well as protection from the weather and the sun. For this reason, these papers hang well in outside display windows posters cannot be stuck to the surface.
FAQ's for Posters
Do I need a finishing (lamination, UV coating) for my posters?
The answer to this question depends on what you would like your posters to achieve. Lamination and UV coatings protect from external influences and enhance the optics of your print products. A matt finish gives your poster a refined look, while a glossy finish enhances the vibrancy of colours. Both finishing types are suitable for use for indoor posters. It's worth noting that finishing options do not make paper 100% water-resistant, as the cut edges of the paper are "open" and cannot be varnished or laminated.
What resolution should poster images have?
Posters with pictures and text need a resolution of 150dpi, and photos for posters need 250dpi.
Which paper is best for outdoor use?
We recommend affiche paper for outdoor use. It has a blue back that prevents the underlying surface from showing through and can be fully custom-printed. Our fluorescent papers in red, green or yellow are also well-suited to outdoor use. Neon papers can only be printed in black colour mode, as the paper is fully coloured.
Our corrugated posters are particularly durable and specially made for outdoor use.
How do I avoid white edges around my posters?
Always add a trim allowance of 2 mm to your artwork file. Make sure background pictures and images close to the edge of your design should also extend into this area so we can cut them. This prevents thin, white edges from forming after cutting. More information can be found in our Artwork Instructions Guide.
Print Professional Posters for Your Big Appearance
Hardly any other advertising medium inspires so much public interest as posters. Whether on roadside billboards, at bus stops, on the underground, or advertising columns. Posters can also be found in public buildings, at fairs and events. And it's not hard to see why: like flyers and business cards, posters were one of the first-ever advertising media and remain popular to this day.
The poster and its history
In the 16th century, the walls of buildings were decorated to publicise tightrope walking or juggling performances, as well as products available to buy. Thanks to German pioneer A. Senefelder's invention of a revolutionary printing technique, lithography, at the end of the 18th century, posters experienced an enormous rise in popularity as the 1800s went on. The new lithograph allowed print copies to be mass-produced in colour and well-known French artists such as Pierre Bonnard, Jules Chéret, and Henri de Toulouse-Lautrec created impressive illustrations for events and companies which decorated all of Paris. Britain, other European countries and the USA didn't want to miss out on this trend, and so, to this day, the 20th century represents the highpoint of poster art. Despite the two World Wars, inflation, and the spread of television in the 60s, poster advertising has still not lost its importance, even if its style has noticeably changed. Instead of poster art, we now tend to encounter computer graphics, photo images, and advertising slogans. Posters are ever-present at stations, on advertising columns, and tied to streetlamps. These days, poster windows, back-lit posters at stations, and raised billboards have become an integral visual feature in city life.
Advantages of modern poster advertising
In comparison to TV advertising, scatter losses and publicity costs are significantly lower with posters. On the one hand, if posters are placed all around the target area, a significant number of people will become aware of the advertising message. On the other hand, advertising locations can be specifically chosen and individually targeted with poster campaigns adapted to regional features and demographic characteristics (average age and income level, purchase power or buying behaviour). Research by the German Association for Exterior Advertising (Fachverbandes für Außenwirkung e.V.) revealed that a large number of survey participants remember posters observed in their usual day-to-day surroundings. The three reasons most often cited were:
that repeated distribution of posters over a long period of time in different places in an area increases the likelihood of it being seen;
that the size of posters (i.e. fairly large), as well as the clever incorporation of advertising messages, striking colours, and bold fonts all increase noticeability;
that they are seen as less disruptive than TV or online advertising.
This allows organisers of local events to successfully boost their ticket sales with a poster campaign, while companies based in a region can display information on offers or special promotions to raise awareness of their organisation; online shops can include posters in their marketing mix to make their brand known. At election time, political parties use posters to get their campaign pledges noticed, and associations can also use this good-value advertising medium to attract new members or promote particular events.
Overview of all advantages:
Hardly any scatter losses
High perception rate if posters placed frequently
The perfect way to make your advertising message impossible to miss
Great way to boost or shape companies' public image
Lead to increased brand recognition
Posters are big enough to:
Place an advertising message in a central position
Make your corporate design and logo easily visible
Promote activities and events
Provide information about products or services
Whether to raise awareness of activities and events, for image advertising or brand development, posters are the perfect advertising medium for outdoor advertising, offering a large target range and hardly any scatter losses.
Design eye-catching outdoor advertising
For a poster to be noticeable, it needs to stand out from others and contain an advertising message that can be clearly understood or evokes an emotional response. This publicity message does not necessarily need to be textual; photographs of people in selected situations can carry a lot of meaning or even be self-explanatory. Faces are more likely to appeal to our brains than landscapes or stylishly designed products because they trigger emotions, and marketing experts use these feelings to build up customer confidence in their product or brand. In introducing a facial expression of joy, anger, or happiness, for instance, experienced advertisers exercise a targeted influence on the memories of potential buyers when they think back to the product or the brand; using the faces of small children and animals can also elicit the emotional response required.
An advertising slogan that provokes thought or is witty or inspiring sustains the interest of the recipient and strengthens the message that the pictures are giving out. To achieve this, marketing experts use a variety of linguistic techniques, such as:
Keywords with superlatives (like "super-easy", "just great", "brilliant")
Catchy plays on words ("born to be child", "the world's local bank", "let your fingers do the walking")
Rhymes (such as "Beanz meanz Heinz" or "Once driven, forever smitten")
Colour choice affects the mood of the whole poster. Colours inspire emotions and associations. For example, we equate blue with coldness, loyalty, and constancy, but we connect red with energy, love and strength; yellow tones symbolise cheerfulness and optimism, while green makes us think of tranquillity, confidence, and hope.
The basic colour scheme of the advertising medium can also be chosen in relation to the target group: while blue is a favourite colour with both the sexes, generally, men tend to like powerful colours, whereas women prefer soft and subtle colours like purple.
Why print your posters with SAXOPRINT?
As a printing company with many years of experience, we produce several thousand orders every day in our 18,000m² production park, printing everything from flyers and business cards to high-quality brochures. Our production processes are optimised so that print sheets are utilised to the fullest possible extent, lessening both costs and the impact on the environment. A dedicated staff of 550 maintains our high standards of quality and ensures that our customers in nine European countries receive their orders on time. Read on to learn more about the advantages of using Saxoprint.
Several papers, finishes and formats available for free configuration.
Small and large orders alike ready for delivery in three days.
Printing templates and instructions to help with print data creation.
Personal specialist advice available from Monday to Sunday to deal with your questions
Printing orders accepted up until 18:00 and put into production on the same day.
Our papers and materials
Our popular affiche paper in 115 gsm is best suited to exterior advertising: its high weather resistance and the blue laminated rear side make it light and permeable, increase durability in wet weather, and make the poster easy to stick to outdoor surfaces.
Finish printing papers are perfect for indoor areas like display windows, advertising in public transport and waterproof sandwich boards in front of shops. After printing, we cover the photo printing paper with a matt or shiny coating so that it receives a smooth and sealed surface. This means images and graphics are reproduced with high-resolution effect, and details stand out well.
We print outdoor papers using a digital printing process which enables high colour resolution as well as protection from the weather and the sun. For this reason, these papers hang well in outside display windows posters cannot be stuck to the surface.
It's never been easier to order posters with us online
Our personalised specialist advice will help you find the right papers and paper weights for your advertising campaign, and our Shopping Configurator allows you to adapt your posters to your unique requirements. Download our printing template and checklists to layout margins and pictures correctly in your print file. Posters with pictures and text need a resolution of 150dpi, and photos for posters need 250dpi. After your file has been successfully uploaded to your customer account, we check it for errors. If you are a new customer, we recommend booking our professional file check to manually search for resolution errors or problems with image cropping. The PDF proof is only suited to some files, as the resolution is reduced to 72dpi. If your print order goes through and payment has been confirmed, it goes into production and will be ready for delivery in three working days.