Product Information for Greeting Cards
Greeting Cards in Overview
Colour Mode
1/0 | 1/1 black
1/0 | 1/1 HKS
1/0 | 1/1 Pantone
2/0 | 2/2 black + HKS
2/0 | 2/2 black + Pantone
4/0 | 4/4 Euroscale
4/1 Euroscale + black
5/0 | 5/5 Euroscale + HKS
5/0 | 5/5 Euroscale + Pantone
Material
135 | 170 | 250 | 300 | 400gsm
silk/gloss finish paper
160 | 250 | 300gsm
natural paper
170 | 250 | 300gsm
recycled paper
300gsm
uncoated board
300 | 450gsm
chromo board (coated on both sides)
Processing
creasing (for 4 sides)
folded (from 4 sides)
Finishing
UV coating matt | gloss
spot UV coating
spot 3D UV coating
lamination matt | gloss
soft touch lamination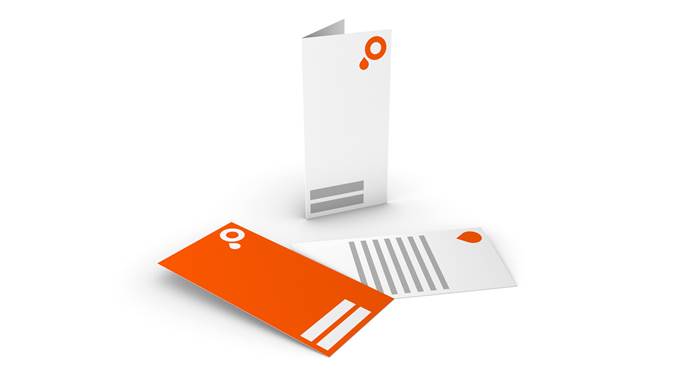 Used for:
Reactivation of your customer base
Advertising material with added value for special occasions
Greeting card campaigns
Personal messages to increase customer bonding
Materials for Greeting Cards
Greeting cards need a thick paper for various reasons: stability, easy handling and to ensure a high-quality look. For this reason, we recommend using at least 250gsm - ideally 300gsm silk or gloss finish paper. Creasing is always included for our greeting card products. This prevents the ink from flaking and stops the fold breaking. You can find other card options in our card products overview page.
Silk/Gloss Finish Paper
170 | 250 | 300 | 400gsm
This paper is finished with a synthetic silk or gloss coating. This creates a more finished, smoother and stronger surface, enabling high reproduction and better print quality, particularly in the case of pictures and contours.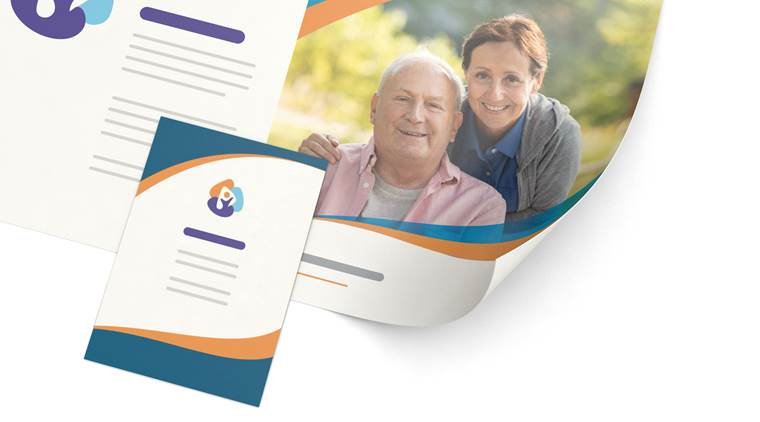 Recycled Paper
250gsm
Recycled paper consists of 100% reused paper. As well as saving wood resources, in comparison with conventional paper production, more than 70% of the energy and water used is saved. In short: Recycled paper significantly protects the environment.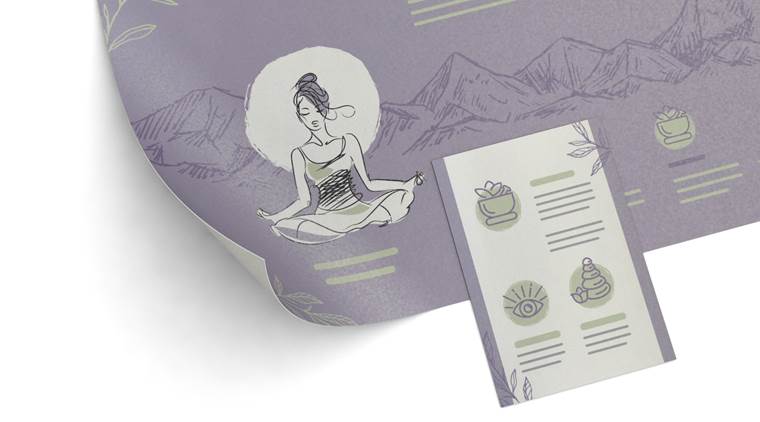 Natural Paper
250gsm
All paper that is not coated during its manufacturing process is known as natural paper. So, our natural paper is an uncoated paper, which gives products a good level of density and a premium look and feel.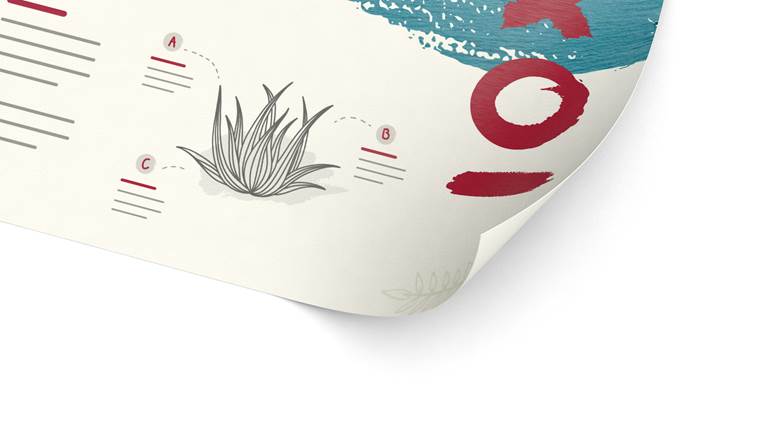 Chromo board
300 | 450gsm
Chromo board is coated with a silk matt finish on both sides and has a smooth surface. It is particularly robust and tear-resistant, making it suitable for high-quality products or advertising materials that require prolonged use. As the surface is coated on both sides, the paper is not writable or stampable.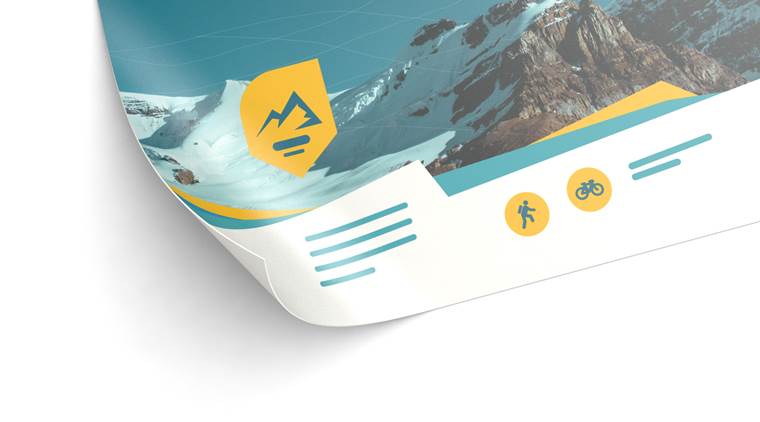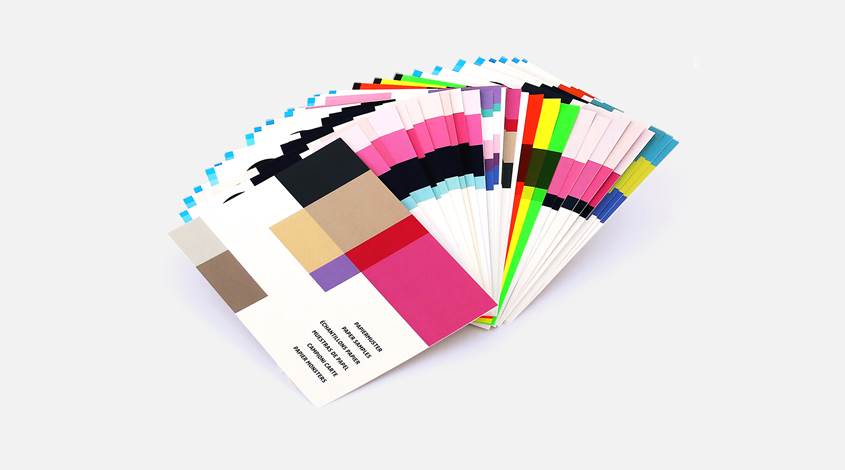 Paper Samples and Product Catalogue
With our Paper Samples Brochure, you receive an overview of all materials and finishing options. Feel the difference between offset, finish and special papers and get to know the appeal of effective UV coating and lamination.
Order Paper Samples
Use spot colours if you need precise colour reproduction for your project. You may consider using spot colours for your company logo or colours, for example. That way you can be sure the print will produce the exact colour shade you are looking for. We can print spot colours on our 170, 250 or 300gsm materials.
Finishing options transform greeting cards into real highlights – while protecting them from dirt and wear, a finishing coating can significantly improve the overall feel of your product. Soft touch lamination is ideal for creating a satin-soft surface with high contrast effects. The soft touch surface feels satin-smooth in your hands. Use our glossy spot UV coating if you want to make colours and motifs shine in reflective light. Meanwhile, matt finishing significantly reduces light reflections and protects against visible fingerprints. Use finishing coatings to highlight individual elements such as logos, images or text. Our spot 3D UV coating also highlights selected elements of your product while creating an added 3D tactile effect. Spot 3D UV coating is exclusively available for A5 greeting cards in 300gsm silk finish paper.
UV Coating
Enrich your printed products with UV lacquer and give your order a high-quality touch. Thanks to modern finishing methods, your product is highly resilient and resistant to external influences.
Lamination
Give your product an elegant look and high-quality feel. Emphasise your quality standards with lamination. It enhances the colours and protects the product against external influences.
Spot Colours: HKS & Pantone
Create a high level of recognition with individualised spot colours. Spot colours with HKS or Pantone achieve a unique spectrum of colours and a faultless representation.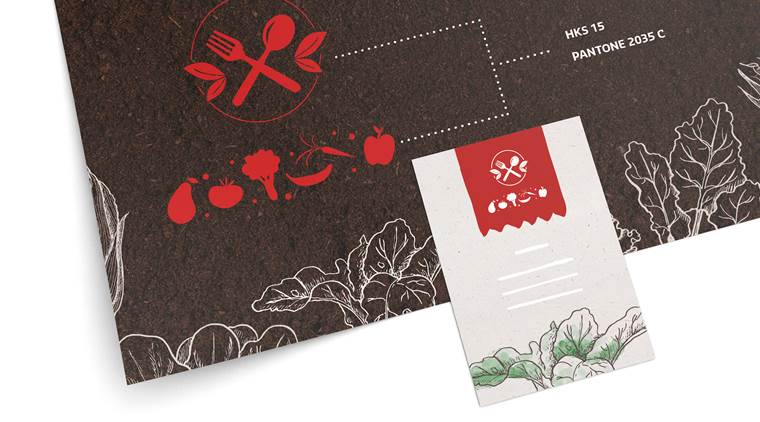 Design Greeting Cards Online - Online Designer by SAXOPRINT
Create Your Designs Online
Create your artwork effortlessly online without the need for graphic design software - with our SAXOPRINT Designer. You can select the Designer directly on the configuration page for many of our products. Use it to place your logo, pictures and message on your printed products.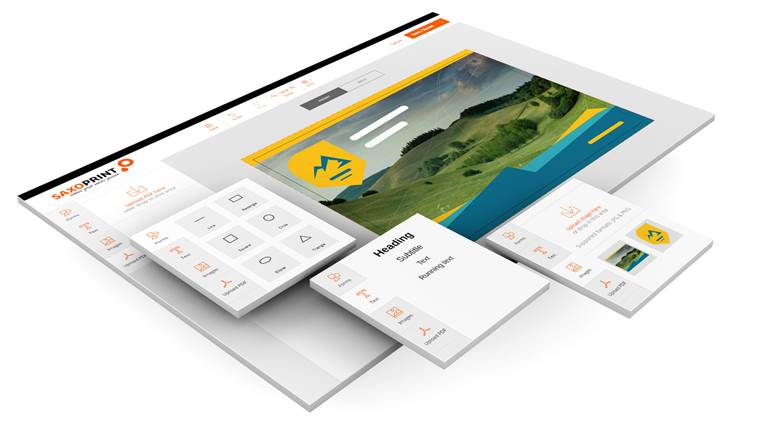 It's this easy:
1
Select product
2
Configure product
3
Create your design
4
Confirm and order
FAQ's for Greeting Cards
Which paper should I choose for my greeting cards?
Thick silk/gloss finish papers or uncoated board are well-suited to greeting cards.
If you want to write or sign the cards by hand, we recommend 300gsm uncoated board, or you may consider natural or recycled paper. These papers are uncoated and are easy to write on with any pen or pencil.
In contrast, silk/gloss finish papers are coated and have a smooth surface. It is only possible to write on them using a ballpoint or waterproof pen.
With our paper samples brochure, you can take a look at all of our paper types and decide which one works best for you.
How do I avoid white edges around my greeting cards?
Always add a trim allowance of 2 mm to your artwork file. Make sure background pictures and images close to the edge of your design should also extend into this area so we can cut them. This prevents thin, white edges from forming after cutting. More information can be found in our Artwork Instructions Guide.
Is it possible to embellish the greeting cards for special occasions such as Christmas, birthdays or weddings?
We offer a range of different finishing options for every occasion.
A full-surface matt or gloss UV coating not only creates a high-quality look, but it also protects your greeting cards from scratches.
Gloss or matt lamination lends an elegant look. Soft-touch lamination adds an extra tactile dimension to your products by creating a silky soft surface.
For festive occasions, spot UV coating or spot 3D UV coating is very popular. You can use it to highlight individual texts or small picture elements with an added tactile dimension.
You can select any of these finishing options on the configurator page. Please note that spot UV coating and spot 3D UV coating is only possible in combination with 300gsm silk finish paper.
Greeting cards
Sending customers thank you cards and invitations with style
At SAXOPRINT, we are experts in printing greeting cards. With high-quality, perfectly printed greeting cards, you will leave a lasting impression with the recipient. Whether a greeting card or an invitation, personalised greeting cards designed by you are great for customers, business associates and staff as well as your nearest and dearest.
Emails are very soon deleted because they lack emotion and you can't touch them. Not only are greeting cards personal but they're decorative too. Many customers put their Christmas cards on their desk or a pin-wall. So that your greeting cards are well received, we can arrange first-rate printing and outstanding designs for your cards at SAXOPRINT.
Greeting cards for every occasion
Personalised greeting cards can be ordered from our print shop in small runs of only 25 and up to very large runs of 200,000. That makes printing custom greeting cards perfect for small events such as company parties as for commercial greeting card vendors with a large retail distribution. Professionally printed greeting cards by SAXOPRINT can be used in many different ways to make a positive and lasting impression on your customers, business associates, staff or guests. A few examples:
Christmas cards
Birthday cards
Wedding invitations, anniversaries or company events
Personalised thank you cards
Branded company cards for every occasion
Event invitations
We love to show off our large paper, fold and finish selection and have many different sizes and formats for you to choose from. The print samples also clearly demonstrate the difference between paper with and without UV coating. Colours appear more brilliant, and the feel of the paper is unique, which results in an eye-catching custom printed greeting card. The cards can be coated on one side or both sides. Folding is already included in the price of the custom printed 4-sided cards and creasing is an optional extra for 170gsm papers. Of course, we can also leave them unfolded if that's what suits your needs.
Upon receiving your files, SAXOPRINT online print shop performs a free standard artwork check to make sure your files will print well. For perfect colour results and particularly for colour fidelity, take advantage of our inexpensive proofing services. Further options such as express delivery or split delivery can also be selected individually. For urgent orders: use our 48h Turnaround service and receive your delivery within 2 working days by 5 pm.
Season's Greetings from SAXOPRINT
Create custom Christmas cards with SAXOPRINT. Your custom holiday cards are sure to impress both loved ones and customers. Personalised Christmas cards can holiday cheer to friends and family, create a bond with customers or – if you are looking for Christmas card printing for charity – get donors in a generous spirit. If you are sending a family photo for the holidays, consider using our Christmas card templates to create photo Christmas cards. The possibilities are endless with SAXOPRINT's wide card range and customisable options, you are sure to create the perfect personalised Christmas card for your individual needs.
In the print template section of our website, pre-formatted blank templates are available for you to design your own personalised greeting cards with ease. They can be used with various desktop publishing programs. We have designed our free print templates not only to provide you with inspirational ideas for your own creations; the templates also ensure you have the right settings for correct bleed and other criteria from the start. The templates are available for free on our online print shop for Adobe Illustrator, InDesign and as PDF files. Making sure your custom printed greeting cards are a big success is as important to us as it is to you. We suggest you have a look through the artwork and layout information in our guide. It contains detailed, step-by-step instructions to make layout and design easier for you – and it's free. We have also put together a collection of ready-made design templates for you to choose from. If you are interested in using these designs, you will find them in our Online Designer. Simply select 'Design online' in the configuration page to see our range of greeting card designs. Order custom greeting cards online from the SAXOPRINT online print shop, and give your creativity free rein. Your customers and business associates will be impressed!