Product Information for Postcards
Postcards in Overview
Colour Mode
1/0 | 1/1 black
1/0 | 1/1 HKS
1/0 | 1/1 Pantone
2/0 | 2/2 black + HKS
2/0 | 2/2 black + Pantone
4/0 | 4/4 Euroscale
4/1 Euroscale + black
5/0 | 5/5 Euroscale + HKS
5/0 | 5/5 Euroscale + Pantone
Material
250 | 300 | 400gsm
silk/gloss finish paper
250 | 300gsm
natural paper
250 | 300gsm
recycled paper
280 | 350gsm
postcard board
300gsm
uncoated board
Processing
up to 6 perforation lines
Finishing
UV coating matt | gloss
lamination matt | gloss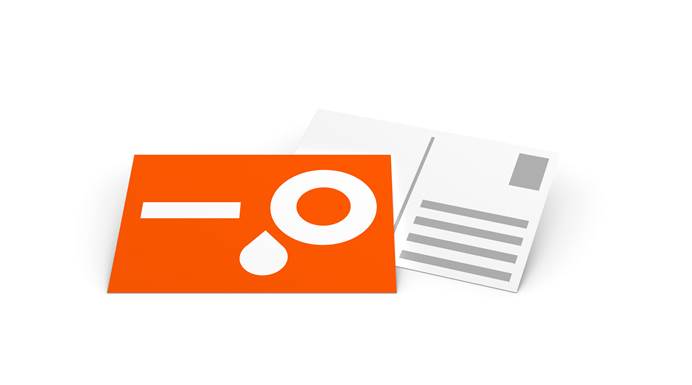 Used for:
Great media to engage with your customers
Customised postcards for special ocasions
Original messages for highly effective marketing
Postcard campaigns with collectable value
Along with silk/gloss finish papers in three different grammages, you can also create your postcards with 280 or 350gsm postcard board. You can write on the back of postcard board with fountain pens, pencils and gel pens. It is also specially designed to be robust for delivery via postal services. Writing with a pen on silk/gloss finish papers is not as easy. Nevertheless, these papers can have an additional finishing coating on one or both sides as protection against moisture.
We recommend postcard board for greeting cards, invitations, RSVPs or competition cards. For inserts in magazines or packages, 250gsm silk/gloss finish paper is an ideal choice. Our 250gsm recycled paper comprises of 100% reused paper, which saves 70% of energy and water consumption compared to conventional paper production.
Are you unsure which paper is the right one for your postcards? Then order one of free paper samples brochures.
Postcard Board
280 | 350gsm
Postcard board is covered with a dispersion varnish on the front. The glossy dispersion varnish protects the postcard and enhances colours. The back is matt and is well suited to writing on. You can choose between 280gsm and 350gsm board for your postcards.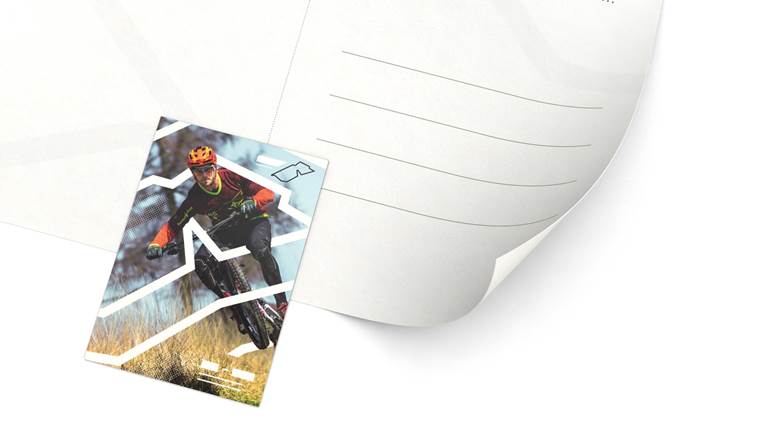 Silk/Gloss Finish Paper
170 | 250 | 300 | 400gsm
This paper is finished with a synthetic silk or gloss coating. This creates a more finished, smoother and stronger surface, enabling high reproduction and better print quality, particularly in the case of pictures and contours.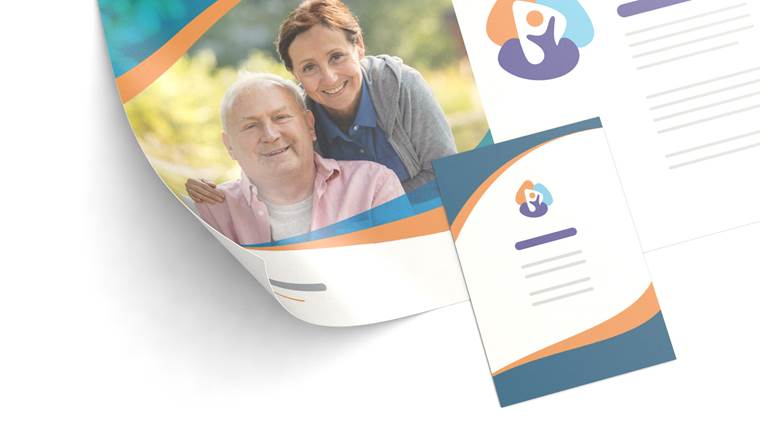 Recycled Paper
250gsm
Recycled paper consists of 100% reused paper. As well as saving wood resources, in comparison with conventional paper production, more than 70% of the energy and water used is saved. In short: Recycled paper significantly protects the environment.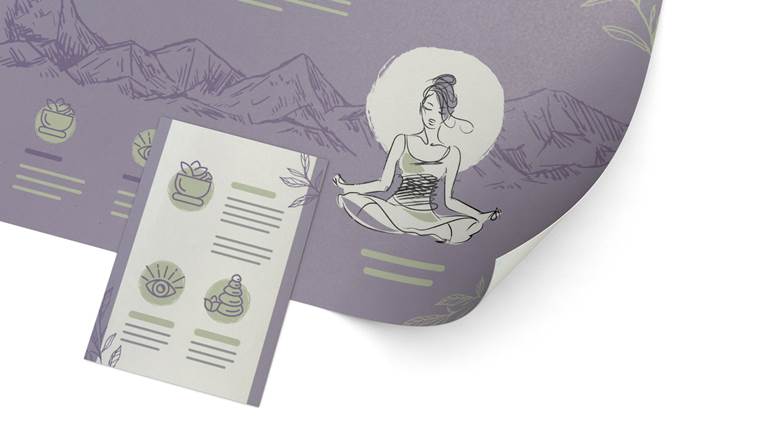 Natural Paper
250gsm
All paper that is not coated during its manufacturing process, is known as natural paper. So natural paper is an uncoated paper, which gives the print product a very good level of opacity and a vivid and high-class look and feel.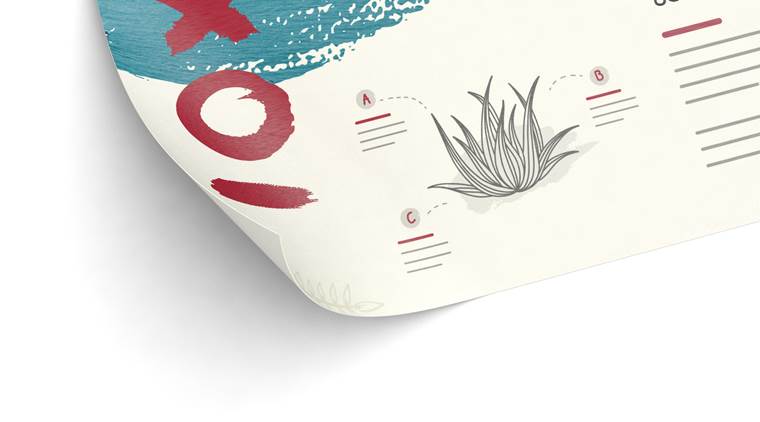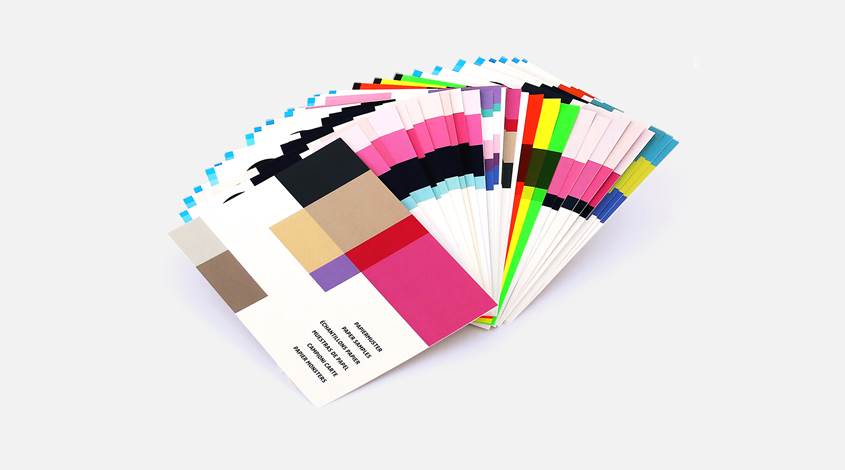 Free Paper Samples and Product Catalogue
With our free Paper Samples Brochure, you receive an overview of all materials and finishing options. Feel the difference between offset, finish and special papers and get to know the appeal of effective UV coating and lamination.
Order Paper Samples
Finishing Options for Postcards
Finishing options protect print products from wear and moisture. They enhance the durability and improve the general look of your products. You can choose between a full-surface UV varnish or lamination on the front and back of your postcards (depending on paper type). Glossy finishing options create a high-quality finish, and they enhance the intensity of colours for photos or graphic images. Matt finishings protect against grease stains and scratches on your products. Sunlight or bright light do not interfere with seeing the print on the postcards.
UV Coating
Enrich your printed products with UV lacquer and give your order a high-quality touch. Thanks to modern finishing methods, your product is highly resilient and resistant to external influences.
Lamination
Give your product an elegant look and high-quality feel. Emphasise your quality standards with lamination. It enhances the colours and protects the product against external influences.
Spot Colours: HKS & Pantone
Create a high level of recognition with individualised spot colours. Spot colours with HKS or Pantone achieve a unique spectrum of colours and a faultless representation.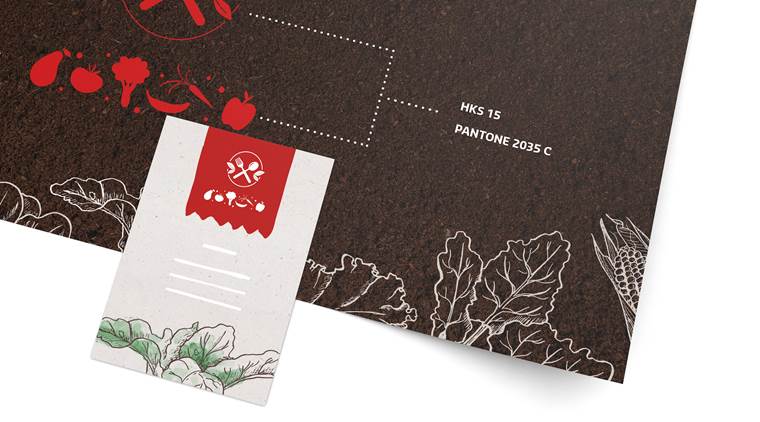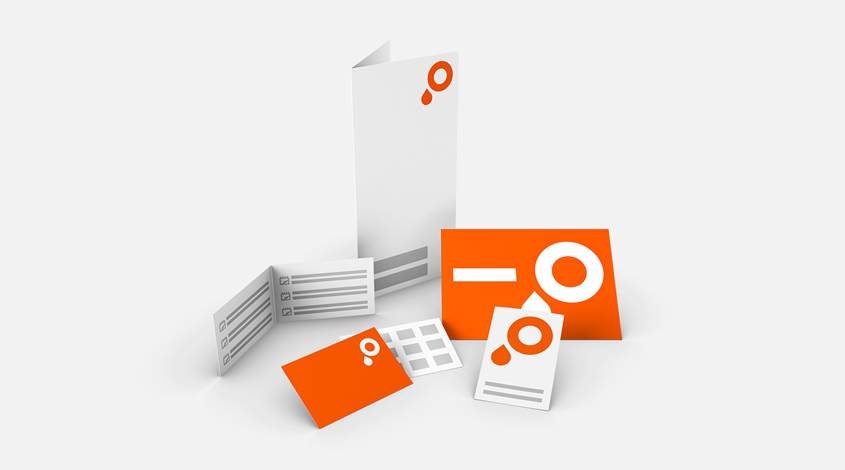 All Cards in Overview
Discover our whole portfolio of card products. From greeting cards to tickets and business cards, here you can find everything for successful advertising campaigns or customer retention.
Cards in Overview
FAQ's for Postcards
Which colour mode should I use?
Use our four-colour printing to maximise the print quality of images. If you are using our four-colour printing, remember to convert RGB colors to CMYK in your print file. If you want to reproduce your company logo or colours exactly, use HKS or Pantone colours for your print. Our London-based service team will be pleased to help.
What's the best way to design my postcards?
You can create your postcards with our online Designer. This is free to use and easy to navigate. So, you can design your postcards online even with little background knowledge of graphic design. All you need to do is upload your own motifs, change the background colors and create your content.
If you create your print file with the help of a graphic designer in Adobe InDesign, your design will be more professional and detailed. This way, you can guarantee your company colours in HKS, custom font types and correct image positioning. Our print guides, data sheets and templates can help you with the bleed, image resolution and font embeddings. If you need some advice, our service team are available from Monday to Friday and would be happy to help.
How do I avoid white edges around my postcards?
Always add a trim allowance of 2 mm to your artwork file. Make sure background pictures and images close to the edge of your design should also extend into this area so we can cut them. This prevents thin, white edges from forming after cutting. More information can be found in our Artwork Instructions Guide.
Suggestions for Using Business Postcards
There are many different uses for postcards. SAXOPRINT prints postcards for classical mail sending, advertising issues or as invitation cards - it doesn't matter which form you choose. If you are planning postcard marketing but don't yet have a lot of experience, our experts would like to offer you some inspiration for a successful campaign.
Printing postcards for mailshots
Bulk mail or mailshots are typically used in three ways: properly addressed as letters with supplements, advertising brochures or leaflets, or as affordable postcards in A6, or as oversized postcards (235 x 125 mm). We would like to say a few words about the latter by way of explanation: A6 postcards are similar to flyers in that they are relatively small and are more prone to being overlooked in a full mailbox than brochures or letters. For that reason, we recommend a heavier paper or cardboard of at least 250 gsm for printing custom postcards.
Oversized postcards also have almost twice the advertising surface and get more recipient attention. This format is only about 5% smaller than our A5 option and is more economical. As with printed advertising postcards, we recommend designing the front side with an eye-catcher that gets an immediate response and compels the recipient to read the reverse side.
Periodical supplements
Affordable postcards placed in periodicals have to be directed very precisely at their target audience in order to distract the reader from the actual content of the magazine. They look especially high-quality on premium glossy art paper, with a print finishing such as UV coating, which really makes the colours pop out. Choose from our large paper and finish selection. Additional perforation lines make it easy for the reader to detach the postcards from the magazine and react to your advertising campaign.
Prize draw cards
Postcards printed on postcard board are ideal for prize draw cards that the reader can send in. As a rule, art printing paper is sufficient for draws at advertising or promotional stands, where they are immediately dropped into a tombola. Additional perforation lines are perfect when you want to give a blank part back to the customer to make sure he remembers your company.
Printing greeting cards and invitations as postcards
Postcards are perfect as invitations to events, trade exhibitions, new openings or product launches. They are not only less expensive to send than folded cards with envelopes, they are also more environmentally friendly. Having greeting cards printed for your regular customers reminds them of your cooperation and fosters trust in your company.
Ordering options for printing custom postcards with our online shop
You can order and print postcards at Saxoprint UK online printers in the 4 colour Euroscale system, or choose to add non-standard HKS or Pantone tones and spot colours. Black and white printing with or without spot standard colours is also possible. The postcard board is finished with a dispersion varnish on the front side and is matt on the reverse to make it easy to write on.
Perforation lines are a very good instrument for increasing your response quota, for example with postcards for prize draws or in magazines. As business reply cards, the participant only has to write a few lines or tick a few boxes and put the card in a mailbox with no need to pay for postage.
Whether it's a small run from 25 to 1,000 or large runs from 2,000 to 200,000, we print your order printed in a very short time. Take advantage of our expert postcard printing services!
We recommend finishing options such as UV coating or celloglazing for the sides of your affordable postcards that will not be written on. Coating and lamination makes the paper more robust, the colours more brilliant and gives the card a high-quality feel.
For a small surcharge of between 1 and 2% of your order value, you can actively support a climate protection programme and play a part in carbon offset. You can communicate your participation to your customers with your own certificate and QR code.
Companies who need multiple delivery addresses for a single order can also select our split delivery service for up to 10 separate addresses. The number of copies sent to each address can be individually set. We save you the trouble of having to submit separate orders for each delivery address, and you don't have to unpack our delivery only to repack and forward it yourself. SAXOPRINT makes printing individualised postcards easy for you.
Creating postcard layouts and print files for online printing
Free print templates along with our print file instructions and artwork guide give you the information you need to prepare your layout for production. Before your custom printed postcards even see a press, we check your file for its printing suitability in order to ensure an optimal printed result. This standard artwork check is free of charge. We also offer comprehensive proofing options for a small fee. Our staff of experts personally check your files in detail according to all relevant criteria.
We recommend using a professional graphic design program like InDesign to correctly set bleed, layers and images for an optimal print file. We have lots of tips and advice for you on our blog about setting print files correctly. The blog also contains a large collection of useful, free print tutorials with step-by-step instructions for everything related to printing custom postcards. For really quick printing, use our express delivery. This way, you will receive your printed postcards in only one to two days after completion.
Haven't found the perfect idea? Take a look at our other card printing offers!