Product Information for Folded Leaflets
Folded Leaflets in Overview
Colour Mode
1/1 black
1/1 HKS
1/1 Pantone
2/2 black + HKS
2/2 black + Pantone
4/4 Euroscale
4/1 Euroscale + black
5/5 Euroscale + HKS
5/5 Euroscale + Pantone
Material
80 | 90 | 100 | 120gsm
uncoated paper
120 | 160 | 250gsm
natural paper
170 | 250gsm
recycled paper
300gsm
uncoated board
90 | 135 | 170 | 250 | 300gsm
silk/gloss finish paper
300gsm
chromo board (coated on both sides)
Processing
up to 6 perforation lines
banding (25 | 50 | 100 units)
Finishing
UV coating matt | gloss
lamination matt | gloss
soft touch lamination
Types of Folds
Single Fold

Letterfold

Z-fold

Gate Fold (open | closed)
Double Parallel Fold
Cross Fold
Flat (unfolded)
i
If you are ordering a large print run, we recommend banding. We can bundle leaflets in groups of 25, 50 or 100 to make counting and distribution easier.

We can produce leaflets and booklets with up to 12 page sides. If you need more pages, please switch to our brochures.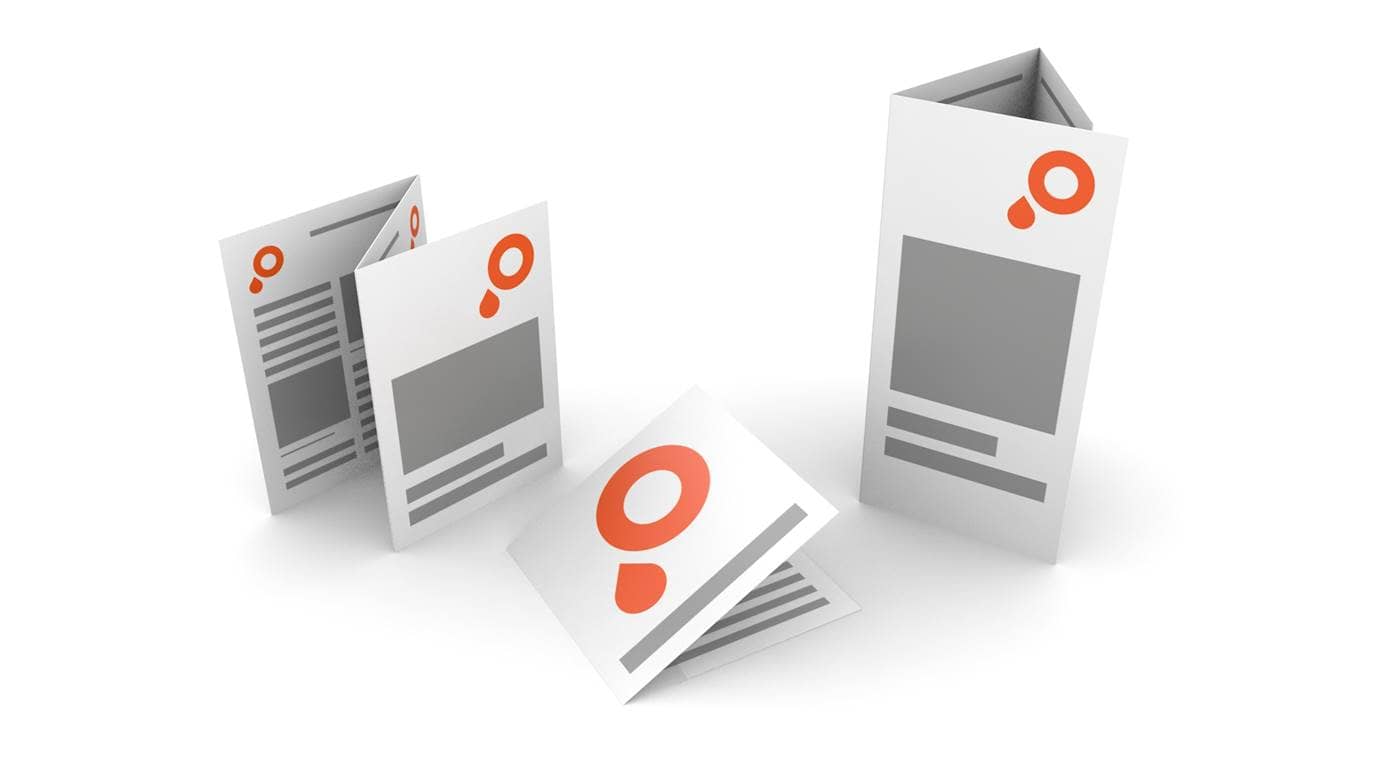 Used for:
High-quality invitations
Portfolio presentations with a panorama effect
Displaying a concise overview of products, like a menu
Eye-catching brand displays
Detailed information
Single Fold
The single fold, also known as a layer fold, is the simplest form of folding. Here, the sheet is folded once in the middle. This fold type will transform your folded leaflets in a range of different formats for perfect greeting cards.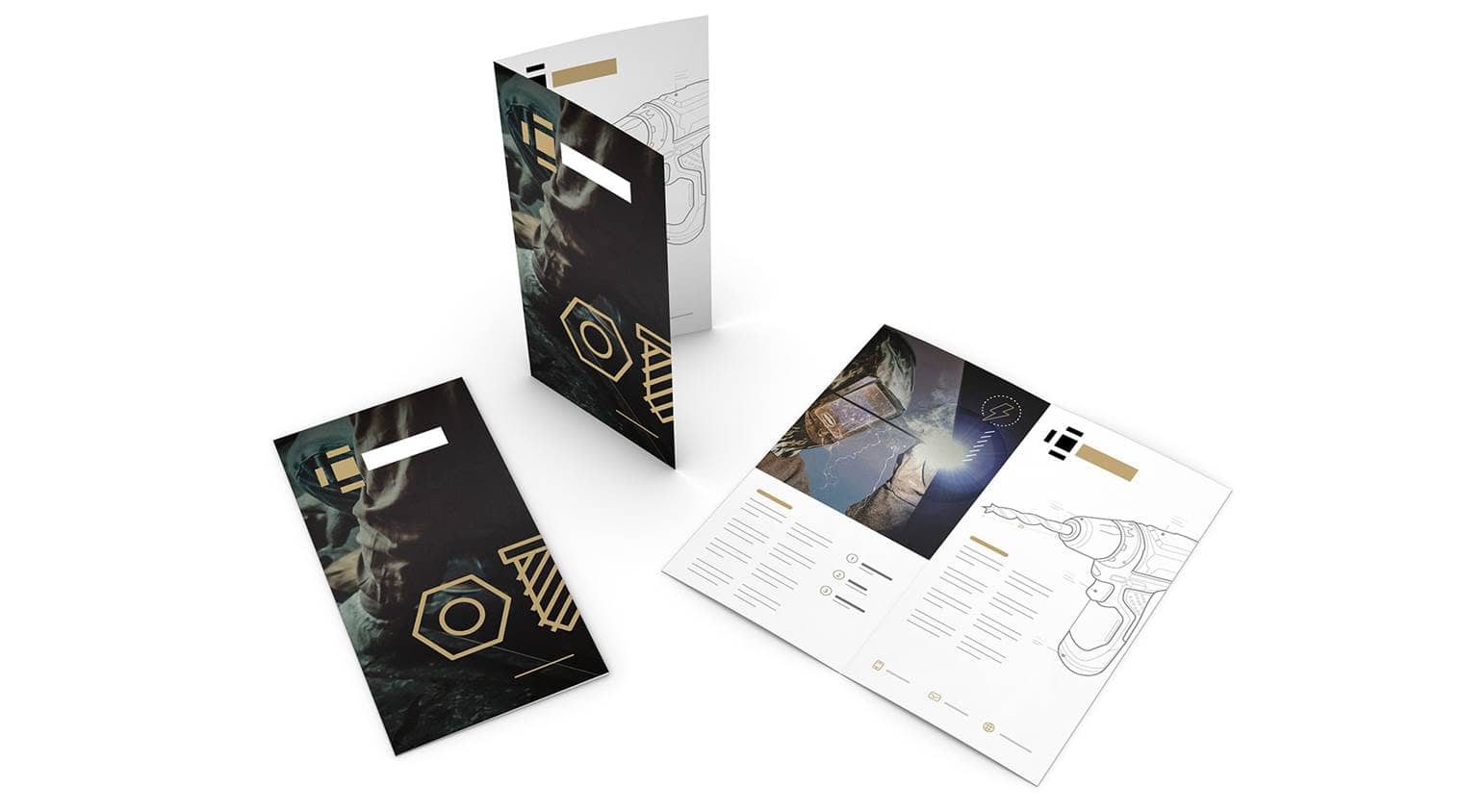 Letterfold
Using a letterfold, you can present your information in style with up to 10 sides. Here, the individual sides are wrapped around one side without any change in direction. In this way, two parallel folds produce a total of six sides for your content, for example.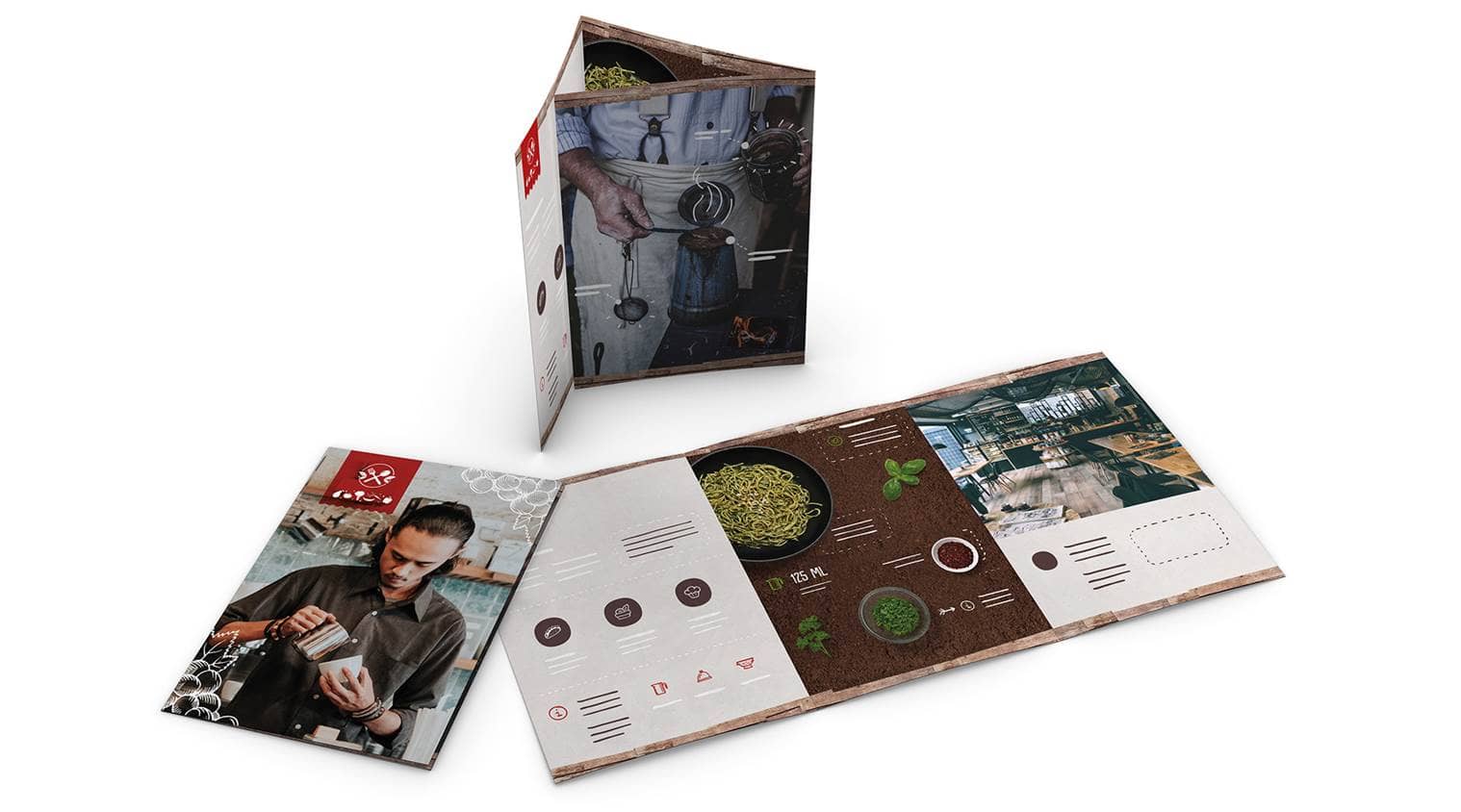 Z-fold
With Z-folds, you can display your engaging content on up to 12 sides. Also known as a fanfold, each fold runs in the opposite direction to the previous one in this case.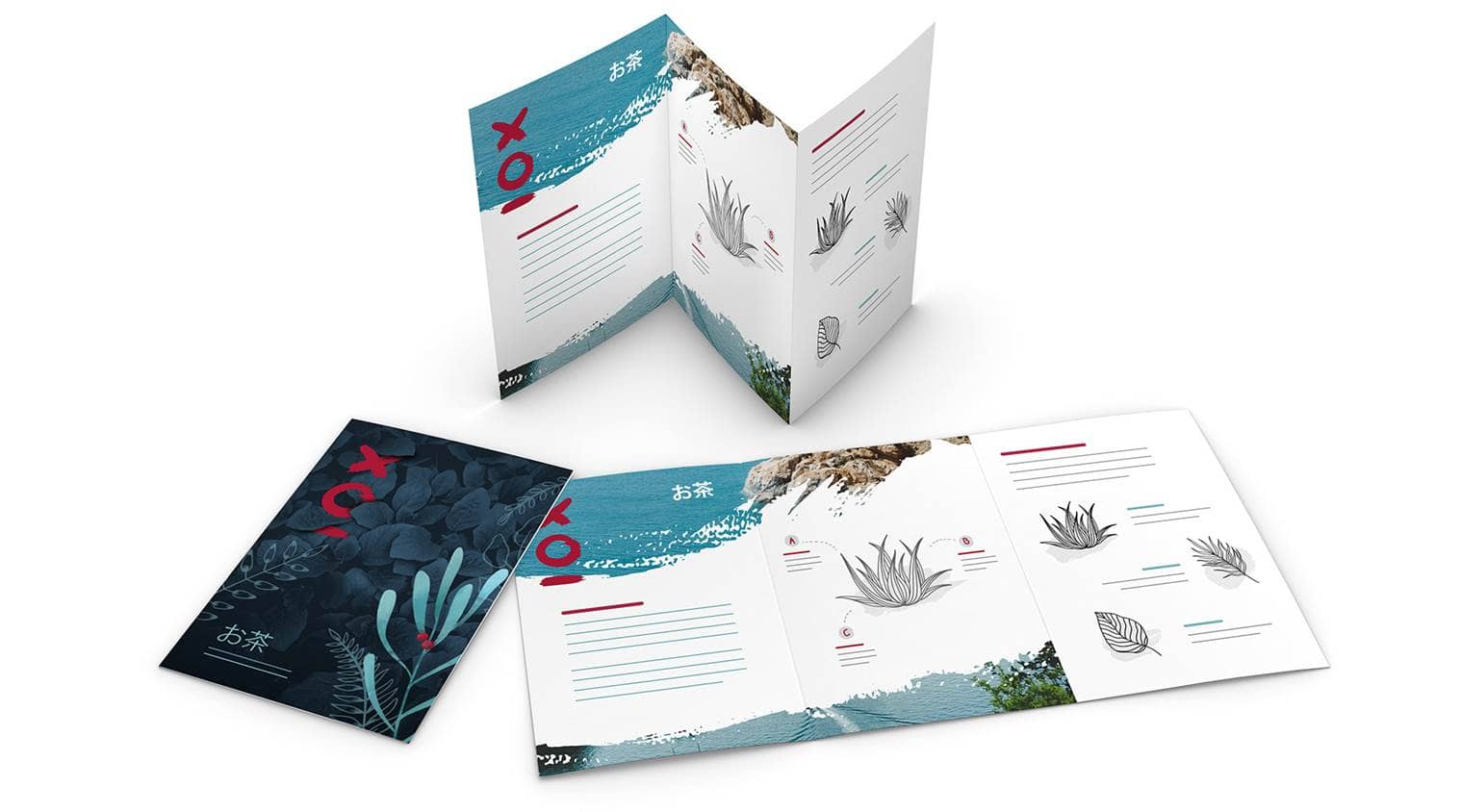 Cross Fold
The eight-side cross fold is ideally suited for use with large cards, posters and infographics. The sheet is first folded lengthways and then subsequently crossways. This produces folded edges in the form of a cross.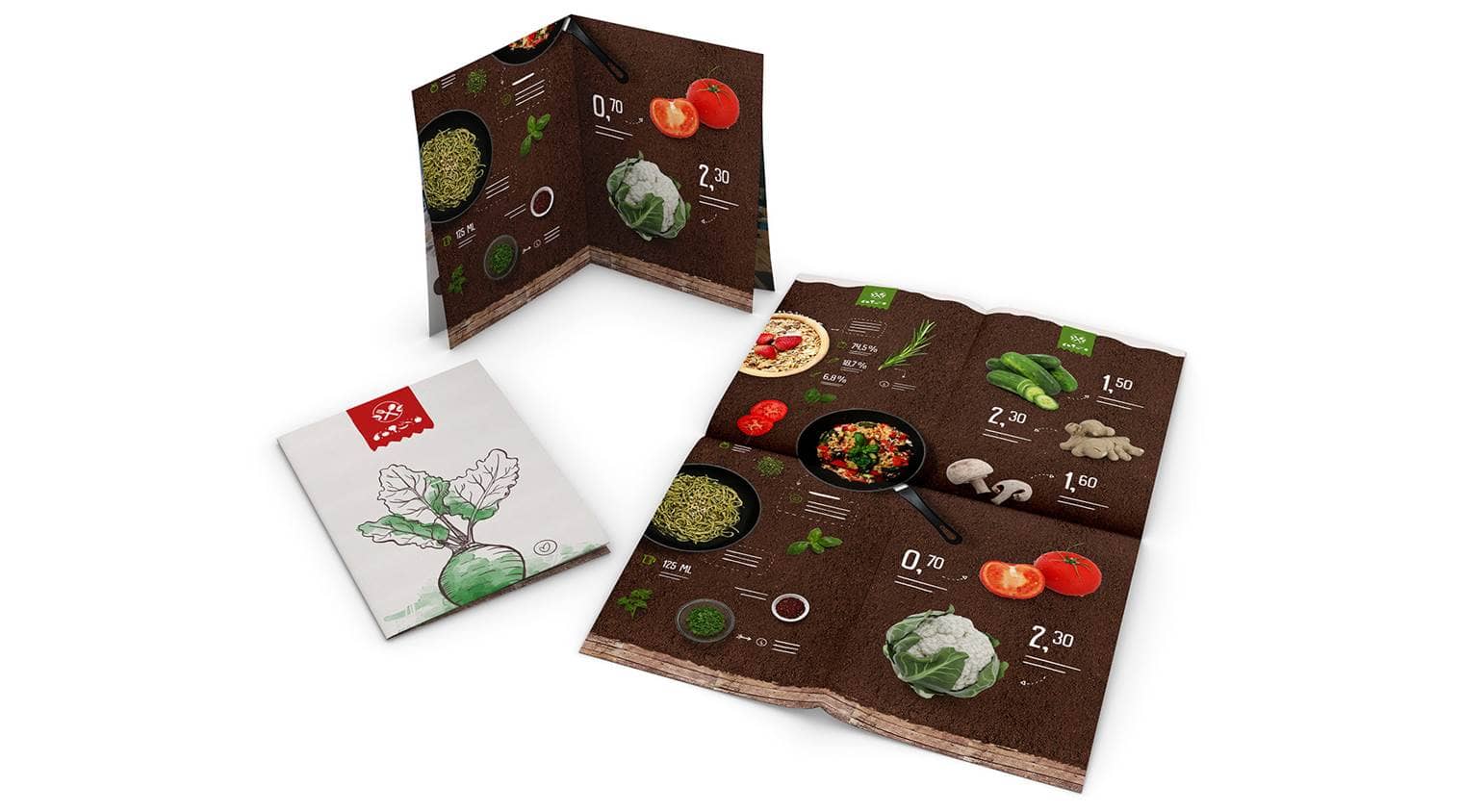 Open Gate Fold
The open gate fold owes its name to its resemblance to a gate in three parts. The two outer sides are each folded into the middle without overlapping. This type of folding is also sometimes known as a window or altar fold.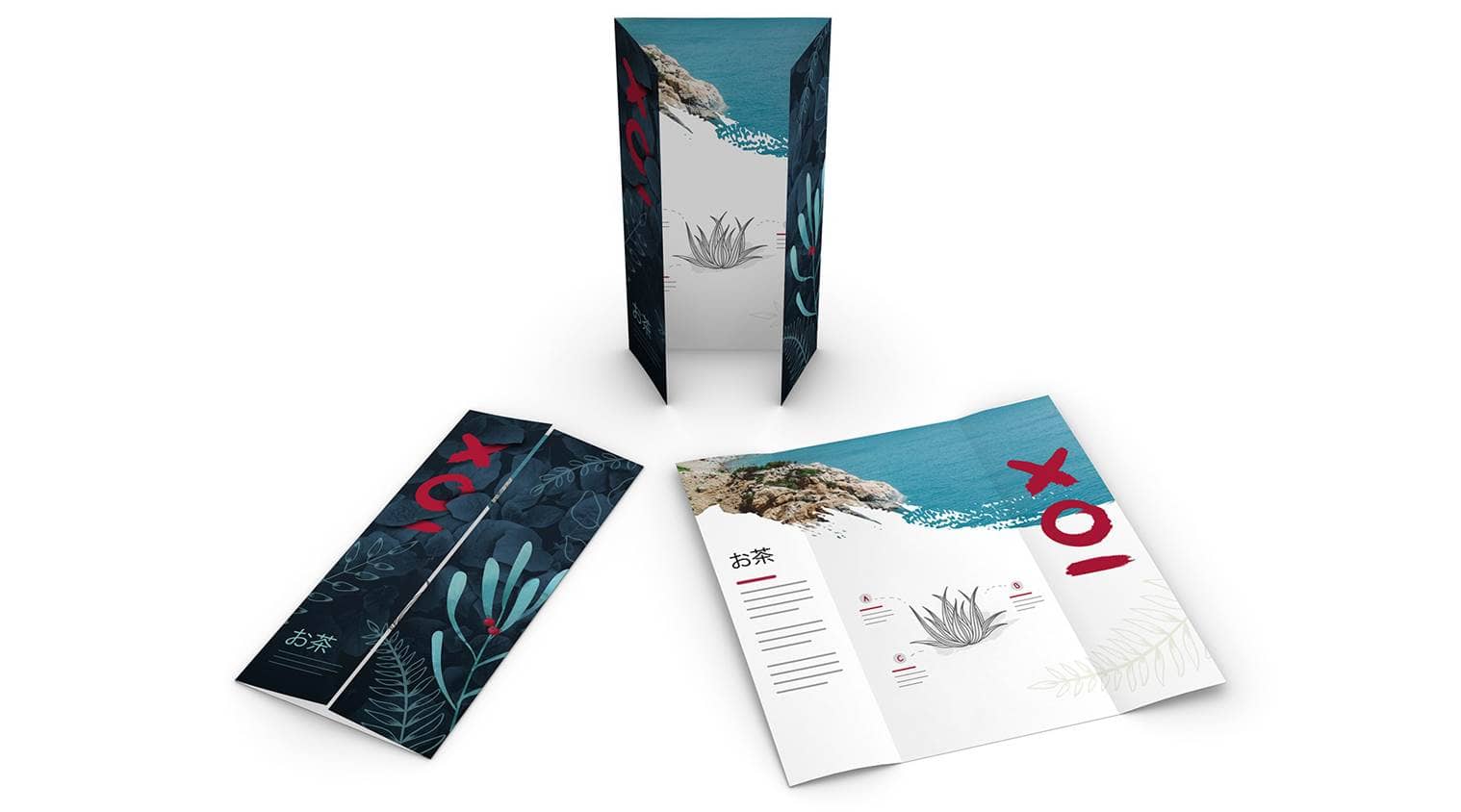 Closed Gate Fold
In the case of a closed gate fold, the two outer sides are also folded inward. The only difference: with an additional fold in the middle of the sheet, you have 8 equally sized sides to use for your design.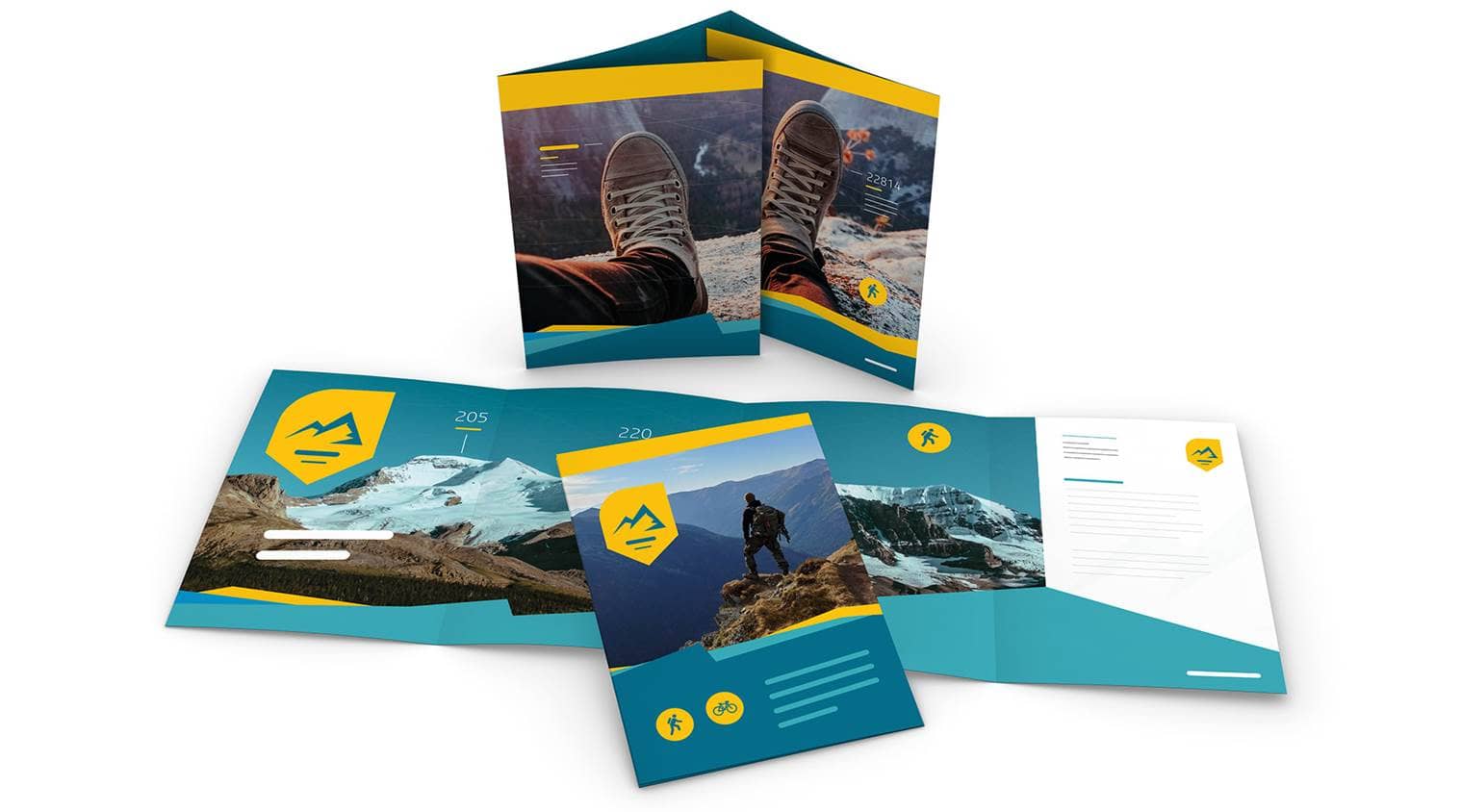 Double Parallel Fold
The twelve-side double parallel fold is first folded in parallel in the centre, and then, similar to the letterfold, folded two more times to create the final closed format. These universal folded leaflets offer ample scope for a wide range of possibilities.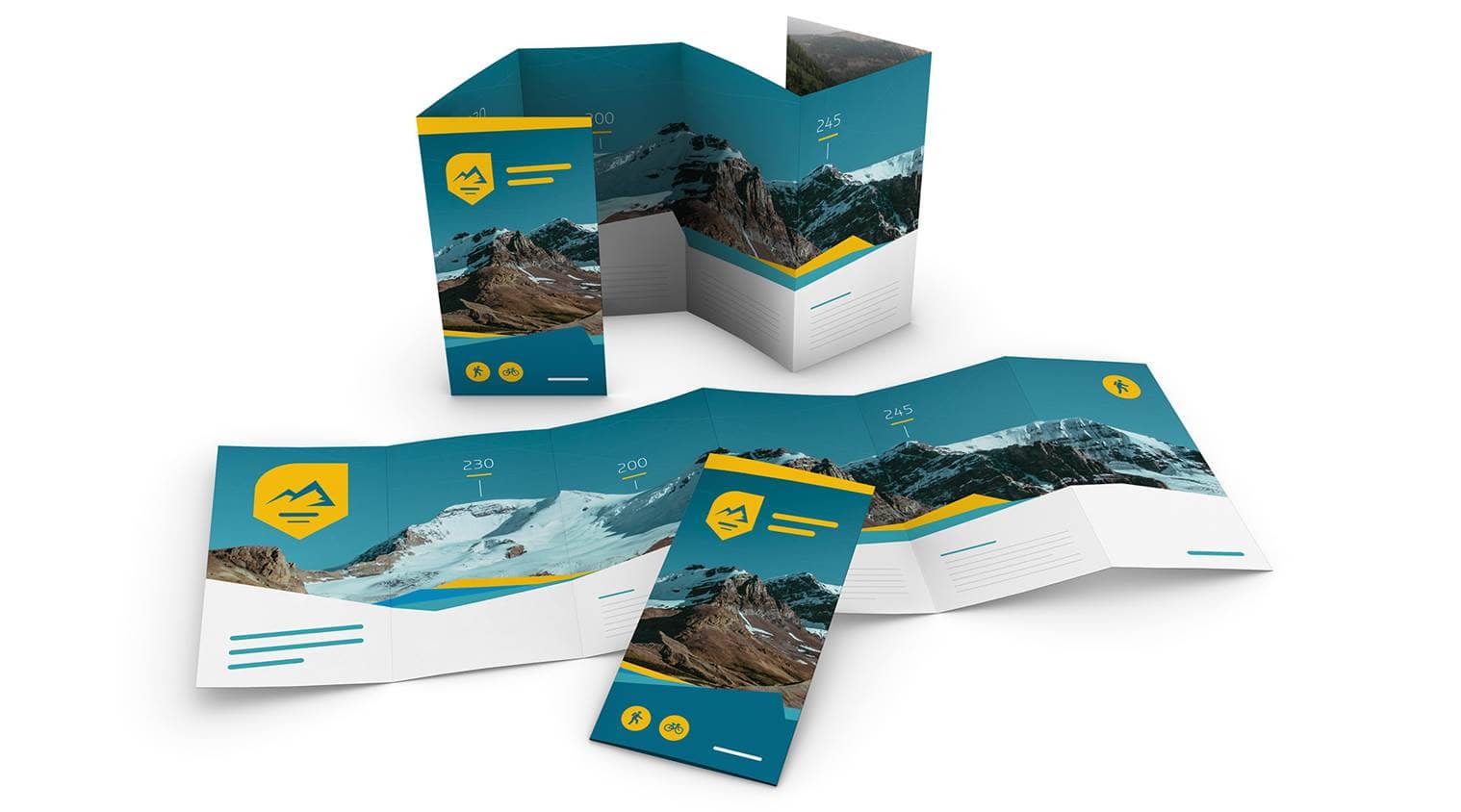 Flat (not folded)
Make use of the flat (not folded) feature so you can further process your folded leaflets to your individual needs. To prevent the folded back from breaking, your folded leaflets come pre-grooved at paper grammages from 160gsm.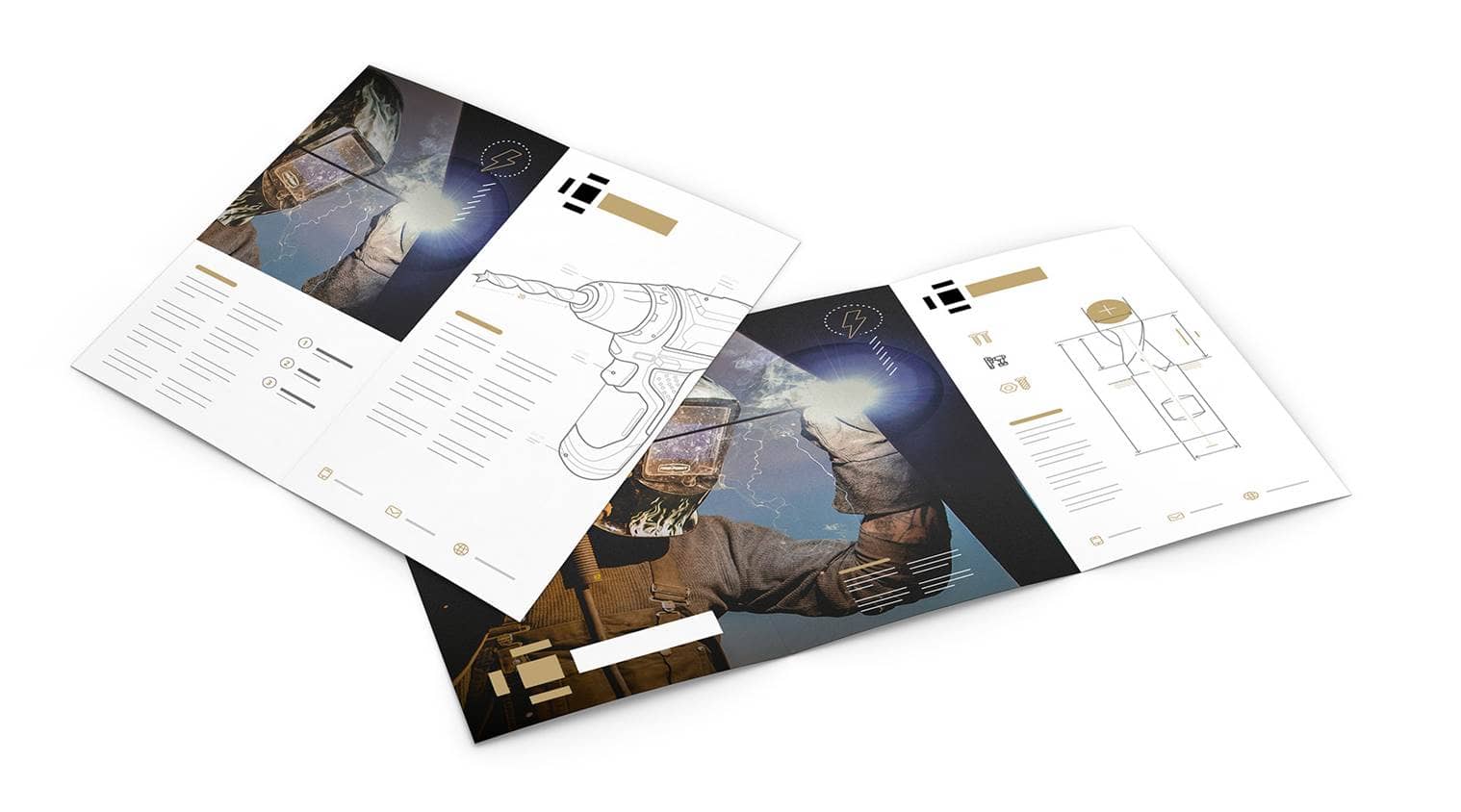 Materials for Folded Leaflets
Our silk/gloss finish papers are available in a range of different paper grammages. These papers are coated on both sides and are wood-free. They have a high degree of whiteness, which achieves a faultless full-colour image.

Our recycled papers are made from 100% reused papers and are particularly environmentally friendly as they save 70% of the energy and water consumption compared to conventional paper production.

If you need hard-wearing leaflets, we recommend using paper grammages of at least 170gsm and a finishing coating. Grammages of 135gsm and below are recommended for folding types such as cross and double parallel folds. They make folding easier and create a clean, crisp fold.
Uncoated Paper
80 | 90 | 100 | 120gsm

Uncoated paper is a strong paper type made 100% from cellulose. The age-resistant surface lends a soft tone to images, while text is easy to read. Uncoated paper can be written and printed on, making it suitable for photocopiers and printers.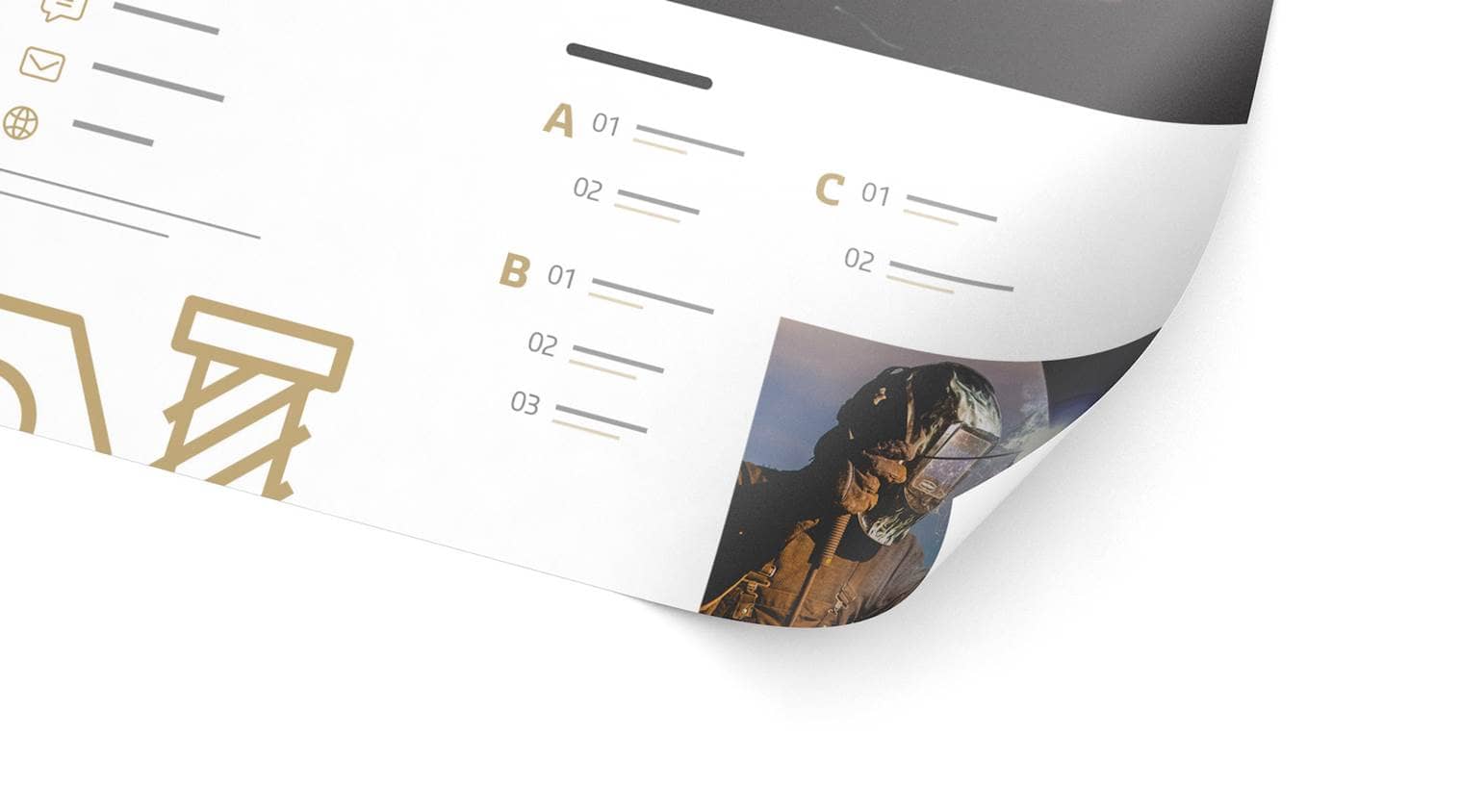 Recycled Paper
170 | 250gsm
Recycled paper consists of 100% reused paper. As well as saving wood resources, in comparison with conventional paper production, more than 70% of the energy and water used is saved. In short: Recycled paper significantly protects the environment.
Our recycled papers are FSC® certified.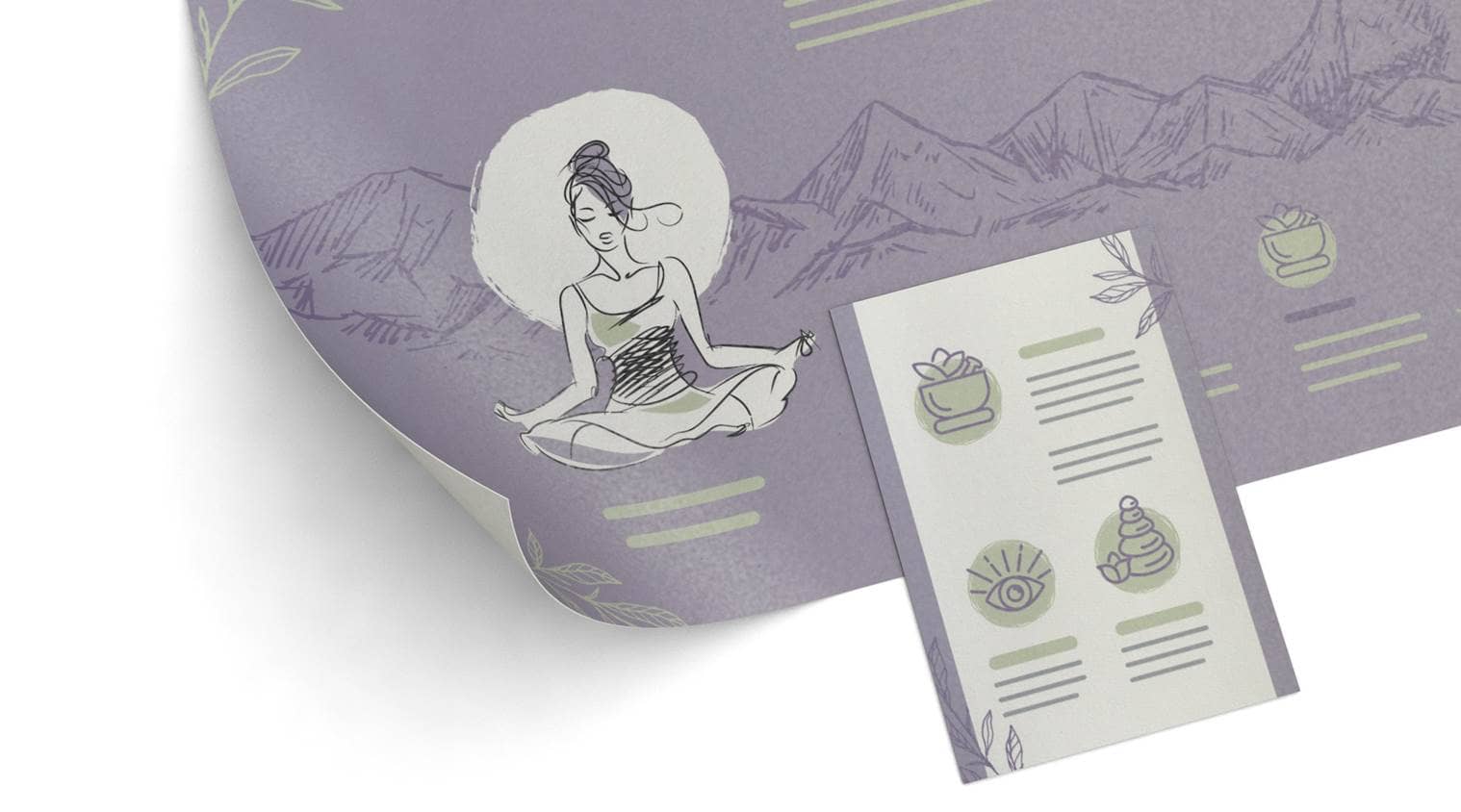 Natural Paper
120 | 160 | 250gsm
All paper that is not coated during its manufacturing process is known as natural paper. So, our natural paper is an uncoated paper, which gives products a good level of density and a premium look and feel.
Our 160 and 250gsm natural paper is FSC® certified.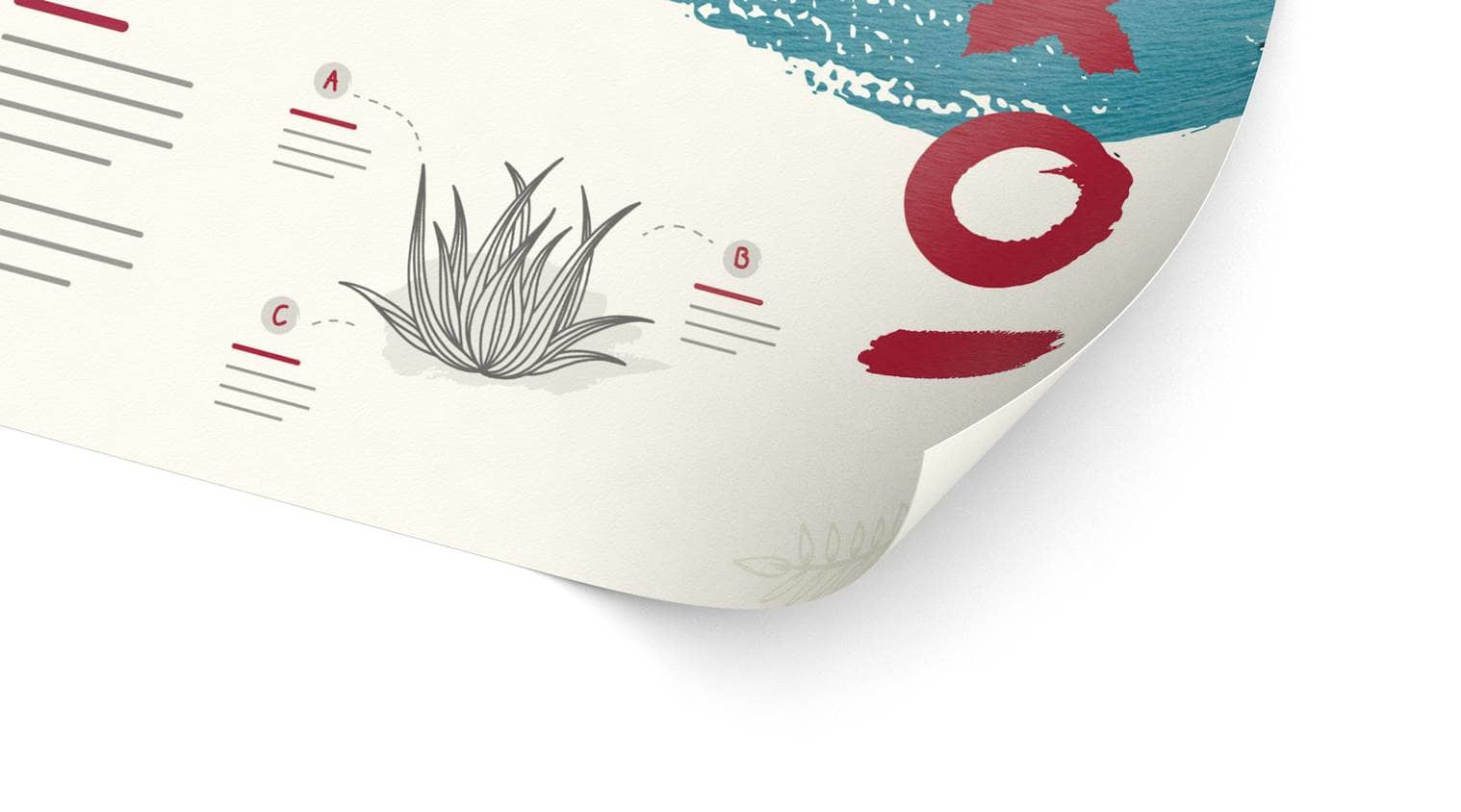 Silk/Gloss Finish Paper
90 | 135 | 170 | 250 | 300gsm
This paper is finished with a synthetic silk or gloss coating. This creates a more finished, smoother and stronger surface, enabling high reproduction and better print quality, particularly in the case of pictures and contours.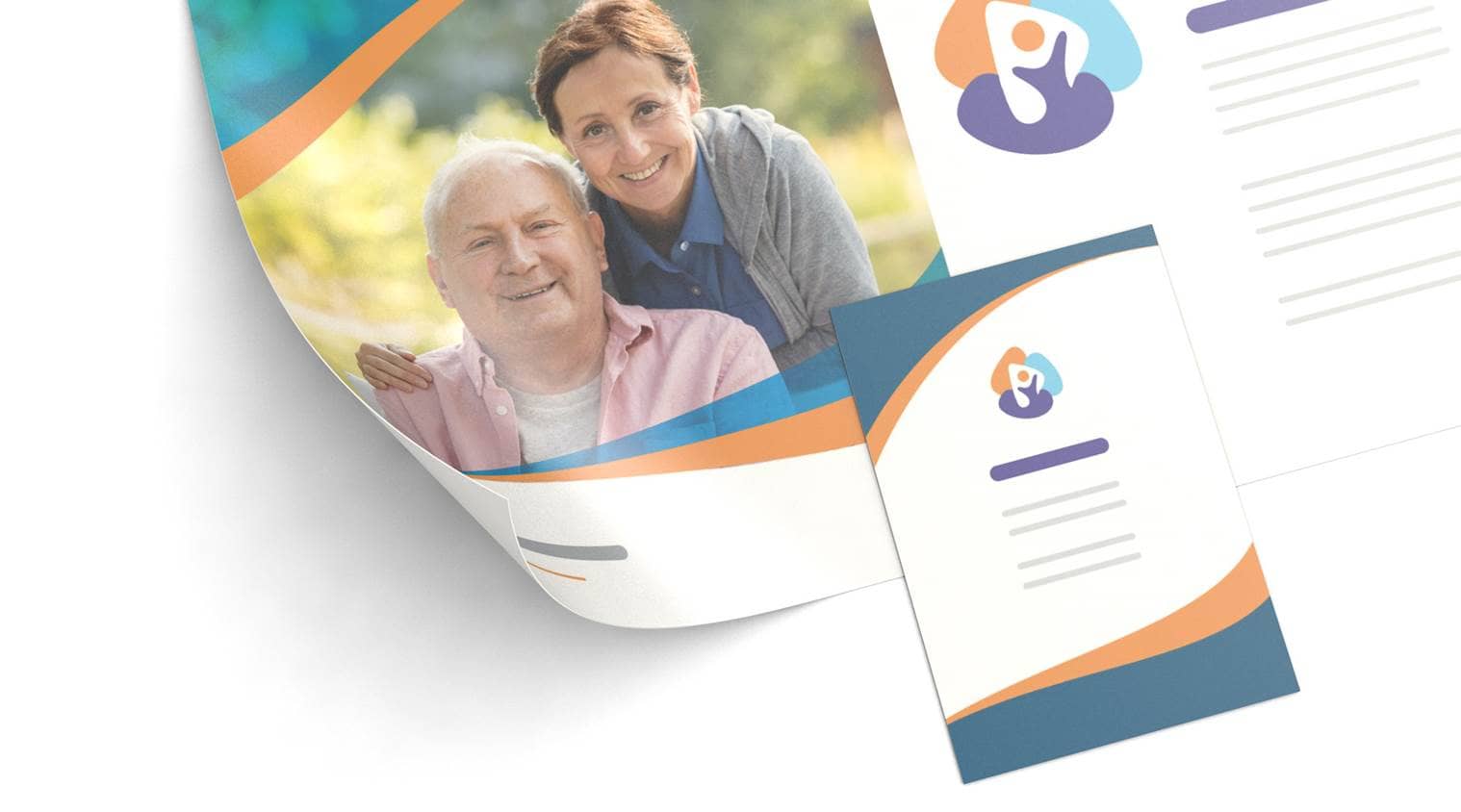 Chromo board
300gsm
Chromo board is coated with a silk matt finish on both sides and has a smooth surface. It is particularly robust and tear-resistant, making it suitable for high-quality products or advertising materials that require prolonged use. As the surface is coated on both sides, the paper is not writable or stampable.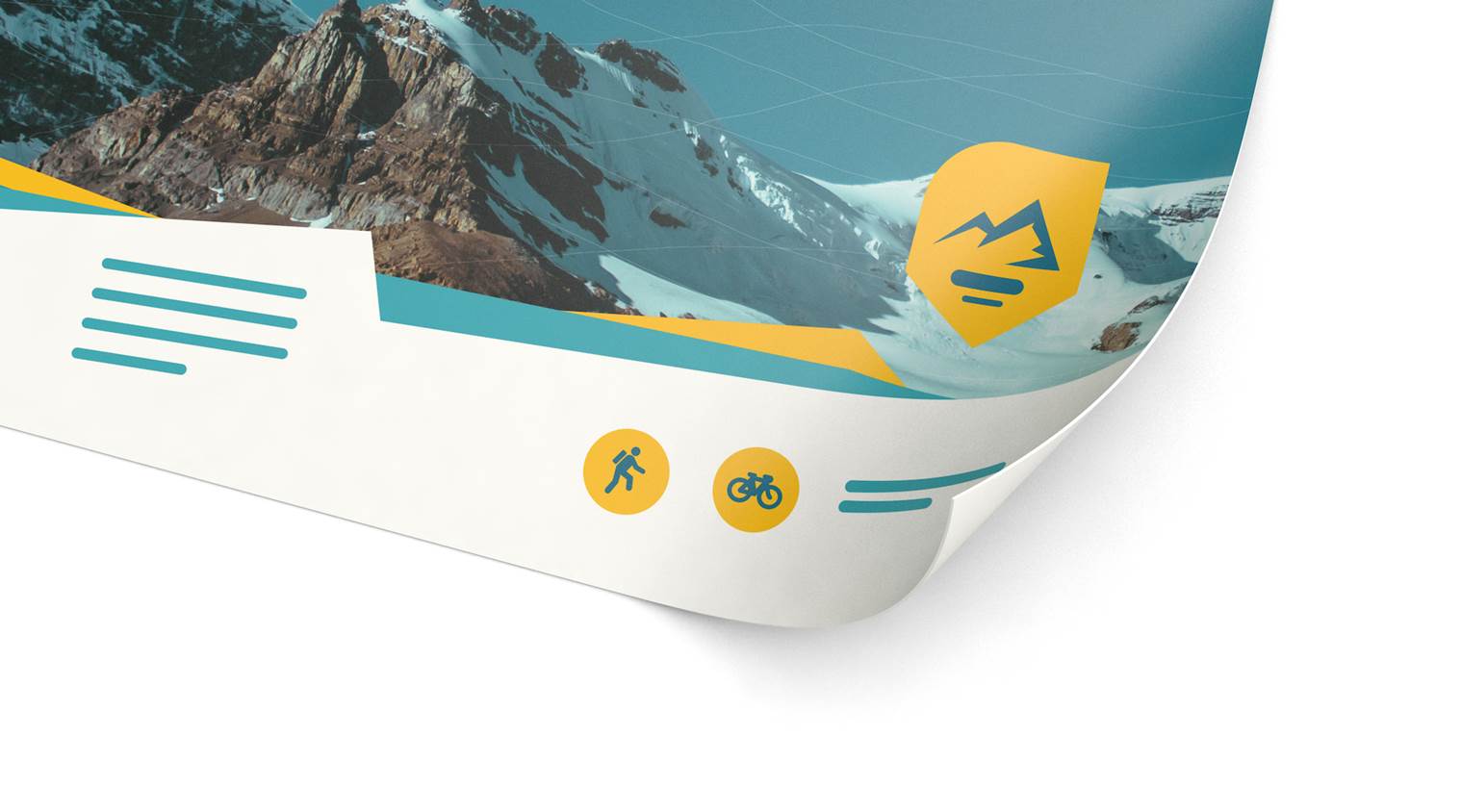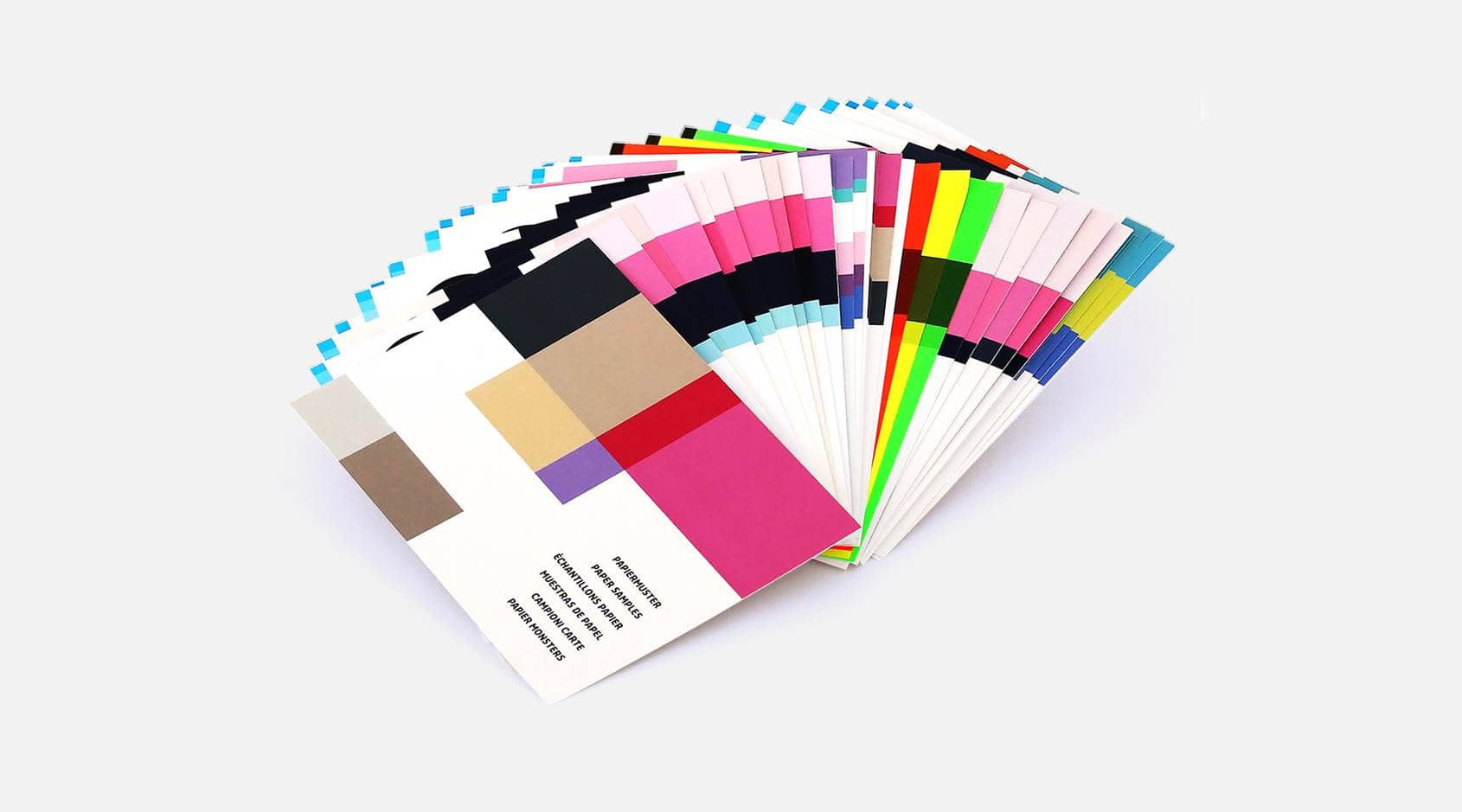 Paper Samples and Product Catalogue
With our Paper Samples Brochure, you receive an overview of all materials and finishing options. Feel the difference between offset, finish and special papers and get to know the appeal of effective UV coating and lamination.
Order Paper Samples
Finishing Options for Folded Leaflets
If you want to improve the look, feel and robustness of your print product, we recommend our finishing options. Folded leaflets with a UV coating or lamination not only provide a high-quality impression but also increase colour brilliance and protect against external influences.
UV Coating
gloss finish | matt finish
Enrich your printed products with UV lacquer and give your order a high-quality touch. Thanks to modern finishing methods, your product is highly resilient and resistant to external influences.
Lamination
matt finish | gloss finish | soft touch
Give your product an elegant look and high-quality feel. Emphasise your quality standards with lamination. It enhances the colours and protects the product against external influences.
Sealing folders with dispersion coating
mat
Seal your print products with our environment-friendly dispersion coating. It not only gives the paper an elegant silky finish, but also provides reliable protection against abrasion and fingerprints.
Spot colours: HKS & Pantone
Create a high level of recognition with individualised spot colours. Spot colours with HKS or Pantone achieve a unique spectrum of colours and a faultless representation.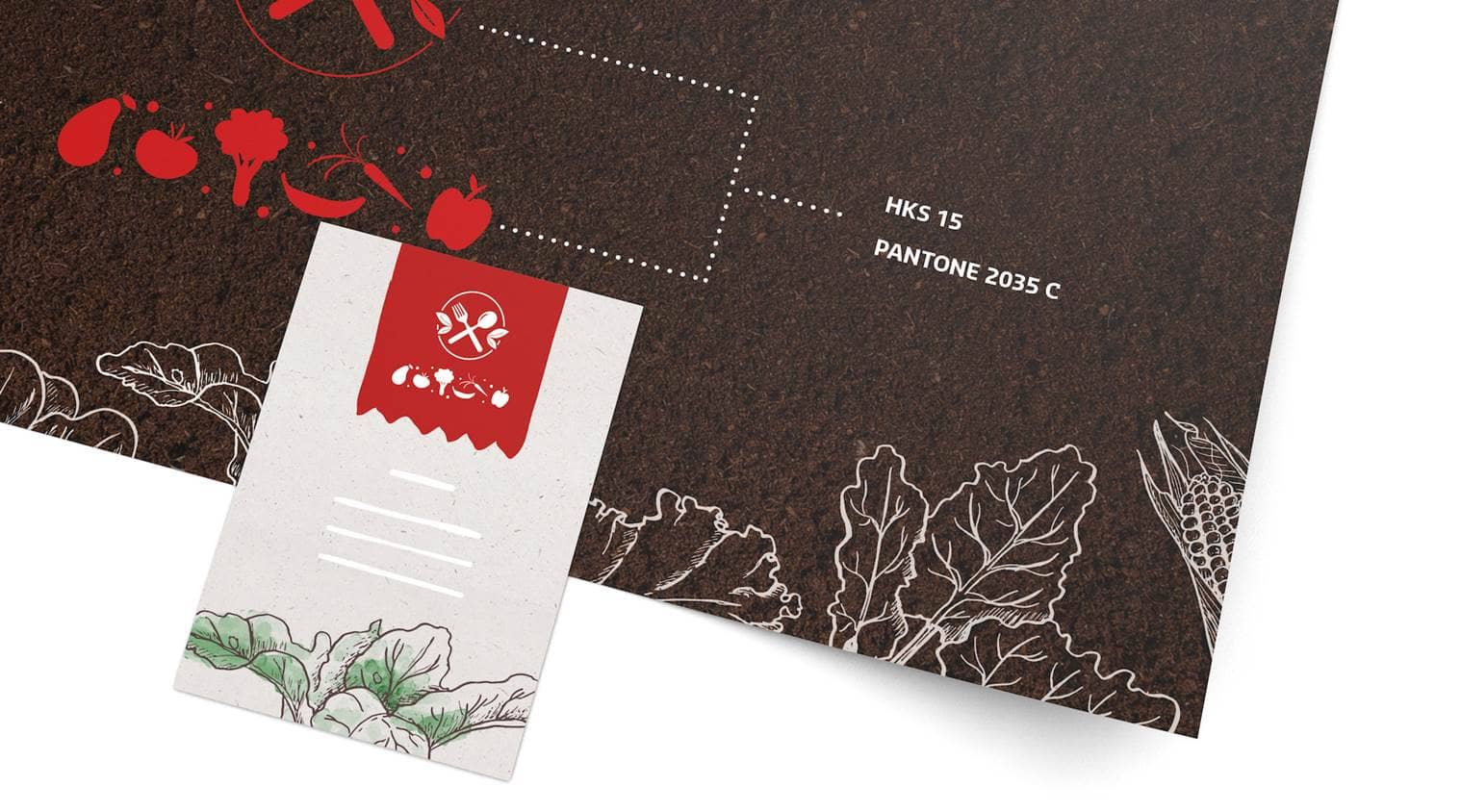 FAQ's for Folded Leaflets
How should I design a folded leaflet?
Flyers and folded leaflets are best designed with a graphics programme in combination with one of the many free print templates for leaflets and our datasheets for download on our website. Find all the information you need for correctly creating your print files in our Artwork Instructions Guide.
Can I design folded leaflets online?
If you don't have a graphic designer or you don't have much experience in creating print data, you can use our free Online Designer. To use this, select your product and click 'Design online' on the shop page. Then you can get started!
Are spot colours available for folded leaflets?
Folded leaflets can be printed with various colour mode combinations. We print affordable leaflets according to customer requirements in 1, 2, 4 or 5 colour modes, with or without HKS or Pantone. Black, black with one spot colour (HKS or Pantone) or HKS/ Pantone only are also available.
Can I send my folded leaflets to more than one shop branch?
You can deliver to a maximum number of 20 addresses per order, saving you time and effort.
Which paper is the right one for my folded leaflets?
With our paper samples, you can examine all our paper types and thicknesses comfortably at home and decide which one suits you best.
How should I create my layout so that my content is displayed the way I want it to be?
The page sequence and definition of the title page can vary depending on the leaflet fold type and the page number. Therefore, we recommend that you download the appropriate print template for your configured product directly from us. You can find the template by setting the full specifications for your desired product in our configurator and then switching to the template generator via the PDF icon on the left. There you can download the appropriate template. In the PDF template, you will then see the correct page order starting on page 1 (title page).
How do I avoid white edges around my folded leaflets?
Always add a trim allowance of 2 mm to your artwork file. Make sure background pictures and images close to the edge of your design should also extend into this area so we can cut them. This prevents thin, white edges from forming after cutting. More information can be found in our Artwork Instructions Guide.
Versatile Folded Leaflets for Your Marketing Success
SAXOPRINT prints advertising flyers and helps you create folded leaflets online. We offer you tips about formats, paper grammage, various fold types for folded leaflets, and even layout. We also offer leaflet templates for your best printing result. What's more, we aim to inspire you with ideas about effective ways to use folded leaflets for your marketing success.
Folded Leaflet printing made easy
Create folded leaflets online and choose from our large selection of sizes, paper, folds and perforations. Z-folds, letter folds and gate folds are a few of the many design options to give your folded leaflets a new look every time. We recommend selecting our creasing option when ordering folded leaflets on paper with grammages of 170gsm and upwards.
SAXOPRINT online shop offers professional folded leaflet printing with up to 6 lines of perforation. It's a great way to get quick customer feedback. With one or two-sided printing, a perpendicular perforation is also possible and doesn't necessarily have to run from one side all the way to the other. Further perforations should run parallel and be spaced at least one centimetre apart. For designing perforated folded leaflets online, we recommend a minimum paper weight of 135gsm.
Practical uses for Folded Leaflets
We also offer you plenty of further information and creative inspiration on our blog. Some ideas about how to put folded leaflets to use:
12 pages, 135gsm finished paper with finishing for company presentations
Folded flyers with gate fold for menus at weddings and events
Leaflets for parties and invitations
Event and theatre programmes
4 page DL folded leaflets for price lists and product/ service outlines
Perforated printed leaflets for discount vouchers
Menus finished with UV coating for enhanced shine and durability
Folded leaflets for circulars
Advertisements for newspaper inserts
By the way, we check the folded leaflets you send to us free of charge. This basic check helps us to ensure that layout and colour have been correctly formatted. You can also order one of our extensive check procedures: PDF proof or galley proof.