Product Information for Notepads
Notepads in Overview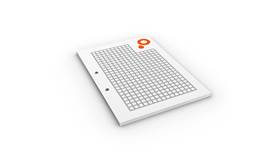 Glue Binding
A4
A5
A6
A7
105 × 210 mm
100 × 210 mm
99 × 210 mm
25 | 50 | 100 | 200 sheets
1/0 black
1/0 HKS
1/0 Pantone
2/0 black + HKS
2/0 black + Pantone
4/0 Euroscale
5/0 Euroscale + HKS
5/0 Euroscale + Pantone
80 | 90gsm
uncoated paper
90gsm
natural paper
80gsm
recycled paper
glue binding top
glue binding spine
without holes
punched twice
punched 4 times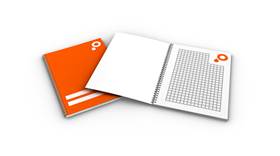 Spiral Binding
Pages:
80 | 90gsm
uncoated paper
90gsm
natural paper
80gsm
recycled paper
Cover:
160 | 250gsm
natural paper
170 | 250gsm
recycled paper
135 | 170 | 250 | 300gsm
silk/gloss finish paper
spiral binding
black | silver | white
i
We provide print templates for the most common graphic programmes. You can find these on the left-hand side of the configuration page, or in the print templates page. We supply the templates with checked or lined pages. All you need to do is add your company logo in high-resolution. Then, have the notepads printed in our print shop and your individual writing pads for customers, employees and partners are ready.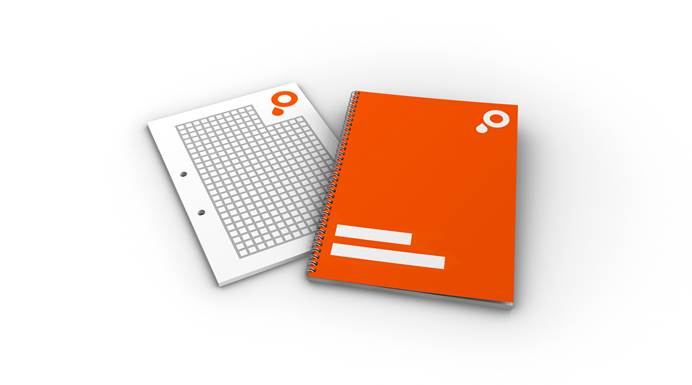 Used for:
Personal and meeting notes
Gifts for customers and applicants
Business stationery for your employees
Taking notes at exhibitions or trade shows
Materials for training seminars
Binding Types for Writing Pads
Notepads with Glue Binding
Glue binding is ideal for writing pads with 25 to 200 sheets and comes with an additional grey cardboard backing for the last page. Every sheet of your notepad with glue binding is printed on one side and can be easily torn off the notepad to reveal the next sheet of paper. You can choose to have the glue binding either at the top or on the left side of your writing pads.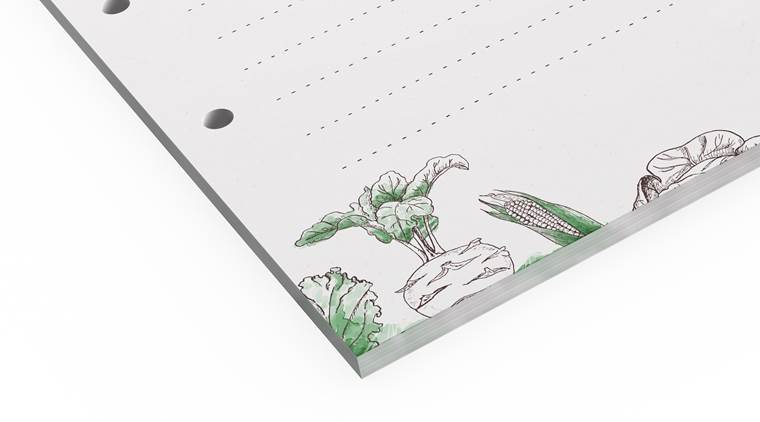 Notepads with Spiral Binding
Writing pads with spiral binding can have 25 or 50 sheets. The product is ideal for taking notes or filling in pre-printed seminar documents.
Spiral binding has the advantage that it enables writing pads to lie straight on tables and are very comfortable to write on. The pages don't flick back to the last page and the user can leave the last viewed page open.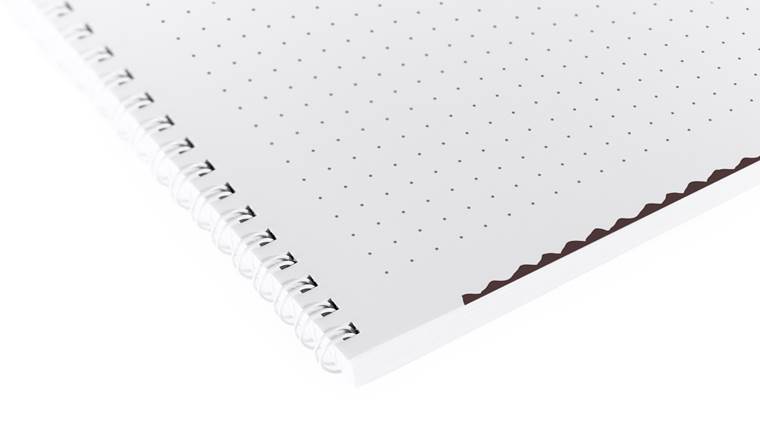 Materials for Writing Pads
Uncoated Paper
80 | 90gsm
Uncoated paper is a strong paper type made 100% from cellulose. The age-resistant surface lends a soft tone to images, while text is easy to read. Uncoated paper can be written and printed on, making it suitable for photocopiers and printers.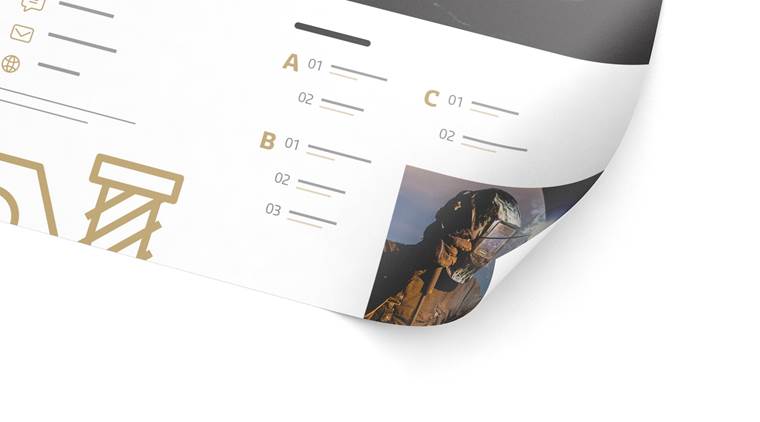 Natural Paper
90gsm
All paper that is not coated during its manufacturing process is known as natural paper. So, our natural paper is an uncoated paper, which gives products a good level of density and a premium look and feel.
Our natural paper is FSC® certified.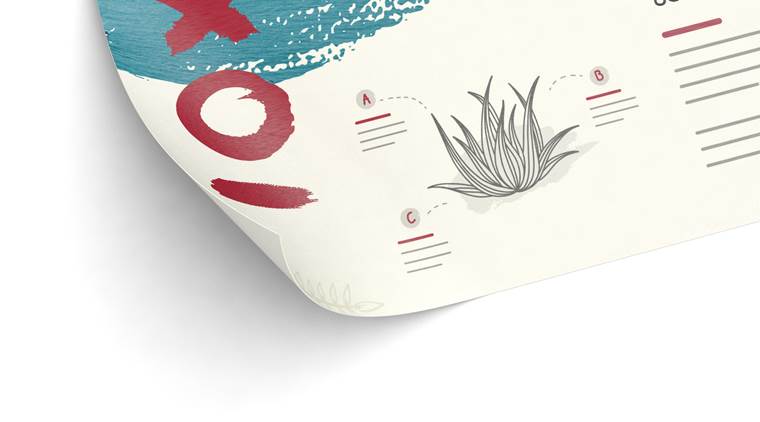 Recycled Paper
80gsm
Recycled paper consists of 100% reused paper. As well as saving wood resources, in comparison with conventional paper production, more than 70% of the energy and water used is saved. In short: Recycled paper significantly protects the environment.
Our recycled paper is FSC® certified.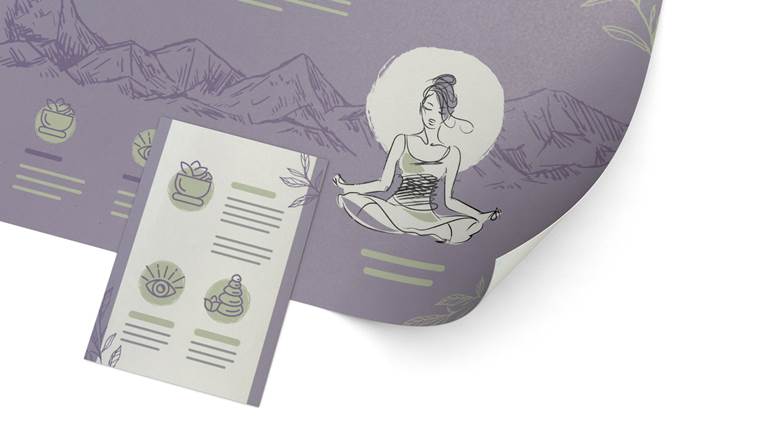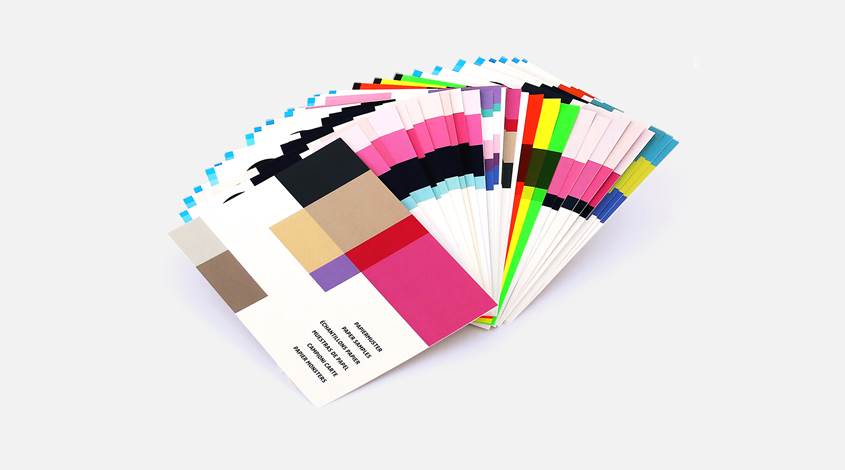 Paper Samples and Product Catalogue
With our Paper Samples Brochure, you receive an overview of all materials and finishing options. Feel the difference between offset, finish and special papers and get to know the appeal of effective UV coating and lamination.
Order Paper Samples
We print affordable custom desk pads in A3 format on 80gsm or 90gsm paper with traditional glueing across the top. Top and bottom glueing or glueing just on the bottom edge are also available. Logos, graphics and slogans can be printed according to customer specifications at any position in the following colour processes: 1/0 colour (black) and 4/0 colour (Euroscale). Almost any colour can be rendered with 4 colour printing.
The grey carton on the underside of the desk pad provides stability pads with both 25 and 50 sheets. This prevents the desk pad from shifting and thus protects the underlying inventory.
Desk Pads in Overview
Material
80 | 90gsm
offset paper

90gsm
natural paper

80gsm
recycled paper
Gluing
glue binding top
glue binding bottom
glue binding top and bottom
i
For your desk pads, we offer print templates with checked and lined sheets, as well as calendars. On the product configuration page, click on the corresponding icons: You can then download the appropriate template for your graphics programme.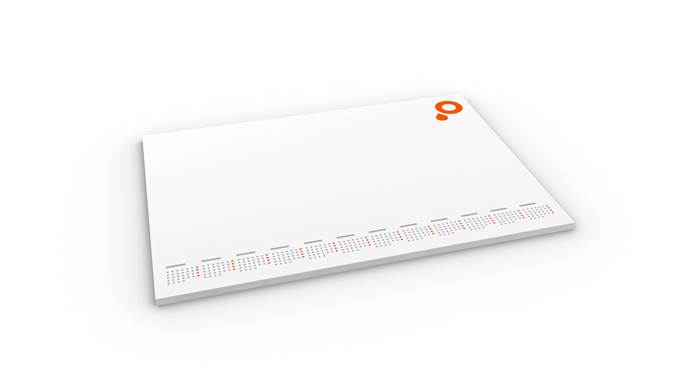 Used for:
Personal and meeting notes
Gifts for customers and applicants
Business stationery for your employees workspaces
Design Notepads Online - Online Designer by SAXOPRINT
Create Your Designs Online
Create your artwork effortlessly online without the need for graphic design software - with our SAXOPRINT Designer. You can select the Designer directly on the configuration page for many of our products. Use it to place your logo, pictures and message on your printed products.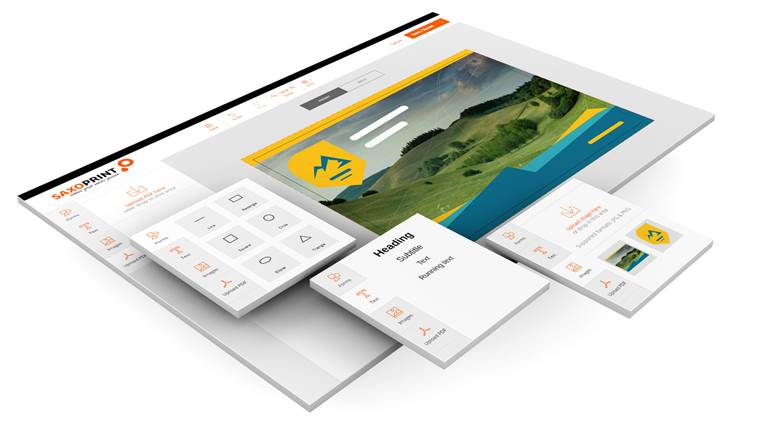 It's this easy:
1
Select product
2
Configure product
3
Create your design
4
Confirm and order
FAQ's for Notepads
Can I have my notepad glued on the side instead of at the top?
Yes, simply select the finished size of your product and then select 'glue binding spine' under 'Gluing'. Your notepad will then be glued on the left side instead of the top.
My company logo has a certain HKS/Pantone colour. Can I have this shade printed?
Yes, for HKS and Pantone colours, it is important that you do not order 4/0-coloured printing - you should select 5/0-coloured printing (4/0-coloured Euroscale + HKS/Pantone). Alternatively, you can, of course, order 2/0-coloured (black + HKS/Pantone) if you want to print black text along with your special colour. Please note special colours are only available for our notepads with glue binding.
Are the notepads automatically provided with lines or checked pages?
No, we always need a print file for your desired print. However, you are welcome to use our ready-made checked or lined templates and simply add your logo or other individual picture elements.
Printing Notepads and Desk Pads
Similar to a writing pad, affordable custom desk pads & personalised notepads are excellent and – most importantly – lasting giveaways. Combined with a desk calendar imprint and multiple pages, desk pads can be used all year round. Notes can be made quickly on their large surfaces while working at the PC or during a telephone call to go back to later.
Even in the digital age, notepads are essential working utensils for desktops or external appointments (for example customer meetings or training sessions). Notepads make it possible for you to present specific concepts to your customers visually along with your contact details. Your customer will later have two ways to remember you: the graphic presentation and your contact information.
Print notepads – advertise, remind and collect ideas
Custom-printed notepads designed with your distinctive corporate design are not only useful for your employees to take notes during meetings or telephone conversations, but they are also just as indispensable as an advertising medium – whether as giveaways or when meeting with customers
With a company logo, slogan, company contact information, with punch holes or adhesive binding: SAXOPRINT produces your custom notepads with state-of-the-art printing equipment and delivers you advertising products and office supplies tailored exactly to your specifications and needs. Our large selection of papers, formats and finishes guarantee that your bespoke notepads are one of a kind. You can also count on transparent pricing and expert customer service at our UK online print shop.
There are many ways to use practical notepads with your company logo and individual design as stationery or advertising:
As one of the standard work utensils at your desk
As giveaways for customers, business partners or job applicants
For note-taking at meetings, seminars or conferences
At sales talks and consultations or negotiations
For advertising campaigns
Notepads used as giveaways leave potential customers with a lasting memory of your products and services. They also make it easier for customers to get in touch with you as your local address, homepage and e-mail address are printed on the notepads.
Design notepads – samples, print templates and printing options
SAXOPRINT offers you a wide selection of design options to match your notepads to your corporate image. Small notepads in A6 or A7, for example, are excellent as small giveaways at trade shows or other promotional events and exhibitions. In contrast, if the pad is intended to be used as a notepad for your employees to jot down ideas, reminders or notes for a team meeting, it is better to choose a larger format and have holes punched in the margin. The notes themselves can later be filed along with other project documents quickly and easily.
To make designing easier for you, we have provided you with free print templates for your custom notepads. simply select the product and format you want and then download the corresponding template for Adobe Illustrator, Adobe InDesign or Adobe PDF. You will also find lots of design inspiration on our blog.
Custom desk pads for the most important notes every day
Just as with our personalised notepads, businesses can order their individualised desk pads:
Print custom desk pads with a representative company logo
Enhance desk pad appearance with various colours and designs
Print desk pads in various runs and/or editions
Print the individual pages with advertising slogans and images
You can also order an optional CO2 neutral print for your desk pads if you would like to contribute to environmentally friendly print production.
Your desk pads may also be printed with sponsoring at a 5% discount on your final price. In that case, we print a discreet SAXOPRINT logo on your final product. You determine the logo format and colour yourself.
Order desk pads from our online print shop
1. Select the print run, format, material, colours and number of sheets for your desk pad in our online shop. Even if you order the highest run of 5,000 units, production time remains the same.
2. Make use of our free templates (plain, lined or squared) to create your design. Follow the helpful instructions in our guide to ensure correct cut marks, embedded fonts and the minimum resolution of your images.
3. Following receipt of your print files and a free standard artwork check, we print your order in our state-of-the-art factory. You can also select from our detailed proofing options. Immediately after production, we prepare your order for delivery. You can track your order status in your customer account at any time.
Ideal for any desk size in the office, order your A2 and A3 desk pads from SAXOPRINT UK online print shop. You can create desk pads with our templates, place your order on the calculation page and have them printed at an affordable price.
If the desk pads are intended as customer gifts to use in the office, we recommend ordering a PDF proof in advance so that you are sure of getting an optimal print result or can make any changes to the artwork or settings if necessary.