Product Information for Ad Banners
Ad Banner in Overview
Size
100 × 50 cm
100 × 100 cm
150 × 50 cm
150 × 100 cm
150 × 150 cm
200 × 50 cm
200 × 100 cm
200 × 150 cm
200 × 200 cm
215 × 73 cm
250 × 50 cm
250 × 100 cm
250 × 150 cm
250 × 200 cm
300 × 50 cm
300 × 100 cm
300 × 150 cm
300 × 200 cm
300 × 250 cm
300 × 300 cm
340 × 173 cm
350 × 50 cm
350 × 100 cm
350 × 150 cm
350 × 200 cm
400 × 50 cm
400 × 100 cm
400 × 150 cm
400 × 200 cm
400 × 300 cm
500 × 50 cm
500 × 100 cm
500 × 150 cm
500 × 200 cm
600 × 40 cm
600 × 60 cm
600 × 100 cm
700 × 100 cm
A0
A1
Bespoke sizes
Width:
min. 100 cm | max. 1000 cm
Height:
min. 50 cm | max. 250 cm
Processung
cutting, with/without hemstitch
cutting, revolving seam, eyelets in corners
cutting, revolving seam, multiple eyelets
Terminal strips kit
without terminal strips kit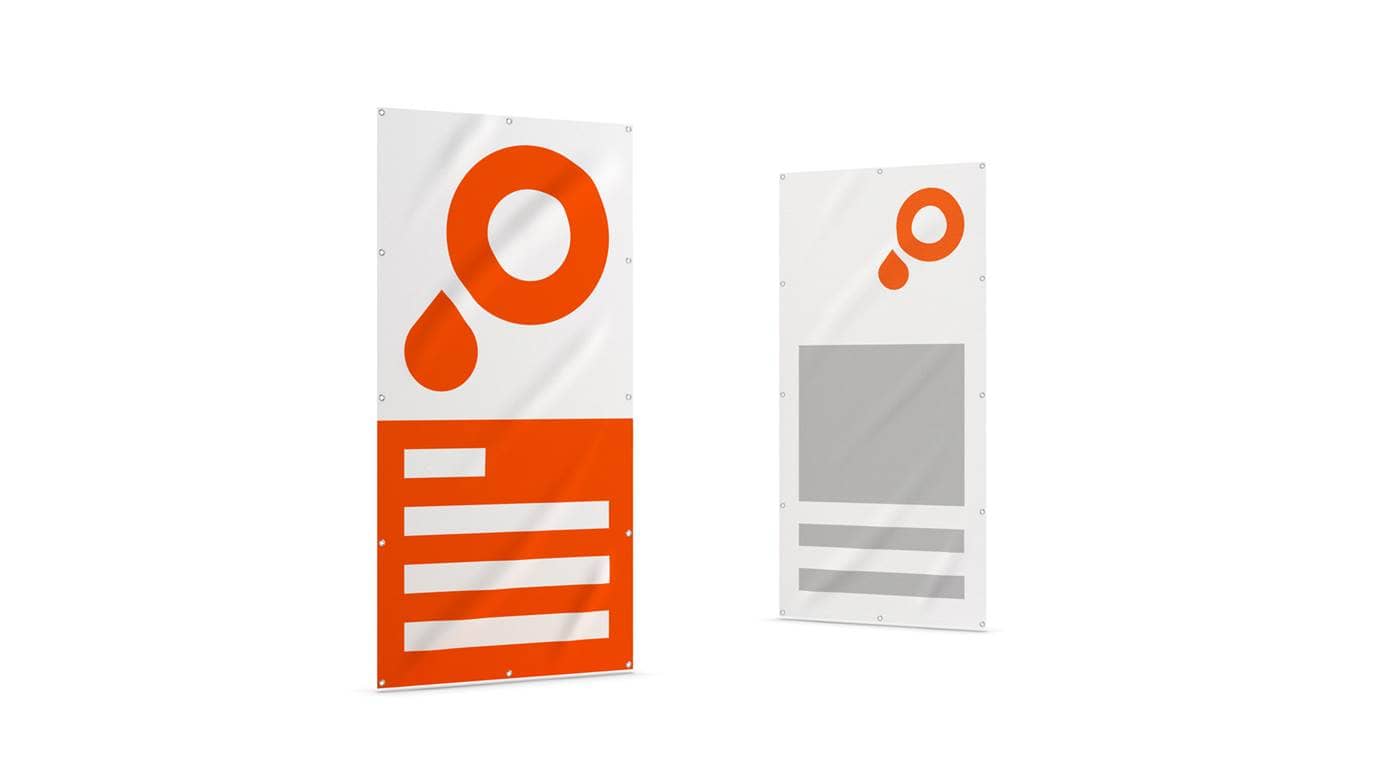 Used for:
Hightlighting local deals
Hanging on buildings, scaffolding and railings
Decoration for events
Attractive construction covers
Displays for groups or fans
Depending on where and how you want to use your advertising banner, two different materials can be used to meet your specific needs. Both types of advertising banners and tarpaulins can be printed easily and in the best quality. They offer a high-quality and extremely durable advertising space.
PVC Tarpaulin
Scaffolding advertising tarpaulins made from stable 500gsm PVC tarpaulin (frontlit PVC brand tarpaulin) are characterised by their high stability and opaqueness. The material shows colours to their best advantage.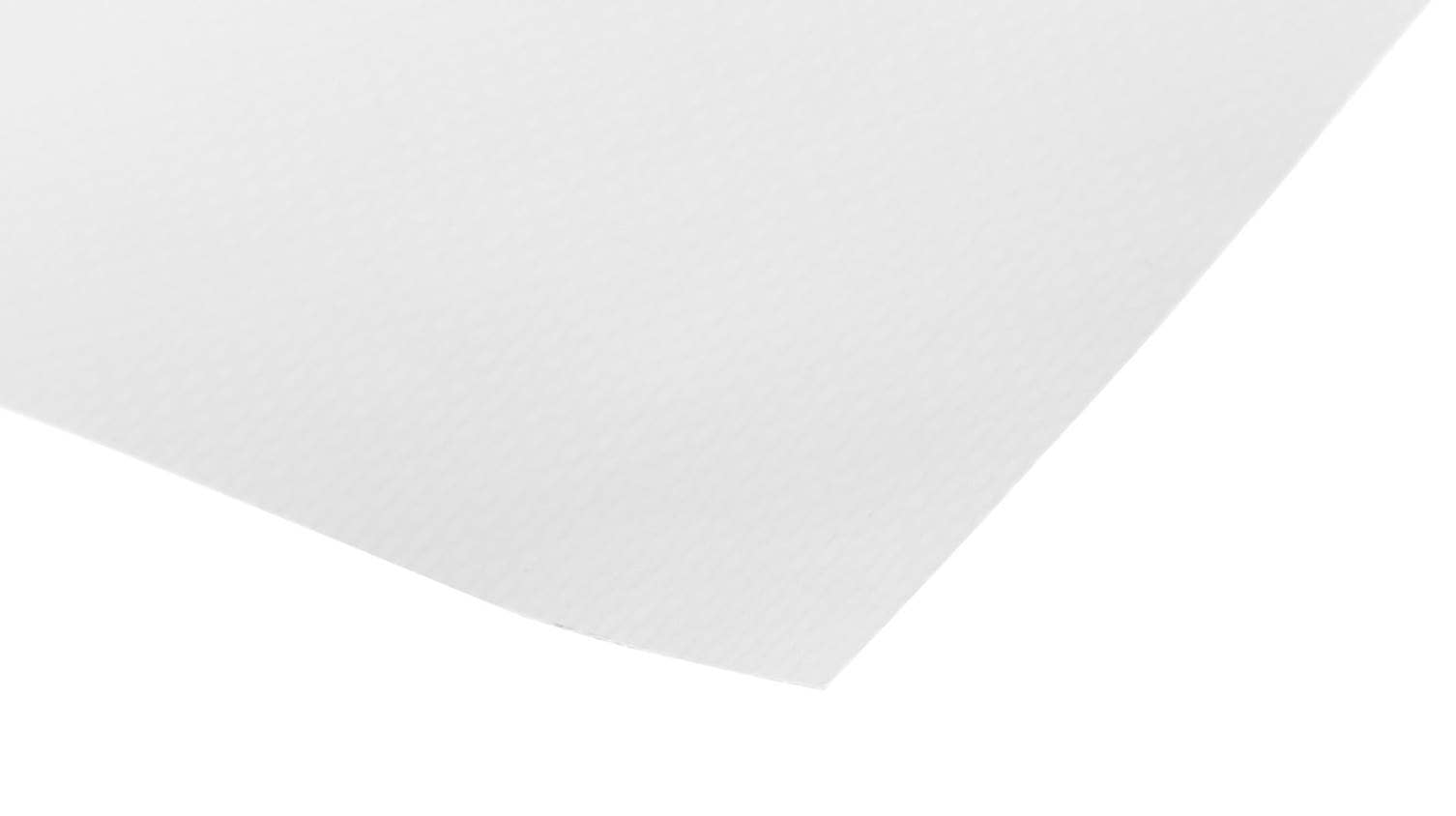 Mesh Tarpaulin
Alternatively, we also offer advertising banners made of 330 g/m² mesh tarpaulin, which are also B1-certified. This PVC perforated fabric is somewhat transparent and permeable to light and air due to its production. This makes ad banners made from mesh tarpaulin perfect for covering entire building fronts without heavily reducing the flow of light into the building. We recommend using this material in areas with high wind, as the air permeability protects the material and thus ensures longer durability.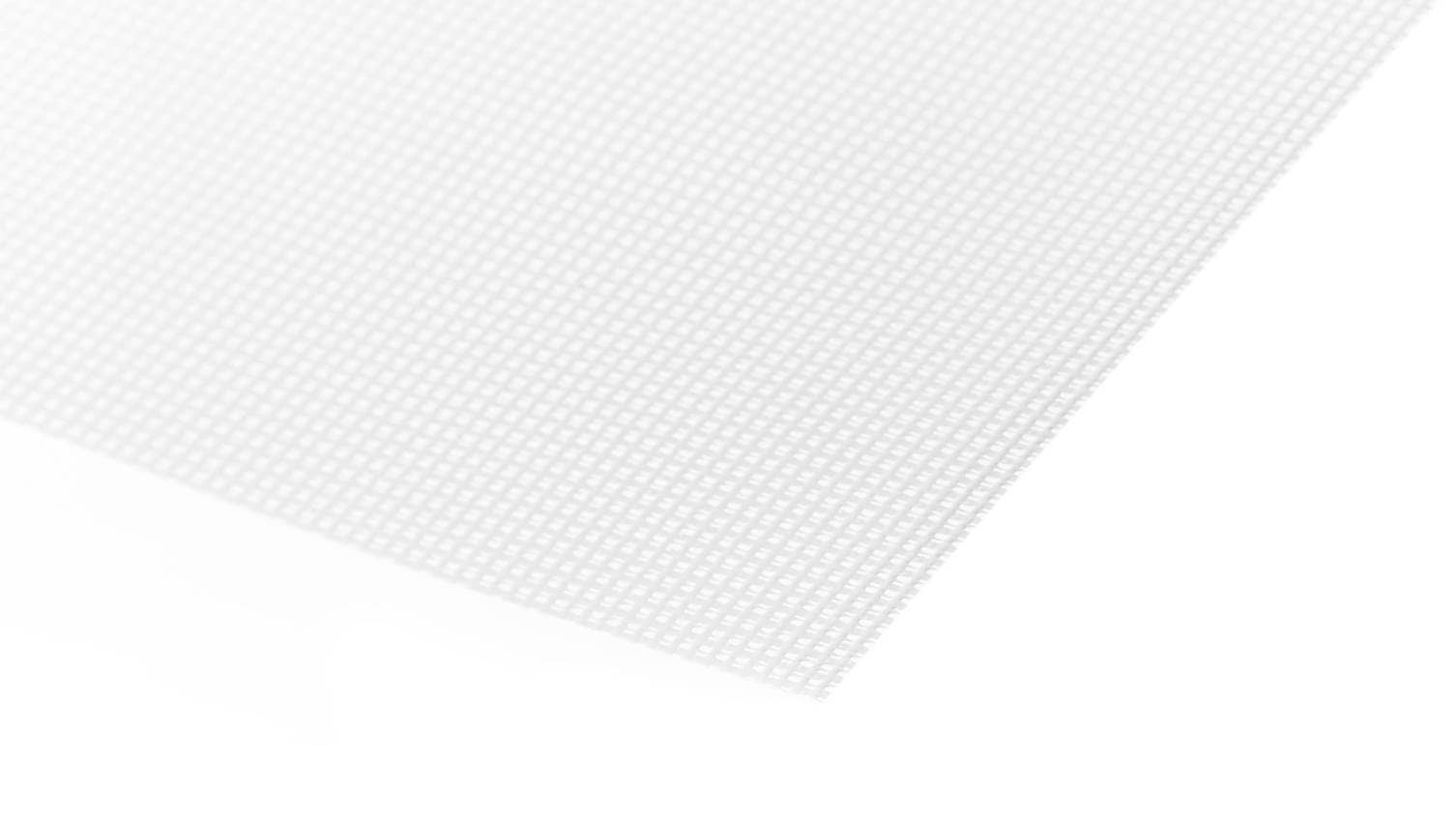 The choice is yours - we offer tarpaulins with eyelets or a hemstitch.
With Hemstitch
For secure mounting on scaffolding or fences, we recommend an all-round hem. There is a hemstitch located in the upper part of the advertising banner, with a reinforced edge in the lower part, thus ensuring that the advertising banner is fixed in place very effectively.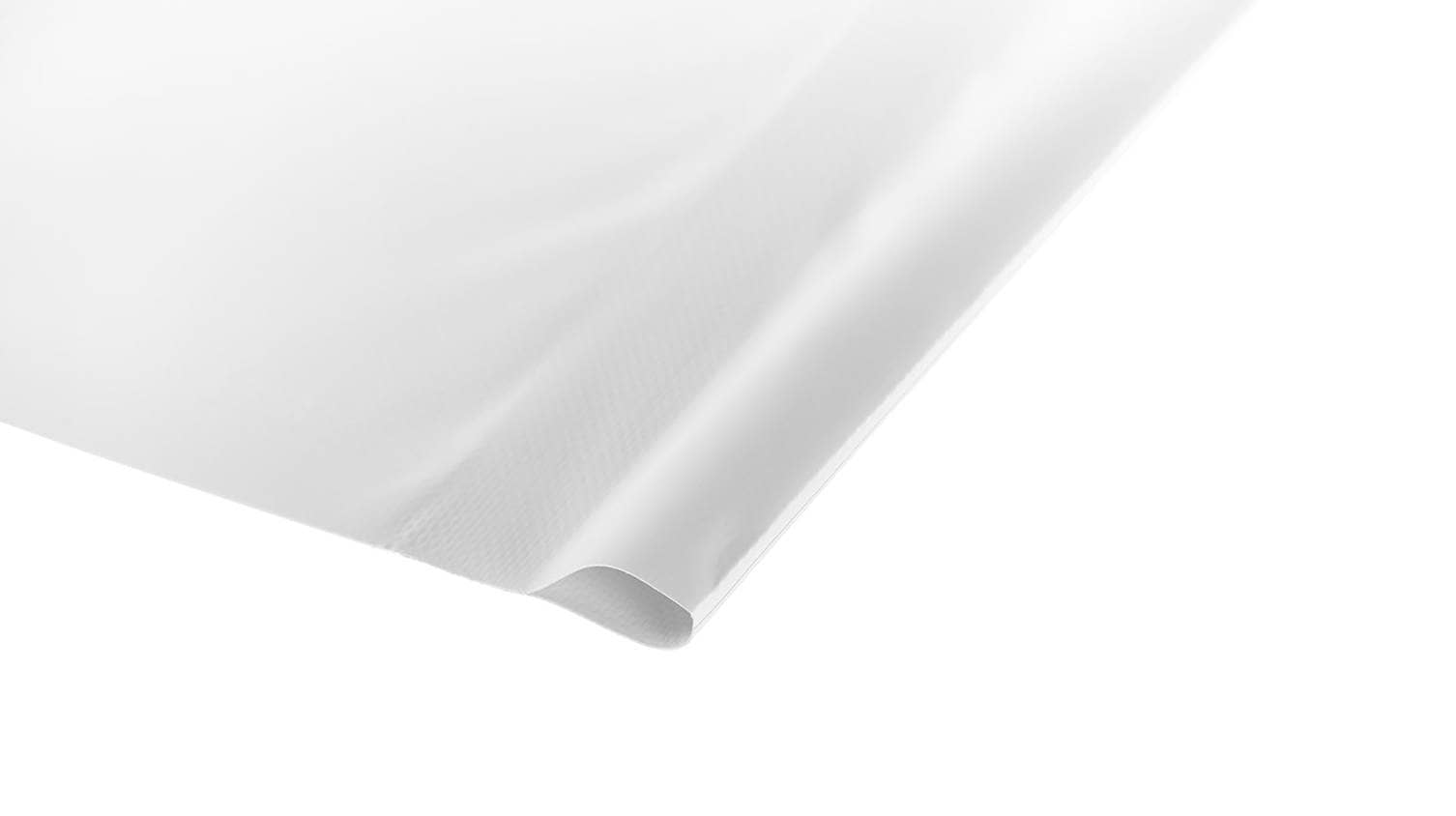 With Eyelets
We recommend eyelets at all four corners or every 50 cm if you are using the advertising banners on buildings, bridges or railings. The eyelets are made from nickel and have an inner circumference of 12 mm and an outer circumference of 25 mm.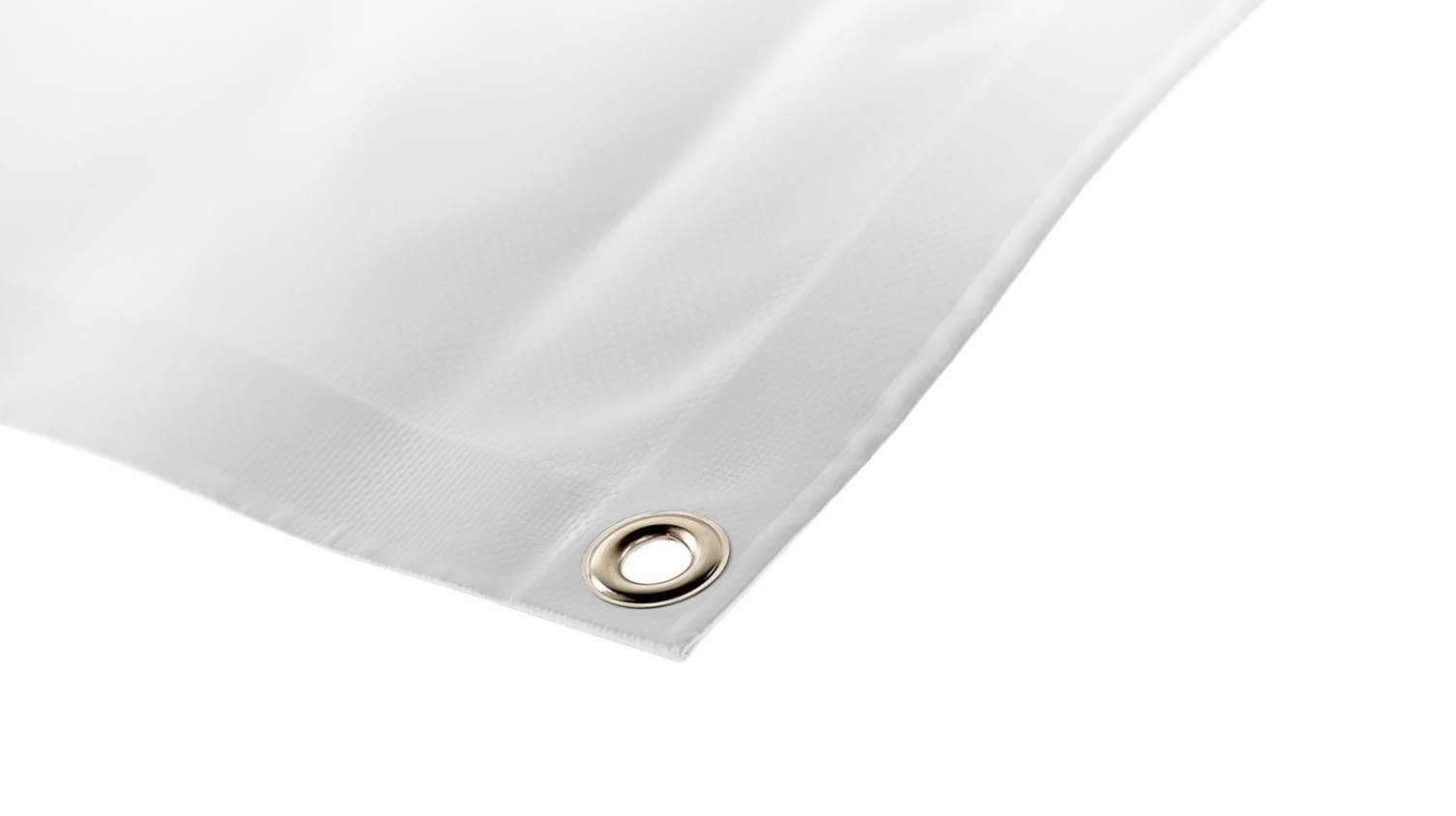 With Terminal Strips
We also give you the option of fitting aluminium terminal strips on your advertising banners and tarpaulins, allowing you to hang up and take down the tarpaulins more easily. This is particularly popular for advertising banners used in display windows or for decorative purposes. This means you can simply print your display window decoration and change it again whenever you need.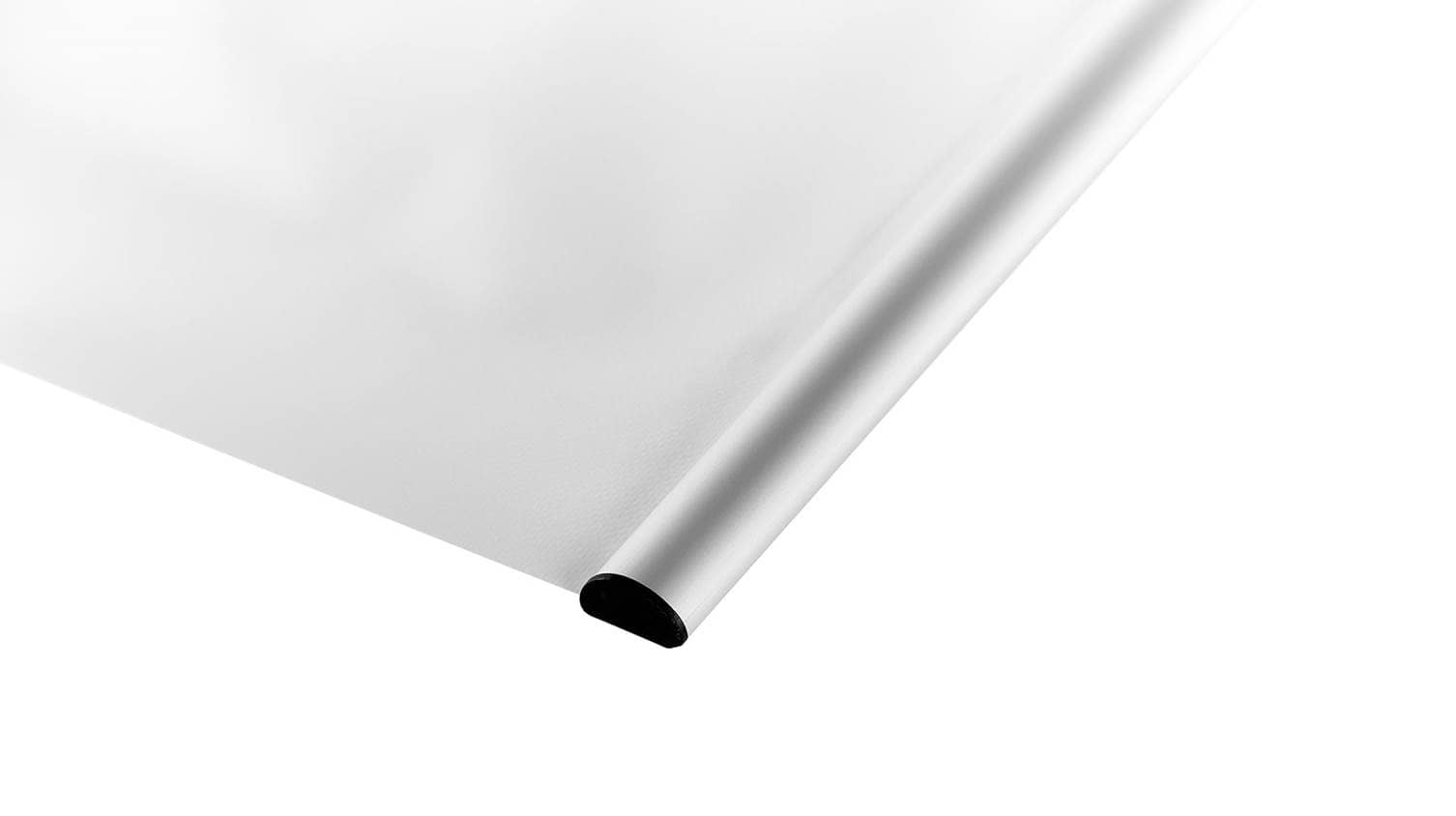 i
Our tip: If you are using your advertising banners in outdoor areas, we recommend using high-quality fastening solutions. Cable ties, which are commonly used as a fastening for tarpaulins, should only be used to a limited extent. Because cable ties have rigid and inflexible material properties, they are unable to stretch in the wind. This could cause the banner to rip in a worst-case scenario. We recommend using stretchable tension belts.
FAQ's for Ad Banners
How much wind can a mesh tarpaulin withstand?
If mesh tarpaulin is tied to a building fassade, it has a wind load of 74 kg per m². Free-hanging, it can withstand a wind load of 170 kg per m². The mesh structure of the fabric reduces the wind load by 20 - 30 %, so even large formats can be easily and safely fastened outside.
Is the hem part of the printed image?
Yes, the hem is part of the print area and is printed as well.
Is there a sustainable tarpaulin material?
Currently we do not have any ecological tarpaulin material in our product range. Due to our high printing volume, however, we are able to use each roll to its maximum capacity and therefore have as little waste as possible.
Advertising banners and tarpaulins – flexible advertising that hits the target
Thanks to their flexibility and large range of different sizes, advertising banners and tarpaulins can be used in many ways for a range of advertising goals. At construction sites, in addition to their advertising message, they provide an additional layer of protection and prevent debris from escaping. For events, they are frequently used to advertise the event in advance, as well as to decorate indoor areas and help customers find their way around. Wherever you want to use your advertising tarpaulins, you will find a wide range of sizes, big and small, in our shop, along with various materials and appropriate further processing. This enables you to configure the perfect form of advertising tailored to your specific needs.
Advertising banners in practical use
Our advertising banners can be used practically anywhere. For example, simply as a site cover or as an all-over, beautifully designed building front covering. Our advertising banners look the part here, just as they do for advertising in sports stadiums or adding a decorative design to construction hoardings and fences.
Both types of advertising banners and tarpaulins can be printed easily and in the highest quality, and are a premium and extremely durable advertising space. The benefits are clear to see. In brief, our advertising banners and tarpaulins:
can be flexibly used,
are weatherproof,
are particularly durable and strong,
are heat and UV-resistant,
are easy to clean
can be installed and transported quickly and easily.
As a result, our advertising tarpaulins are the perfect way to achieve full effect in a wide range of different areas, as well as ensure effective and highly visible advertising. Making the choice for a banner like this gives you added value, as you will always have the chance to benefit from this form of advertising.
From idea through to print
If you want to place your advertisement on a banner, you can avail of our years of experience when designing your print layout. We will help you to prepare the right print templates, as well as check your files directly after you upload it through a standard artwork check. We want to make the order process as easy as possible for you and speed up production. With the highest-quality materials, high production standards and our experienced employees, you will enjoy print results. Our friendly customer consultants are on hand to help by telephone or email with any questions you may have.
Take advantage of our offers at SAXOPRINT, and with our help, create an outdoor advertisement that is durable and highly visible thanks to its colour brilliance, and one that is sure to achieve the desired advertising results.