Product Information for Cloth Banners
Cloth Banners in Overview
Size
Fixed Sizes:
70 × 50 cm
80 × 80 cm
100 × 50 cm
100 × 70 cm
100 × 100 cm
120 × 120 cm
150 × 50 cm
150 × 100 cm
150 × 150 cm
200 × 50 cm
200 × 100 cm
200 × 150 cm
200 × 200 cm
220 × 180 cm
250 × 50 cm
250 × 100 cm
250 × 150 cm
250 × 200 cm
300 × 50 cm
300 × 100 cm
300 × 150 cm
300 × 200 cm
400 × 50 cm
400 × 100 cm
400 × 150 cm
400 × 200 cm
Standard Sizes:
DIN A0
DIN A1
Bespoke Sizes
Width
min. 100 cm | max. 1000 cm
Height
min. 50 cm | max. 250 cm
Material
110gsm
banner Fabric

240gsm
display Fabric
270gsm
blackback Fabric

330gsm
polyester
Processing
cutting, with/without hemstitch
cutting, revolving seam, multiple eyelets
Terminal Strips Kit
without terminal strips kit
with terminal strips kit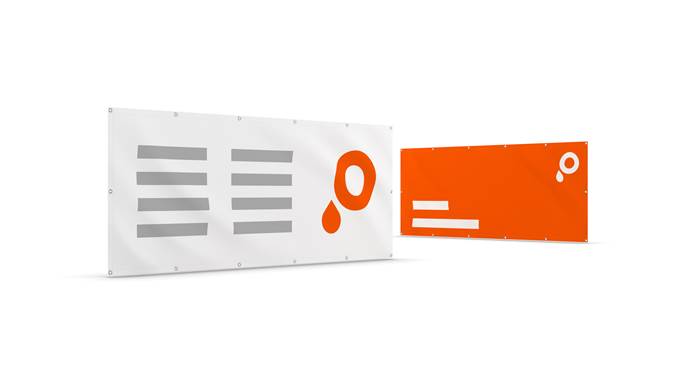 Used for:
Highlighting local deals
Marking sales locations
Decoration for events
Embellishments for your company
Materials - Textiles Compared
Find the right material and processing type for your cloth banner. We will explain the differences between our four materials, their respective properties, and pros and cons.
110gsm Banner Material
We recommend our banner material for outdoor use. This is particularly suited to the high demands associated with wind and other weather conditions. Banner material is:
UV-resistant and weatherproof
Extremely durable
Translucent/transparent and very light (only 110gsm)
Capable of producing vibrant colours
Flame-retardant (B1-certified)
Easy to maintain and washable (prewash recommended before outdoor use)
It is also often used indoors, serving as decorative partitions in sales and exhibition rooms, without hiding the area behind.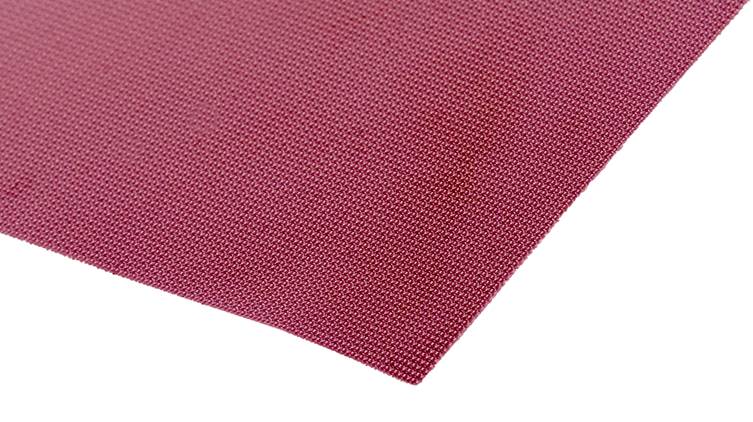 270gsm Blackback Fabric
270gsm blackback fabric is a 100% opaque material. The back side of this polyester material has a black PU Blockout coating. The fabric has a good resistance to creasing and is also B1-certified.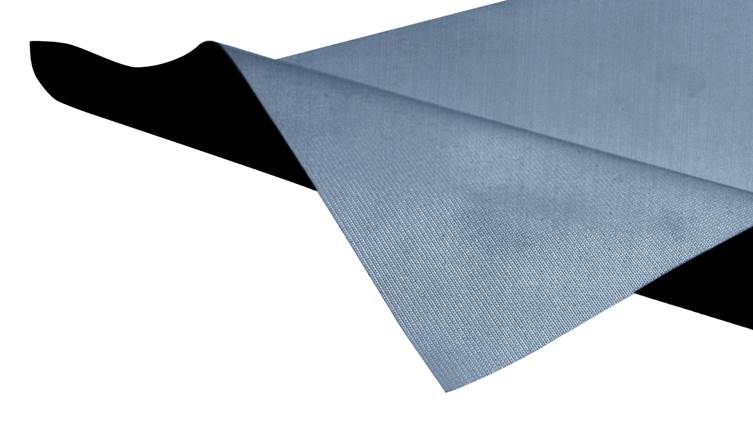 240gsm Display Material
Display material is opaque and lightweight at 240gsm. The slightly shimmering effect ensures a resplendent showing. It has a high tear resistance and ensures the printed image is excellent and sharp, and the material is B1-certified.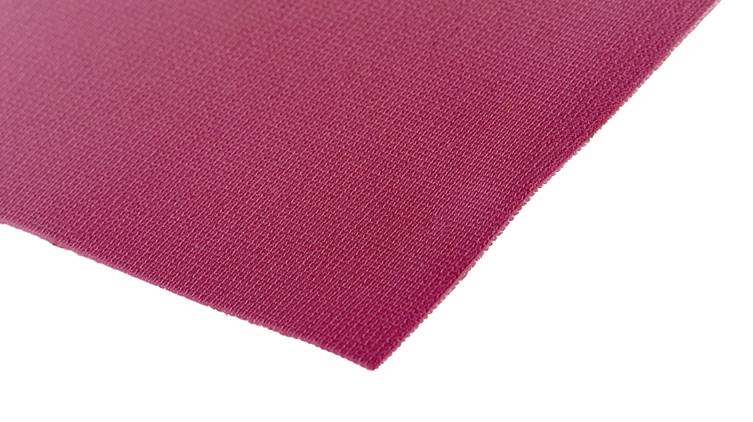 330gsm Polyester Fabric
Polyester fabric is an innovative material. The fabric is sealed up with plastic and is therefore perfect for outdoor use. It ensures maximum opaqueness and is relatively heavy at 330gsm. Motifs are printed in high resolution and with exceptional colours. Bulges are barely visible and the surface is napped so no light can be reflected. The material can be wiped down and is very easy to maintain. Our cloth banners with Airtex are also flame-retardant and extremely durable.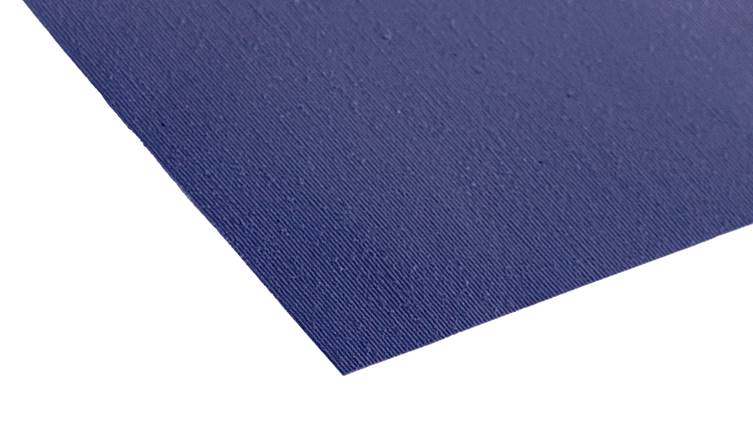 i
With proper care, your cloth banners can last a long time. We've compiled textile maintenance rules and information on material stretch and shrinkage in a handy document for you.
Alternatives to textile banners
You may also consider our PVC tarpaulins or mesh banners. With their high durability, these are well-suited for outdoor use and can withstand even the strongest winds. Our friendly customer service team would be happy to help you choose the right tarpaulin or cloth banner for you.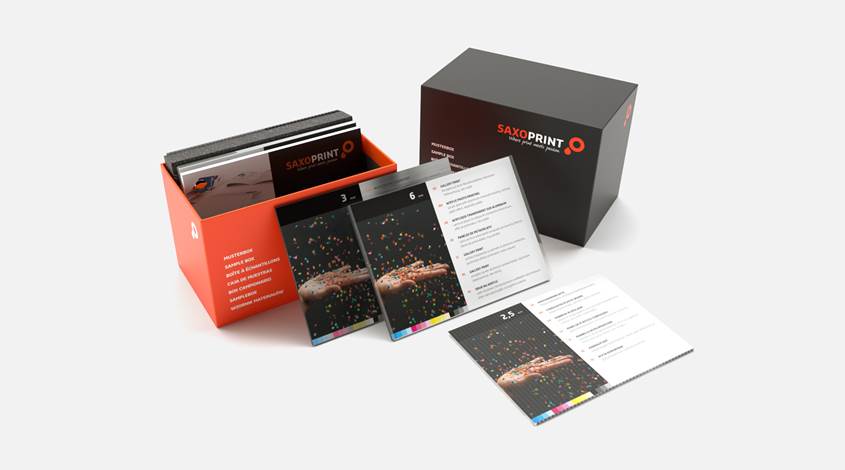 Material Sample Box & Paper Samples Brochure
Convince yourself of the print quality of the materials and finishing options we have to offer. The Sample Box contains all the materials for our Advertising Technology products, as well as the Paper Sample Brochure, Sticker Sample Set and Packaging Sample Set.

The Sample Box is also available in a neutral version.
Order now
Fastenings for Cloth Banners
Your cloth banners will be cut to the size you would like. We have three drifferent types of fastenings that you can select for hanging up your cloth banners:
Terminal strips for the top and bottom
Hemstitch for suspending by means of wire or tensioning ropes, rods, etc.
Eyelets on all sides ( every 50 cm), e.g. for fences or scaffolding
In our shop you can choose your processing individually. The price is independent of the chosen edition, format and material.
Please note: You can also order cloth banners without fastenings. In this case, your cloth banner will simply be cut to the desired size.
With Hemstitch
Use a hemstitch on your cloth banners to guarantee a very stable fastening. The hemstitch has a diameter of approx. 5 cm and is approx. 8 cm high when lying flat. You can pull a cord through the hemstitch and hang your fabric banner with good tension on a fence.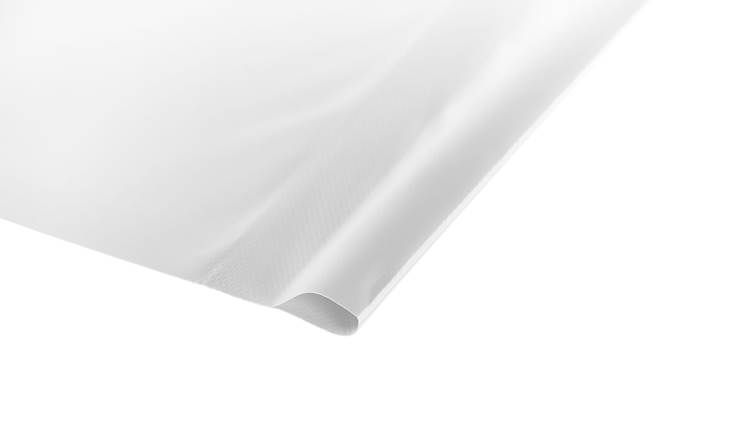 With Eyelets
The eyelets are located every 50 cm around the fabric banner and are also suitable for outdoor use to ensure strong attachment to fences, bridges or trees. The eyelets are tear resistant up to a wind force of 6. They can be selected depending on the format.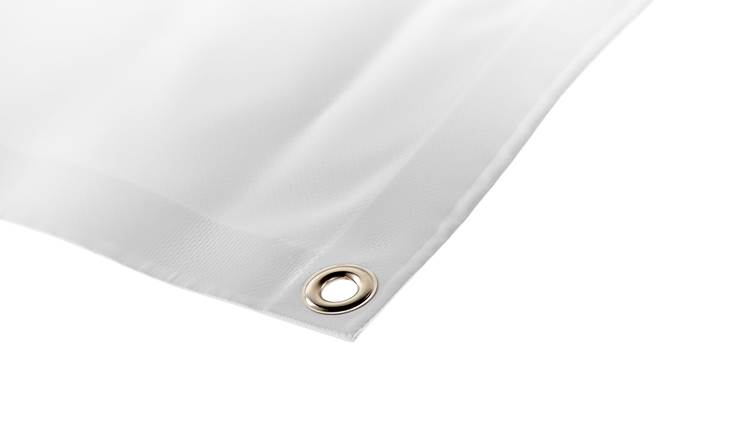 With Terminal Strips Kit
Terminal strips kits are generally used for hanging in sales rooms so as to hang the banners straight based on the increased weight. They will sway gently in draughts of wind and thus attract even more attention. The kit contains two silver-anodised 25 mm aluminium profiles with bonded cellular rubber, four black plastic end caps and two suspension eyelets.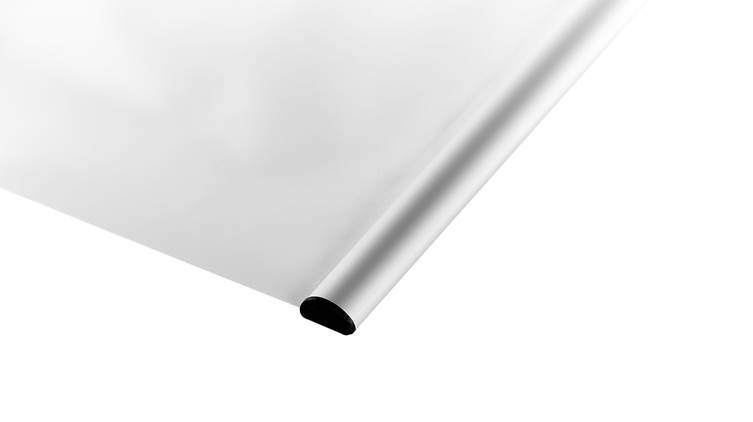 FAQ's for Cloth Banners
Is there a matt material (that doesn't reflect much light)?
Banner material and blackback fabric are both matt textiles.
Is it possible to wash the fabric when it gets dirty?
Yes, you can wash the print in any conventional washing machine at 30 degrees and with mild liquid detergent. Regular washing significantly increases the lifespan of the print.
How can I transport or store fabric prints? If they crease, can I iron them?
The fabrics have different degrees of crease sensitivity. Basically, you can wash, hang and dry all fabrics. This makes them wrinkle-free again. As an option, you can also iron the fabrics on the reverse side at low temperatures. We do not recommend steam irons, as they can leave partial drying stains on some fabrics.
Cloth Banners Skillfully Used
Cloth banners are firmly established in the sales and advertising industries. They are commonly used as ceiling banners in sales rooms, for decorating display windows or walls or for partitioning in exhibition rooms. They are also used outdoors as event, bridge or fence banners as an alternative to tarpaulin.
Cloth banners are impressive, flexible and original advertising media for indoor and outdoor use. Based on the latest printing procedures, their quality has improved significantly in recent years. Now, one-sided printing is sufficient to achieve vibrant colours and motif reproduction on front and back. With SAXOPRINT, you receive high-quality textile banners in a range of sizes (0.70 m to 4.00 m in height), four different materials and with a large selection of accessories to meet even the highest demands.
Decorative textile banners from SAXOPRINT
With 23 different sizes, you can easily select the size you want from our quote. If you need a special size, please contact our customer service team. Based on the selected batch size (1-25 units), you will receive a corresponding overall price for your order including delivery charges.
Are you a reseller or running a chain of shops? Then save yourself time and avail of our free reseller service.
Simple printing of cloth banners
Printing cloth banners in our print shop is not rocket science. In just a few simple steps, you can order them online: Choose the desired size, specify the material and place your order. Then you submit your textile banner models to us. Thanks to our artwork check, you are sure to have optimal print results. We check your print templates for potential issues and contact you immediately if we find any errors.