*Flyers starting at £15.05 (net price for 25 A8 flyers, 1/0-coloured, 80gsm uncoated paper).
Go to offer
Product Information for Flyers
Flyers in Overview
Colour Mode
1/0 | 1/1 black
1/0 | 1/1 HKS
1/0 | 1/1 Pantone
2/0 | 2/2 black + HKS
2/0 | 2/2 black + Pantone
4/0 | 4/4 Euroscale
4/1 Euroscale + black
5/0 | 5/5 Euroscale + HKS
5/0 | 5/5 Euroscale + Pantone
Material
80 | 90 | 100 | 120gsm
uncoated paper
90 | 120 | 160 | 250gsm
natural paper
90 | 135 | 170 | 250 | 300
400gsm
silk/gloss finish paper
80 | 170 | 250gsm
recycled paper
300gsm
uncoated board
300 | 450gsm
chromo board (coated on both sides)
Processing
up to 6 perforation lines
Finishing
UV coating matt | gloss
lamination matt | gloss
soft touch lamination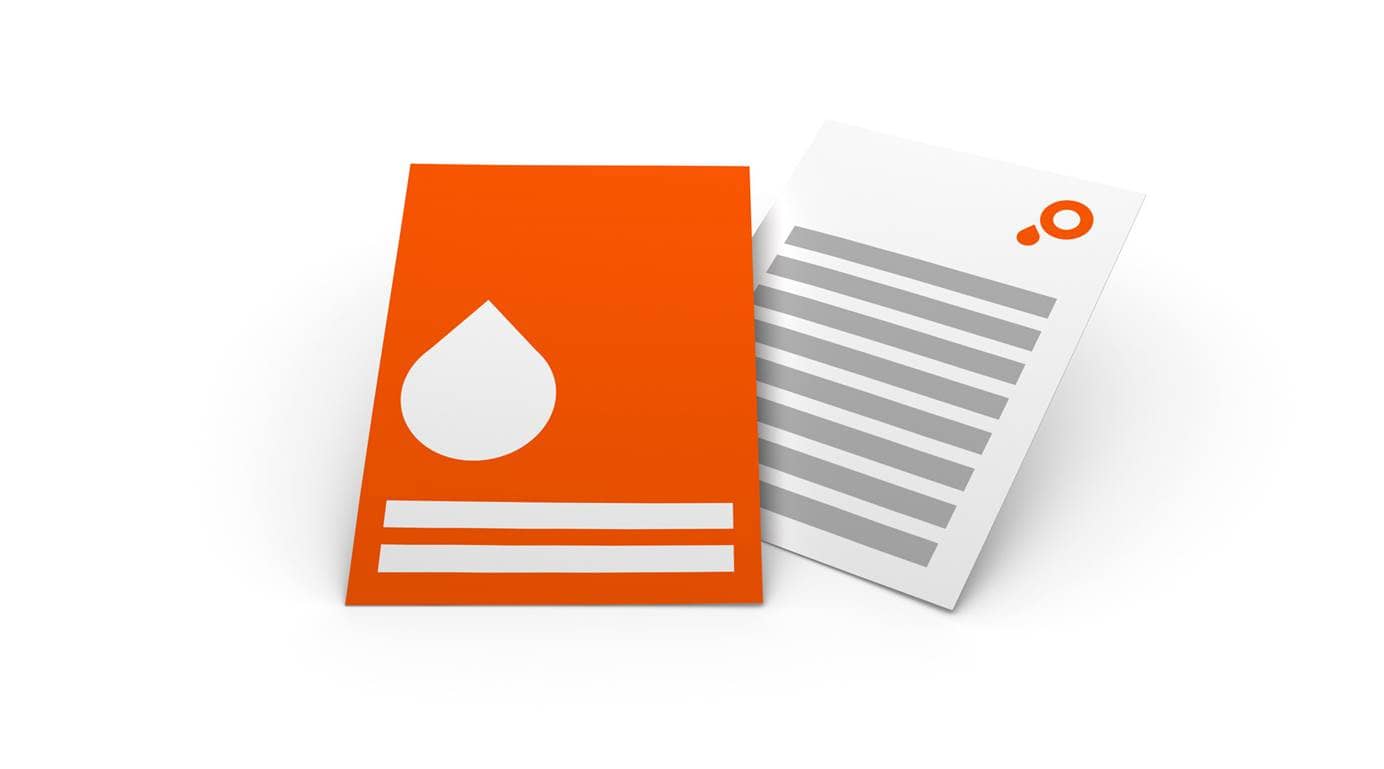 Used for:
Event invitations
Information on trade fairs, conferences, seminars and workshops
Product information and portfolio overviews
Presenting special offers
Addressing prospects
We offer seven different types of fold for leaflets: examples include the letter fold, Z-fold or combination fold. Leaflets with at least four sides are well-suited for content-heavy leaflets, as they can function as small brochures.
Single Fold
The single fold, also known as a layer fold, is the simplest form of folding. Here, the sheet is folded once in the middle. This fold type will transform your folded leaflets in a range of different formats for perfect greeting cards.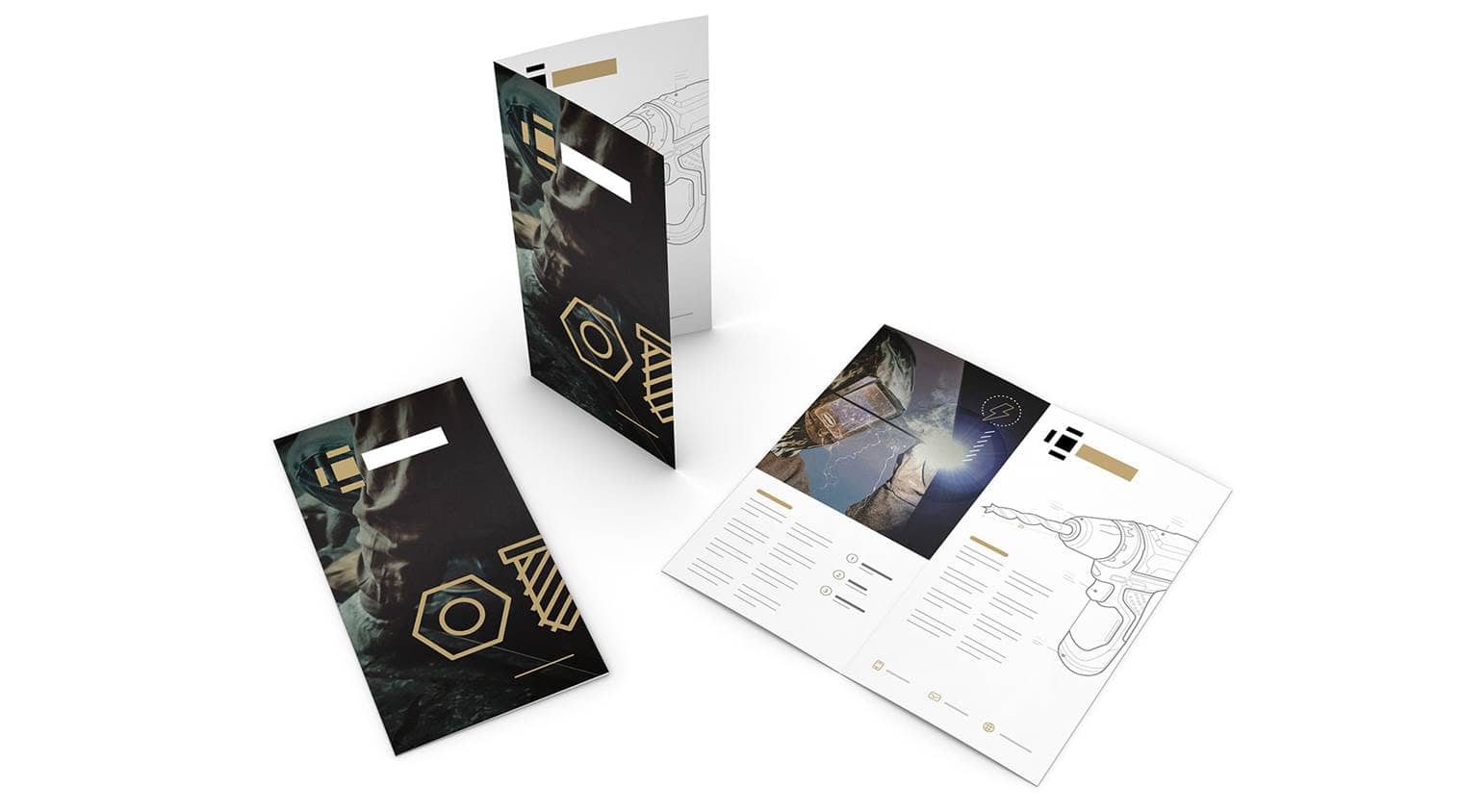 Letterfold
Using a letterfold, you can present your information in style with up to 10 sides. Here, the individual sides are wrapped around one side without any change in direction. In this way, two parallel folds produce a total of six sides for your content, for example.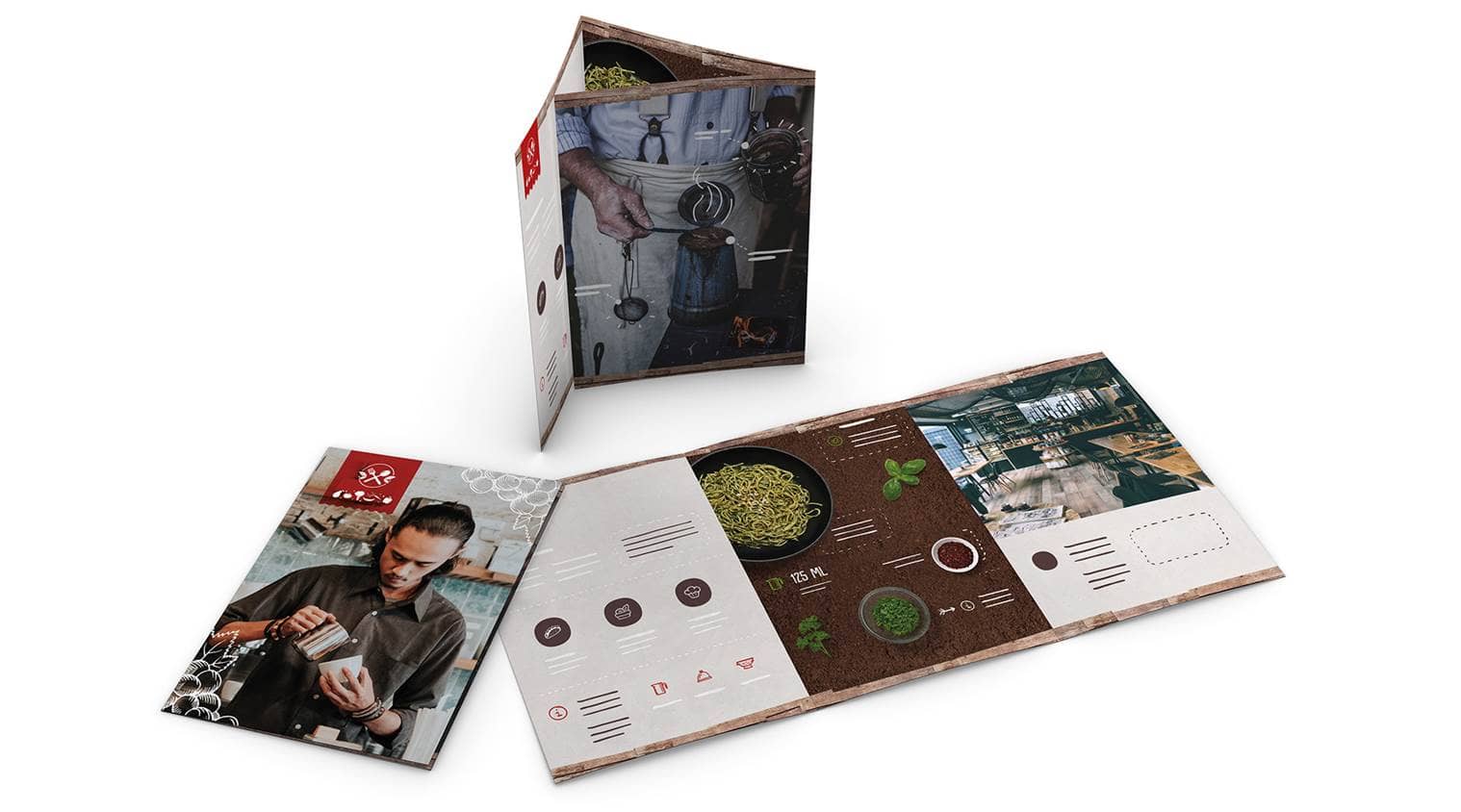 Z-fold
With Z-folds, you can display your engaging content on up to 12 sides. Also known as a fanfold, each fold runs in the opposite direction to the previous one in this case.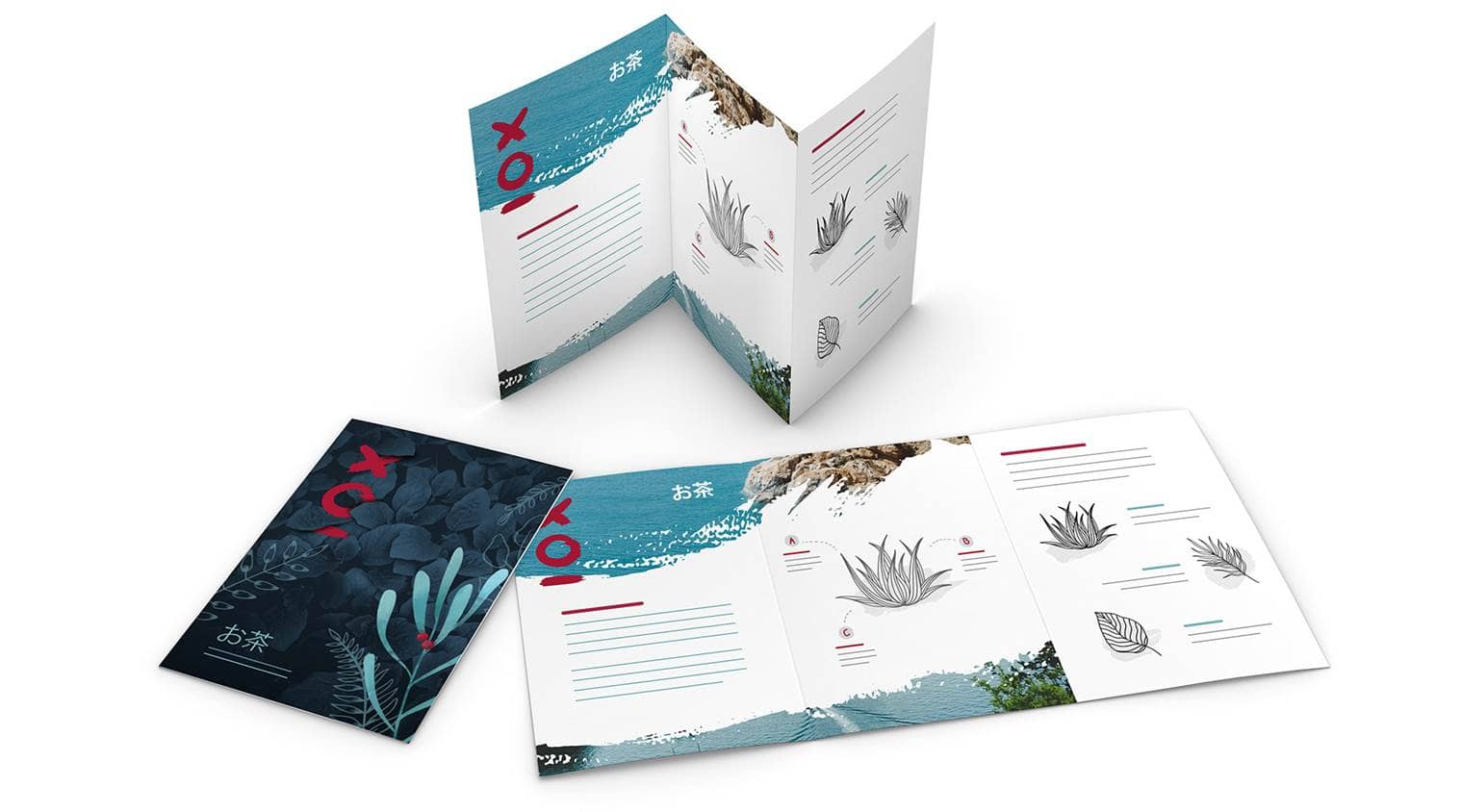 Cross Fold
The eight-side cross fold is ideally suited for use with large cards, posters and infographics. The sheet is first folded lengthways and then subsequently crossways. This produces folded edges in the form of a cross.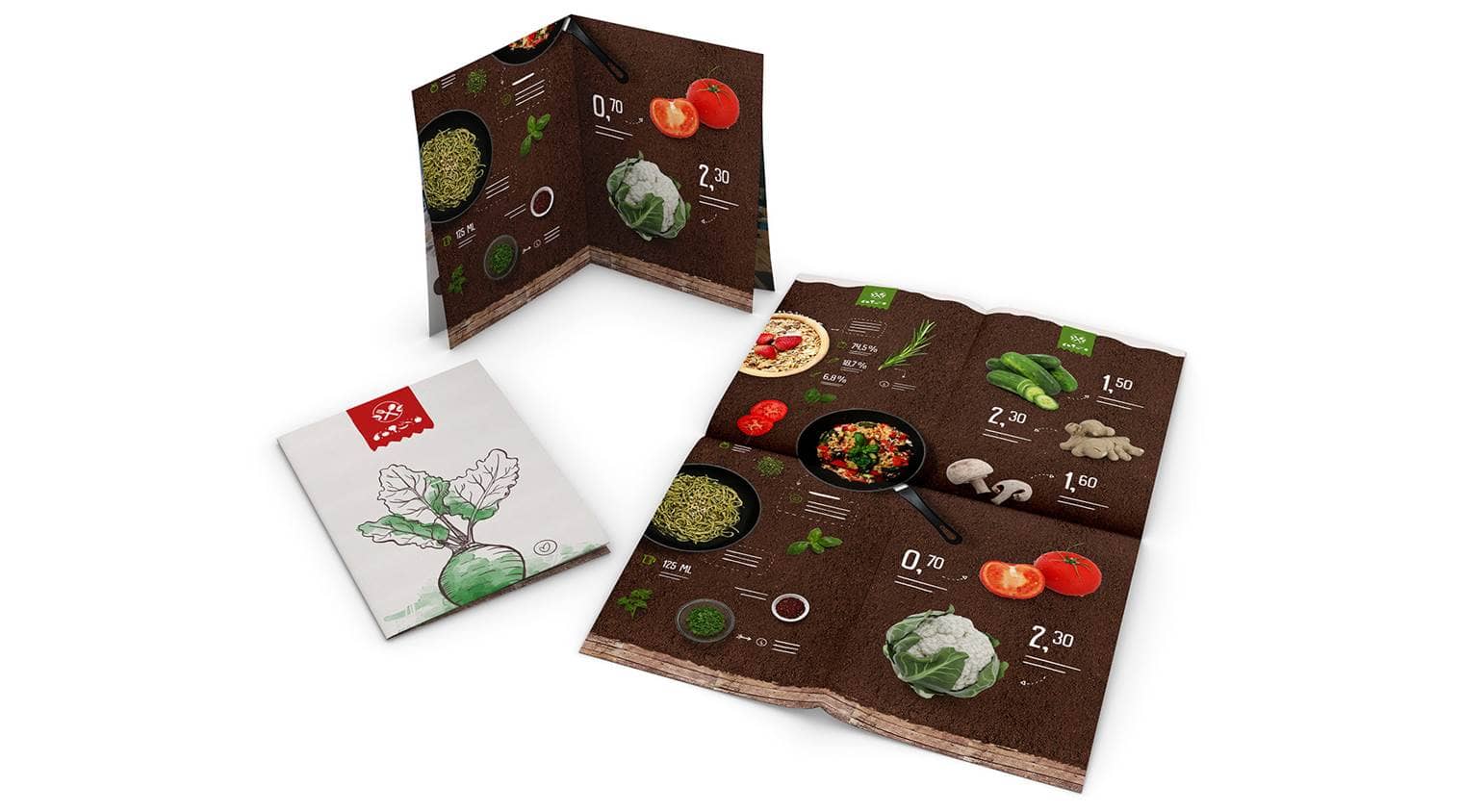 Open Gate Fold
The open gate fold owes its name to its resemblance to a gate in three parts. The two outer sides are each folded into the middle without overlapping. This type of folding is also sometimes known as a window or altar fold.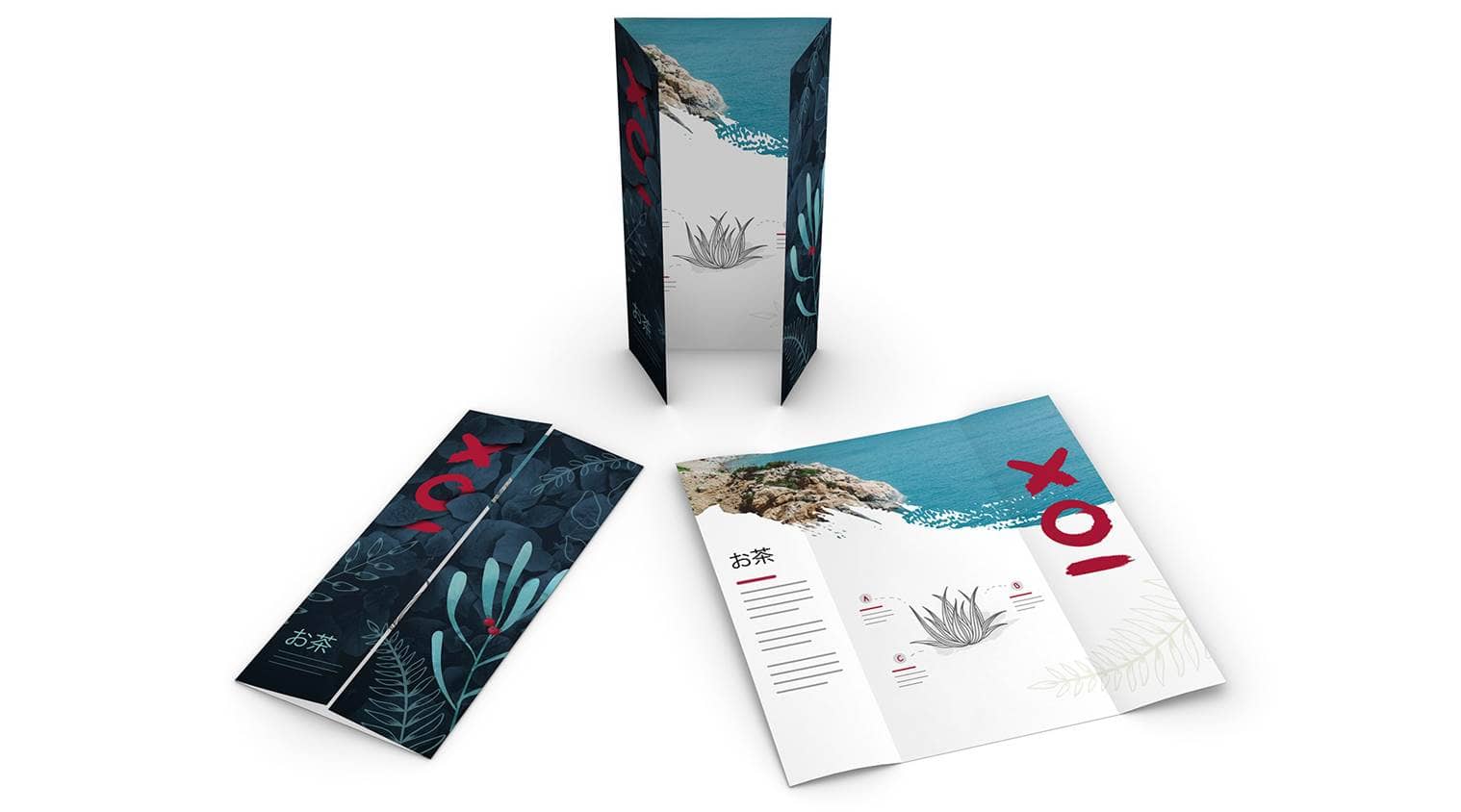 Closed Gate Fold
In the case of a closed gate fold, the two outer sides are also folded inward. The only difference: with an additional fold in the middle of the sheet, you have 8 equally sized sides to use for your design.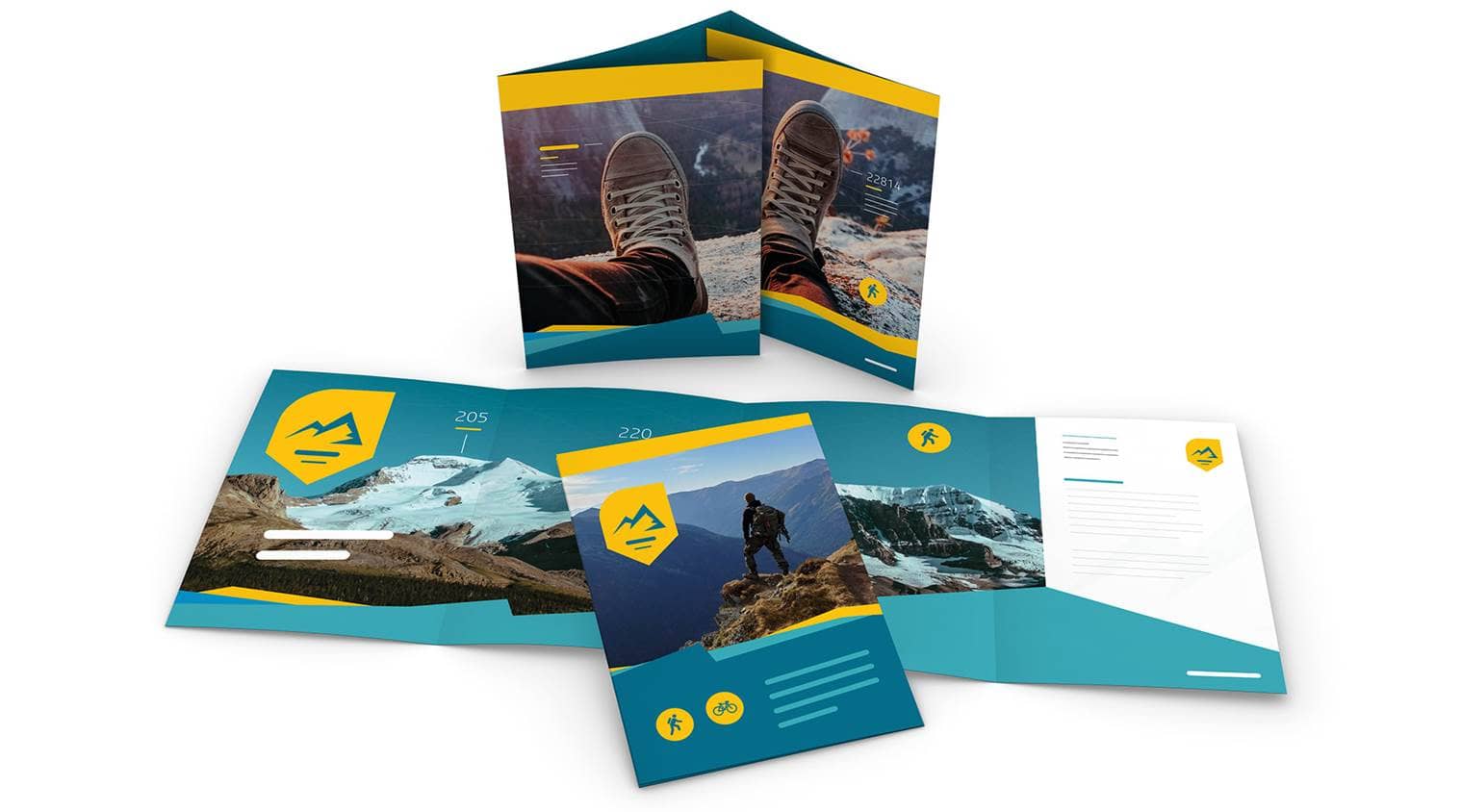 Double Parallel Fold
The twelve-side double parallel fold is first folded in parallel in the centre, and then, similar to the letterfold, folded two more times to create the final closed format. These universal folded leaflets offer ample scope for a wide range of possibilities.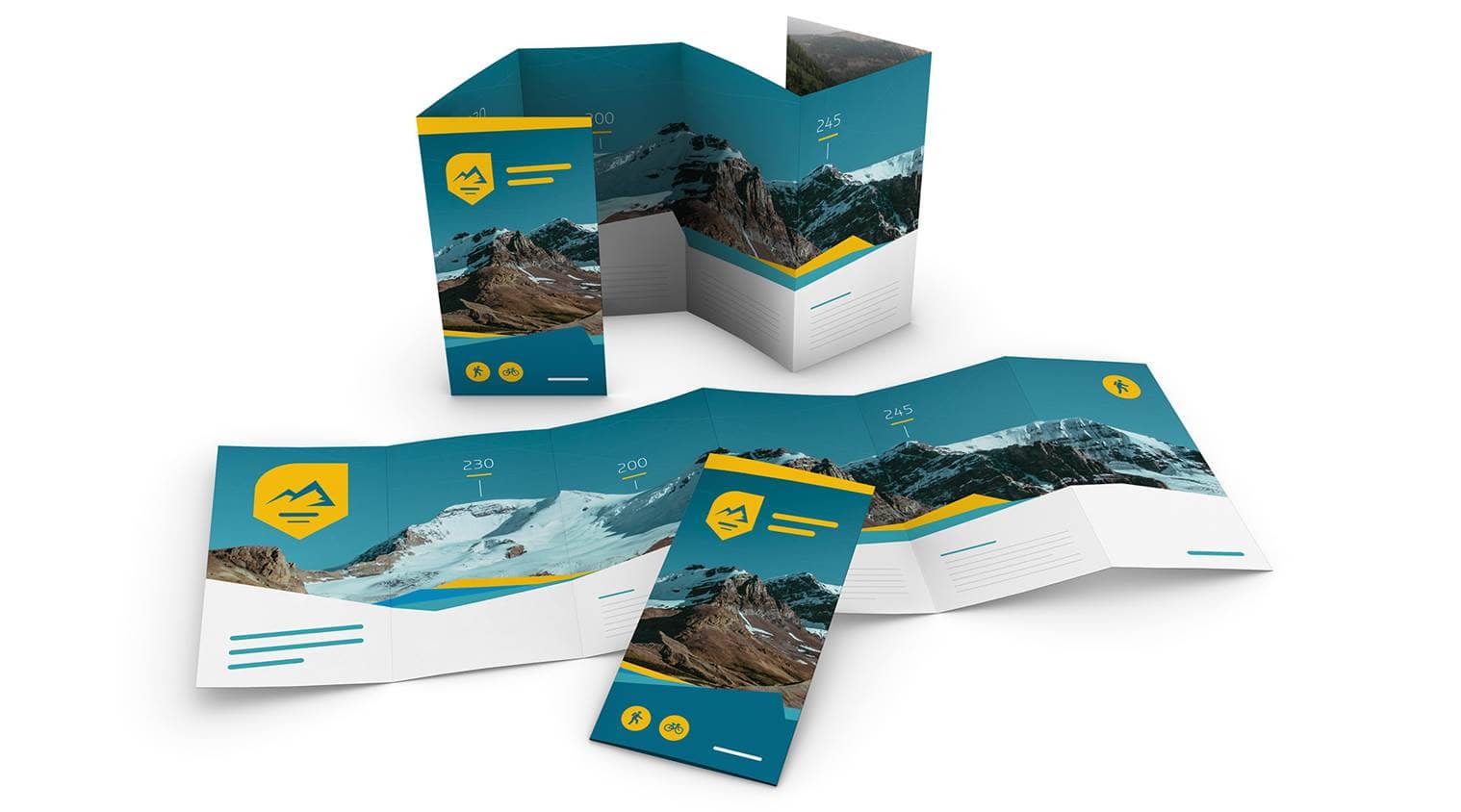 Flat (not folded)
Make use of the flat (not folded) feature so you can further process your folded leaflets to your individual needs. To prevent the folded back from breaking, your folded leaflets come pre-grooved at paper grammages from 160gsm.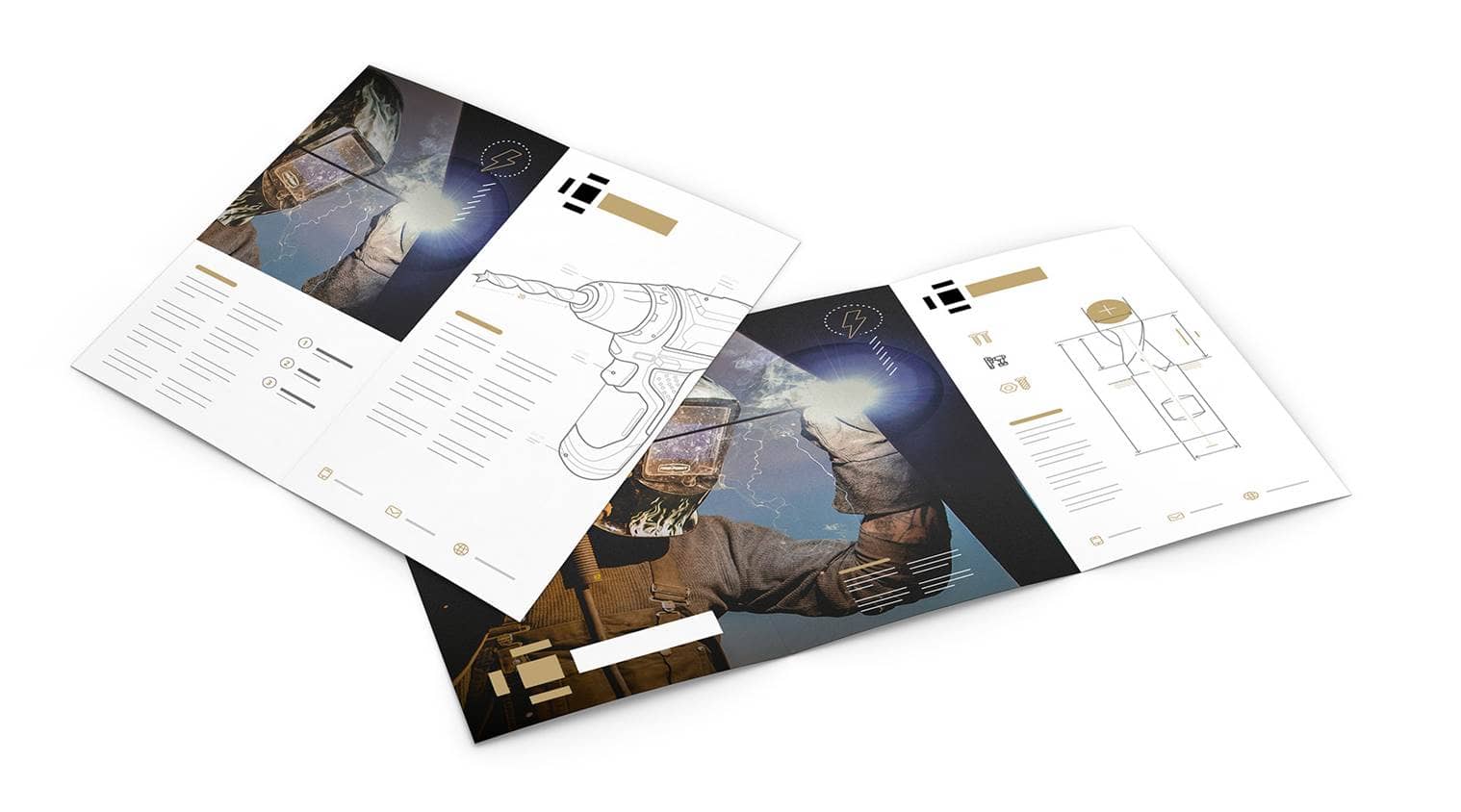 For one or two-sided flyers, we recommend that you use at least 170gsm finish paper to ensure greater stability and better handling. After printing, this paper is coated with a varnish (dispersion varnish), which significantly increases the durability but also makes writing or stamping more difficult. Our natural and recycled papers provide a solution to this while protecting the environment. The recycled paper consists of 100% reused paper and saves up to 70% energy and water compared to traditional paper production. Both natural and recycled paper have a high degree of whiteness, which is why they are also suitable for advertising media such as flyers or business cards.
Uncoated Paper
80 | 90 | 100 | 120gsm
Uncoated paper is a strong paper type made 100% from cellulose. The age-resistant surface lends a soft tone to images, while text is easy to read. Uncoated paper can be written and printed on, making it suitable for photocopiers and printers.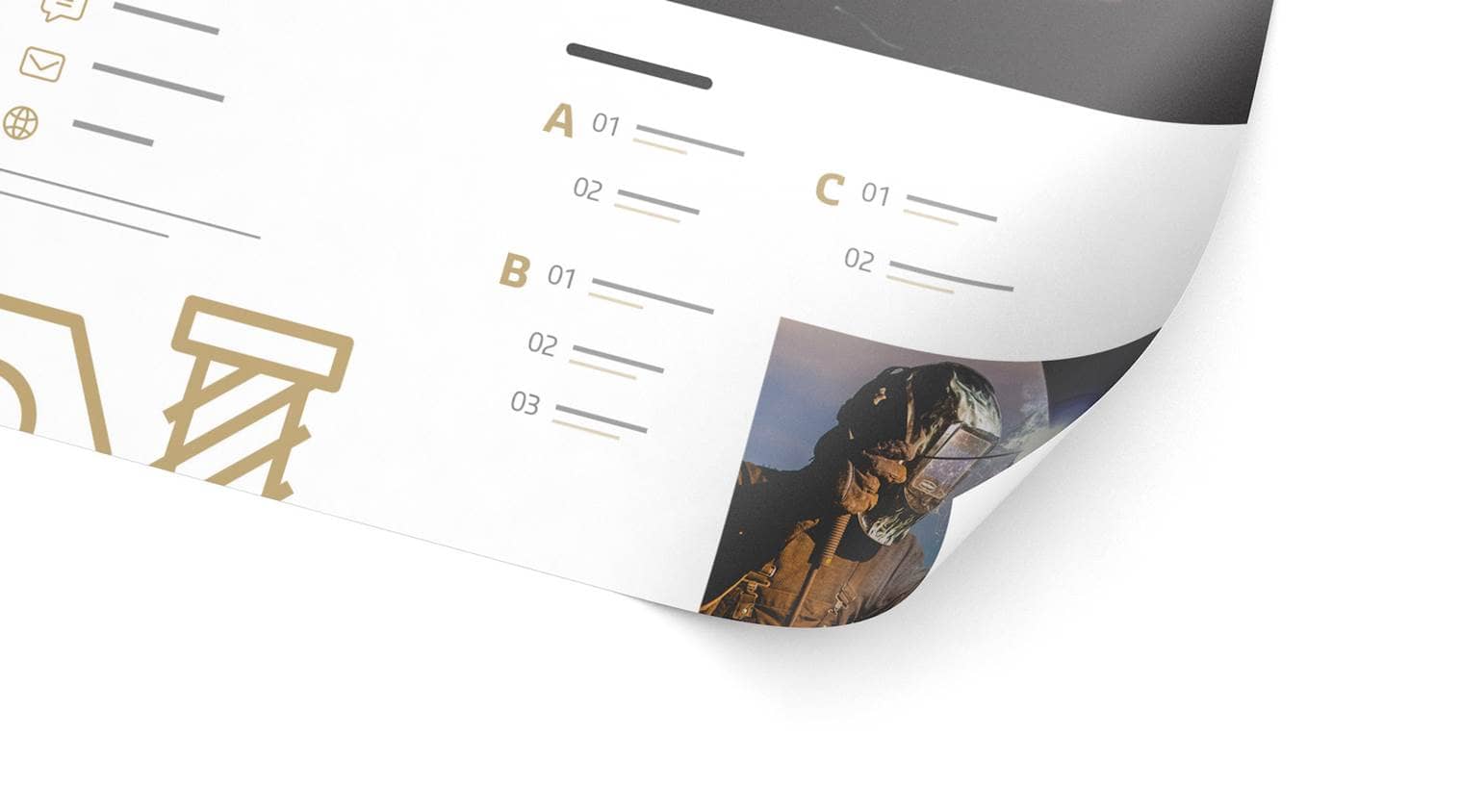 Recycled Paper
80 | 170 | 250gsm
Recycled paper consists of 100% reused paper. As well as saving wood resources, in comparison with conventional paper production, more than 70% of the energy and water used is saved. In short: Recycled paper significantly protects the environment.
Our recycled papers are FSC® certified.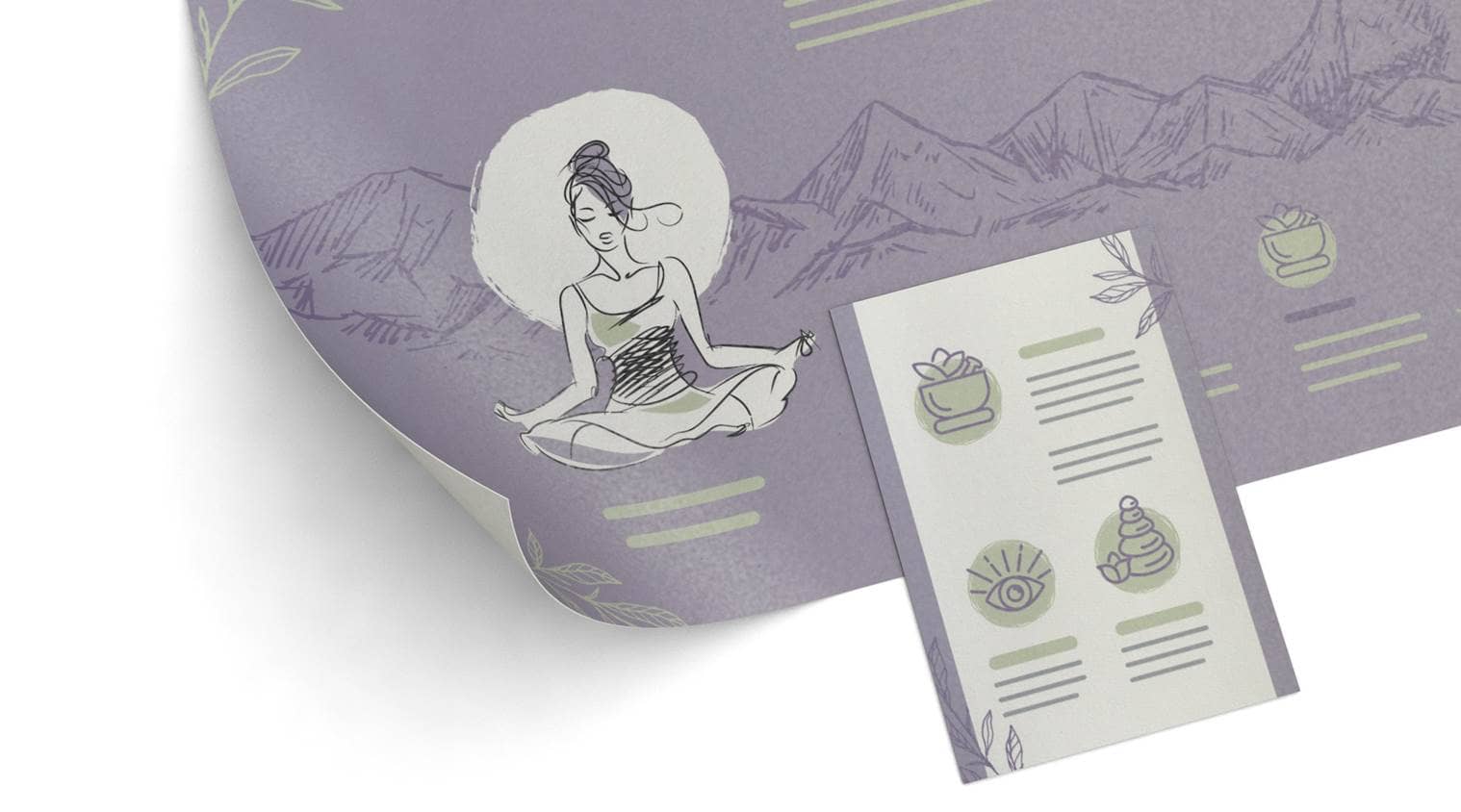 Natural Paper
90 | 120 | 160 | 250gsm
All paper that is not coated during its manufacturing process is known as natural paper. So, our natural paper is an uncoated paper, which gives products a good level of density and a premium look and feel.
Our 90, 160 and 250gsm natural paper is FSC® certified.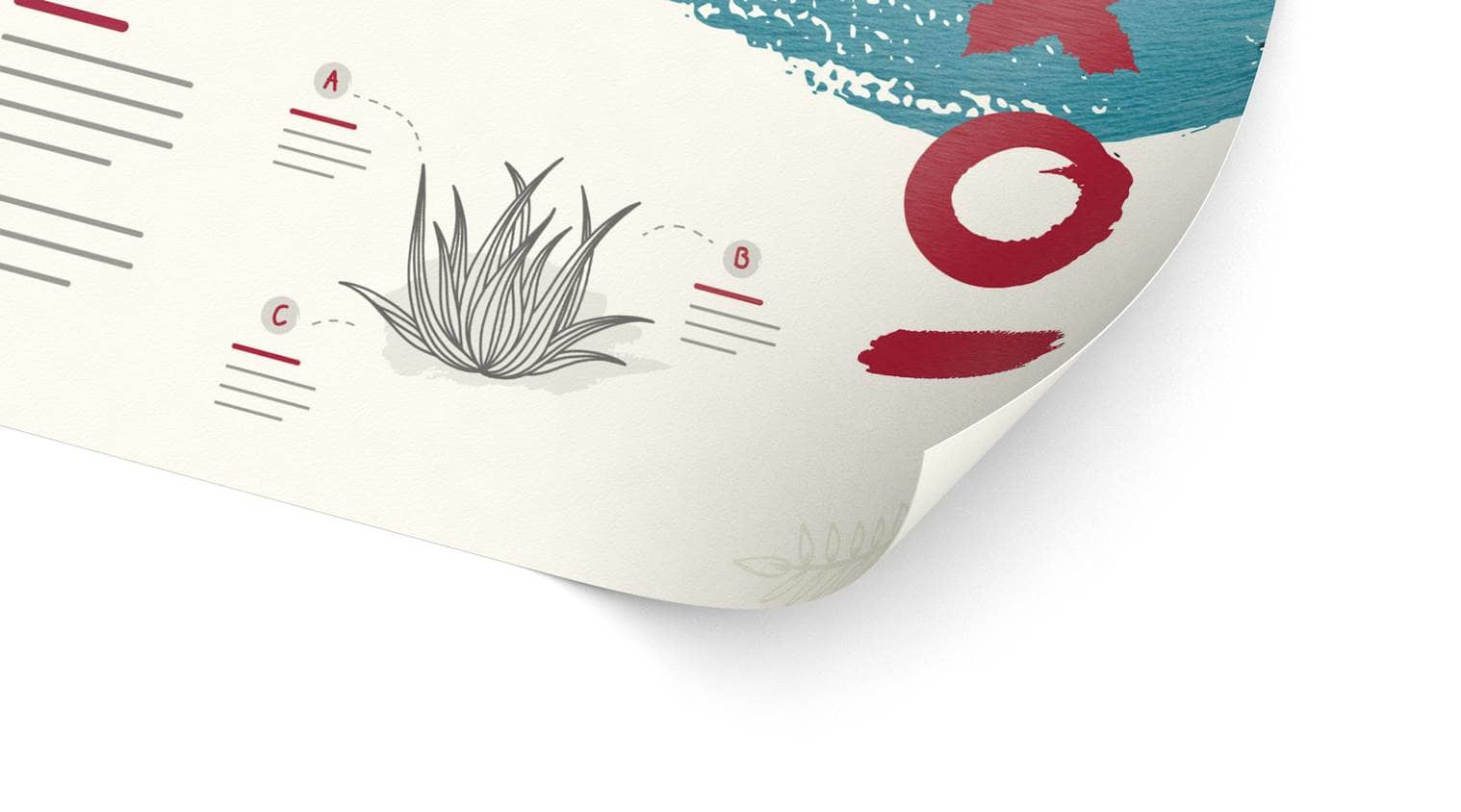 Silk/Gloss Finish Paper
90 | 135 | 170 | 250 | 300 | 400gsm
This paper is finished with a synthetic silk or gloss coating. This creates a more finished, smoother and stronger surface, enabling high reproduction and better print quality, particularly in the case of pictures and contours.
Chromo board
300 | 450gsm
Chromo board is coated with a silk matt finish on both sides and has a smooth surface. It is particularly robust and tear-resistant, making it suitable for high-quality products or advertising materials that require prolonged use. As the surface is coated on both sides, the paper is not writable or stampable.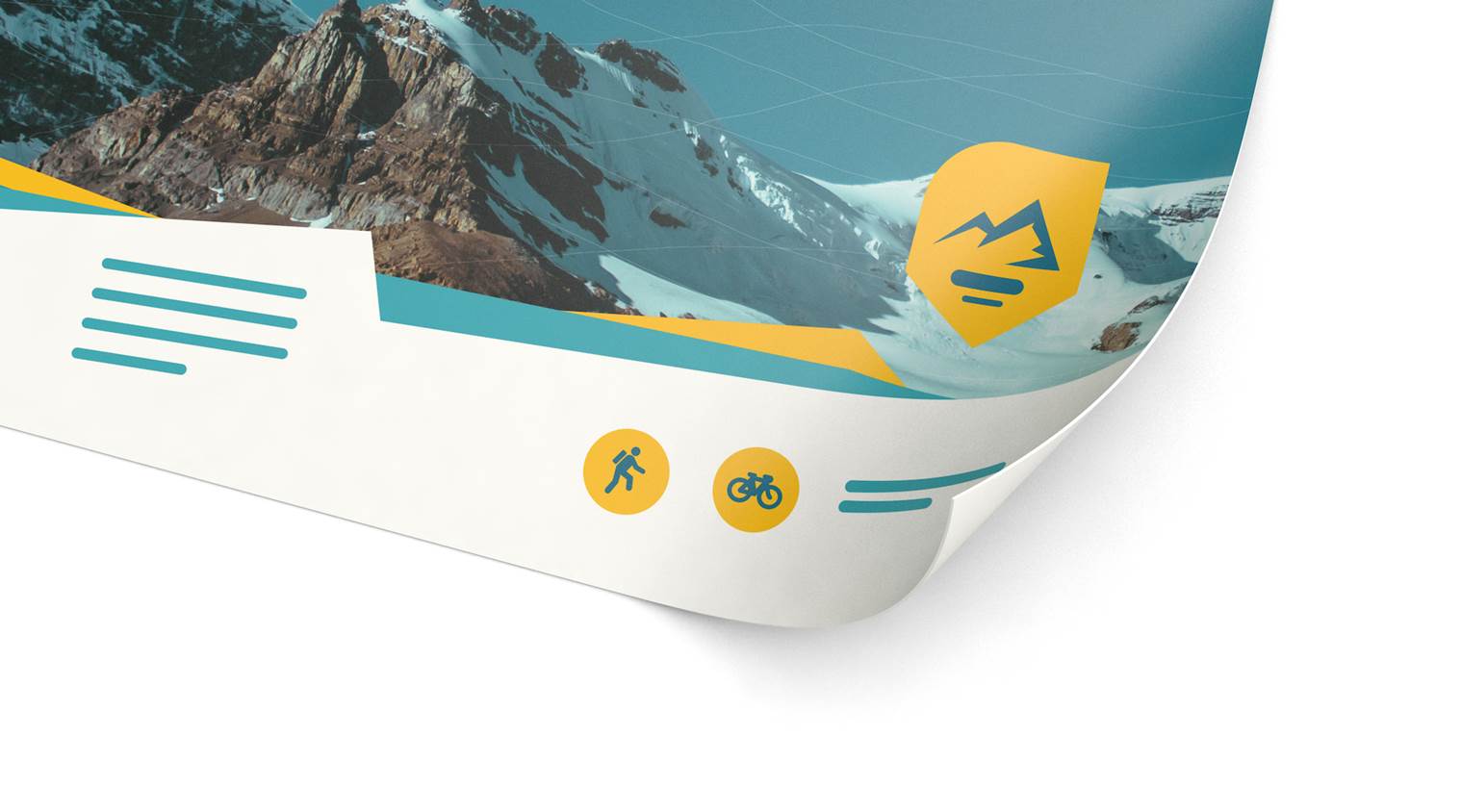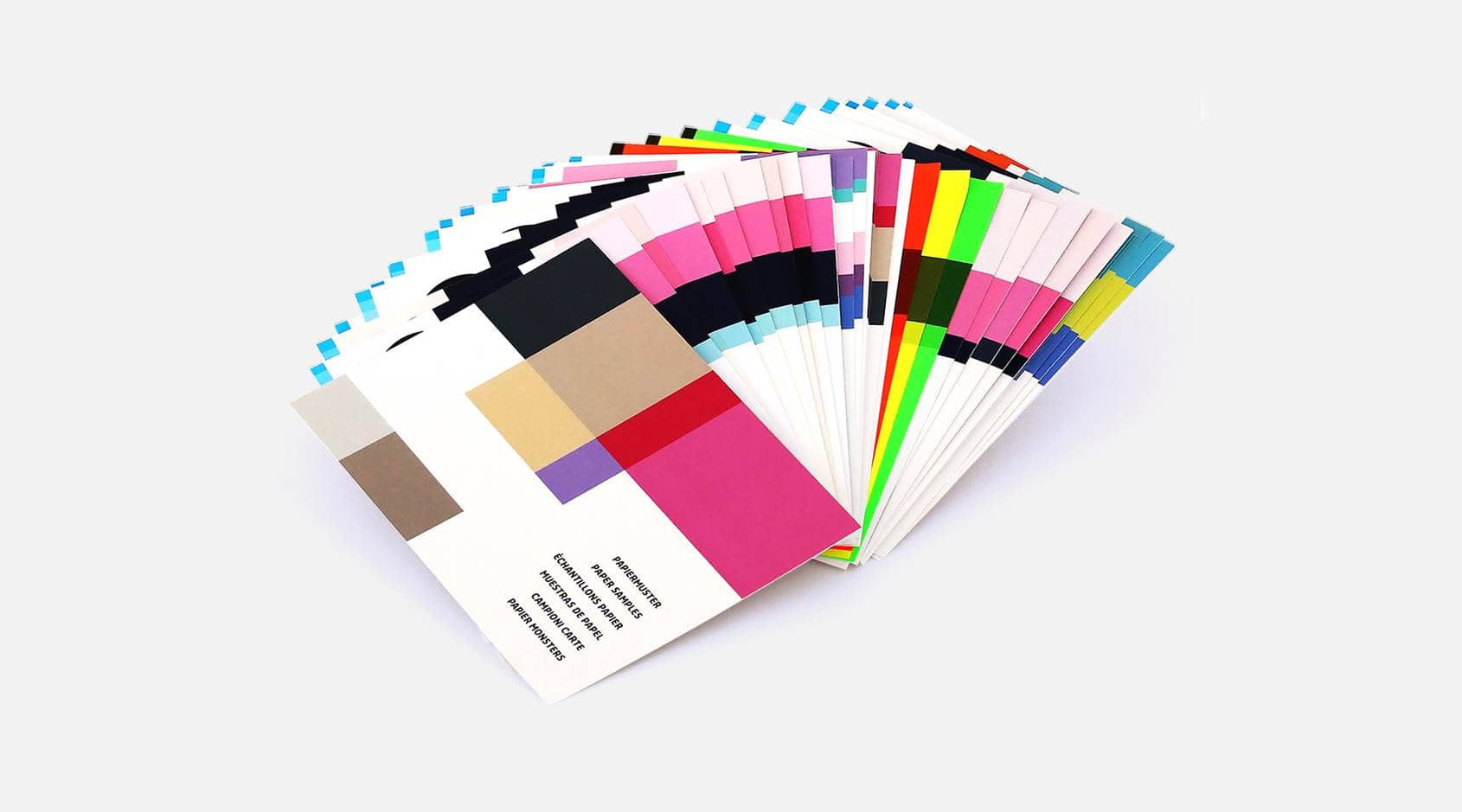 Paper Samples and Product Catalogue
With our Paper Samples Brochure, you receive an overview of all materials and finishing options. Feel the difference between offset, finish and special papers and get to know the appeal of effective UV coating and lamination.
Order Paper Samples
Finishing Options for Flyers
Soft touch lamination or UV coating is available with silk/gloss finish paper in 135, 170, 250 and 300gsm. UV coating creates an especially high-quality and beautiful look and feel. This finish is particularly recommended for flyers which generally require a high level of durability for outdoor advertising. Lamination provides even more shine and robustness. With our soft touch lamination, your flyers will also have a unique feel with a velvety soft surface.
Glossy coatings produce vibrant colours, while matt coatings have a particularly high-quality effect and leave no visible fingerprints. We can finish your flyers on the front or back in equal measure.
UV Coating
matt | gloss
Enrich your printed products with UV lacquer and give your order a high-quality touch. Thanks to modern finishing methods, your product is highly resilient and resistant to external influences.
Lamination
matt | gloss | soft touch
Give your product an elegant look and high-quality feel. Emphasise your quality standards with lamination. It enhances the colours and protects the product against external influences.
Sealing flyers with dispersion coating
Seal your print products with our environment-friendly dispersion coating. It not only gives the paper an elegant silky finish, but also provides reliable protection against abrasion and fingerprints.
HKS & Pantone Printing
Pantone and HKS spot colours offer a much wider colour spectrum than CMYK colours. Almost every shade can be reproduced in Pantone or HKS, meaning we can meet most printing requirements.
Due to the exact colour reproduction, Pantone and HKS colours are particularly suitable for company logos - as your company colours can be reproduced in the exact shade for recognition value. Above all, rich and highly colourful full tones can be precisely reproduced with special colours.
HKS has 88 spot colours and Pantone has 1,728, which are difficult to achieve in CMYK.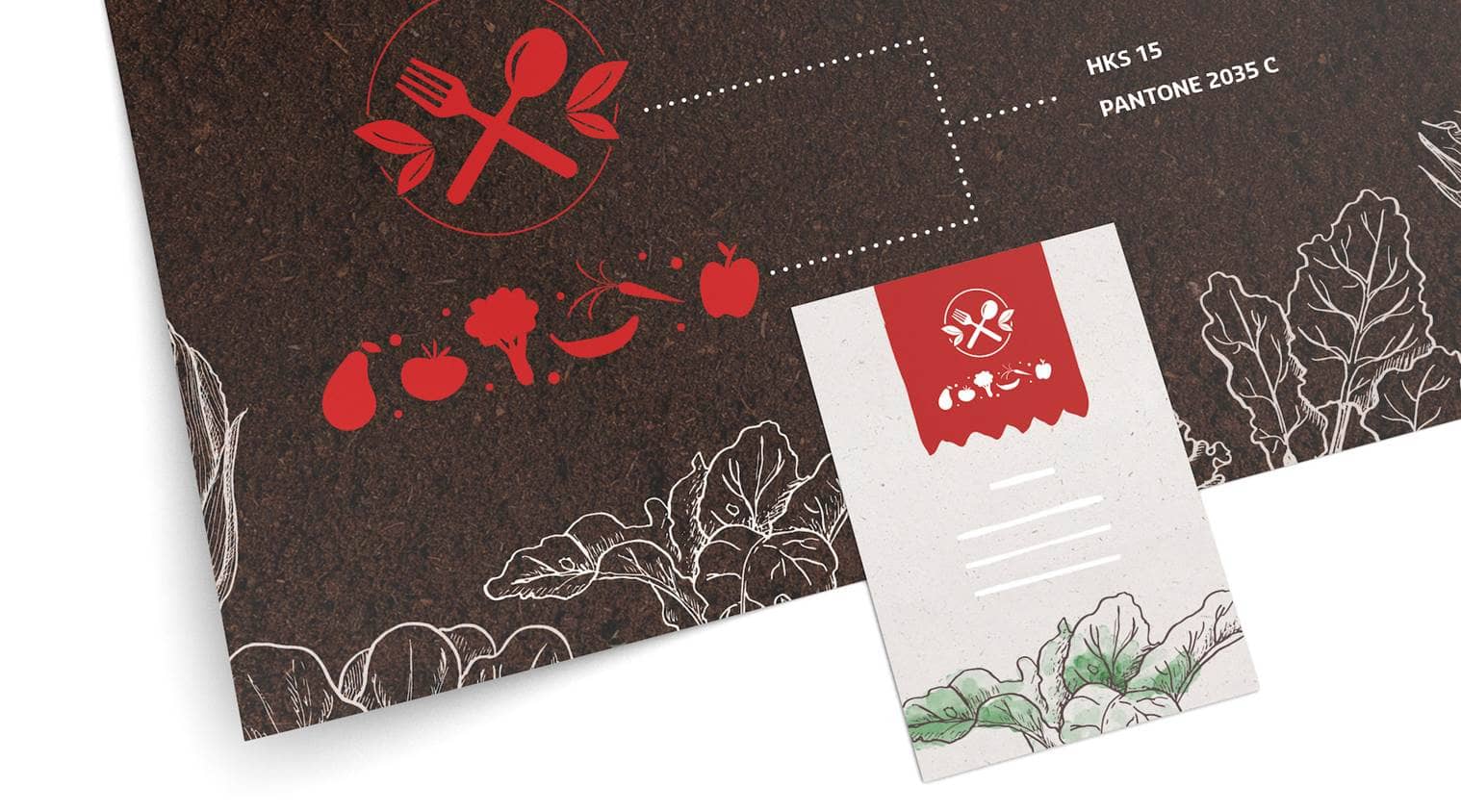 FAQ's for Flyers
How can I design and order flyers online?
Making your own flyers
Granted, you can use programmes like Microsoft Word or Open Office without issue to design a flyer for printing. But these file formats will not suffice for a professional printing company to produce top-quality advertising materials. So, we recommend using graphics programmes such as Adobe InDesign in combination with our artwork instructions guide to create excellent flyer designs. A PDF in closed format with embedded text, high-resolution images and correct bleed margins helps reduce print mishaps and keep to agreed schedules. In our free basic data check, we verify that the page measurements and perforation lines are laid out correctly. We check that the colour scheme has been kept to and that the page ordering is consistent. If you are a new customer, we recommend a professional data check. Our experts in the prepress department will check if the margin section is correct (especially the spacing of logos and text) or if folds have been properly created. All information about our data checks can be found here.
Create flyers online with SAXOPRINT Designer
Would you like to create a flyer without graphics programmes while ensuring high printing quality? No problem - SAXOPRINT Designer is here to help! Upload your logo, change the background colours, add titles and texts and insert your images: SAXOPRINT Designer makes all this possible! It can even be used to create flyers with folds or with twelve pages without difficulties. So why not try it out? Simply choose the specifications for your product in the online configurator and click the 'Create Online' button on the right-hand side. You will automatically be forwarded to the Designer and then you can get started. Find all the details here.
How are my flyers delivered?
Folded flyers can be delivered either pre-folded or flat-pack. For deliveries to several stores or several locations, use the delivery splitter in our order calculator. This is available for up to 20 locations per order. In addition to this, resellers or advertising agencies can choose to have their address printed as the sender at no additional cost.
What colour modes are available for flyer printing?
Concerning colour mode, the classic 4/4-coloured Euroscale (the European colour-scale for offset printing) is available and can be combined with an HKS or Pantone colour. These spot colours can, of course, also be printed along with black inks or as single colours.
What is perforation?
For raffles, coupons, discount campaigns or tickets, we recommend using one or several perforations. These enable the flyer to be easily detached by means of a pre-punched line. In A6 format, up to six perforations are possible; be careful to ensure a minimum gap of 1cm between perforations. For folded leaflets, a maximum of three perforations is possible. Perforations can be used on paper upwards of 135gsm thickness. However, we recommend using 300gsm to ensure the strength of the separated section.
I'm creating flyers with a tear-off voucher strip. How do I create a perforation strip without having a line printed?
We need a template so that we can set the perforation line in the right place. Mark the line and save the image as a separate file with an appropriate name (e.g. order number_perforation template.jpg). In this way, your actual print file will not contain a line that is printed accidentally.
Which paper is the right one for my flyers?
With our paper samples, you can examine all our paper types and thicknesses comfortably at home and decide which one suits you best.
How do I avoid white edges around my flyers?
Always add a trim allowance of 2 mm to your artwork file. Make sure background pictures and images close to the edge of your design should also extend into this area so we can cut them. This prevents thin, white edges from forming after cutting. More information can be found in our Artwork Instructions Guide.
Flyers - Universal Advertising Materials for Successful Communication
For small to medium-sized companies, flyers are one of the most-used advertising media. This comes as no surprise; numerous formats, folds and paper types enable a universal usage for many sectors and advertising targets. Organisations, associations and entrepreneurs use them to raise awareness of events and activities or to acquire new members.
With an original concept, a clear message and an eye-catching appearance, flyers can be an effective method of advertising. Whether stand-alone or as an addition to existing advertising campaigns, they are an affordable mass-medium with numerous uses:
As brochures for local businesses or contractors
As leaflets for distribution in mailboxes
As flyers for advertising a special campaign
As information sheets for events or product details
First impressions count
Before you decide upon a format, paper type or fold type, think about the primary purpose of your flyer with regard to your audience:
To inspire and incite curiosity
To enthuse
To provoke reflection
To inform
The aim is that your target group will pick up your advertising flyer, look over it in a few seconds and deem it relevant to them. Ideally; the person will then contact your company or recommend you to others.
You will attract the most attention by including eye-catching features. For this, use a convincing advertising message or an emotionally engaging image, such as:
A person smiling in a friendly manner
Calming pictures of nature or landscapes
Cute animals or children
Catchy slogan or benefit to the customer
If you have a lot of information to convey, still keep the principle 'less is more' in mind, as too much text can put the customer off. On the other hand, clearly structured sections of text and images can be grasped better, and increase the chance of the leaflet being looked at for longer.
Work with the 'WH-question principle' in order to answer your target group's most frequently asked questions when they view your flyer: What, who, how, where, why, when?
Service and products providers should always keep the benefit to the customer in focus, and refer back to this in headings. Place and time should be easily visible and recognisable on event flyers.
Finally, make sure you formulate clear calls to action in order to prompt the target group to take their next step. For example:
Call us up for a no-obligation discussion!
Request your free offer now!
Cash in your voucher at our stand!