Product Information for Envelopes
Envelopes in Overview
Material
80 | 90gsm
uncoated paper
80gsm
natural paper
80gsm
recycled paper
Style
peel and seal with window
peel and seal without window
i
Need a more stable envelope? Our mailer envelopes are ideal for sending important documents, booklets or catalogues.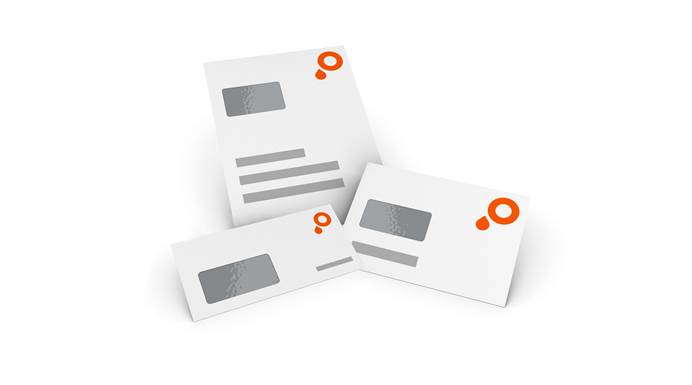 Used for:
Sending all of your business mail
To highlight special offers or deals
Direct mailings in your corporate design
Campaigns with special envelopes
We print your envelopes on uncoated paper in either 80 or 90gsm paper grammages. Our printable envelopes are opaque.
Uncoated Paper
80 | 90gsm
Uncoated paper is a strong paper type made 100% from cellulose. The age-resistant surface lends a soft tone to images, while text is easy to read. Uncoated paper can be written and printed on, making it suitable for photocopiers and printers. Standard offset uncoated paper is 80gsm, and the premium offset uncoated paper is 90gsm.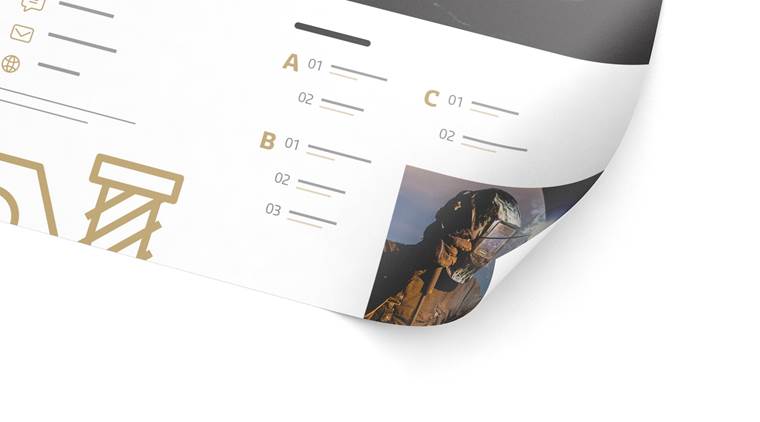 Recycled Paper
80gsm
Recycled paper consists of 100% reused paper. As well as saving wood resources, in comparison with conventional paper production, more than 70% of the energy and water used is saved. In short: Recycled paper significantly protects the environment.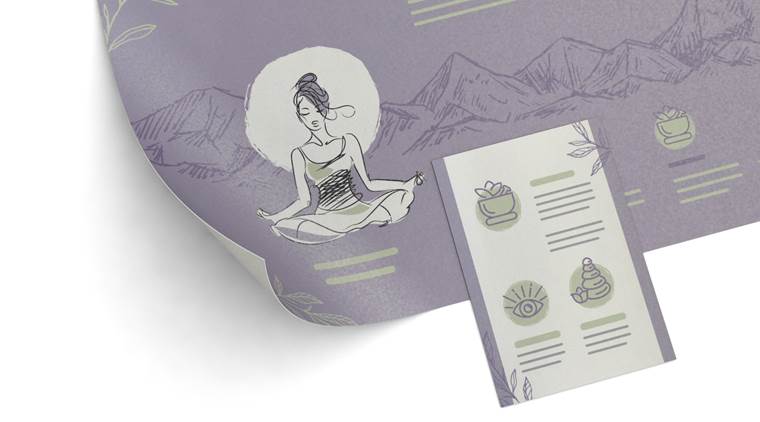 Natural Paper
80gsm
All paper that is not coated during its manufacturing process is known as natural paper. So, our natural paper is an uncoated paper, which gives products a good level of density and a premium look and feel.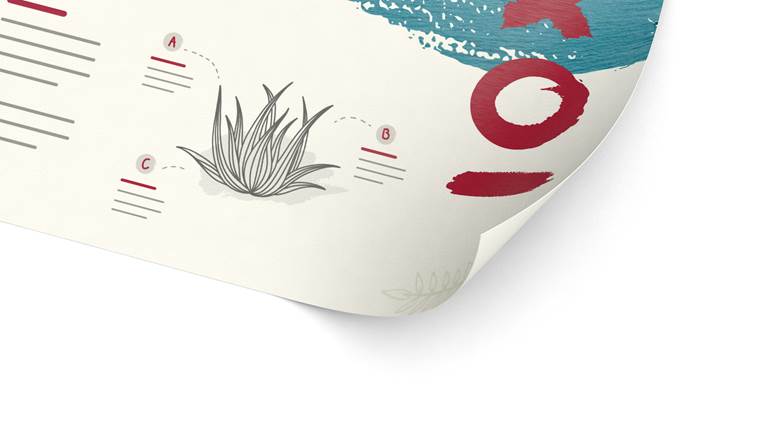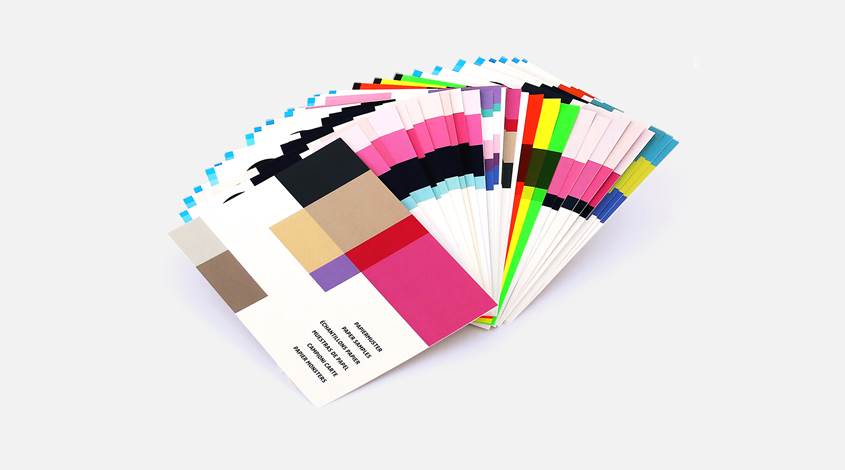 Paper Samples and Product Catalogue
With our Paper Samples Brochure, you receive an overview of all materials and finishing options. Feel the difference between offset, finish and special papers and get to know the appeal of effective UV coating and lamination.
Order Paper Samples
Formats for our Envelopes
C4, C5 and DL
With our envelopes in the standard formats of C4, C5 and DL, you can send invitation cards, information, brochures or contract documents in the usual formats A4, A5 or DL. The practical self-adhesive strip on the back makes sealing envelopes quick and easy.
Envelopes can be ordered from 10 pieces - with a window on the right or left, or without.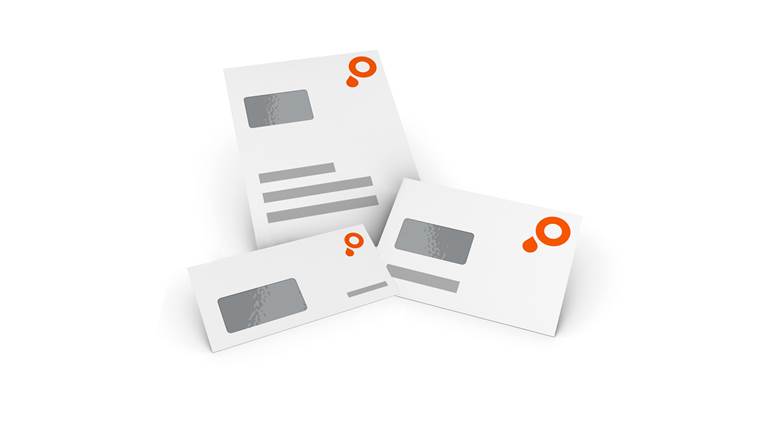 Windows
You can choose whether you want to place a window on the left or right side.
If you need help creating your print data for envelopes, you can view our envelope datasheets at any time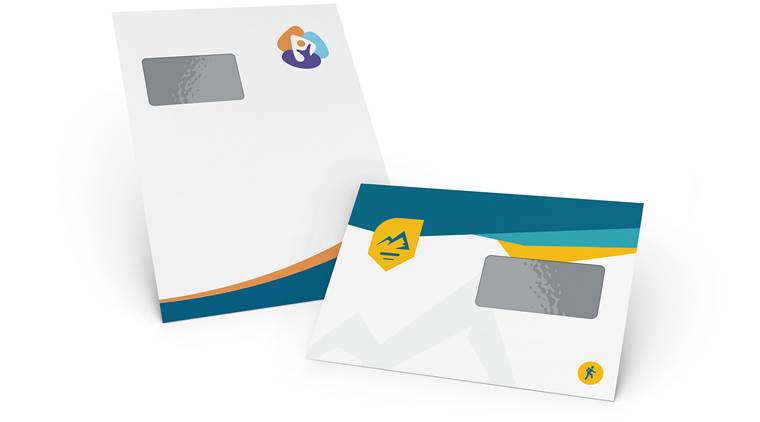 Design Envelopes Online - Online Designer by SAXOPRINT
Create Your Designs Online
Create your artwork effortlessly online without the need for graphic design software - with our SAXOPRINT Designer. You can select the Designer directly on the configuration page for many of our products. Use it to place your logo, pictures and message on your printed products.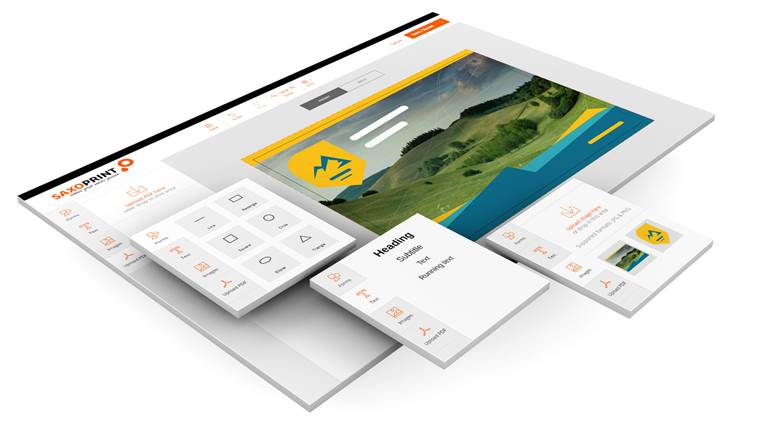 It's this easy:
1
Select product
2
Configure product
3
Create your design
4
Confirm and order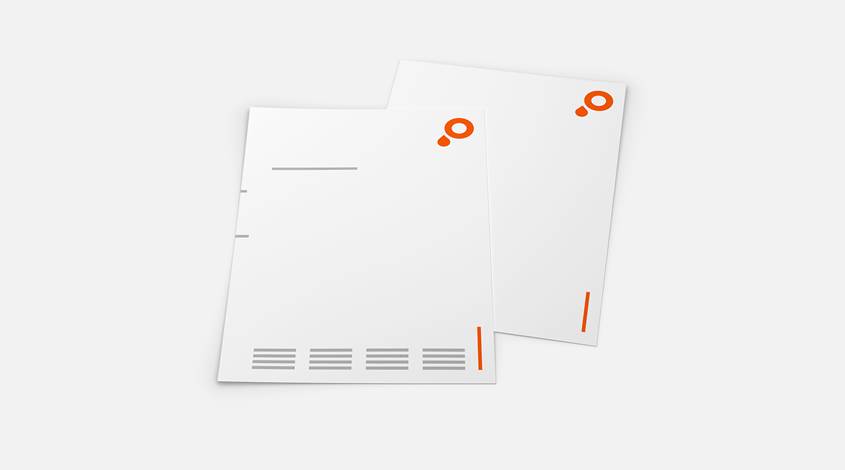 Letterheads
Professionally equipped: We also offer letterheads in standard or premium paper printed with your logo. The perfect way to represent your company consistently and professionally.
Find out more
FAQ's for Envelopes
Should I create a space in my artwork file for a window?
If you are ordering envelopes with windows, you don't need to leave a space for the window in your artwork file.
How do the inside of the envelopes look?
On the inner side of your envelopes, you will find security printing, meaning it is not possible to read the contents of your envelopes when they are sealed.
How are the envelopes sealed?
Your envelopes will be delivered with adhesive strips, so no additional moistening is required. To seal the envelopes, simply remove the paper strip that covers the adhesive and press it down. Please note that these envelopes are not suitable for machine closing.
Printed Envelopes: A Professional First Impression
Impress your customers and business partners before they even open their mail. Individual, high-quality printed envelopes make you stand out as a professional and imaginative business, right from the start. Marketers can also distinguish their advertisements from other sales letters by having creative and snappy envelopes printed. At SAXOPRINT, we are aware of these advantages and support you with innovative printing techniques, design ideas and services to give you optimal results.
Have professional envelopes printed
When you select a print run volume from our configurator, you automatically see the updated price for your printed envelopes. The larger the print run for your personalised envelopes, the lower the price for each individual unit. We print your custom envelopes according to your personal specifications in runs of up to 50,000. Absolutely individual: with your logo, images, graphics and/ or slogans on the front, back or on both sides.
5 tips for individual envelopes that get attention
1. Clever use of corporate design and logos
Envelope printing with your logo and company colours is the classic way to attract attention and strengthen your corporate image. Make sure that you choose a layout – serious or flashy – that suits the purpose of your letter (business letters, informational material, customer promotions, etc.) Use our user-friendly envelope template to create the right envelope for your needs.
2. Prominent placement for new customer promotions
Offers become eye-catchers with strategic placement. Potential customers take notice of striking advertisements, even if they never open the letter itself. In addition, your advertisement stands out from the mass of white envelopes lying on the desk. Tip: The contents of the envelope can be printed on a letterhead made of standard or premium paper, which also makes an ideal advertising letter when it is custom printed.
3. Add a confidentiality statement
Important documents like paycheques are meant to be read solely by the recipient. It is advisable to have your personalised envelopes printed with "Confidential" or "Personal" when it is appropriate for the contents. A creative advertising technique is to use the confidentiality statement as a marketing instrument to pique the recipient's curiosity to open the envelope.
4. Getting attention with colour
Our high-performance, state-of-the-art machinery guarantees brilliant print results. You can tap the full potential of our extensive colour system range: 4 colour printing, HKS and a multitude of Pantone hues create compelling envelope advertising with brilliant colours or elaborate designs. We print exclusively on top-quality paper for offset printing to ensure excellent results even with large print runs.
5. Awaken curiosity with white space
Creating mailshots so that they set themselves apart from other advertising mail is a challenge. Instead of having the entire envelope surface printed, clever use of white space is often more effective, making important information the centre of attention.
You design your envelopes with imagination – we give you the free print templates to make things even easier. We also provide you with an artwork guide to assist you in designing your envelopes. Just to stay on the safe side, we proof the layouts you send us with a standard artwork check to make sure that your files are suitable for printing. You can also order an optional PDF, galley or colour proof.
SAXOPRINT envelope printing service
Make use of our free envelope templates, tips from our blog and our artwork guide to design perfectly printable envelopes for production. The templates ensure an ideal printed result. Experience has shown that they also minimise the time and effort you spend on print file corrections, and they make it possible for us to produce your custom printed envelopes even faster. For documents that need a little more protection, we suggest using our durable mailing envelopes.
You design your envelopes with imagination – we give you the free print templates to make things even easier. We also provide you with an artwork guide to assist you in designing your envelopes. Just to stay on the safe side, we proof the layouts you send us with a standard artwork check to make sure that your files are suitable for printing. You can also order an optional PDF or galley proof.