*Notebooks starting at £180.79 (net price for 10 Notebook Classics, A5, pages: 90gsm uncoated paper)
Go to offer
Product Information for Our Notebooks
Notebooks in Overview
Elastic Closure, Pen Loop
& Coloured Page Edges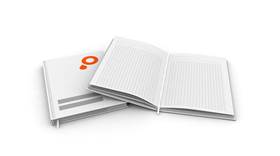 Economy
Notebook Pages:
preprinted
Cover:
4/0 Euroscale
Notebook Pages:
90gsm offset paper
Cover:
2 mm cardboard
micro perforated notebook pages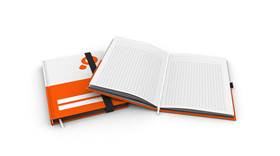 Classic
Notebook Pages:
unprinted | preprinted
Cover:
4/0 Euroscale
Notebook Pages:
90gsm offset paper
Cover:
2 mm cardboard
micro perforated notebook pages
white | silver grey | dark grey | black |
yellow | orange | red | bordeaux | green |
light blue | blue | royal blue | navy
grey grid lines
dotted grey grid lines
blank pages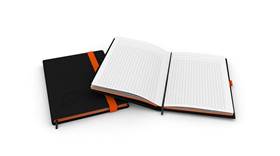 Design
Notebook Pages:
unprinted | preprinted
Cover:
black faux leather
Notebook Pages:
90gsm offset paper
Cover:
2 mm cardboard
micro perforated notebook pages
white | silver grey | dark grey |
black | yellow | orange | red | bordeaux |
green | light blue | blue | royal blue | navy
grey grid lines
dotted grey grid lines
blank pages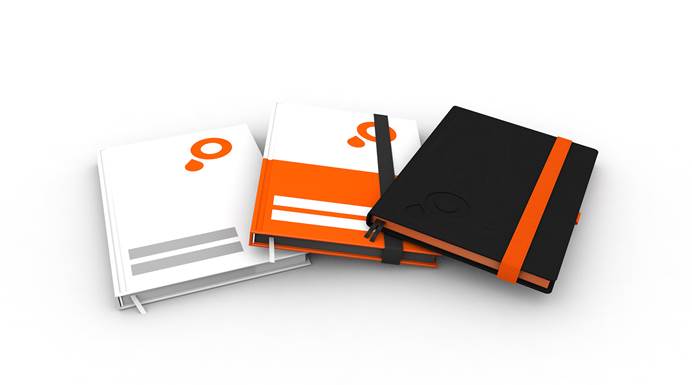 Used for:
Professional equipment for your sales team
Collecting your meeting notes and project ideas
Organising or recording the minutes of a meeting
High quality customer gifts
Which notebook model is the right one for me?
Our three notebook styles - Economy, Classic and Design - differ from each other in terms of the jacket, page design and the optional extras available. All three models are supplied with dispersion adhesive binding which provides a long-lasting, durable product for you.
Economy Notebooks
The Notebook Economy has 128 pages to keep all your notes, ideas and observations. A printable hardcover allows you to reach customers and potential customers with your message. The cover has a scratch-resistant lamination, providing extra protection and ensuring your brand has the best possible appearance. The white page marker helps you to find your place and the grey grid lines help you to write straight and organise lists and graphs. Your customers will have a dependable companion for meetings and you have an excellent way to advertise.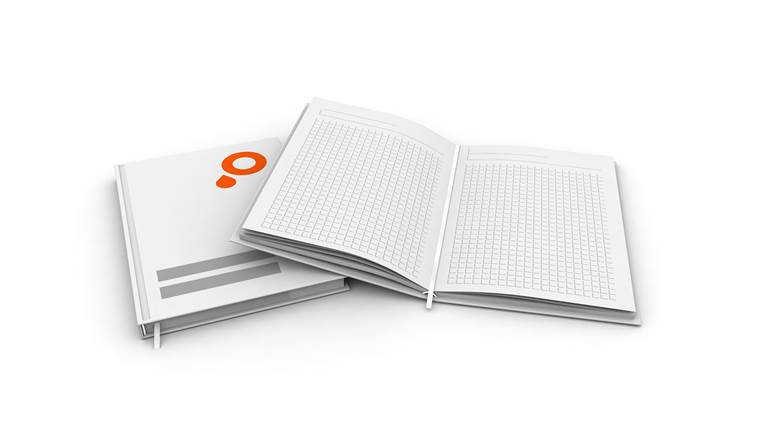 Classic Notebooks
Combine the practical benefits of a notebook with your design and choice of colour. The Notebook Classic offers different layout options for the inside pages. Choose between grey grid lines or dotted grid lines or completely blank pages. The cover is also more customisable – you can print both the front and back cover in your corporate design or recent advertising campaign. The cover is protected by an extra lamination, making the notebook resistant so it can accompany your customers everywhere.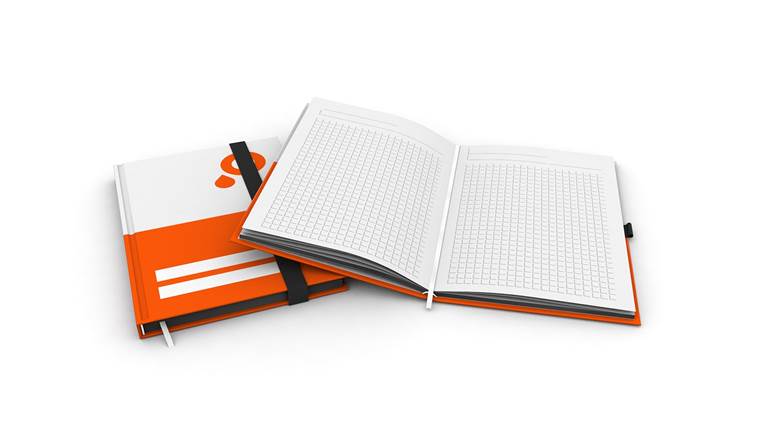 Design Notebooks
Combine your promotional giveaways with sophisticated branding. Our Design Notebooks are not only stylish, but they are convenient when you are on the go. The faux leather cover with rounded edges show your customer how much they mean to you. You can customise the colour of the elastic closure, pen loop and page edges to fit your company's corporate design, so you can be a constant reminder in your customer's work place. Whether they take the notebook to a presentation, meeting or consultation, the Notebook Design is a personal accessory that is sure to make an impression on all who see it. By choosing to blind emboss your black faux leather cover with your logo, you are guaranteed to turn heads.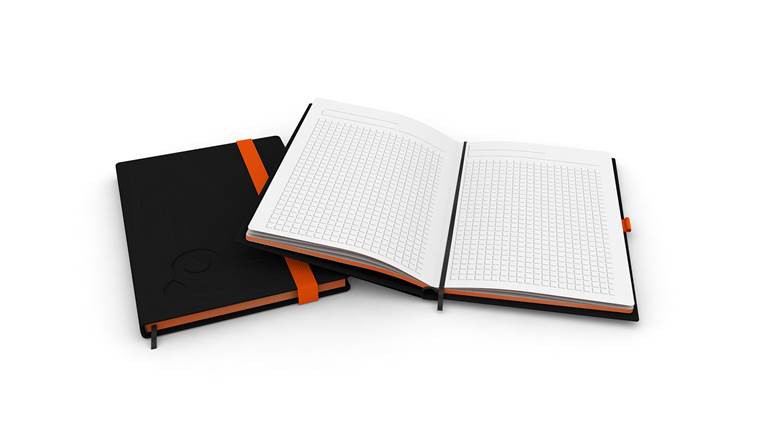 With Lamination - For Economy and Classic
Economy and Classic Notebooks are made of 2 mm bookbinding board, onto which 135gsm silk finish paper is glued. The cover is fully printed and laminated on the outside.
Tip: Design and print your own cover. Lamination offers the best protection against scratches. You have the choice of matt or glossy lamination.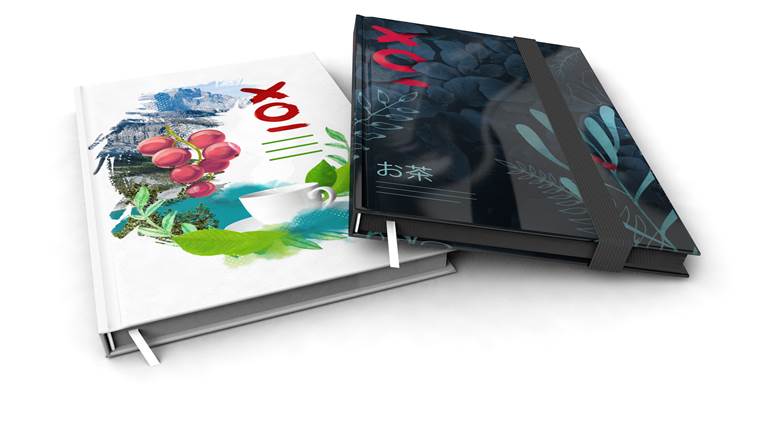 Faux Leather - For Design
Stylish and protected - the Notebook Design's cover can be blind embossed. Your design can be embossed into the faux leather in an area of 99 x 50 mm.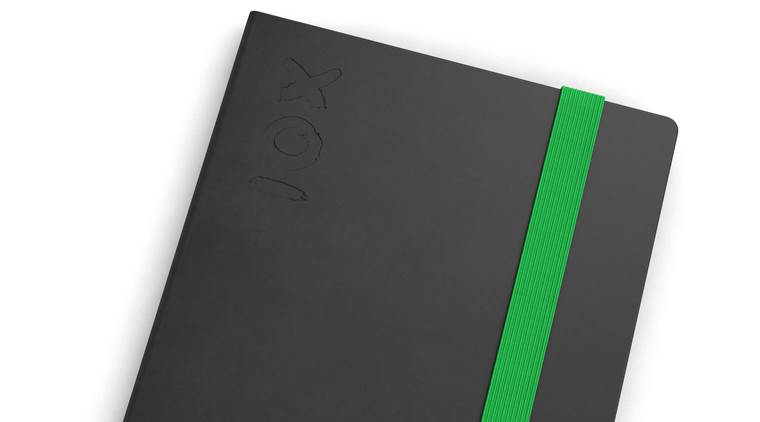 The Layout of our Notebooks
Choose the grid you want for your notebook:
Blank pages
Grey dotted grid lines
Grey grid lines
Please note: the Notebook Economy is only available with grey grid lines.
Grey Grid Lines
The grey grid lined background allows you to write your notes, ideas and meeting minutes in an orderly manner. The grid lines are dark enough to write straight, but still light enough to fade into the background, so your handwritten notes can be read.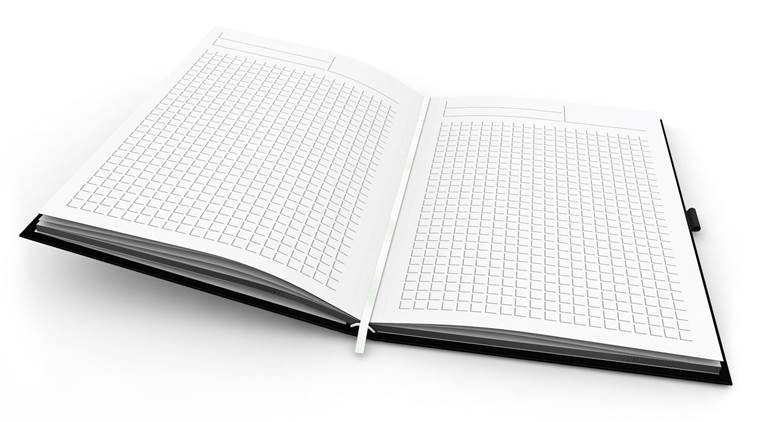 Dotted Grey Grid Lines
The dotted grid gives your sketches, tables and notes structure. The subtle grid gives you enough freedom to draw and sketch while still giving you orientation for taking orderly notes.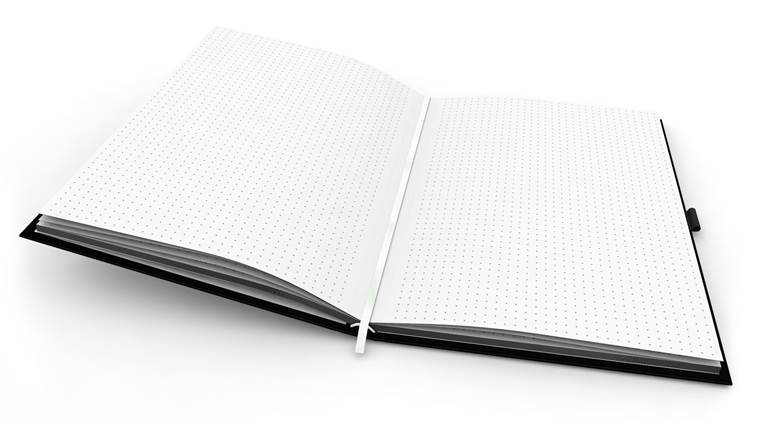 Blank Pages
Perfect for drawing, sketching freehand and lettering of all shapes and sizes. The blank pages give you the freedom to collect your ideas in any way you want. The white unprinted pages are the perfect starting point for your creative projects.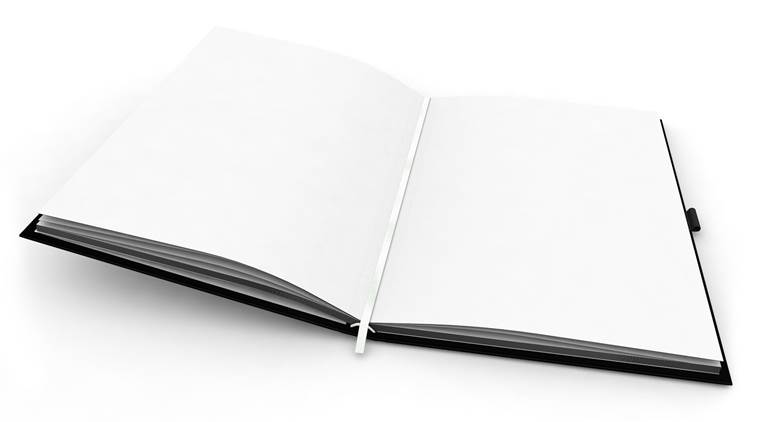 Micro Perforation
Every page has a micro perforation, making them easy to tear out. The perforation is barely visible and the page is secure inside the book.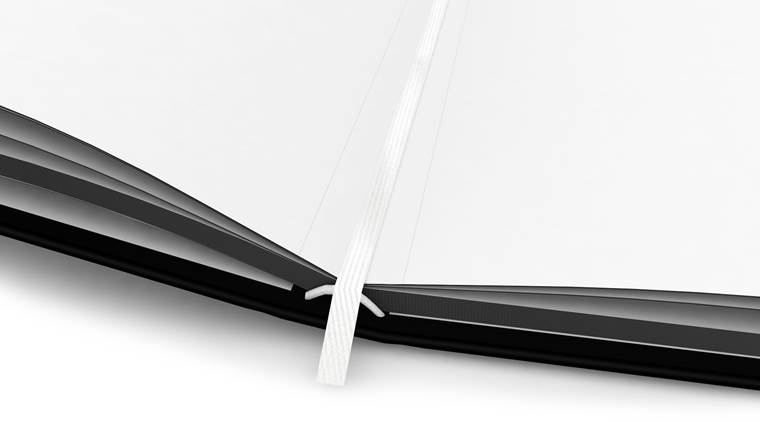 Pocket - for Classic and Design
Use the pocket for your loose notes. The pocket is in the back of the book and has enough room for all of your notes.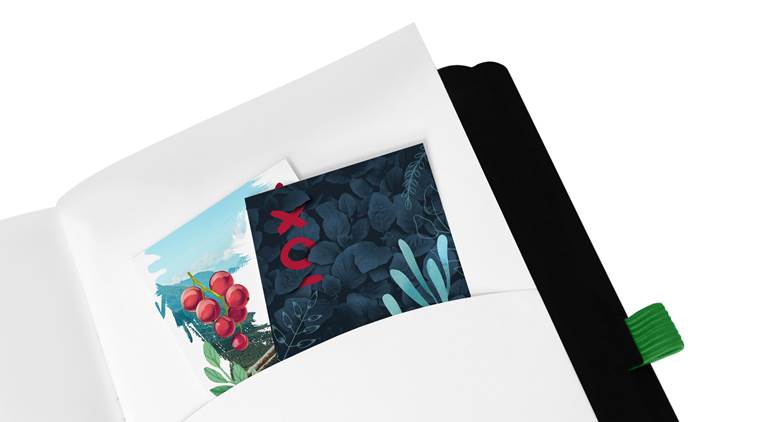 Extras: Elastic Closure, Elastic Pen Loop and Coloured Page Edges
For the Classic and Design Notebook models, you can also select practical and visually appealing extras. With an elastic closure band, you can make your notebooks can be securely closed - this is always included with our Design Notebooks. Your favourite pen will always be on hand with an elastic pen loop. By adding coloured page edges in your company colours, you can be sure your notebooks will be a real showstopper. Your selected colour will be used for all three extras.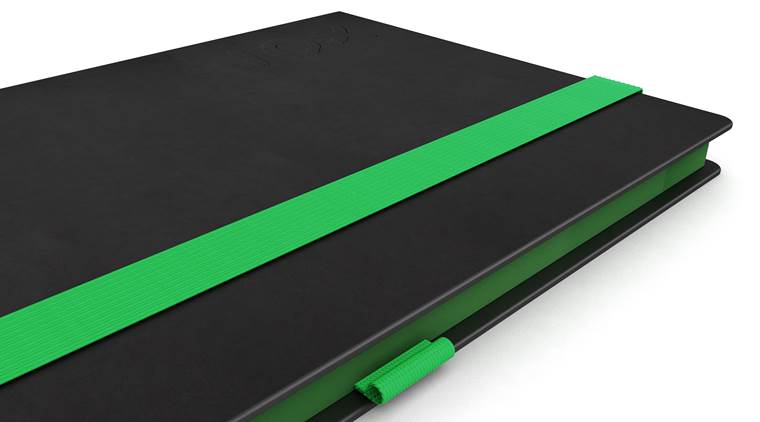 Tips About Blind Embossing (For Design Notebooks)
The Notebook Design is available with blind embossing on the front cover. Your embossed design can be up to 99 x 50 mm. You can communicate the position of your embossing using your artwork file. Just position your design as a vector graphic in 100% black in the desired spot. We will then use a specifically made stamp to emboss your design into the faux leather.
It's important to note that the lines of the embossed design should not be too thin, small or detailed.