*Notebooks starting at £180.79 (net price for 10 Notebook Classics, A5, pages: 90gsm uncoated paper)
Go to offer
Product Information for Our Notebooks
Notebooks in Overview
Elastic closure, elastic pen loop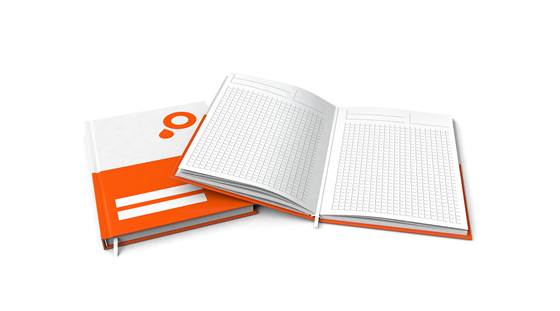 Classic
Notebook Pages:
preprinted, grey grid lines
Cover:
4/0 Euroscale
Notebook Pages:
90gsm offset paper
Cover:
2 mm cardboard
micro perforated notebook pages
straight (128 sides)
round (192 sides)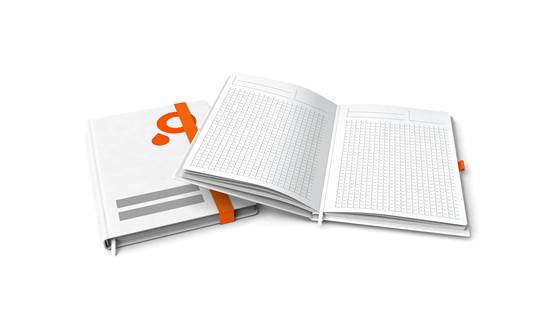 Premium
Notebook Pages:
preprinted, grey grid lines
Cover:
4/0 Euroscale
Notebook Pages:
90gsm offset paper
90gsm cream-coloured writing paper
90gsm recycled paper
Cover:
2 mm cardboard
micro perforated notebook pages
silver grey | black | yellow | orange | red | green | blue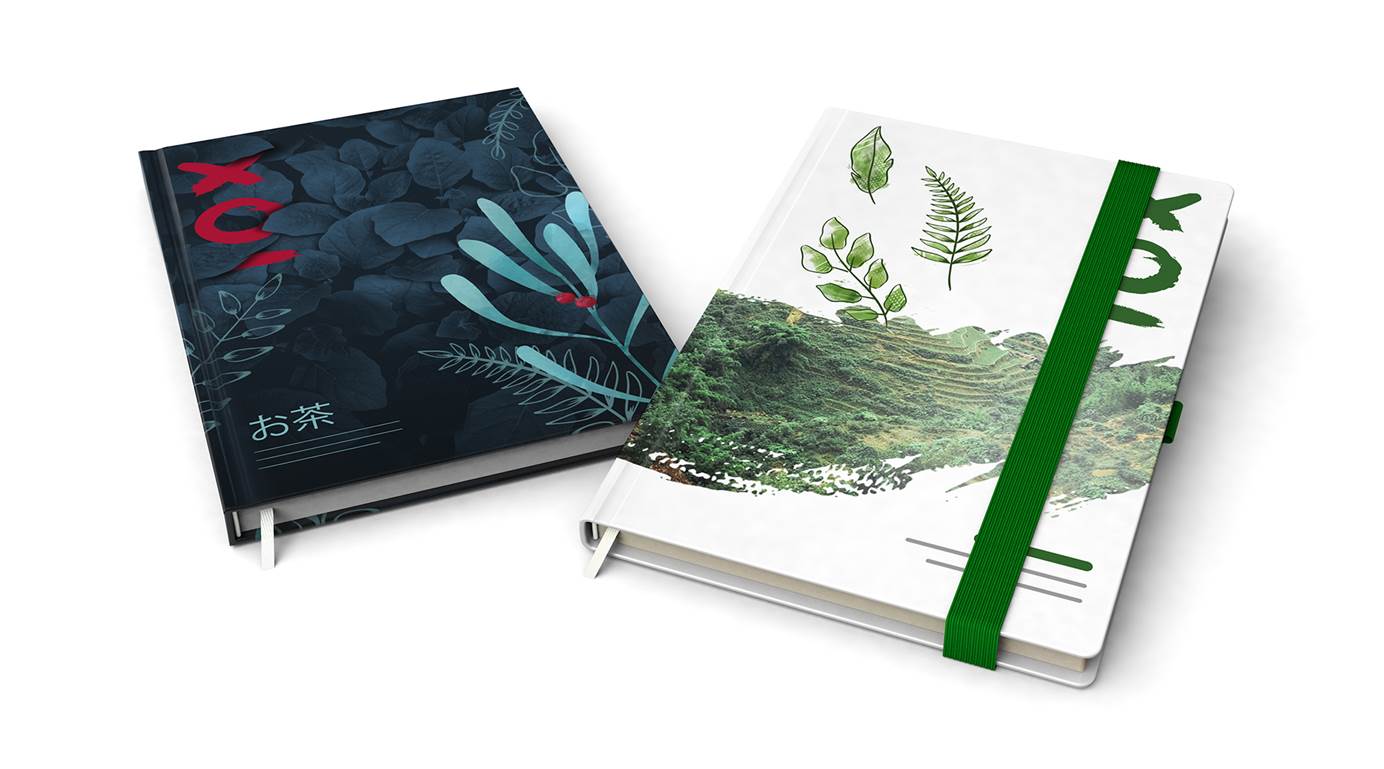 Used for:
Professional equipment for your sales team
Collecting your meeting notes and project ideas
Organising or recording the minutes of a meeting
High quality customer gifts
Which notebook model is the right one for me?
Our two notebook styles - Classic and Premium - differ from each other in terms of the optional extras available. Both models are supplied with dispersion adhesive binding which provides a long-lasting, durable product for you.
Classic Notebooks
Keep your ideas and thoughts within easy reach using our Classic Notebook in either the 128 or 192-sheet version. The 90gsm grey squared offset paper is printed on both sides and ideal for keeping your notes, minutes, and to-do lists easily navigable; it's also perfect for drawing up tables. Available in either a matt or gloss finish, the hardcover sleeve accomodates an all-over four-colour layout printed with high colour effect. A wafer-thin laminated coating makes the notebook cover wipe-off clean, offering protection from stains and scratches, and each page can be torn out from the pad easily and tidily thanks to vertical micro-perforation. In addition, the ribbon page marker helps you find your most recent notes quickly. Make this notebook your trusty assistant - and use the personalised design options to turn it into a personal trademark!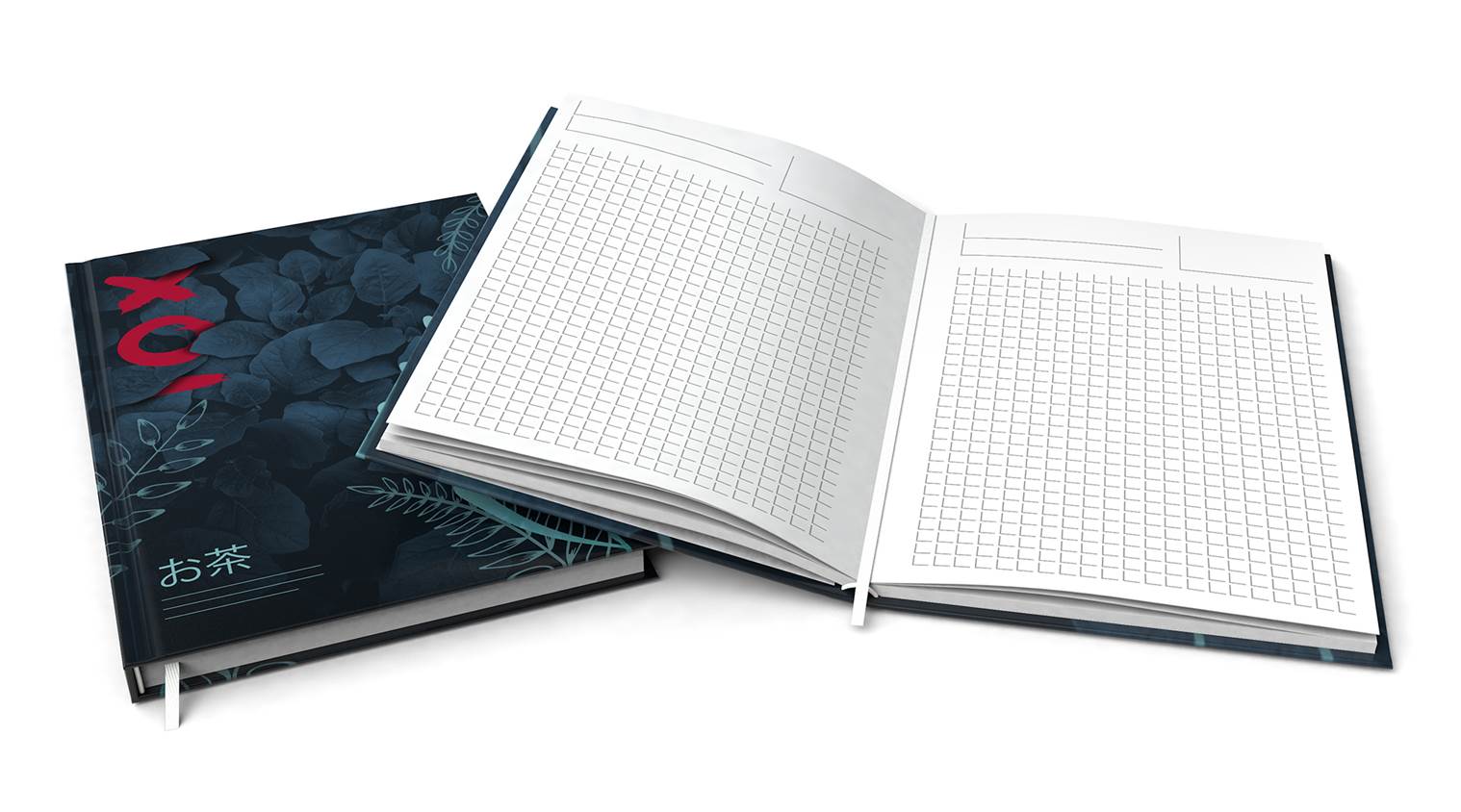 Premium Notebooks
Available in seven contemporary colours, our Premium Notebook has a range of useful features, including a pen holder loop and an elasticated closure band to keep the notebook shut and stop pages getting dog-eared. In addition, the ribbon page marker helps you find your most recent notes quickly, and each sheet has a vertical micro-perforation, making it easy to tear out easily and tidily.
Customise the 90gsm offset paper to match your personalised design, choosing between cream-coloured writing paper or recycled sheets. Both options offer high quality and stability.
With our Premium Notebook option, you can print the whole surface of the hardcover sleeve. The gloss laminated finish helps your colours to shine - and keeps your notebook looking good for longer.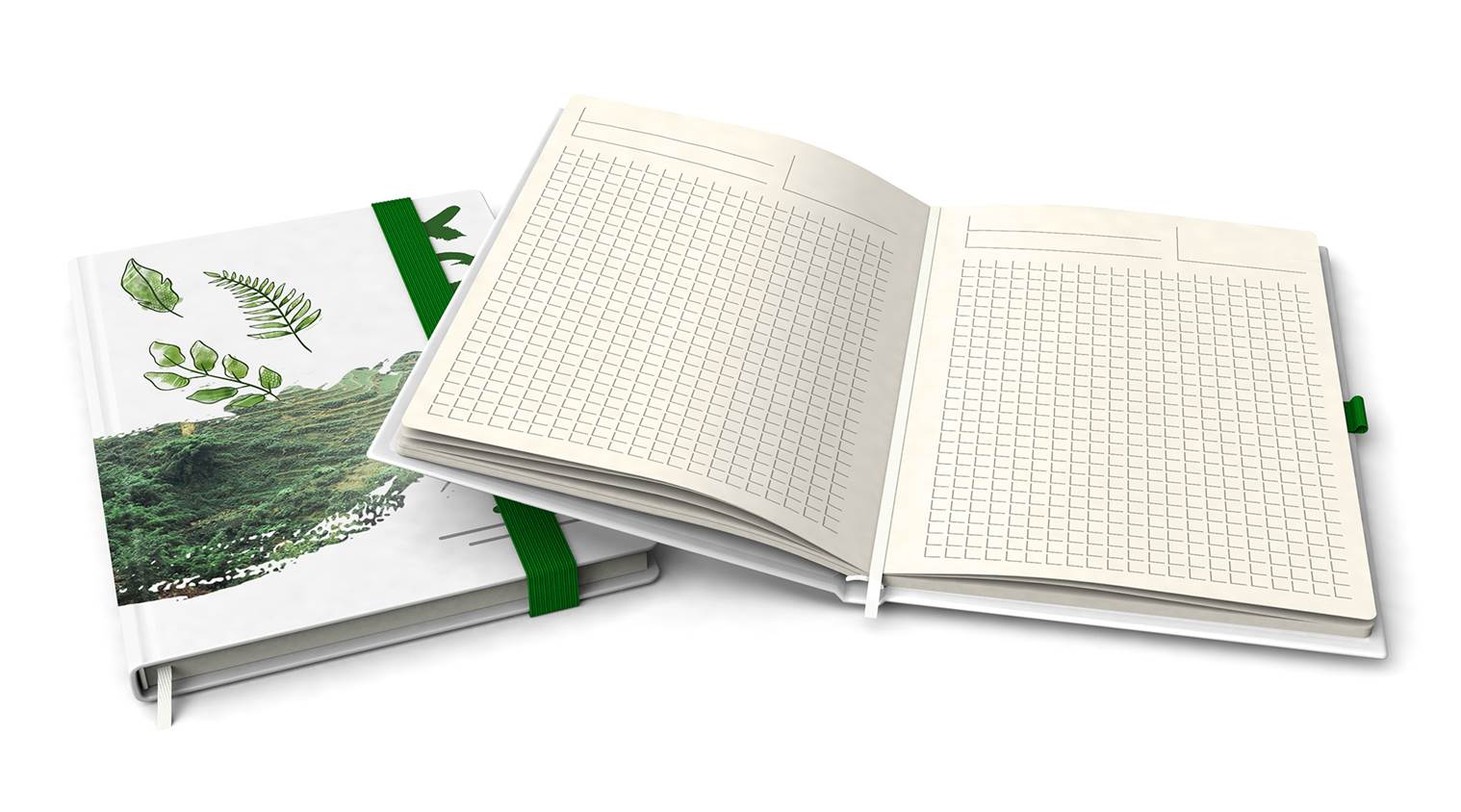 Lamination - Finishing your notebook
Our notebooks have a hardcover sleeve made of 2mm bookbinding board, onto which 135gsm matt silk finish paper is glued. The outside of the cover is fully printed and laminated, giving the colours more intensity and keeping your notebook safe from stains, scratches, etc. What is more, why not design and print your own custom cover? The laminated hardcover sleeve offers the best possible protection for your notes, and can be ordered in a matt or gloss finish.
Tip: Design and print your own cover. Lamination offers the best protection against scratches. You have the choice of matt or glossy lamination.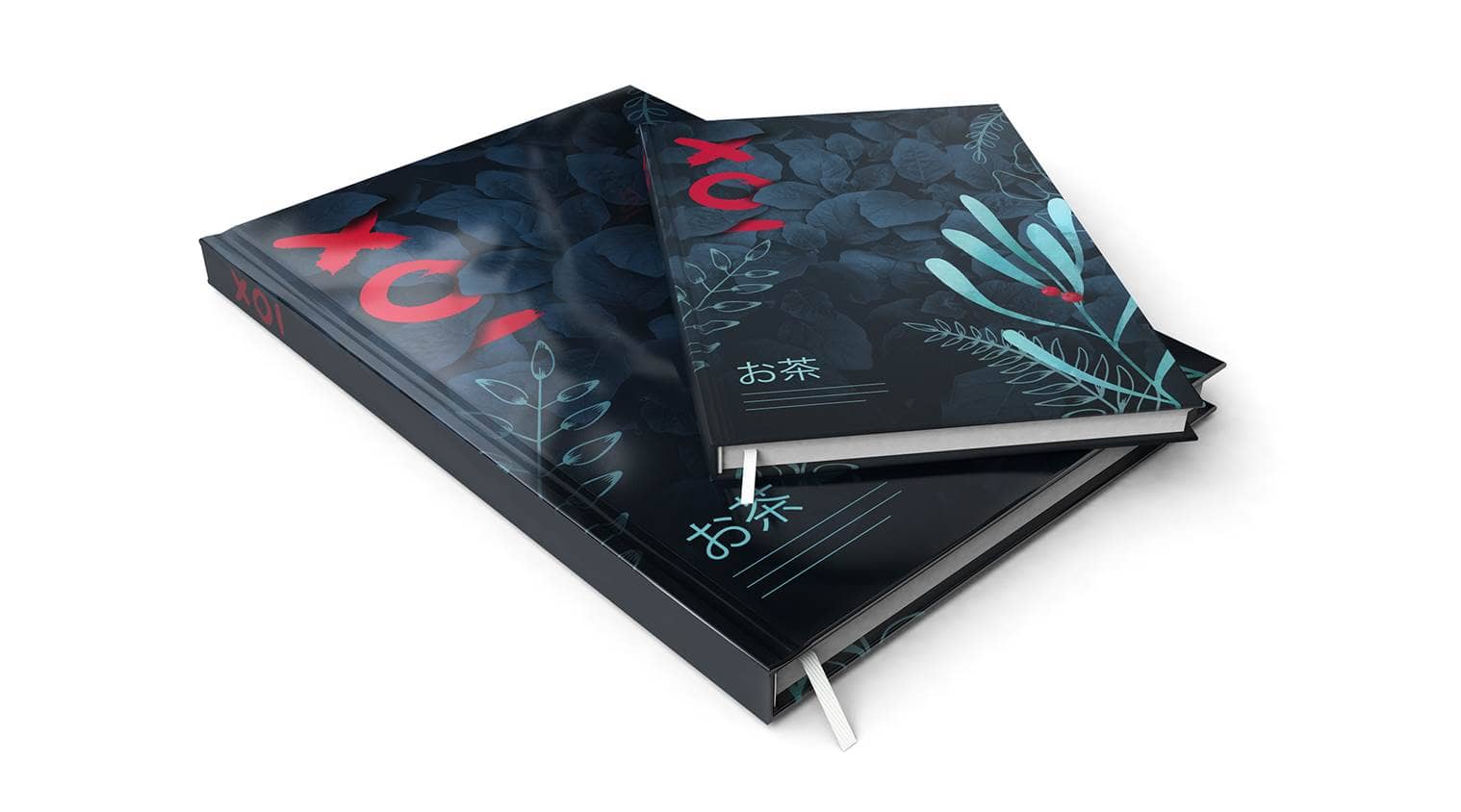 The Pages of our Notebooks
Grey Grid Lines
The grey grid lined background allows you to write your notes, ideas and meeting minutes in an orderly manner. The grid lines are dark enough to write straight, but still light enough to fade into the background, so your handwritten notes can be read.
Micro Perforation
Every page has a micro perforation, making them easy to tear out. The perforation is barely visible and the page is secure inside the book.
Our Materials for your Notbooks
Both notebook versions use 90gsm uncoated offset paper. Uncoated paper can be written and printed on (on both sides) using all types of pencil, pen, and ink. For the Premium Notebook, we offer two additional types of paper: cream-coloured writing paper and recycled paper. Along with a matching coloured page marker, the soft cream tone of our writing paper gives your notebook an impressive, high-quality look and feel. Our recycling paper is a low resource-intensity option, with up to 60% less water and energy used in production.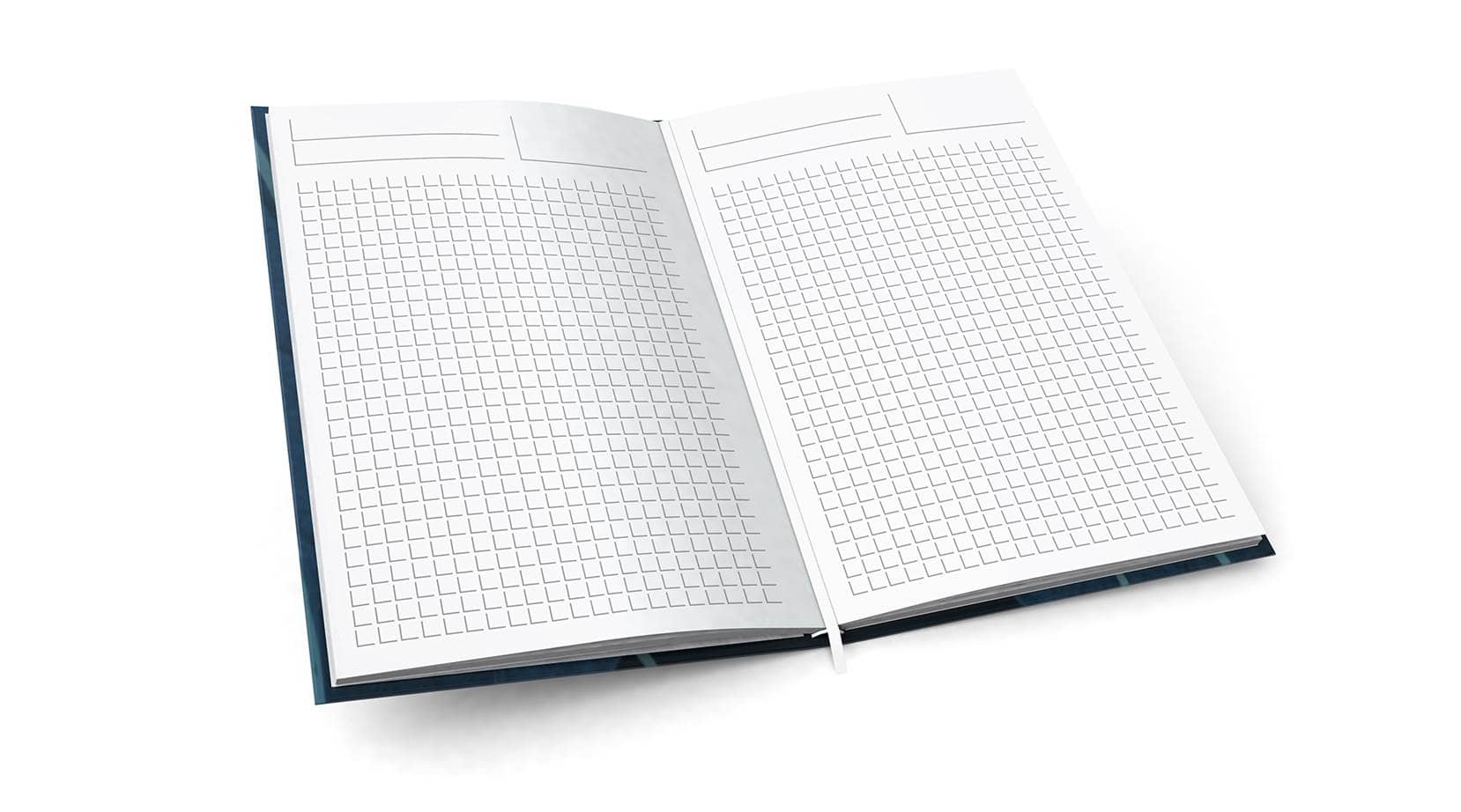 Questions about our notebooks
Which size is the right one for me?
You can order your SAXOPRINT notebooks in two sizes: A4 and A5. These two standard paper sizes respond to different specifications, so think about what you need the notebook(s) to do.
Thanks to its practical 148x210mm dimensions, A5 is the perfect size for notebooks intended to be portable as it fits easily into many pockets and small bags. So for taking notes or jotting down ideas while travelling for business, for instance at a trade fair, an A5 notebook is an absolute must.
The larger A4 format measures 210x297mm, so notebooks of this size are more suitable for extensive notetaking or even drawings and sketches, for which they offer plenty of space. They are also more comfortable for people whose handwriting is larger.
What is the best way to customise my notebook cover?
If you are intending to use notebooks as promotional gift items, then it is very important for your company logo or the key message to be prominently positioned on the cover. Depending on the precise nature of your advertising message, it might be best placed on the front or the back cover, or indeed on either side. We recommend making sure that the desgin doesn't stretch over both covers, however, as this doesn't work very well in visual terms. For best results, use our free print templates.
An ideal way to underscore elements of your corporate design on our Premium Notebook is to select the best match from the seven colour options available for the elasticated closure band and pen holder loop. We would recommend opting for colours which contrast with the cover (e.g. orange band and loop for a dark blue cover) as this will attract attention to the notebook.
How do I keep a notebook tidy?
Whether you are taking the minutes of a meeting or simply jotting down ideas or writing notes as you talk to somone, it is easy to let a notebook get untidy, unmanageable even - despite the fact that notebooks are intended to help you keep things organised! There are a couple of easy tricks, however, for keeping things well structured.
One common mistake is to take overly lengthy notes. Instead, it's best to stick to single keywords in order to keep your notes manageable. You might also have wondered whether it's a good idea to keep different notebooks for different topics, and this indeed another way to make sure your notes don't get out of control: try using different colours for varying purposes so that you can tell them apart easily even if you keep all of your notebooks are in the same place.
Our notebooks offer a range of other features which will help you keep your notes structured. The squared layout makes it just as easy to use the notebooks in landscape as in portrait format, which opens up possibilities such as drawing diagrams, thought-maps, schematics. Also, the micro-perforation helps you to remove pages tidily, without tears for use elsewhere - e.g. on pinboards as to-do lists or scanned into your computer.
Which pen is the right one for you?
No-one can tell you what kind of pen or pencil to use in your own notebook! If you want our advice, though, here are a few things you might want to think about.
Opt for pens with quick-drying ink. Otherwise, you could quickly end up smudging your notes to the point of being illegible if you shut your notebook at the wrong moment. And while pencils may, at first glance, look like a good idea as writing can be erased and corrected if necessary, the lead, too, can smudge and become difficult to read.
Another consideration is ink that does not blot through your paper: this can lead to you wasting space in your notebook and also make it look untidy, unprofessional even.