NCR Printing in overview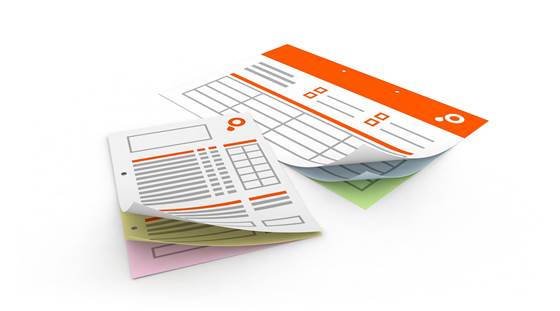 Sets
A4
A5
A6
105 × 210 mm
100 × 210 mm
99 × 210 mm
from 1,000 to 50,000 units
with numbering
without numbering
1/0 | 1/1 black
1/0 HKS
1/0 Pantone
1/1 HKS / black
1/1 Pantone / black
2/0 black + HKS
2/0 black + Pantone
2/1 black + HKS / black
4/0 Euroscale
4/1 Euroscale / black
4/1 Euroscale + black
5/0 Euroscale + HKS
5/0 Euroscale + Pantone
80gsm carbonless paper white
60gsm carbonless paper
white | pink | blue | green | yellow
glue binding top | glue binding spine
without holes
hole-punched twice (left)
hole-punched 4 times (left)
hole-punched twice (top)
hole-punched 4 times (top)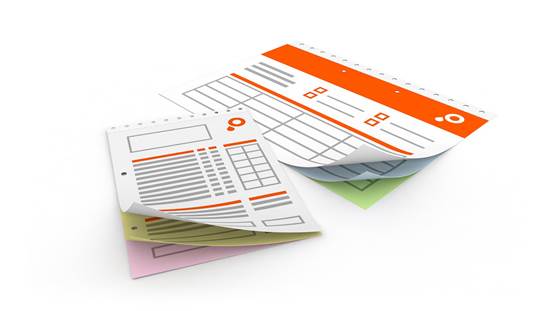 Snap Sets
A4
A5
A6
105 × 210 mm
100 × 210 mm
99 × 210 mm
from 2,000 to 50,000 units
with numbering
without numbering
1/0 | 1/1 black
1/0 HKS
1/0 Pantone
1/1 HKS / black
1/1 Pantone / black
2/0 black + HKS
2/0 black + Pantone
2/1 black + HKS / black
4/0 Euroscale
4/1 Euroscale / black
4/1 Euroscale + black
5/0 Euroscale + HKS
5/0 Euroscale + Pantone
80gsm carbonless paper white
60gsm carbonless paper
white | pink | blue | green | yellow
perforation top | perforation left
without holes
hole-punched twice (left)
hole-punched 4 times (left)
hole-punched twice (top)
hole-punched 4 times (top)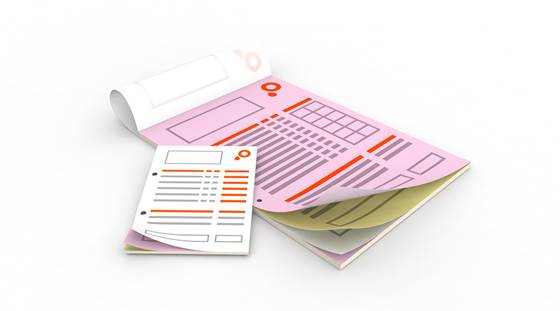 Pads
A4
A5
A6
105 × 210 mm
100 × 210 mm
99 × 210 mm
with numbering
without numbering
1/0 | 1/1 black
1/0 HKS
1/0 Pantone
1/1 HKS / black
1/1 Pantone / black
2/0 black + HKS
2/0 black + Pantone
2/1 black + HKS / black
4/0 Euroscale
4/1 Euroscale / black
4/1 Euroscale + black
5/0 Euroscale + HKS
5/0 Euroscale + Pantone
80gsm carbonless paper white
60gsm carbonless paper
white | pink | blue | green | yellow
glue binding top | glue binding spine
without holes
hole-punched twice (left)
hole-punched 4 times (left)
hole-punched twice (top)
hole-punched 4 times (top)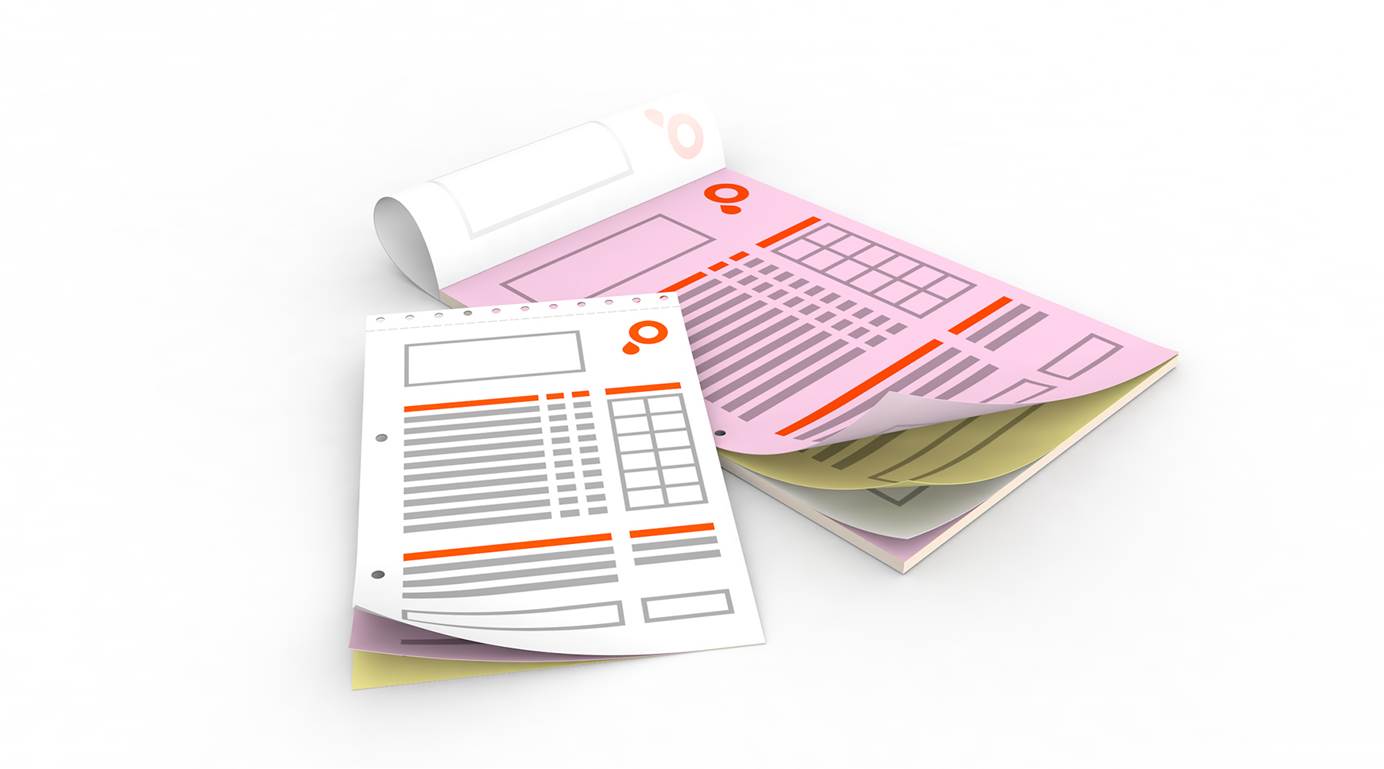 Used for:
Transport papers and delivery receipts
Invoice and receipt pads
Contract forms and applications
Order lists and cash books
Records and reports
NCR Sets
Our NCR sets consist of a top sheet and up to 3 copy sheets. They are bound together with glue on the top or left side and are easy to separate.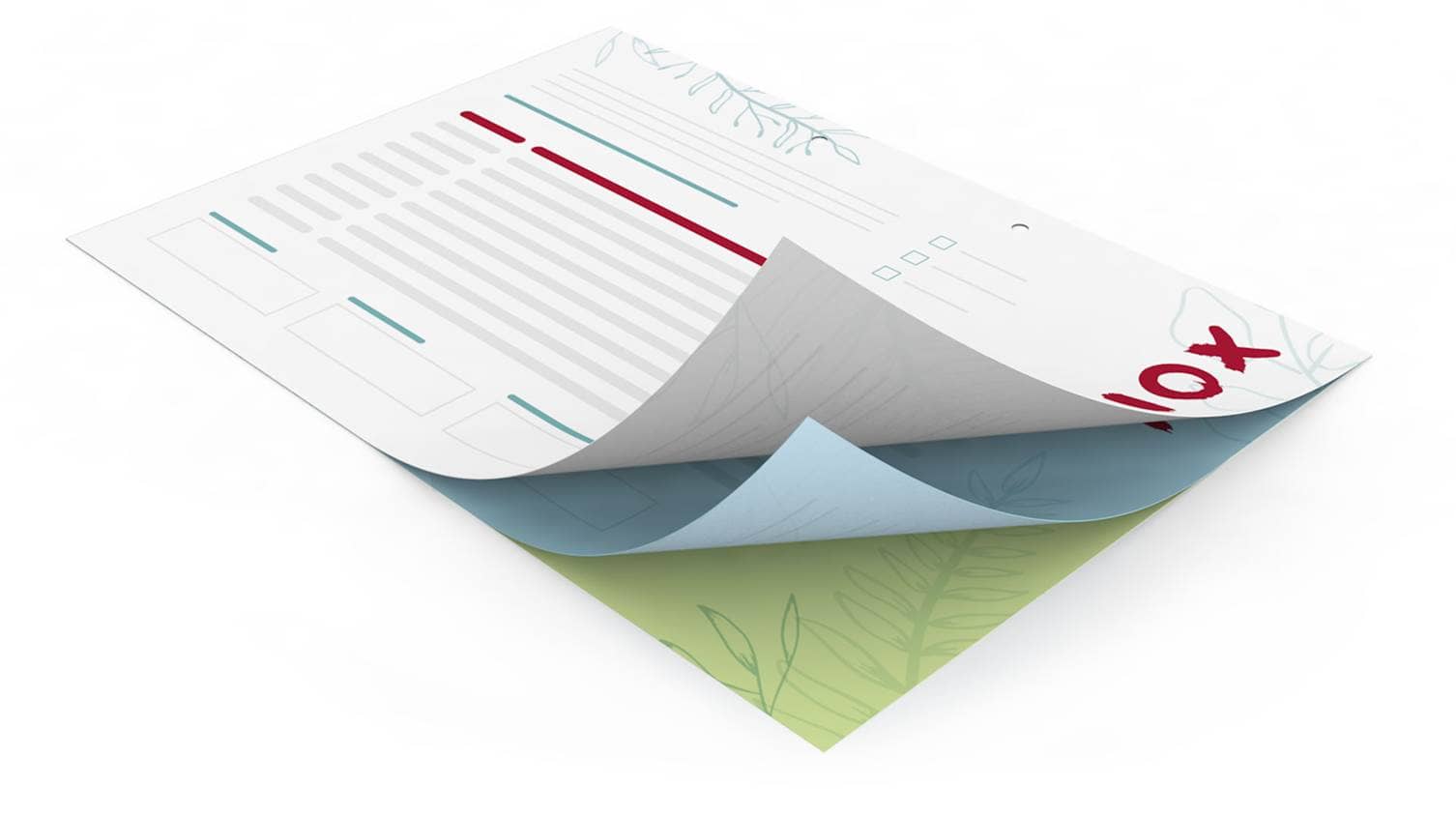 NCR Snap Sets
NCR snap sets are not glued - they are bound with a perforated strip. The individual sheets stay in place and are easily separated by removing the perforated stub. Optional hole punching at the top or left side is available for easy storage in a binder.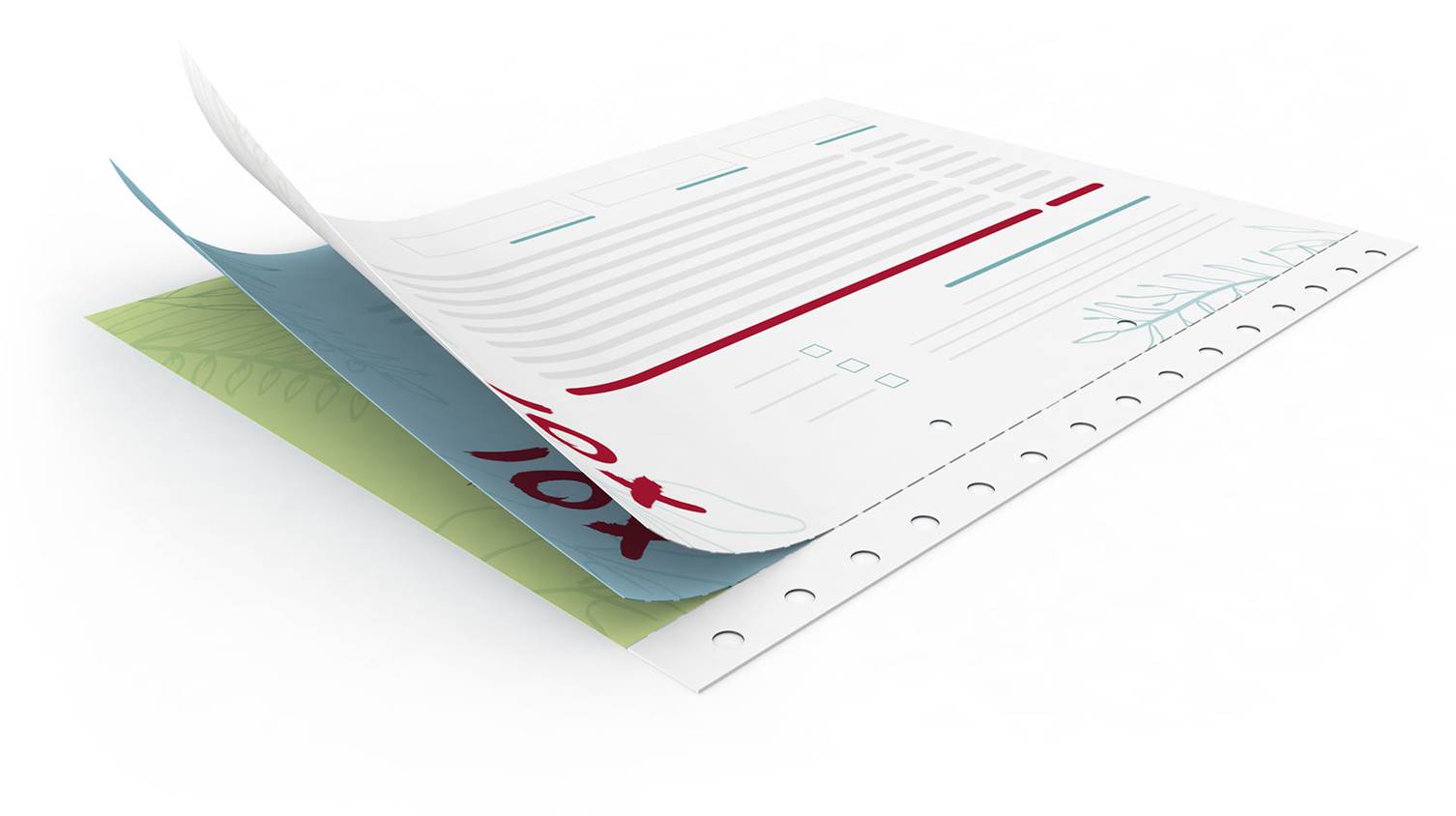 NCR Pads (glue binding)
NCR pads consist of 25 or 50 individual sets and are bound with glue at the top or on the left side. Especially for times when mulitple sets are needed, it is an advantage to have many sets in one place.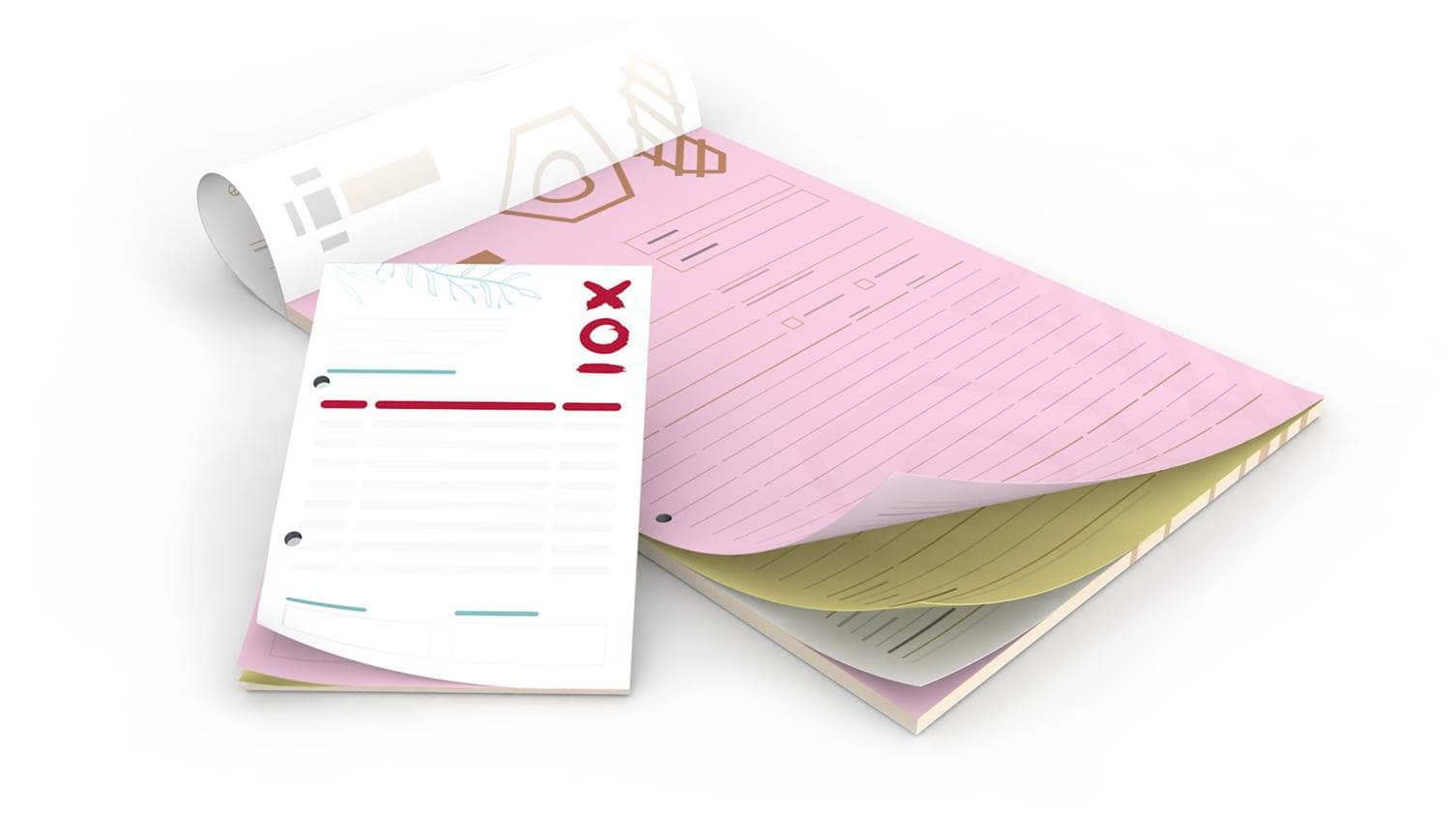 Materials for NCR Printing
Carbonless Paper
You can order NCR sets with 2, 3 or 4 sheets per set. The first sheet in the set always has a paper grammage of 80gsm and is white. The other sheets have a paper grammage of 60gsm and we can produce them in white, pink, blue, green or yellow. The final sheet is not carbonless and, therefore, no writing traces will appear on the next pages.
Please note that when printing on the coloured copy sheets, the print colour can vary from the top white sheet.
If you want to print on the reverse side, please create your artwork in black. To avoid text showing through on the front side, all printing on the reverse side will be done in HKS 96 (grey).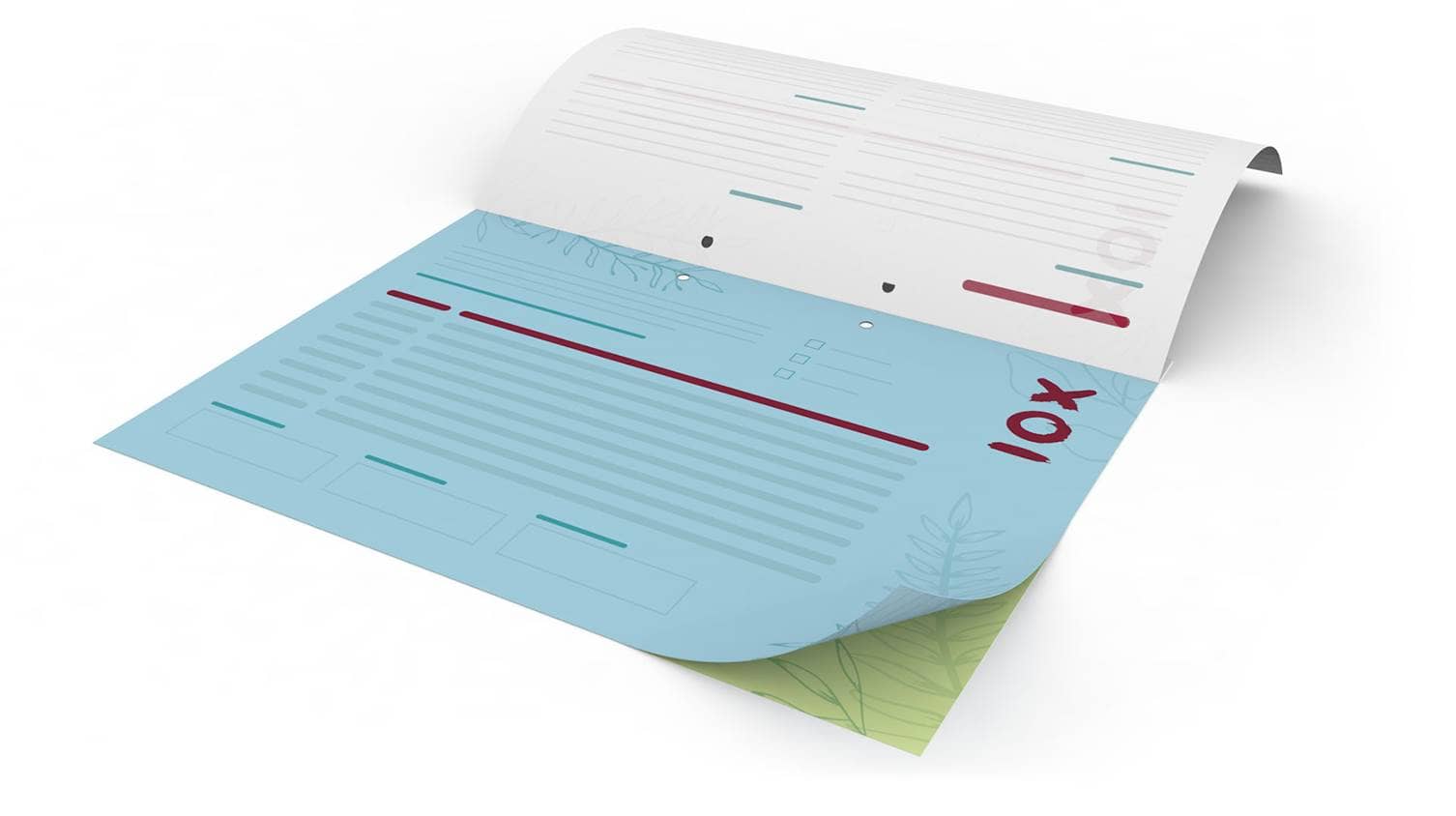 Design NCR Pads Online - Online Designer by SAXOPRINT
Create Your Designs Online
Create your artwork effortlessly online without the need for graphic design software - with our SAXOPRINT Designer. You can select the Designer directly on the configuration page for many of our products. Use it to place your logo, pictures and message on your printed products.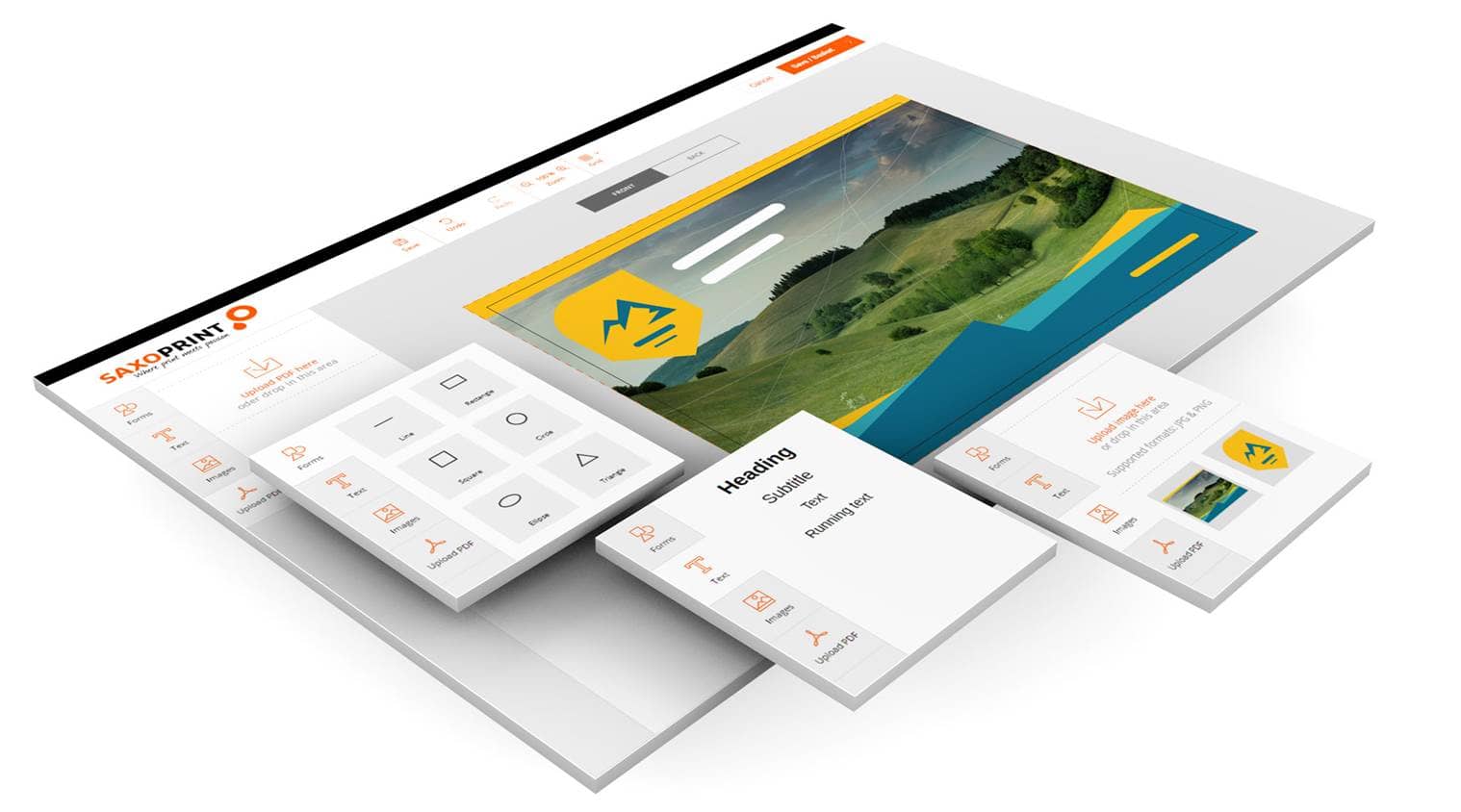 It's this easy:
1
Select product
2
Configure product
3
Create your design
4
Confirm and order
FAQ's for NCR Printing
Can the back page of NCR pads be printed?
Yes. You also have the option to print the reverse side of your NCR sets. Printing is done in a black colour mode. In order to prevent the print shining through the print is done in the grey HKS 96.
My company logo has a certain HKS/Pantone colour. Can I have this shade printed?
Yes, to print HKS or Pantone colours, it is important that you do not order 4/0-coloured printing but 5/0-coloured printing (4/0-coloured Euroscale + HKS/Pantone). Alternatively, you can, of course, order 2/0-coloured (black + HKS/Pantone) if you only want to print black text along with your special colour.
Please note that for NCR sets, spot colours are available from:
2,000 units in A4
2,500 units in A5
5,000 units in A6
5,000 units in DL
How do I add consecutive numbering?
Please mark the position of the numbering in your artwork with a text box and type seven "X"s into it. The text box should be created as a spot colour channel and should be labelled as "numbering". Please note: the numbering is printed in font size 5 mm | 14 pt (font Gothic) and a range of at least 21 x 5 mm is required for seven digits to fit in the box.