Product Information for Pop-Up Tents
Pop-Up Tents in Overview
Size
3 × 3 m
3 × 4.50 m
3 × 6 m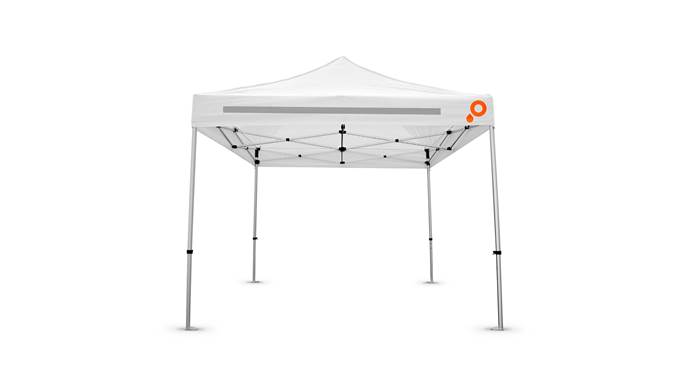 Used for:
Equipment for outdoor events
Gastronomy or shop tents for street fairs and flea markets
Information tents for mobile activities
Protecting work outdoors
Sport and sales events
3 x 3 m Pop-Up Tents
The smallest of all our pop-up tent sizes is the square 3 x 3 m format. Tents in this size are often found at street fairs or weekend markets. Associations and non-profit companies use this size to present themselves clearly, impressively and professionally at public events such as festivals or sports events. This tent size is also advantageous at trade fairs because it does not take up so much space.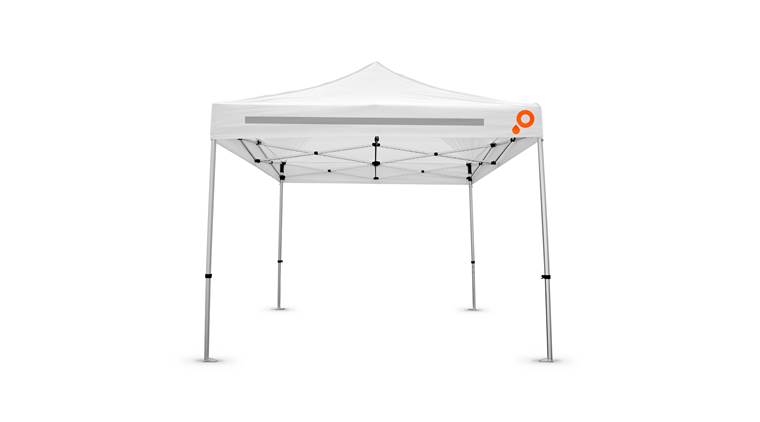 3 x 4.5 m Pop-Up Tents
With a format of 3 x 4.5 m, this medium-sized format is well-suited as a catering tent, trade fair tent or advertising tent for indoor events. As with the other formats, you can adjust the height of the pop-up tent. It has a maximum height of 2.30 m.
3 x 6 m Pop-Up Tents
The largest pop-up tent of 3 x 6 m covers a total area of 18 m². They are particularly suitable for covering larger items such as beer tables or deckchairs. They can also be used as an exhibition stand as they offer ideal protection from the sun and bad weather.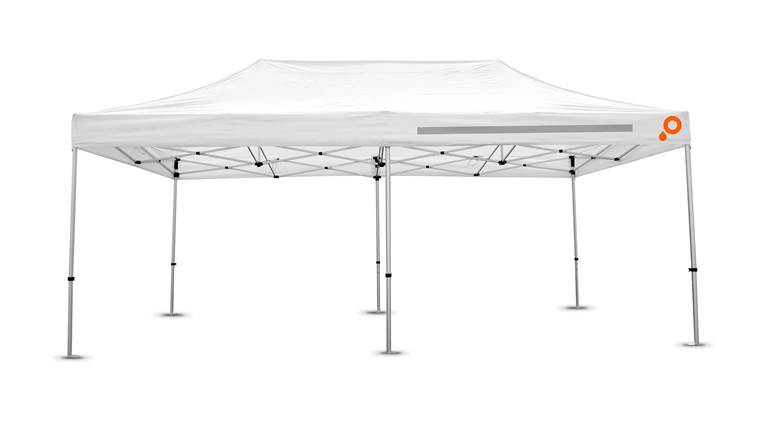 Material for Pop-Up Tents
Our pop-up tents provide optimum protection from wet and cold (provided that the side walls are in place). They can be used at all times of the year, can be quickly assembled and prove a real head-turner with an attractive design. Other benefits include:
High stability with extra-strong 2 mm aluminium profiles, bases, tension cords and tent pegs
Easy to transport thanks to the aluminium frame and convenient trolley
Simple and flexible setup thanks to patented 4-way height-adjustable pop-up frame
PU coating efficiently protects material optimally from UV rays and the effects of the weather (100% waterproof)
Side walls fully printed, available with door or window options
Flame-retardant (B1-certified)
600D Polyester Material
The 600D polyester material is a strong, coated and subsequently water-repellent materal for outdoor use. It is also flame-retardent and B1-certified.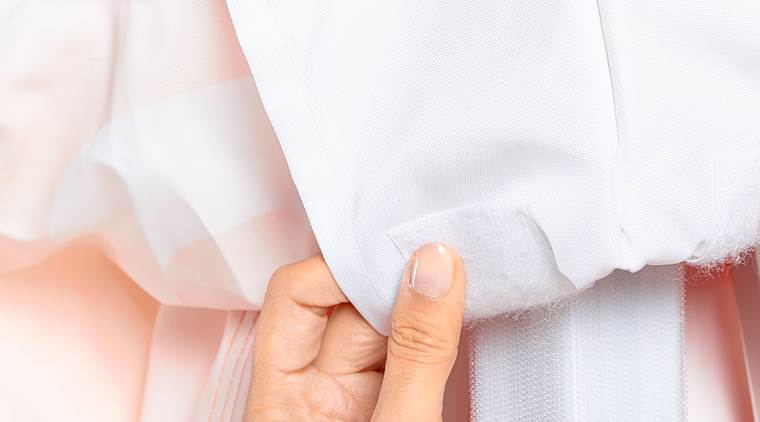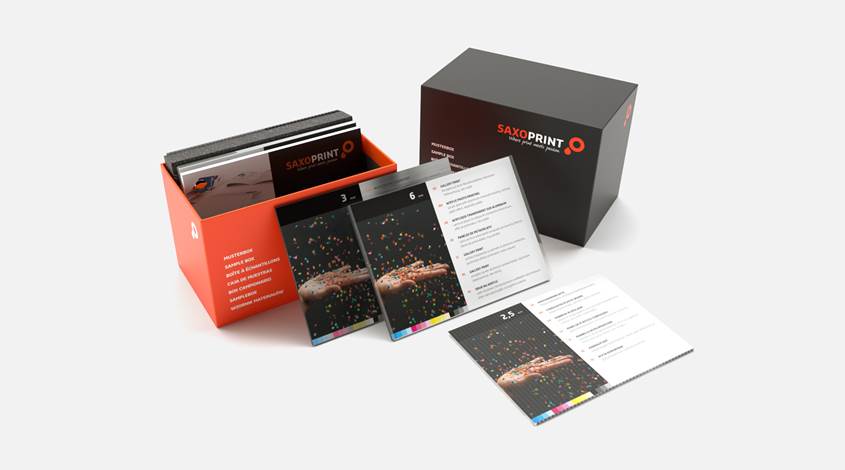 Material Sample Box & Paper Samples Brochure
Convince yourself of the print quality of the materials and finishing options we have to offer. The Sample Box contains all the materials for our Advertising Technology products, as well as the Paper Sample Brochure, Sticker Sample Set and Packaging Sample Set.

The Sample Box is also available in a neutral version.
Order now
How Do I Put Up and Take Down Pop-Up Tents?
Thanks to the collapsible aluminium frame, our pop-up tents are easy to transport and put up or dismantle. Two people can erect a pop-up tent in a matter of minutes and guarantee its stability:
Remove the frame, the tent roof and the tent pegs from the transport bag.
Pull apart the frame slightly.
Fasten the roof to the frame using the Velcro fasteners.
Pull out the four retractable legs.
Attach pegs, tensioning ropes and, if necessary, side panels.
To dismantle, simply follow steps 1 to 5 in reverse order. The supplied trolley allows easy transport of all parts and easy loading.
Assembly Instructions for Your Pop-Up Tent
Use our practical instructions for setting up your pop-up tent.
Download PDF
Side Walls for Pop-Up Tents
Design the matching side walls for your pop-up tent!
Our side panels are available in three different styles:
without window
with window
with window and door
You can choose whether your side wall should be printed on the inside or outside. You can see the exact position of the window and door in our print templates. Please note that you must order the side walls separately from the tent. So you can design the side walls individually according to your wishes.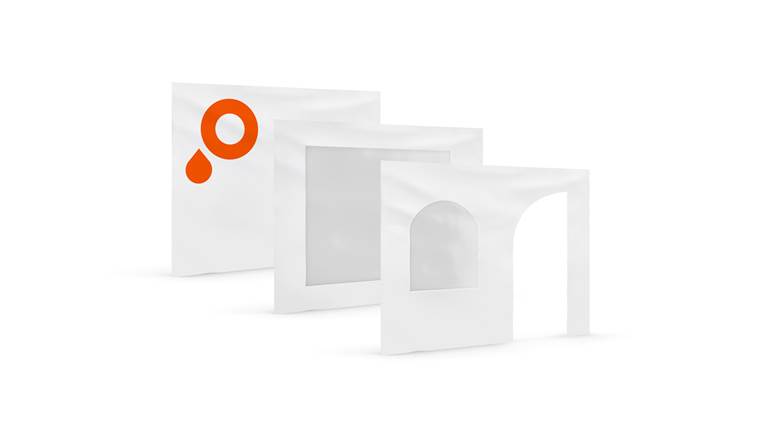 FAQ's for Pop-Up Tents
Are the tents waterproof?
Yes, the tents can withstand a rain shower. If it rains heavily over a longer period, however, rainwater can collect, which penetrates through the pressure and can drip from the ceiling as single drops.
How much headroom is there and can this be varied?
The headroom can be varied in four steps from 175 cm to 210 cm. The highest possible height is provided as standard. Side walls will also be produced according to this, if you have selected any.
Can the printed surface of the side walls be hung inwards or outwards?
Velcro tape is attached to the side walls on both sides. You can therefore choose on site whether your advertising motif should point inwards or outwards.
Professional pop-up tents for your events and trade fairs
In warm summer months, pop-up tents are very popular for attracting attention at outdoor events and for promoting your business by highlighting your corporate design. Like little advertising huts, you can take them with you and set them up quickly and easily. Pop-up tents also work well at indoor promotions and exhibitions, combining excellently with exhibition walls and counters. We have added more pop-up tents to our product range to ensure that you have everything you need.