*Beach Flags starting at £44.80 (net price for 1 beach flag straight).
Go to offer
Product Information for Flags
Flags in Overview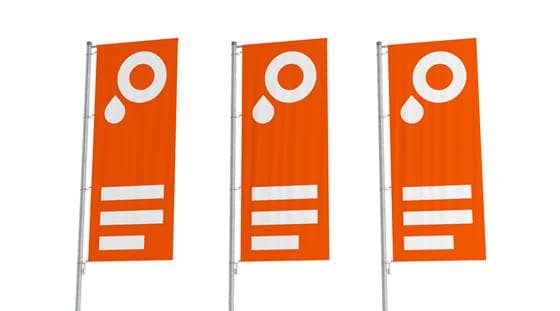 With Cantilever
120 × 300 cm
120 × 400 cm
150 × 350 cm
150 × 400 cm
110gsm banner material
110gsm mesh polyester
hemstitch on top, loops left side
hemstitch on top, snap hook left side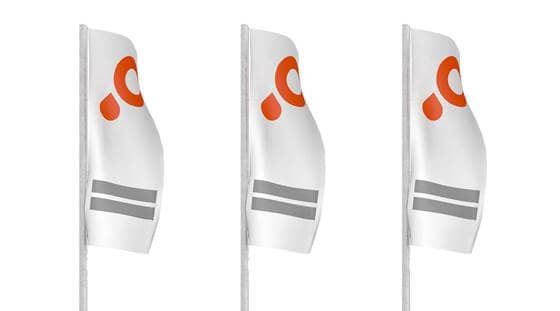 Without Cantilever
120 × 300 cm
120 × 400 cm
150 × 350 cm
150 × 400 cm
110gsm banner material
110gsm mesh polyester
revolving seam, eyelets left side
revolving seam, snap hook left side
i
If you are looking for a flag for your flagpole, select a hoisting flag. If you do not have a flagpole, you can order beach flags. Unlike hoisting flags, beach flags are supplied with poles.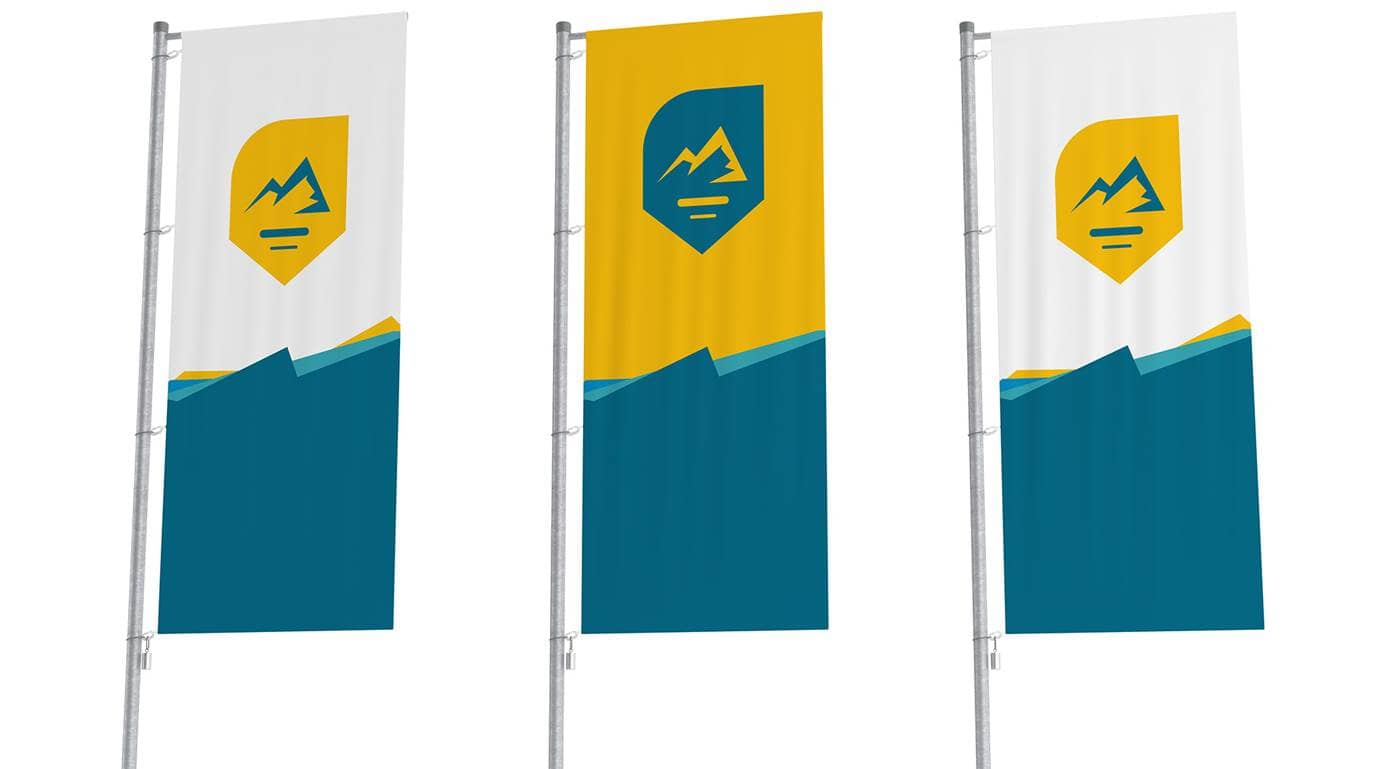 Used for:
Public displays
Advertising in the air
Marking shops
Route markers
Our hoisting flags are the perfect advertising material to attract attention even from a distance. At a size of 1.5 x 4 m, you can get every message across. There are various options for attaching the hoisting flag to your flagpole.
Hoisting Flags for Flagpoles with Cantilevers
If you have a flagpole with a cantilever, order our hoisting flag for cantilevers. These flags are produced with a hollow seam in which a cantilever can be pulled through. For fastening the flag on the left-hand side, you can choose between loops or a snap hook.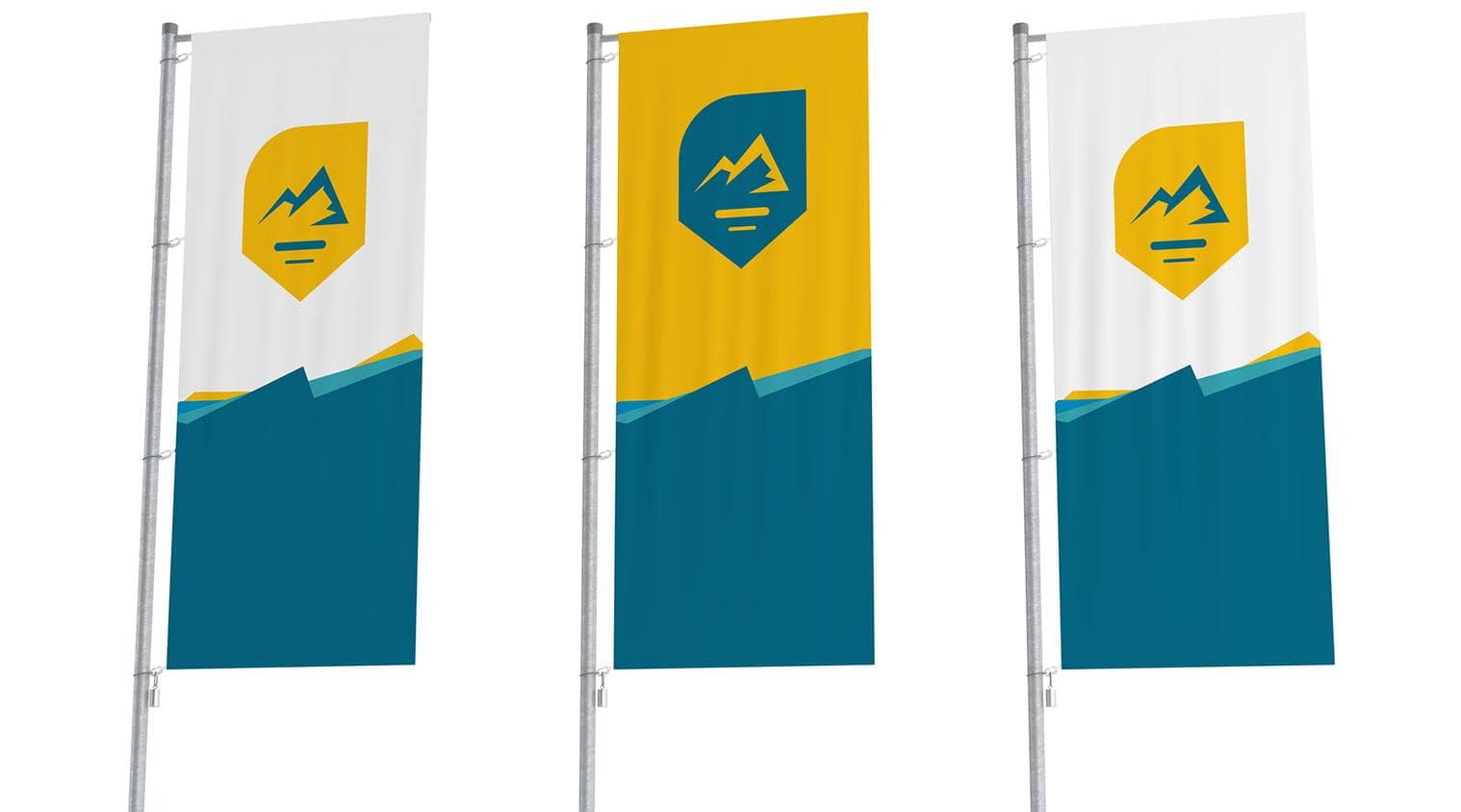 Hoisting Flags for Flagpoles without Cantilevers
If your flagpoles do not have cantilevers, you can order our flags without cantilevers. Flags without cantilevers billow very effectively in the wind. The flags are hemmed all around and are processed with eyelets or snap hooks on the left-hand side as desired.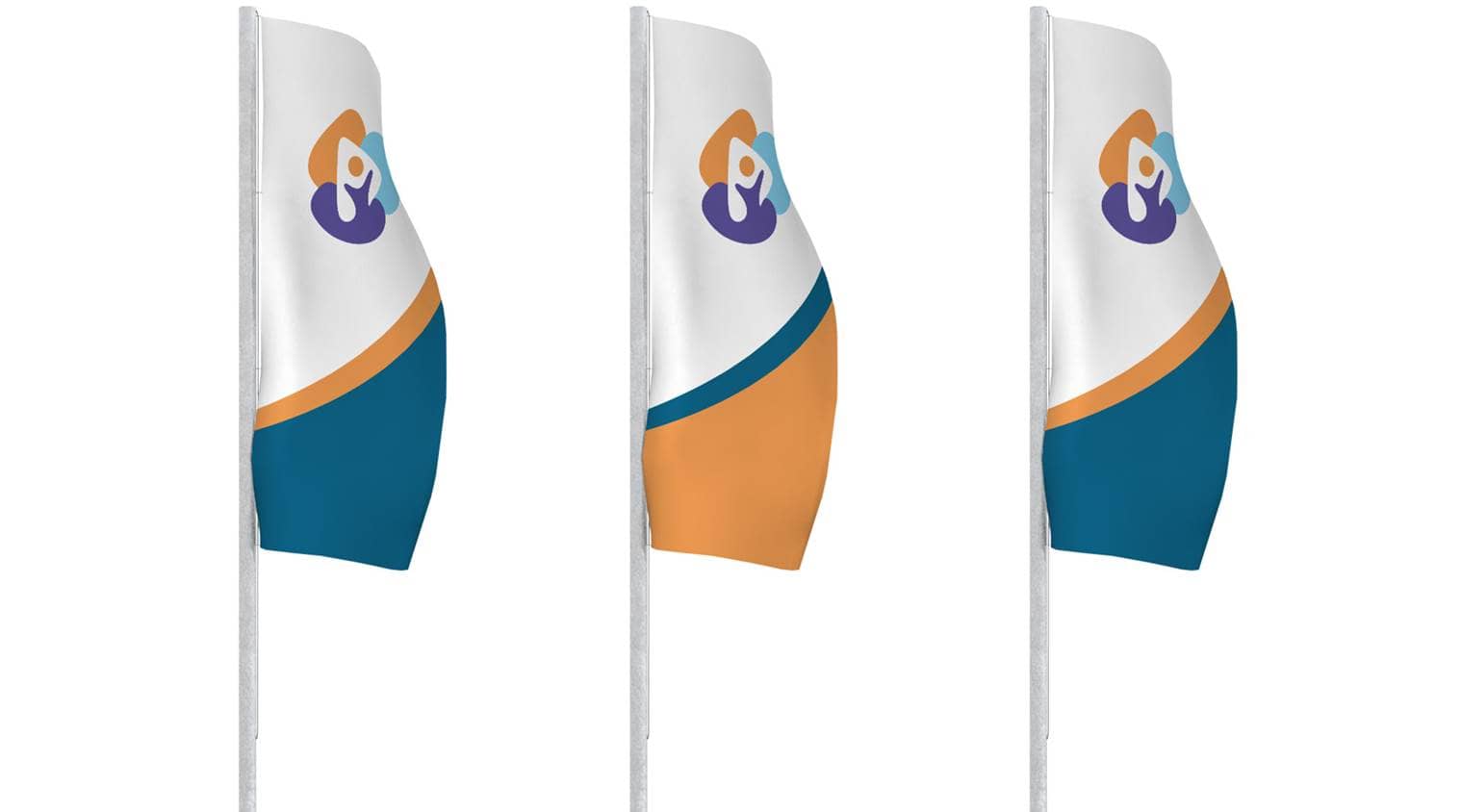 Hoisting flags in detail
The hoisting flags can be attached via a loop, eyelet or snap hook. Please note: Your choice of processing method depends on which flag style you select.
With Eyelets (without Cantilevers)
Eyelets are available for hosting flags without cantilever. They have an internal diameter of approx. 1 cm. The eyelets are spaced 80 to 100 cm apart. One flag can have up to 6 eyelets.
With Snap Hooks
Snap hooks are made from a strong plastic material. The snap hook has an internal diameter of approx. 1 cm. Each hoisting flag has four (300 cm) or five (from 350 cm) snap hooks depending on the size.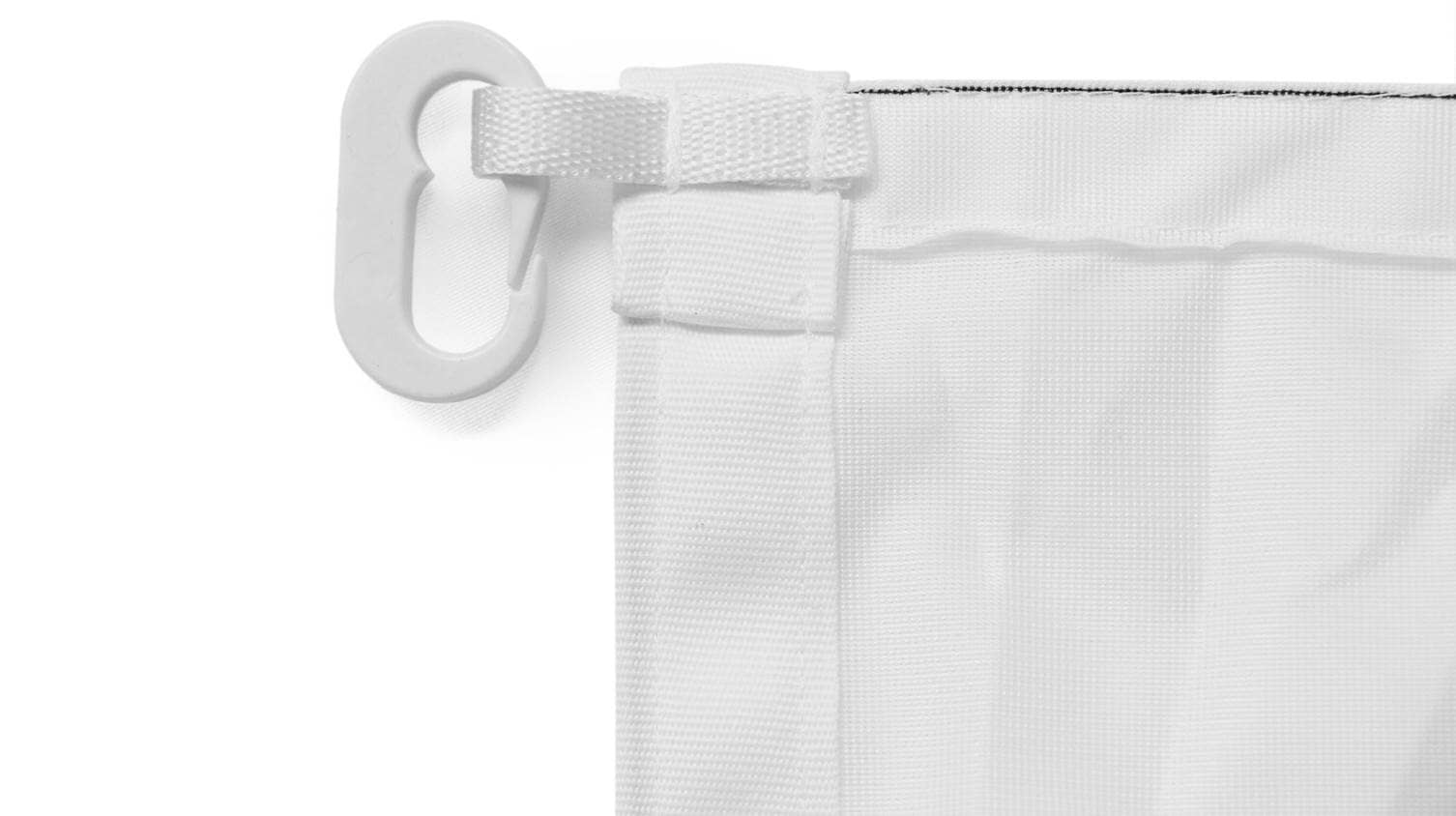 With Hemstitch (for Cantilevers)
You can use the hemstitch to attach the flags to the upper outrigger. The diameter of the hemstitch is approx. 4.5 cm.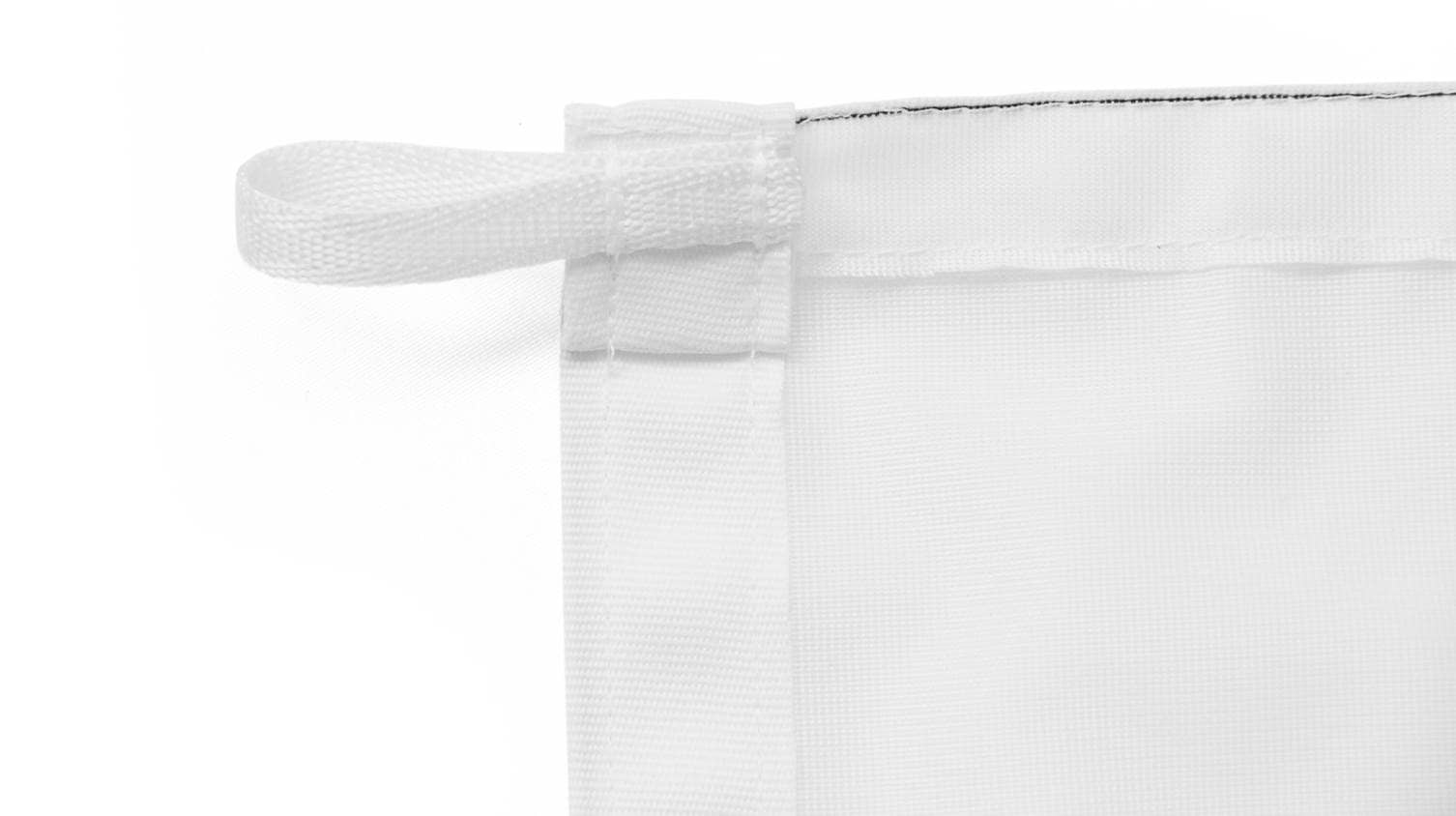 With Loops (for Cantilevers)
The loop is made of robust fabric. The diameter of the loop is approx. 2.5 cm. Depending on the format, hoisting flags have 4 (300 cm) or 5 (from 350 cm) loops.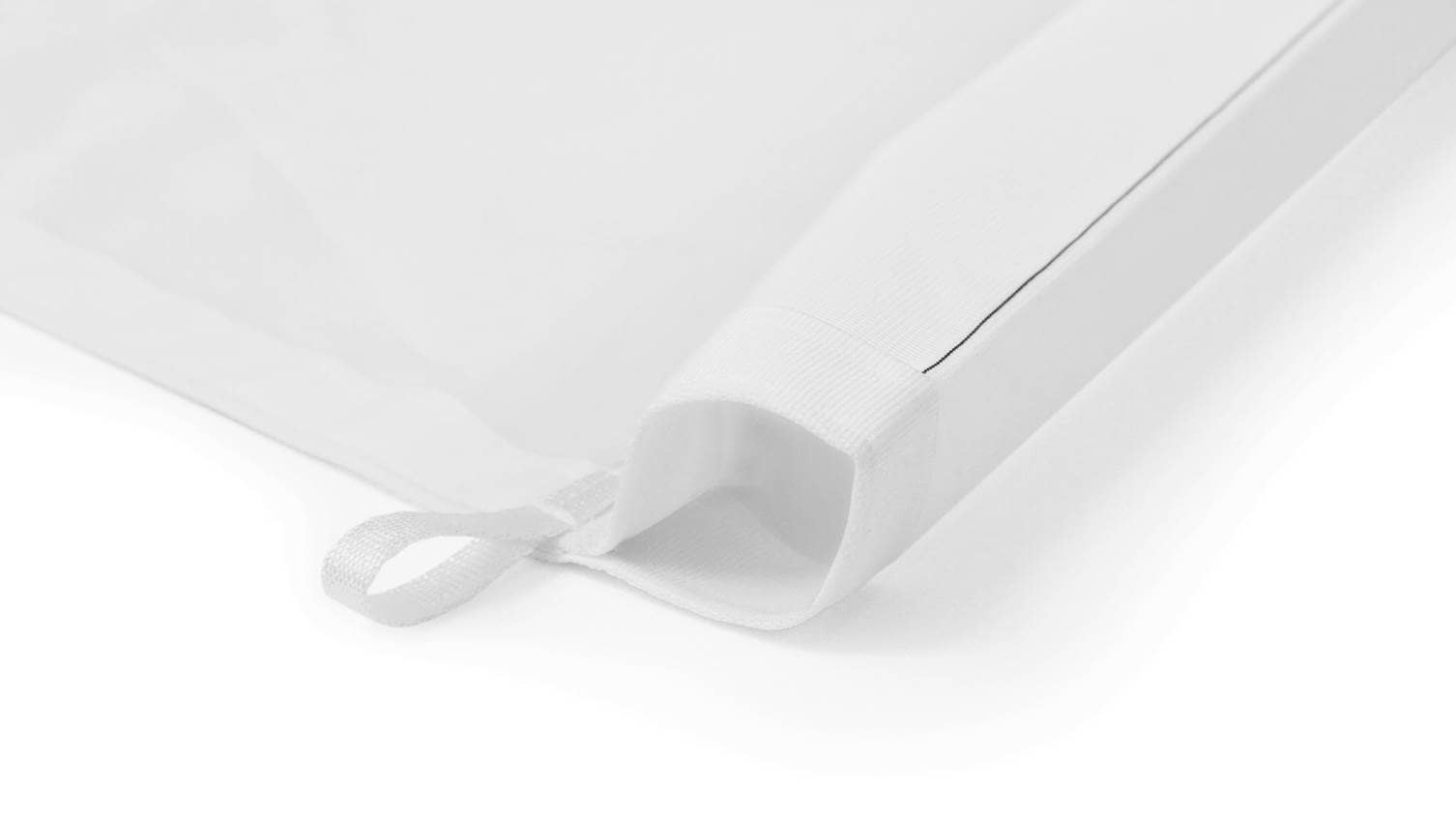 Materials for our Hoisting Flags
Banner material
We recommend our banner material for outdoor use. This is particularly suited to the high demands associated with wind and other weather conditions. Banner material is:
UV-resistant and weatherproof
extremely durable
translucent/transparent and very light (only 110gsm)
capable of producing vibrant colours
flame-retardant (B1-certified)
easy to maintain and washable (prewash recommended before outdoor use)
It is also often used indoors, serving as decorative partitions in sales and exhibition rooms, without hiding the area behind.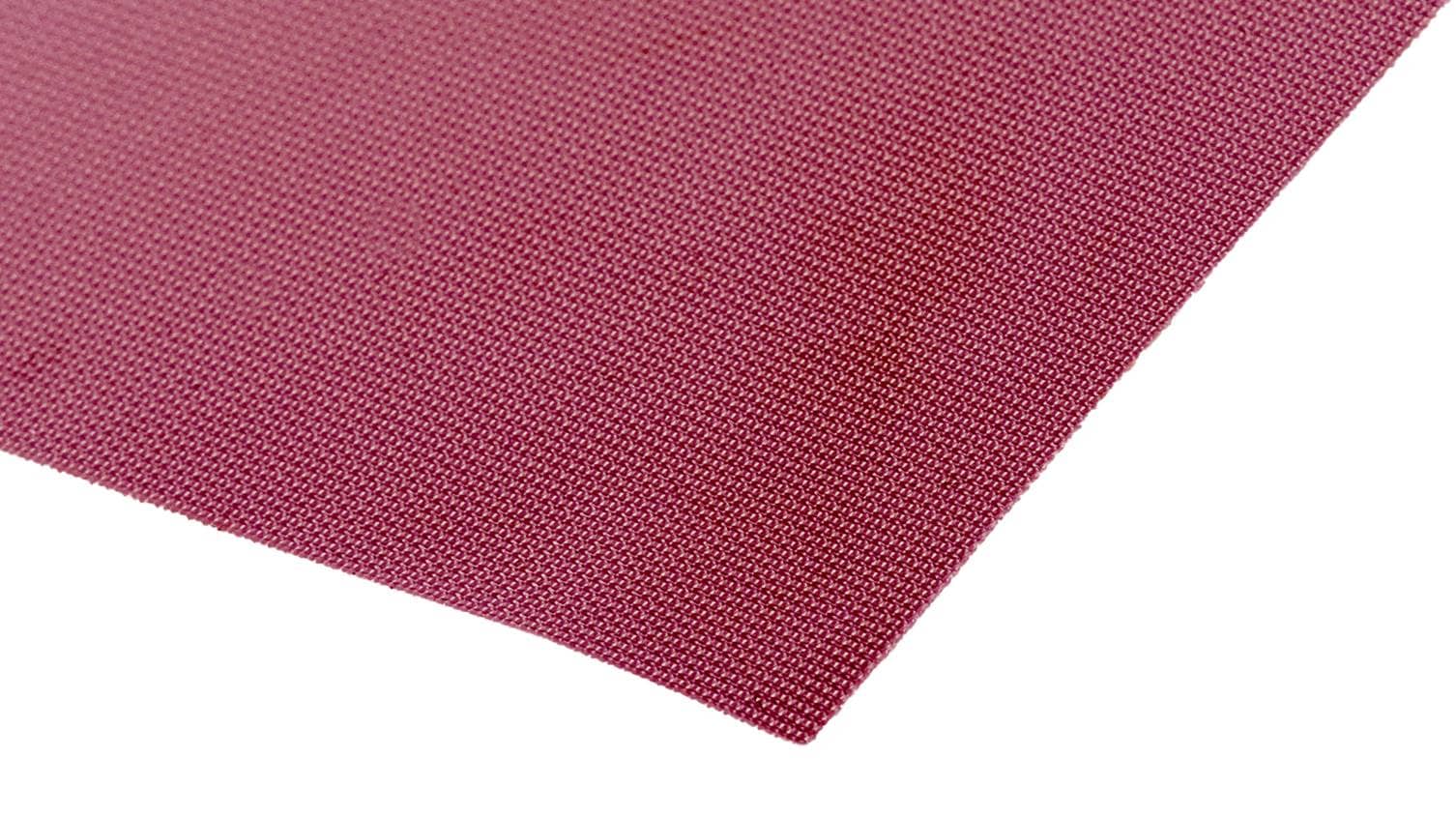 Mesh Polyester
The 110gsm mesh polyester is made from 100% polyester. This material is tear-resistant and has a slight stretch across the bias. It is particularly well-suited to outdoor use - the small holes (mesh) in the fabric make it ideal for use in windy areas. This means mesh polyester has higher durability compared to standard banner material.
i
For a long-lasting print quality on your flags, please take note of our tips for handling textiles.
FAQ's for Hoisting Flags
What should I consider when ordering a hoisting flag for my flagpole?
Ideally, you should order your flag to fit whichever type of flagpole you have. It is important for you to take a note of which type of fastening best suits your flagpole - for example, does your flagpole have a cantilever? If so, order your flag print with a hemstitch on top, which is specially designed for flagpoles with cantilevers.
Is it possible to wash the flag fabric when it gets dirty?
Yes, you can wash the print in any conventional washing machine at 30 degrees and with mild liquid detergent. Regular washing significantly increases the lifespan of the print.
Do you have hoisting flags in landscape?
We currently do not offer hoisting flags in landscape format.