Product Information for Wall Calendars
Wall Calendars in Overview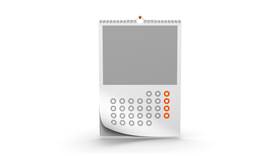 Wall Calendars
from 1 to 99 units (small print run)
from 100 to 100,000 units (large print run)
13 pages (consecutive)
14 pages (consecutive)
14 pages (last sheet turned towards backing)
15 pages (consecutive)
15 pages (last sheet turned towards backing)
170 | 250gsm
silk/gloss finish paper
spiral binding
black | silver | white
without protective foil
200µm transparent protective film
packaged in bulk
individually packaged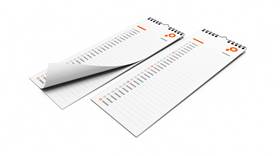 Slim Calendars
13 pages (consecutive)
14 pages (consecutive)
14 pages (last sheet turned towards backing)
15 pages (consecutive)
15 pages (last sheet turned towards backing)
170 | 250gsm
silk finish paper
spiral binding
black | silver | white
packaged in bulk
individually packaged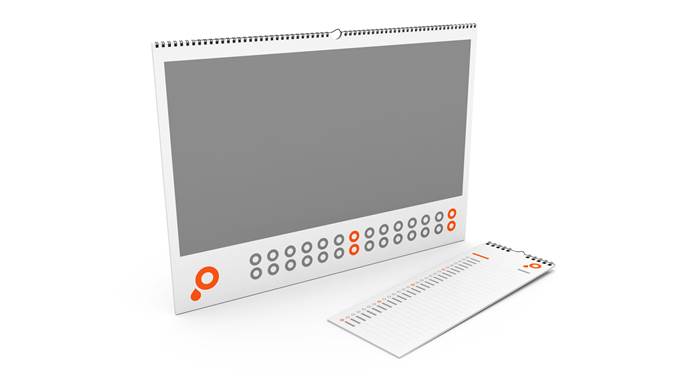 Used for:
New year gift for customers
Perfect for professional photos and company images
Meeting planner and advertising medium for the office
Binding for Wall Calendars
Spiral Binding with Hanger
Our wall calendars are equipped with spiral binding in silver, black or white - ideal for easily turning over the calendar sheets.
They are also equipped with a thumb handle for easy mounting. The hanger ensures a stable hold and optimal durability of your calendars.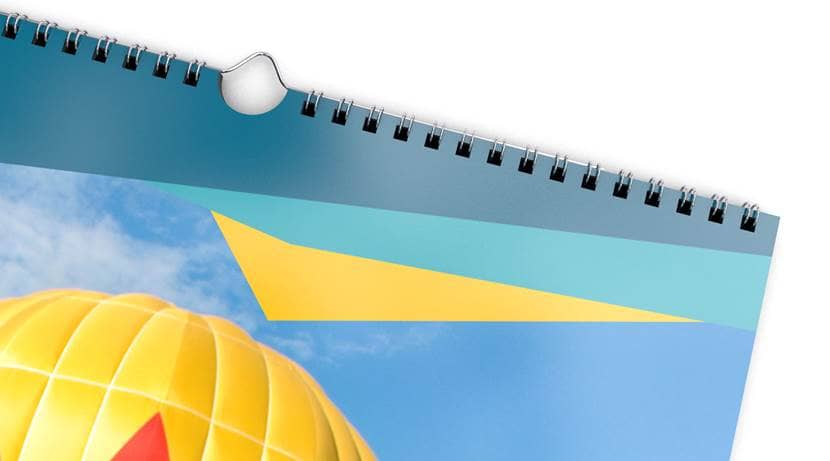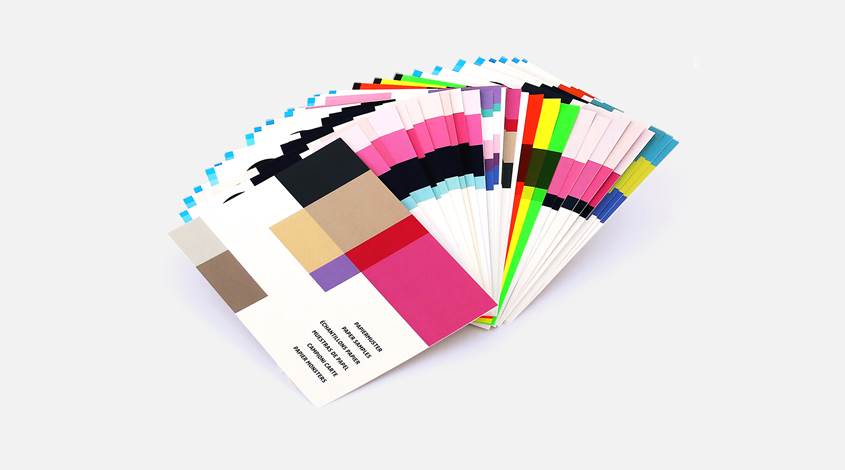 Paper Samples and Product Catalogue
With our Paper Samples Brochure, you receive an overview of all materials and finishing options. Feel the difference between offset, finish and special papers and get to know the appeal of effective UV coating and lamination.
Order Paper Samples
Finishing Options for Wall Calendars
UV Coating
matt | gloss
Enrich your printed products with UV lacquer and give your order a high-quality touch. Thanks to modern finishing methods, your product is highly resilient and resistant to external influences.
Lamination
matt | gloss
Give your product an elegant look and a high-quality feel. Emphasise your quality standards by film laminating. It enhances the colours, and protects the product against external influences.
Create Online with the Online-Designer
Create Your 2022 Calendar Designs Online
Design your calendar online - without the need for graphic programmes - with our SAXOPRINT Online Designer. Simply select 'Design online' in the configuration page to create calendar designs with your own logos, images and texts.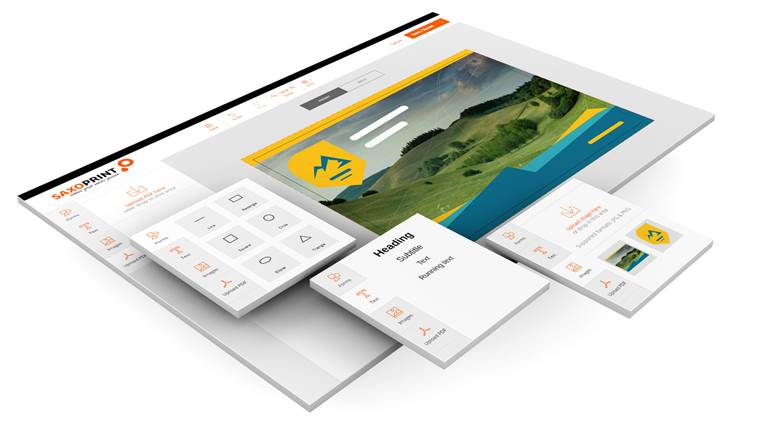 It's this easy:
1
Select calendar
2
Configure product and select 'Design online'
3
Choose your template and create your content
4
Save design and order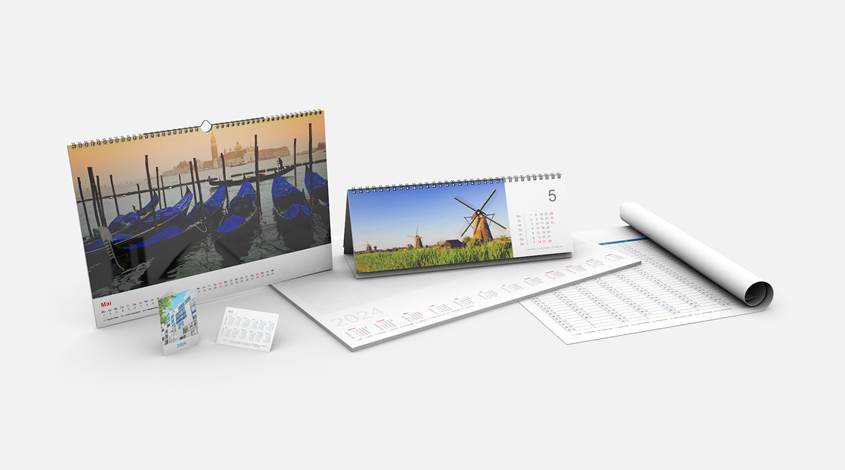 Diverse 2022 Calendar Templates
In our print templates, you will find designs for 2022 calendars which can be download for Adobe Illustrator, Adobe InDesign or as PDF files which you can then customise with images and logos.
Download print templates
FAQ's for Wall Calenders
Can I order a one-off wall calendar as a private customer?
Yes, simply select 'Wall calendars (1-99 units)' in the configuration page. That is where you can order wall calendars in units of 1 or more.
How can I be sure that my wall calendar will last as long as possible and stay looking good?
With orders of 100 units or more, you can select lamination as a finishing option for your wall calendars. Lamination makes the paper more hardwearing and offers some protection against moisture. In the showroom, your calendar can be protected from external influences by our protective foil. You may also consider having your calendars individually shrink-wrapped. You can select any of these options in the configuration page.
Are the days and months of the calendar automatically printed?
You can either create your own design for the calendar days and months or you can use our templates. You can choose between an empty template or a template with calendar months in the print templates page.
Alternatively, you can use our Online-Designer. To access the Online-Designer, select your product, and then click on 'Design online' on the right-hand side of the konfigurator page. You will then be able to select one of our various calendar layouts.
Professional Wall Calendar Printing
Individual calendar printing from our online print shop provides you with the perfect wall calendar - a popular gift and a great way to solidify business relationships. Each month of your custom calendar from SAXOPRINT can be printed with its own artwork to ensure that your targeted advertising message is spread out over the entire year.
Personalised calendars tailored to customer demands can be printed in our UK online print shop in portrait or landscape formats, with 13, 14 or 15 pages. Choose the format of your printed calendar from A5 to A4, and A3 to A2 on glossy or matte finish paper. You can select either a 4 colour or black and white print. An extra lamination film made of hard transparent vinyl adds extra protection. Wall calendars also make great photo calendars. Just upload your favourite photos using our calendar templates and designer to see them month after month. Personalised photo calendar printing can make the perfect gift for family members and friends. Choose whether you want your personalised calendars individually shrink wrapped or if you want multiple calendars packaged together.
A durable UV coating makes the colours appear even more brilliant. After printing, wall calendars are bound with our popular spiral binding. For calendars larger than A5 or A4 format, we recommend using a more stable print paper. Due to the stronger paper weight, it prevents large calendars from warping without additional cost in the A3 or A2 format.
Organise your year with Wall Calendars from SAXOPRINT
The end of the year is quickly approaching—where did the time go? It is time to start thinking about the coming year; it is sure to be a busy one! Custom wall calendars from SAXOPRINT help you to keep your month organised. Wall calendar printing helps give you a personal touch to planning. With our Calendar Designer, you can design your own calendar. Use your favourite pictures to create photo calendars or use your company's corporate design to create promotional calendars that will remain in your customers' sight all year round.
Wall Calendars make great customer gifts
Time management is important, and your customers are sure to find a promotional calendar useful. With subtle branding and interesting artwork, you ensure that your customers have a constant reminder of your company all year round. Printed calendars with your company's logo and services remain hanging on the wall of offices and homes for the entire year. It is easy to create personalised calendars by following the steps in our Calendar Designer by uploading your artwork and corporate design to our calendar templates
Our wall calendars are also excellent for commercial retailers. High-quality calendars are always real bestsellers, and they are also a welcome gift for customers. Custom printed wall calendars from our online shop are also ideal as attractive photo calendars for your nearest and dearest when they are filled with personal and touching pictures. Custom calendar printing keeps your family close to your heart all year long, and you can look forward to a new, brilliant picture every month.
Customise your perfect wall calendar
In addition to personalising your artwork, SAXOPRINT offers you the opportunity to create individual calendars to fit your needs. You have the choice of a variety of sizes: A5, A4, A3 or A2. With each format, you can then choose the orientation – either portrait or landscape. Each printed calendar comes with a sturdy cardboard backing and the 12 or 13 pages. You can further personalise your calendar with the choice of paper from 170gsm to 250gsm and choice of silk or gloss finish. An additional lamination using a protective film is also available. To put the final touch on your custom calendars, choose between a black, silver or white spiral binding. Finally, you can choose to have your wall calendars packed all together with multiple item shrink wrapping or have each individual calendar shrink-wrapped.
For companies, printed calendars are not only perfect as practical giveaways at trade shows, exhibitions or promotional events. They are also welcome Christmas or New Year's presents for customers and business partners. Personalised calendars make sure that customers keep you in mind all year long. Another plus point: You can use an eye-catching marker to put important company appointments on your wall calendar to keep track of events like company functions or exhibitions. They are a discreet way of reminding customers and partners about what your company has to offer. In addition to their use as giveaways or presents, you can, of course, use wall calendars company intern and outfit each office with a calendar in your corporate design.
Design your own wall calendars – SAXOPRINT printing options
Toward the end of the year, wall calendars for the upcoming year appear for sale in the shops. You could be holding the new edition of your office calendar in your hands even earlier: Custom printed wall calendars are available through the SAXOPRINT online shop, effective immediately. Use our convenient calendar templates to design your calendars according to your own taste, and then have them professionally printed. We have put together a collection of pre-designed free calendar templates for you. Complete the designs with your own logo and images, or choose a blank template to create your calendar from scratch. You can add your company logo and digital images to fit in with your company design. The printed calendars can be sent to customers, employees, business partners or fans and are a great way to encourage long-lasting, strong company loyalty.
Designing your custom calendars and having them printed by our online shop is completely uncomplicated. We not only provide you with free wall calendar templates, but we also give you detailed instructions about setting up print files, file transfer and extensive data check options.
The back of your wall calendar is made of stable cardboard. How you decide to design your wall calendar, e.g. as a birthday calendar, an annual planner, or a photo calendar, is up to you. The SAXOPRINT blog also provides you with lots of ideas for calendar design.
Slim Calendars: Perfect for limited wall space
These elegant wall calendars in a slimmer, longer format are an excellent visual tool for keeping an eye on the month ahead. Thanks to its list format, all upcoming appointments, birthdays and family events are visible at a glance. Available in formats 150 x 420 or 120 x 600, the sleek format means that there is enough room for these calendars on any kitchen or office wall - even when space is limited.
With every new month, slimline calendars offer a new area where you can showcase your business and work: that's at least 13 advertising spaces for your business and services. Printed on 170gsm or 250gsm silk paper with spiral binding, our calendars provide you with high quality, durable products that will hang on a customer's or partner's wall all year round.
Create personalised slimline calendars online at SAXOPRINT. No matter what style of calendar you want to create, stay in your customer's mind all year round with custom slim calendar printing.