Product Information for Monthly Calendars
Monthly Calendars in Overview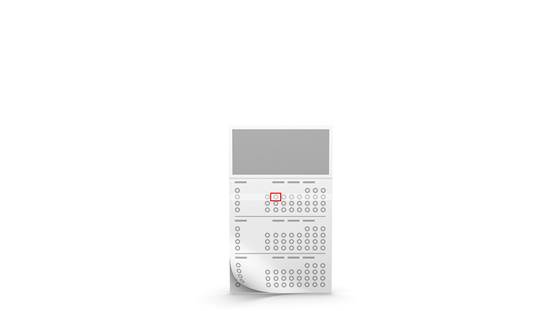 Monthly Calendars
300 × 530 mm (3 months)
300 × 600 mm (4 months)
12 tear-off calendar sheets
350gsm chromium sulphate cardboard silk finish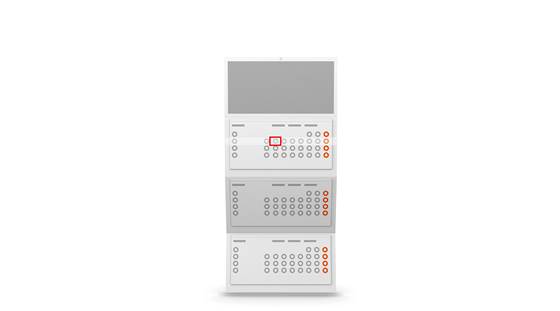 Multi Month Calendars
330 × 700 mm (3 months)
330 × 900 mm (4 months)
3 x 12 tear-off calendar sheets
4 x 12 tear-off calendar sheets
350gsm chromium sulphate cardboard silk finish
creasing
hole punching
metal eyelet
date slide
i
Our Monthly Calendars have a robust metal eyelet for easy hanging, which ensures your calendars stay in sight all year.
Used for:
Branded office equipment
Helpful for schedule planning
Welcome gift for partner companies
Monthly Calendars
Monthly calendars show either 3 or 4 months at a time on one single sheet. The choice is yours. Altogether there are 12 sheets, which show the upcoming 3 or 4 months at a glance. With the help of the handy date selector, you can always keep on track of the days.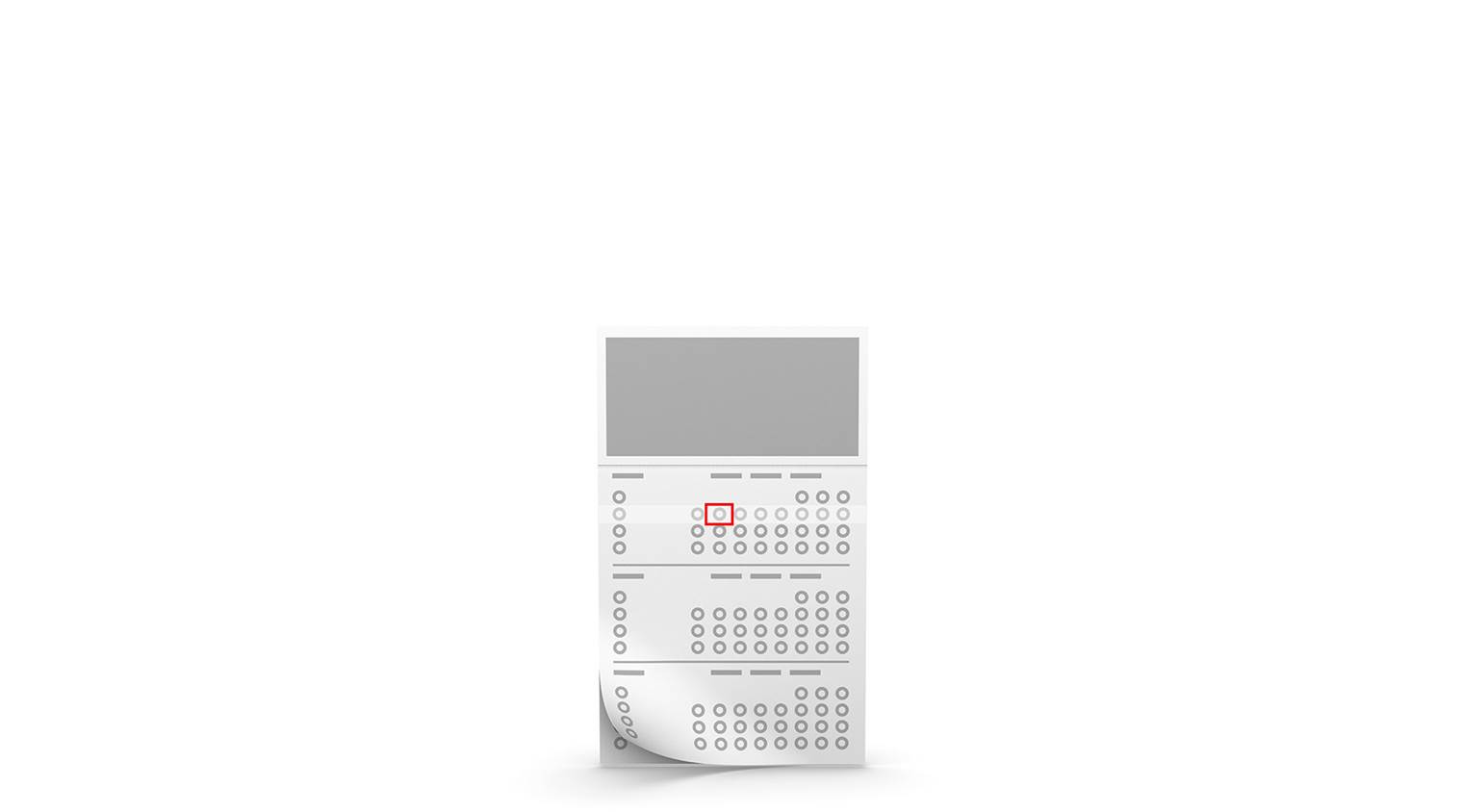 Multi-Month Calendars
Multi-month calendars show the upcoming months in either three or four separate blocks (depending on your choice of 3-month or 4-month view). Each block contains the months January to December allowing you to show the months as you like.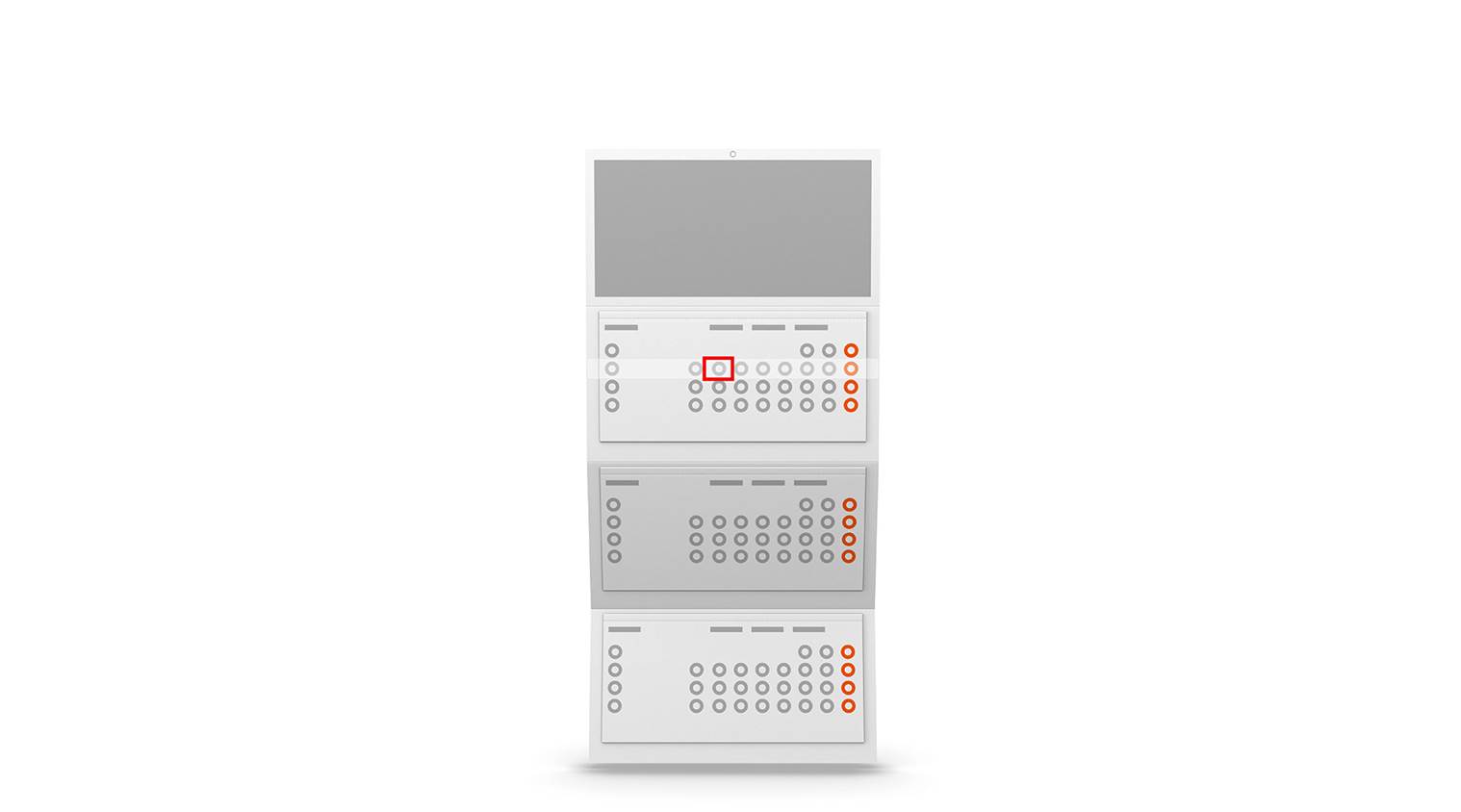 3 Month Desk Calendars
3 Month Desk Calendars have 12 tear-off calendar sheets and show 3 consecutive months at a time. 3 month desk calendars have a triangular stand which makes them particularly suited for placing on desks. Thanks to the practical date selector, the current date will always stay in view.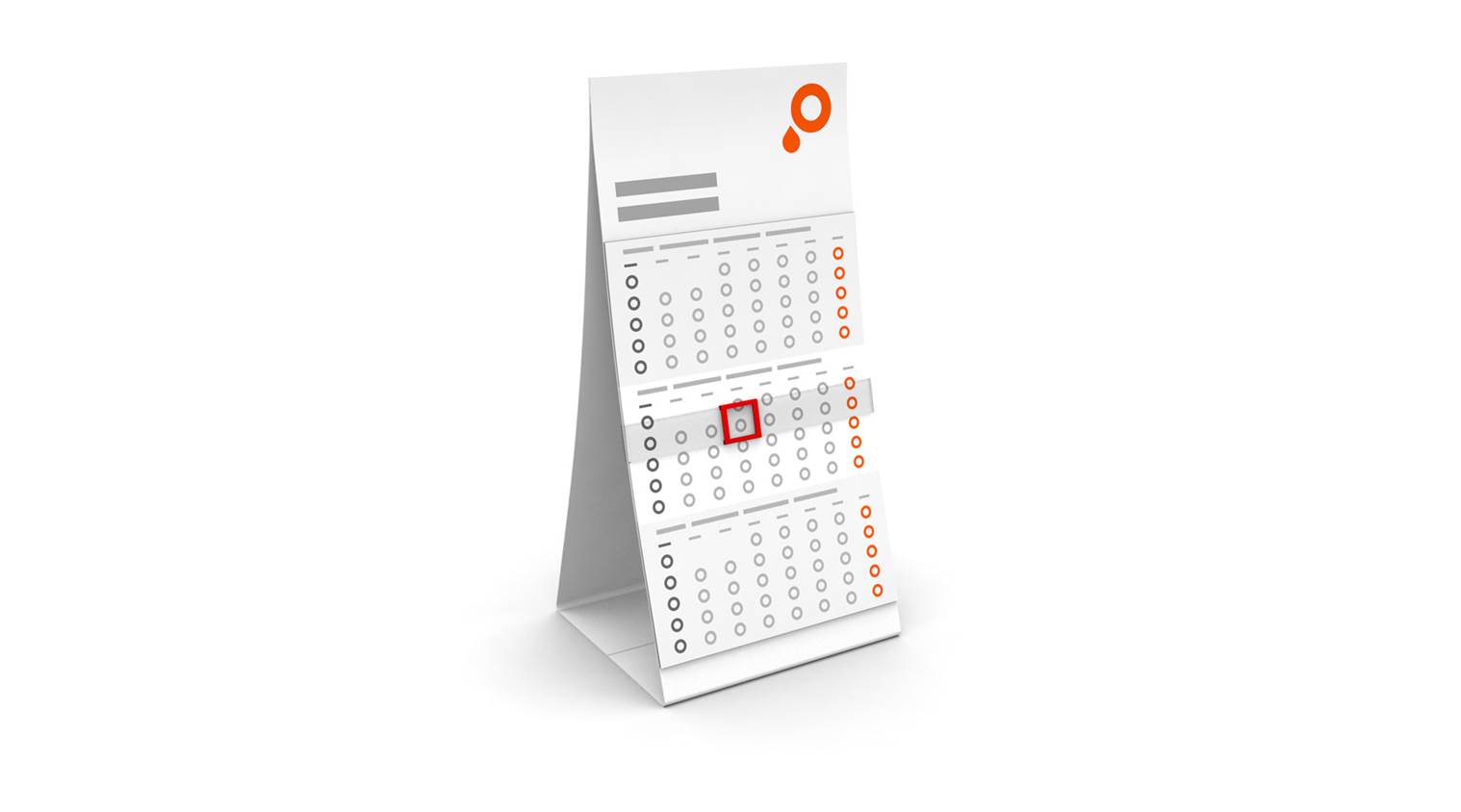 Monthly Calendars in Detail
Calendar Pages and Date Selector
Multi Month Calendars have each month on seperate sheets in 10 different languages: English, German, Italian, French, Spanish, Dutch, Polish, Russian, Turkish and Portuguese. Calendar sheets are printed on 80gsm offset paper.
Monthly Calendars have 3 months printed on a single sheet in 6 languages: English, German, Italian, French, Spanish and Russian. This calendar is also printed on 80gsm offset paper.
All Monthly Calendars come with a red date selector, which you can move to highlight the current day.
It is made out of a transparent plastic and is easy to move both horizontally and vertically.
Hanger and Perforation
Monthly Calendars come equipped with a sturdy metal eyelet, which ensures optimal support for the calendars. The leaves of the individual blocks are perforated. This makes it easy to change the sheets every month.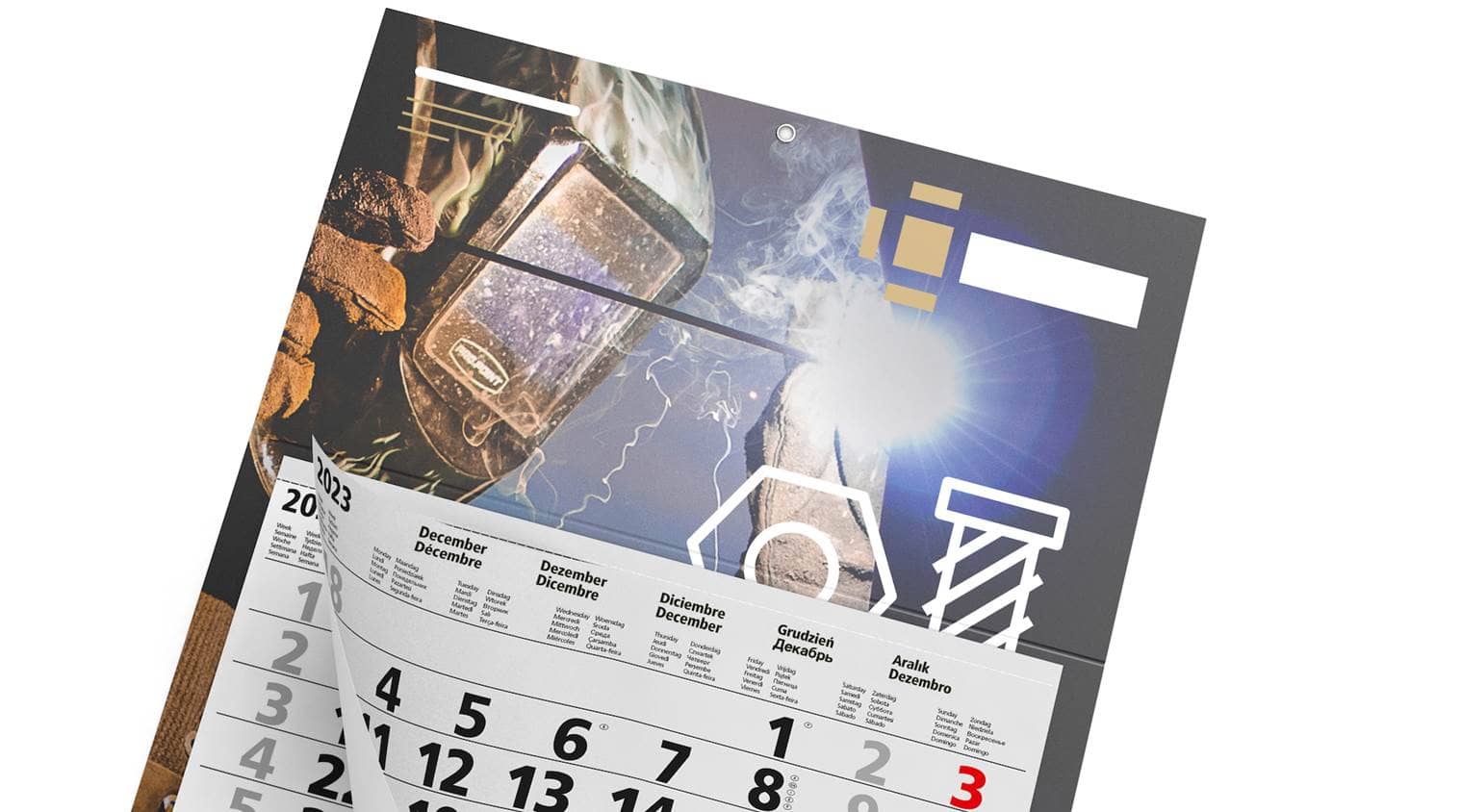 Create Online with the Online-Designer
Create Your 2023 Calendar Designs Online
Design your calendar online - without the need for graphic programmes - with our SAXOPRINT Online Designer. Simply select 'Design online' in the configuration page to create calendar designs with your own logos, images and texts.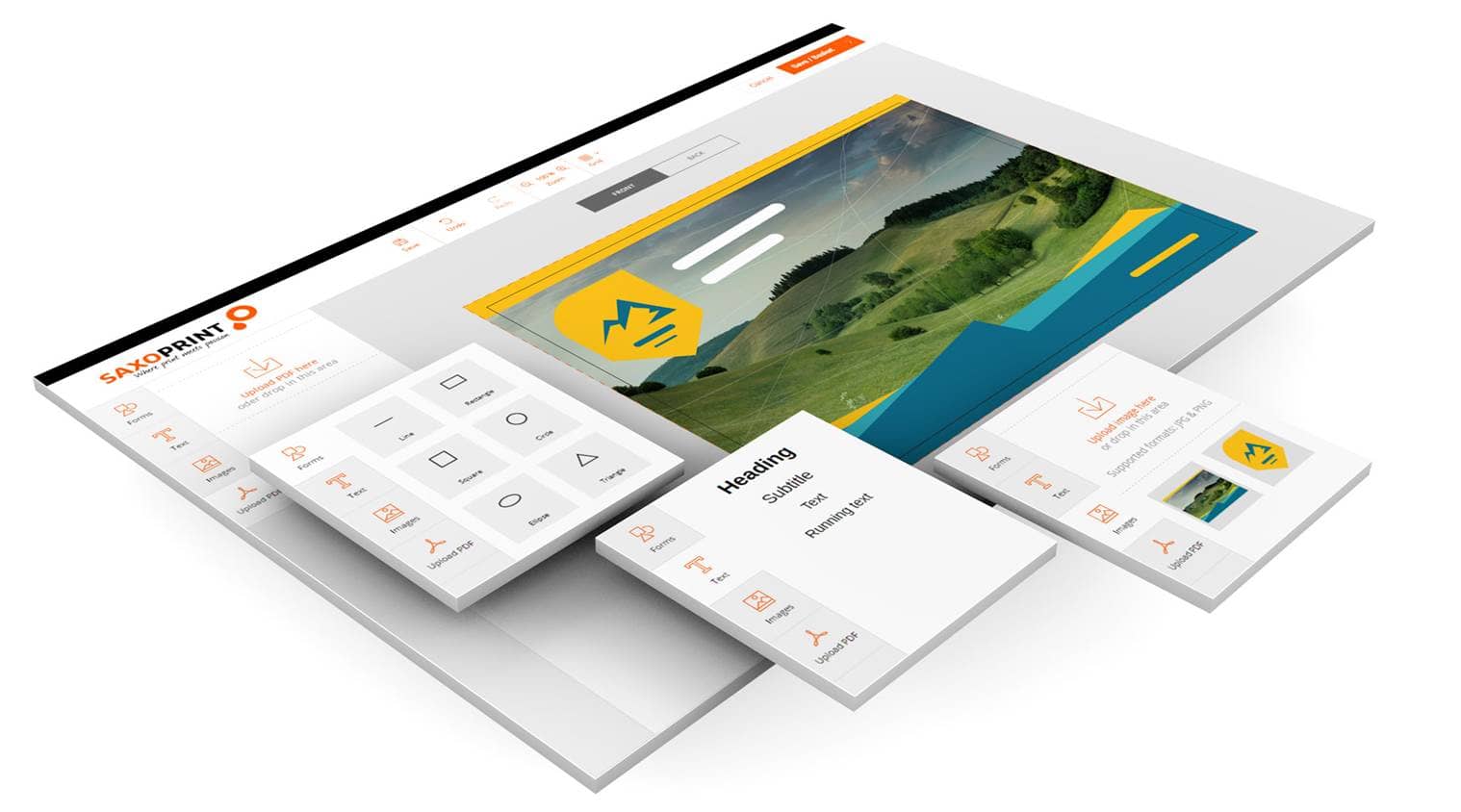 It's this easy:
1
Select calendar
2
Configure product and select 'Design online'
3
Choose your template and create your content
4
Save design and order
FAQ's for Monthly Calendars
Is the date selector pre-assembled on monthly calendars?
Yes, the monthly calendars are delivered pre-assembled.
Monthly Calendars: Target Advertising for the Whole Year
High-quality monthly calendars are the ideal platform for targeted advertising and make you popular with your customers and business partners. They are the perfect way to combine effective advertisement placement with a welcome gift or giveaway. After all, your customers see your logo and corporate design every time they look at the calendar.
Custom Monthly Calendars (3 or 4 Months): For Individual Customers
If you want to increase the likelihood that your high-quality custom calendars are used, they should always offer your customers extra value. That means that in addition to bank holidays, other information can be written on them and the calendar has to be appealing in regard to design and paper quality.
For all these reasons, all our 4 and 3 month printed calendars fulfil your requirements and show UK bank holidays and calendar weeks – no matter whether you choose to have our online print shop produce them in single or multi-page versions. Because we have already placed this standard information into the print layout, all you have to do is decide how you would like to present your corporate design on your personalised calendars.
Two Styles of Monthly Calendars:
12 tear-off sheets with 3 or 4 months displayed on each
3 or 4 pads with 12 tear-off sheets each
Both versions can be hole-punched. For wall mounting, the multi-page version also has a metal eyelet allowing you to hang it easily on the wall. Our custom printed monthly calendars are printed on 80gsm offset paper, which makes them easy to write on. The back of the calendar is made of 350gsm chromo-sulphate carton for stability.
From Layout to Custom-Printed Monthly Calendar
Our online print shop offers you a large selection of calendar templates and tutorials to help you design high quality, audience-oriented calendars. We have put together a collection of calendar designs on our blog to give you a few ideas, e.g. in the article 'Move Forward with Our Calendar Design Inspirations'. Our blog also gives you practical tips about print colours, printing processes and how to set up your print files.
In addition, SAXOPRINT online print shop offers you free calendar templates for Adobe Illustrator, InDesign and PDF. Our free templates make it fast and easy for you to design your custom-printed 4 or 3 month calendars and ensure that the printing requirements for your advertisement are fulfilled. Use our calendar templates to create a photo calendar, company calendar or college calendar. Options such as format, number of pages, binding, colours and processing can be selected on our calculation pages.
So that setting up your print data runs smoothly, we have provided you with detailed information about print file settings in the service section of our website. Details about the resolution of photos and graphics, spacing, crop marks and embedded script are just some of the topics covered in our artwork guide. Our friendly customer service team is happy to answer any of your questions by telephone or e-mail.
Tip: Calendar pricing is subject to diverse fluctuations. That is one good reason for you to make use of our quote function. You can be guaranteed the current price of your product for 14 days with no obligations. Our friendly customer service agents are happy to give you more information about the SAXOPRINT quote guarantee.